The Acrylamide Market is driven by factors such as increased demand for acrylamide in personal care products, rising demand from the paper and pulp industry, and rising demand in water treatment. The growing usage of acrylamide in plenty of other industries, such as food production, textiles, and building materials, has caused this market to grow. The utilisation of acrylamide-based biopolymers has increased, which is fueling this product's popularity. In the near future, this market is anticipated to rise due to rising expenditure on acrylamide-related research & development projects.
A vast range of sectors, including water treatment, pharmaceuticals, paper manufacturing, oil and gas drilling, and many more, depending on the acrylamide market. It is employed in a number of processes, such as cross-linking to create polymers, water conditioning, the production of adhesives and sealants, and emulsion stabilisation. Acrylamide can also be utilised to make superabsorbent polymers that are beneficial for usage in medical applications. The market is in greater need of acrylamide due to the rise in its use across numerous industries.
White, flaky solid or liquid acrylamide has an ammonia-like smell.
It easily polymerizes and serves as a monomer for many synthetic goods, including polyacrylamides. It has uses in the oil and gas sector, paper industry, mining, paints and coatings, among other industries. Acrylic acid and amines are the main starting elements for the creation of acrylamide. Additionally, acrylamide is produced as a by-product when certain foods are roasted to high temperatures. The International Agency for Research on Cancer has identified this as a possible health hazard and a likely human carcinogen (IARC).
During the forecast period, 2021–2031, the global acrylamide market is expected to grow at a CAGR of 5.2%, from a value of USD 3.6 billion in 2021 to USD 5.2 billion by 2031.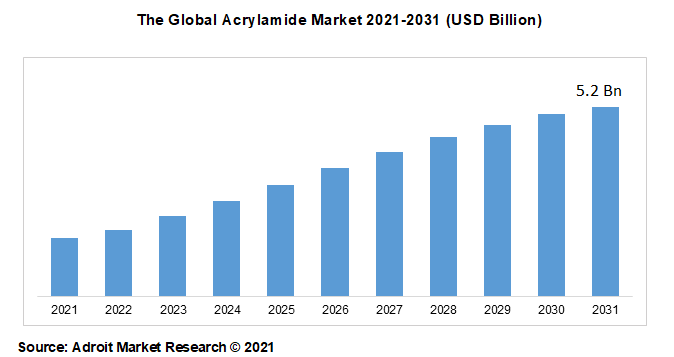 A white, odourless, crystalline substance with the chemical formula C3H5NO is acrylamide. It can be used in a variety of applications, such as water treatment, the paper and pulp industry mining, the oil and gas sector, and coatings and paints. Because of its numerous uses across numerous sectors over the last few years, acrylamide has seen tremendous expansion in the market.
The carcinogenic nature of acrylamide, health risks related to acrylamide use, and unstable raw material prices are some of the reasons limiting the growth of the acrylamide market. Water treatment, the pulp and paper industry, the oil and gas sector, the mining industry, paints and coatings, and other industries utilise acrylamide extensively. However, due to the fact that acrylamide is hazardous, its use is restricted. Acrylamide is categorised by the International Agency for Research on Cancer (IARC) as a "probable human carcinogen." Long-term exposure to acrylamide has been demonstrated in numerous studies to raise the risk of cancer in people.
During the forecast period, this factor is anticipated to limit the growth of the worldwide acrylamide market. In addition to these health risks, acrylamide is also known to harm human nerves, induce neuromuscular issues, and be toxic to the reproductive system. Over the projected period, these health risks connected to acrylamide are anticipated to restrain market expansion. Another significant obstacle to the expansion of the global acrylamide market is the volatility of raw material costs. It is challenging for makers of acrylamide to plan their production since the cost of raw materials, such as propylene oxide and amides, fluctuates regularly. Throughout the forecast period, this factor is anticipated to negatively affect the growth of the worldwide acrylamide market. The global acrylamide market is anticipated to expand rapidly over the next few years, despite these inhibitors.
The Dow Chemical Company (U.S.), BASF SE (Germany), Kemira Oyj (Finland), SNF Holding Co. Ltd. (France), and Solvay SA are the leading producers of acrylamide (Belgium). The acrylamide market is very well-represented by these businesses. They have a significant market share because of their extensive product lineup, strong R&D capabilities, and expansive production facilities.
Segment Analysis
The Acrylamide Aqueous Solution (AAS) Segment emerged as the Most Lucrative Type
The market is segmented into two main categories based on type: Acrylamide Aqueous Solution (AAS) and Acrylamide Crystal (AC). Due to its essential characteristics, such as its high solubility in water, non-toxicity, and low price compared to AC, the AAS sector held a significant share of around 55% in 2020 and will maintain its dominance during the predicted timeframe. Its straightforward accessibility to the market is another aspect contributing to its popularity.
The Most Prominent Application is the Water Treatment Category
According to the application, water treatment held the greatest share of the market in 2021—around 30%—and would likely keep dominating it in the near future. Due to its increased use in coagulants and flocculants for water treatment, as well as its capacity to lessen turbidity and remove suspended solids from wastewater, acrylamide is in higher demand.
The North American Region to render Ample Financing Opportunities
The acrylamide market can be divided geographically into North America, Europe, Asia-Pacific, South America, and the Middle East and Africa. Due to the existence of significant end-use industries like water treatment, paper and pulp, and food and beverage, North America is anticipated to have the largest acrylamide market in terms of value. Furthermore, the presence of well-known competitors in the area is anticipated to fuel market expansion.
COVID-19 Impact and Market Status
The market for acrylamide has been significantly impacted by the COVID-19 pandemic epidemic. Due to a drop in demand from significant end-use industries such as water treatment, pulp and paper, oil and gas, mining, paints and coatings, the market is predicted to contract in 2020. The lockdown measures put in place by governments all around the world to stop the virus's spread are blamed for the decline in demand. Economic activity has slowed as a result of these actions, which has hurt the market for acrylamide. The market is anticipated to rebound in 2021 as the economy strengthens and company activity picks up.
Recent Developments in the Acrylamide Market
• AcrylEase, a new acrylamide solution that aids in lowering the amount of acrylamide in food products, was introduced by BASF in March 2020.
• The European Food Safety Authority (EFSA) released a statement on acrylamide in food in June 2020 that outlined how to gauge and restrict exposure to this substance.
• The Dow Chemical Company introduced their new approaches in August 2020 to lower acrylamide levels in baked goods and potato-based snacks. The business recently launched a system that uses artificial intelligence to assist food producers in streamlining their manufacturing procedures in order to lower acrylamide levels
• The Acetosolv Plus product by Perstorp Group was introduced in October 2020 with the aim of assisting in the production-stage reduction of acrylamide levels in a number of food products.
• Hyprosol AMF-300 polymer was introduced by Evonik Industries in April 2021 for use in paper coating applications. This polymer has various environmental advantages and can be used in place of conventional polyacrylamides.
Travel Metasearch Engine Market Scope
| | |
| --- | --- |
| Metrics | Details |
| Base Year | 2022 |
| Historic Data | 2020-2021 |
| Forecast Period | 2022-2030 |
| Study Period | 2020-2030 |
| Forecast Unit | Value (USD) |
| Revenue forecast in 2030 | USD 5.2 billion |
| Growth Rate | CAGR of 5.2 % during 2021-2030 |
| Segment Covered | Type, Application, Regions |
| Regions Covered | North America, Europe, Asia Pacific, South America, Middle East and Africa |
| Key Players Profiled | The Dow Chemical Company (U.S.), BASF SE (Germany), Kemira Oyj (Finland), SNF Holding Co. Ltd. (France), and Solvay SA |
Key Segments of the Acrylamide Market
Type Overview, 2021-2031 (USD Billion)
• Acrylamide Aqueous Solution
• Acrylamide Crystal
Application Overview, 2021-2031 (USD Billion)
• Water Treatment
• Pulp and Paper Industry
• Oil and Gas Industry
• Mining,
• Paints and Coatings
• Others
Regional Overview, 2021-2031 (USD Billion)
North America
• U.S
• Canada
Europe
• Germany
• France
• UK
• Rest of Europe
Asia Pacific
• China
• India
• Japan
• Rest of Asia Pacific
South America
• Mexico
• Brazil
• Rest of South America
• Middle East and South Africa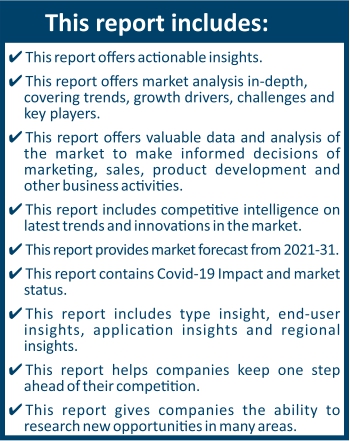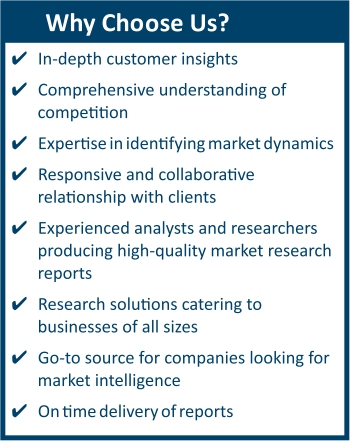 Frequently Asked Questions (FAQ) :
The global Acrylamide market size is expected to reach USD 5.2 billion in 2031.