Covid-19 Impact
The recent shutdown of enterprises across China due to the threat of Coronavirus is predicted to have a detrimental impact on the 5G chipset industry, as costs may rise over time due to no manufacturing and the emptying of supplies retained by manufacturers in a few months.
The global 5G Chipset market is expected to develop US$ 180.0 Billion by 2032, at a compound annual increase in price (CAGR) of 25.5% throughout the forecast period.
Coronavirus affected all the markets and its global supply chains. It has also affected the supply chain of global 5G chiset market disrupting the market. The virus outbreak at the start of 5G's mainstream deployment phase has the potential to hinder the advancement of the next-generation wireless standard, as the crisis delays or threatens to impede the manufacturing of crucial smartphone components such as semiconductor chips and screens.
Segmentation Based on Chipset Type
The ASIC sector is predicted to have the most significant market share in 2020, accounting for around 48 percent of overall revenue, and will continue to dominate over the next few years. The key factors like growing demand for 5G enabled devices, and rising chipset costs have led to the ASIC segment growth.
Indeed, faster performance, higher density, and lower space requirements are some of the critical benefits of ASIC technology that push many 5G chipset makers to select this technology over others. System-on-a-Chip (SoC) product designs based on ASICs have grown in popularity because they are more power-efficient and have higher operating frequency capabilities, meeting high-volume, mass manufacturing requirements.
Segmentation Based on Operational Frequency
Sub-GHz holds the largest share of the market. The significant proportion of sub-6GHz is due to leading industry companies' first releases of 5G chipset components supporting the sub-6GHz band for smartphones, connected automobiles, and laptops.
The continuing implementation of the Industrial Internet of Things (IoT) and the rising popularity of self-driving cars have necessitated the need for larger bandwidth and quicker data networks. As a result, the demand for chipsets supporting the mmWave band is predicted to rise throughout the forecast period (2019-2027). Furthermore, as innovative home applications become more popular, numerous IoT devices will be deployed over several years. These IoT devices will require high-speed and high-bandwidth connectivity to function well. Following that, demand for a new chipset supporting the 5G New Radio (NR) mmWave carrier frequency would rise, propelling the mmWave sector forward during the predicted period. Because of the continuing development of contemporary chipset components that support both the sub-6GHz and mmWave bands in a single module, the sub-6GHz + mmWave category is likely to grow at a significant CAGR over the next several years.
Segmentation Based on Region
North America accounted for highest market share of global 5G chipset market owing to key forces like businesses, individuals, and organizations increasingly adopting innovatiove technologies, presence of prominent firms like Qualcomm, and high demand for fast network services. North America's market share was nearly 90% in the overall growth of the global 5G chipset market. Well-established manufacturers, sophisticated IT infrastructure, high penetration of IOT and other advanced technologies increasing the demand for 5G chipset in various industries are primary factors driving North America's growth in global 5G chipset market. The abundance of research and subsequent expenditures devoted to creating next-generation network technologies bodes well for the region's market growth. Furthermore, increased measures undertaken by the US government to improve rural connection would fuel market demand during the projection period.
Incraesing adoption of IOT devices, rising demand for wirless technologies is driving the global 5G chipset market expansion. Fifth-generation wireless (5G) the next generation of mobile networks have extended broadband wireless services to the Internet of Things (IoT) and essential communications segments. 5G is providing efficient communication, operational efficiency, enhanced network performance, new user experiences, and global interconnectivity, thus increasing the adoption 5G chipset fostering remarkable progress in global 5G chipset market. 5G has improved mobile broadband services and promoted the growth of mobile networks thereby driving the global 5G chipset market. It is projected to promote the connectivity of new industries, allowing for greater efficiency and lower costs. The 5G network services deployment has created new growth opportunities for various sectors from transportation, education, to entertainment.
The key factors like expansion of network infrastruycture, demand for high-speed network connectivity for global connection, development of automated devices, IoT integration in automated vehciles, drones, smart home devices, and other gadgtes are enabling this two-fold development of global 5G chipset market. Self-driving automobiles, for example, require very low latency to perform appropriately in real-time. Smart gadgets, such as smartphones, require power to connect to the internet. The 5G network is anticipated to allow smart devices to reach this speed while consuming the least amount of power. Furthermore, the surge in ubiquitous computer penetration, which includes integrating high-performance microprocessor systems into common things such as smart locks or smart speakers, fuels the requirement for ultrafast network speed, increasing the need for 5G chipset.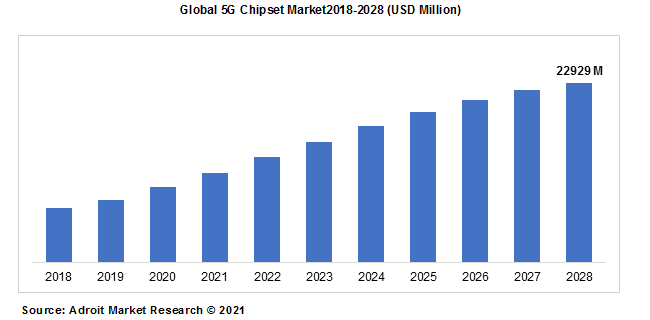 5G Chipset Market Scope
| | |
| --- | --- |
| Metrics | Details |
| Base Year | 2022 |
| Historic Data | 2021-2022 |
| Forecast Period | 2022-2032 |
| Study Period | 2021-2032 |
| Forecast Unit | Value (USD) |
| Revenue forecast in 2032 | US$ 180.0 Billion |
| Growth Rate | CAGR of 25.5% during 2021-2032 |
| Segment Covered | by Type, Regions |
| Regions Covered | North America, Europe, Asia Pacific, South America, Middle East and Africa |
| Key Players Profiled | Qualcomm Technologies, Inc.,Broadcom,Intel Corporation,Nokia Corporation,Samsung Electronics Co., Ltd.,Mediatek Inc.,Xilinx Inc.,Huawei Technologies Co., Ltd.,Qorvo,Infineon Technologies AG |
Key Segments
Chipset Type Overview, 2018-2028 (USD Million)
Application-specific Integrated Circuits (ASIC)
Radio Frequency Integrated Circuit (RFIC)
Millimeter-Wave Technology Chips
Field-programmable Gate Array (FPGA)
Product Overview, 2018-2028 (USD Million)
Electronic Devices
Network Infrastructure Equipment
Industry Vertical Overview, 2018-2028 (USD Million)
Automotive
Manufacturing
IT & telecom
Other
Operational Frequency Overview, 2018-2028 (USD Million)
Sub 6GHz
Between 26 & 39 GHz
Above 39 GHz
Regional Overview, 2018-2028 (USD Million)
North America
Europe
Germany
France
UK
Rest of Europe
Asia Pacific
China
India
Japan
Rest of Asia Pacific
South America
Mexico
Brazil
Rest of South America
Middle East and South Africa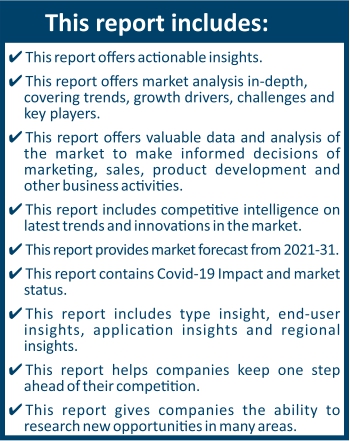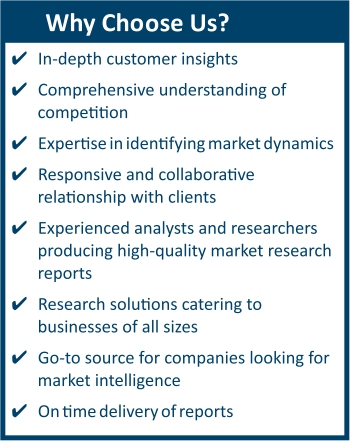 Frequently Asked Questions (FAQ) :
The 5G chipset market growth will increase by $22,929.0 million during 2021-2028.
The 5G chipset market is expected to grow at a CAGR of 48.7% during 2021-2028.
North America region is expected to hold the largest market share in forecast period 2021 to 2028.
The 5G chipset market is studied from 2018- 2028.
Broadcom, Huawei technologies co., ltd., Infineon technologies ag, Intel corporation, Mediatek Inc, Nokia corporation, Qualcomm Technologies, inc., Qorvo, Samsung electronics co. Ltd., Xilinx inc. are a few of the key vendors in the 5G chipset market.