In this day and age, our access to entertainment is more varied than ever before. From streaming services to cable networks, there are many options for how we consume content. In this article, we'll explore the 4K Set Top Box (STB) Market and its various types,
Drivers of the 4K Set Top Box (STB) Market
1. Increasing Demand for High-Definition Content: The increasing availability of content in Ultra High Definition (UHD) format is driving the demand for 4K STBs. Many TV and movie studios are producing and releasing content in UHD format, resulting in increased consumer demand for 4K televisions and set-top boxes.
2. Growing Number of Smart TVs: Consumer preference for smart TVs with built-in streaming services is growing due to its convenience and ease of use. This is also driving the adoption of 4K STBs as they allow users to access advanced features such as 3D, HDR, and more from their existing television setup.
3. Expansion of Streaming Services: The expansion of streaming services such as Netflix, Disney+, Hulu, and Amazon Prime Video has been a major factor driving the growth of the 4K STB market. These services offer a wide range of UHD content which can be accessed through a 4K STB or Smart TV with built-in streaming capabilities.
4. Technological Advancements: The introduction of advanced technologies such as HDMI 2.1 and HDCP2.2 has enabled smoother playback of high definition content over broadcast delivery networks such as cable and
Advantages of the 4K Set Top Box (STB) Market
1. Enhanced Picture Quality: The 4K STB offers an unprecedented level of picture quality, with much more detail and clarity than traditional HD broadcast technology. This makes it ideal for watching movies, sports, and other types of high-definition programming.
2. Improved Connectivity: A 4K STB is equipped with the latest connectivity options, making it easier to stream content from multiple sources as well as from online services like Netflix.
3. Lower Power Consumption: A 4K STB uses significantly less power than traditional HD set-top boxes, which means lower electricity bills for users.
Market Value and CAGR of the 4K Set Top Box (STB) Market (2021-2032)
The market value and CAGR is expected to reach $3.8 billion by 2032, with a CAGR of 8.7% during the period 2021-2032.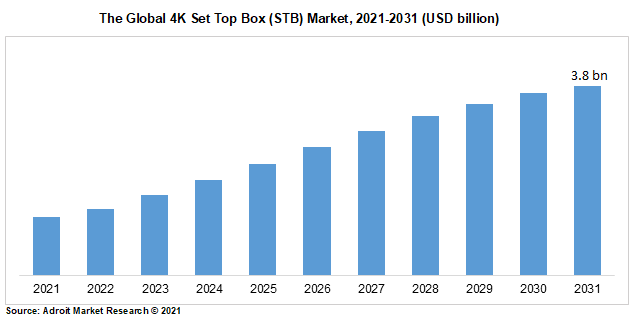 4K set top boxes (STBs) have been gaining significant traction owing to increasing demand for high-resolution content and growing adoption of 4K UHD resolution television sets.
Furthermore, the increasing availability of streaming services such as Netflix, Hulu and Amazon Prime Video offering 4K resolution content will also boost market growth over the forecast period. Additionally, advancements in technology that enable better picture quality, improved sound system and additional features such as High Dynamic Range (HDR) are also driving growth in this market.
Challenges of the 4K Set Top Box (STB) Market
1. High Cost: The cost of 4K STBs is much higher than other standard HD models, making them less attractive to consumers who view them as too expensive.
2. Need for Faster Internet Connections: To stream 4K content, users will require faster internet connections than they currently have which can be cost prohibitive for many households.
3. Lack of Content: There is a limited amount of 4K content available, leaving potential customers without enough reason to invest in a 4K STB.
4. Complicated Setup Processes: Setting up a 4K STB can be complex and time-consuming for those with less technical knowledge, leading to customer frustration and abandonment of the product.
5. Compatibility Issues: 4K STBs may only work with certain TVs, creating compatibility issues that limit their appeal to consumers.
Key Players
•Apple Inc.
•tarries international plc.
•Cisco Systems, Inc.
•EchoStar Corporation
•Thomas Co., Ltd.
•tangram (Kudelka Group)
•pace plc.
•Samsung Electronics Co., Ltd.
•Technicolor SA
•tested Electronic Sanayi vet Tipcart A?
Market Analysis into type, application, end user, region of the 4K Set Top Box (STB) Market
The most demanded product of the 4K Set Top Box (STB) Market is expected to be the IP set top box. This type of Set Top Box (STB) is used in DirecTV, AT&T U-Verse, Dish Network, and other cable TV operators for the delivery of television services to their subscribers. IP set top boxes are capable of providing high-definition video quality as well as interactive content.
The primary application for the 4K Set Top Box (STB) market is for home entertainment. It enables users to access streaming services such as Netflix, Hulu, and Amazon Prime Video directly from their TV sets without having to connect additional devices or cables. 4K Set Top Boxes (STBs) also allow users to access live sports broadcasts on their TV sets with better picture quality than conventional HD set top boxes.
The major end user of the 4K Set Top Box (STB) market is households that want to upgrade their existing HDTVs with a device that can provide them with improved picture quality and more interactive content options. Additionally, businesses that offer subscription-based services such as cable TV operators can benefit from higher resolution video streams when they use 4K STBs.
The major regions where the demand for 4K Set Top Boxes (STBs) is expected to dominate is North America due to its position in the market.
Impact of Covid-19
The outbreak of Covid-19 has impacted the 4K Set Top Box (STB) market in a number of ways. The most immediate impact has been on production and supply chains, as factories in China – where many STBs are manufactured – have been forced to close due to the virus. This has led to shortages of STBs in some markets, and price increases for those that are available.
The pandemic has also had an effect on consumer demand, as people are staying at home more and watching more TV. This has led to an increase in sales of 4K STBs, as people look to upgrade their viewing experience. However, the economic downturn caused by Covid-19 is likely to lead to a reduction in demand for 4K STBs in the future, as people become more cautious with their spending.
Key developments in the 4K Set Top Box (STB) Market
In January, 2020, the global 4K set-top box market was valued at USD 4.1 billion and is projected to reach USD 8.8 billion by 2027, exhibiting a CAGR of 10.3% during the forecast period (2020–2027). Globalisation, increasing demand for high-definition content, and rising popularity of streaming services are some of the key factors driving the growth of the market.
The availability of internet-enabled STBs has enabled consumers to access streaming content across platforms, such as Netflix and Amazon Prime Video. Moreover, advancements in picture quality and emerging technologies such as HDR (High Dynamic Range) are expected to stimulate demand for 4K set-top boxes over the forecast period.
4K Set Top Box (STB) Market Scope
| | |
| --- | --- |
| Metrics | Details |
| Base Year | 2021 |
| Historic Data | 2020-2021 |
| Forecast Period | 2022-2031 |
| Study Period | 2021-2031 |
| Forecast Unit | Value (USD) |
| Revenue forecast in 2031 | $3.8 billion |
| Growth Rate | CAGR of 8.7 % during 2021-2031 |
| Segment Covered | By Type, By Application, End Users, Regions |
| Regions Covered | North America, Europe, Asia Pacific, Middle East and Africa, South America |
| Key Players Profiled | Apple Inc., tarries international plc., Cisco Systems, Inc., EchoStar Corporation, Thomas Co., Ltd., tangram (Kudelka Group), pace plc., Samsung Electronics Co., Ltd. , Technicolor SA , tested Electronic Sanayi vet Tipcart A? |
Key Segment 4K Set Top Box (STB) Market
By Type Overview 2021-2031, ($ Billion)
• Internet Protocol Television (IPTV)
• Satellite Television
• Digital Terrestrial Television (DTT)
• Internet Television Set-top Box (OTT)
• Hybrid Television Set-top Box
By Application Overview 2021-2031, ($ Billion)
• Residential
• Commercial
By End-User Overview 2021-2031, ($ Billion)
• Manufacturing companies
By Region Overview 2021-2031, ($ Billion)
North America
• USA
• Canada
Asia Pacific
• China
• India
• Japan
• Rest of Asia Pacific
South America
• Mexico
• Brazil
• Rest of North America
Europe
• Germany
• France
• UK
• Rest of Europe
Middle East and Africa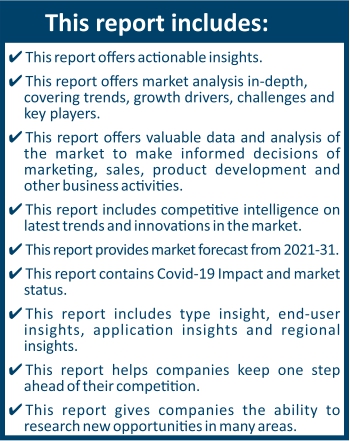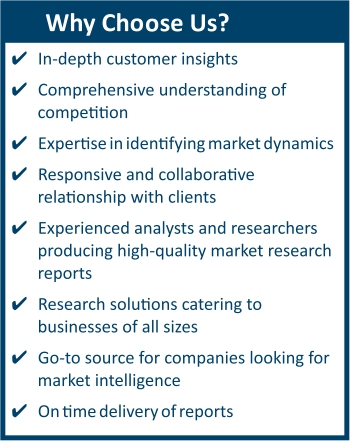 Frequently Asked Questions (FAQ) :
4K Set Top Box (STB) Market is projected to reach $3.8 billio by 2031, growing at a CAGR of 8.7