Visa essentially pioneered 3D secure authentication as a detection and prevention technique. It adds an extra degree of security while accepting card payments. It provides clients with a strong authentication process before they could even shop online, guaranteeing that they are using the right card data and are better protected against card payment frauds. 3D Secure greatly reduces the amount of fraudulent online transactions, such as identity theft and unauthorised card use. It protects genuine cardholder data and boosts client confidence.
The global 3D Secure Authentication market worth US$ 1,303.5 million by 2028, growing at a CAGR of 11.4%
3D Secure may be used to determine if a purchaser is an authorised cardholder. If a fraudster tries to make a purchase at an online store, 3D Secure will prevent it, and you would not have to contend with disagreements or charge backs.
Covid-19 Impact & Market Status
The fraud patterns have dramatically grown as a result of the COVID-19 breakout and accompanying jump in e-commerce purchases. To combat this, payment service providers, retailers, and banks are quickly implementing 3D secure authentication frameworks, which is driving the 3D secure authentication market forward. Furthermore, the COVID-19 epidemic has resulted in an increase in digital transformation among banks, allowing clients to make payments online. This element is having a positive impact on online payment methods and will enhance the prevalence of authentication technologies. The growing preference for digital banking solutions presents a huge potential for the market to improve and promote authentication technologies at a faster rate.
Technological Advancement to propel the market growth
Hotel chains have been quick to embrace new technology like automated app-based booking. Customers may now order and pay using a number of payment ways across a myriad of mobile devices. The majority of hotels, and travel centres now allow online transactions and purchases for services such as accommodations and other amenities. Digital fraud cases throughout the process of a booking transaction.
Online payments are commonly made through the hotel's website, online travel agencies, and/or online booking engines. Hotels are more exposed to online payment scam and harmful activity when they allow digital card payment transactions using their asset management platform, but also when they initiate and accept money online.
Global norms and inter-border payments are impeding progress.
Several administrations and nationalised banks have built high level payment systems during the last few decades based on security requirements and proprietary communication. Furthermore, as payment systems become more self-sufficient, there is a larger need for standardisation and mechanisation throughout cross - functional and cross networks between nations. This is predicted to hinder the implementation of 3D secure authentication services, so it usually needs the gathering and correction of human data.
Intra-bank payments enable large conglomerates with branches and divisions to transfer funds to destination countries. Beneficiaries are credited to their foreign enterprise accounts instantly, or payments are provided to their financial institutions via domestic trading and settlement processes or bilateral transfers. As a result, the availability of alternatives is likely to stymie the uptake of 3D secure payments authentication methods.
North America to be at the top of all regions in the 3D Secure Authentication market
North America now has the leadership, and this is forecast to remain in the next years. The United States has the greatest and biggest retail market in the world, and it is likely to provide enormous potential in the near future. It features a very simple payment environment driven by banking cards. Many major international credit cards, including as Mastercard, and Visa, are issued in the country. As a result, 3D secure authentication is widely used in North America.
Despite Asia Pacific is perceived as a leader in some trends, such as digital payments and digital commerce penetration, it is also regarded as among the most fragmented areas in terms of digital payments. China is the Asia Pacific region's leading supermarket ecommerce market and a guiding force supporting mobile commerce. During the projection period, Europe is predicted to have the greatest CAGR. At the moment, the United Kingdom is the only European nation that supports location-based system and 3D secure authentication. It is one of just a few nations where allowing such authentication has improved total transactions.
The 3D secure authentication market is expected to be of worth USD 1.7 billion at a CAGR of 13.1% during 2022-2029.
3D secure authentication is a security mechanism for user authentication. In card-not-present instances, this adds an extra degree of security to payment card transactions. It was created to allow cardholders to validate their identities in order to avoid payment fraud, halt unlawful transactions, and minimise chargebacks.
The name 3D comes from the model used to offer an additional layer of safe authentication between the financial authorization and internet authentication processes. The following are the three domains utilised to accomplish this security. Acquiring firm domain, the banks and the retailer receive money for transactions. The bank that authorized the payment card is referred to as the issuer domain. The infrastructure provided for the card that is utilised to enable the 3D secure protocol is referred to as the Interoperability Domain. 3D Secure has been widely deployed in all nations across the globe and has a long and proven track record of resolving credit card fraud concerns for retailers, and banks together.
Card manufacturers and other organisations have adopted additional authorisation technologies to limit the risk of forgery, and other illegal actions linked with these forms of payments. A robust client authentication authorization mechanism is one such way for assuring the legitimacy of CNP payments. SCA is a standard developed by the directive on payment processing that mandates the use of multifactor authentication in order to complete a CNP transaction effectively.
Many card transactions that were formerly done in person may now be done online because to the growing popularity of ecommerce platforms. The surge in card-not-present payments that has resulted provides more convenience for people starting the transaction and may require less from retailers, who no longer need to operate a physical store or have dedicated workers to collect payments. The disadvantage of this digital modernity is that it makes payment forgery more common and tougher to detect.
The expansion of the 3D Secure Authentication market is being driven by factors such as an increase in worldwide e-commerce sales, as well as an expansion in global smartphone and internet penetration. With the expansion of online ecommerce platforms and the accessibility of internet payment methods, there has been a considerable increase in online fraud. This aspect is propelling the use of 3D authentication technologies. Furthermore, the introduction of 3D secure 2.0 and strong prospects in Asian countries are expected to create lots of growth chances for vendors of 3D secure authentication technology.
The increased adoption of 3D secure approaches to reduce card abuse and payments losses while also increasing security measures against fraud loss is driving this industry. Using 3D protection provided such as Verified by Visa Codes increases consumer satisfaction, which is projected to fuel the market growth. 3D Secure decreases the possibility of fraudulent transactions as well as the possibility of contested transactions. The added security layer may reduce the frequency of purchases made, but it renders payments safer, which is likely to drive industry development.
The most major market trend is that internet purchasing is becoming increasingly popular. It has expanded to a larger degree as a result of its simplicity, flexibility, and convenience, and as the amount of e-payments has increased, so have fraudulent activities. As a result, for e-commerce companies, forgery control is a must. It is the greatest alternative for preventing fraud in digital transactions. 3D Secure authentication is available to all organisations who utilise payment gateways such as SecurionPay to handle transactions.
However, price and execution complexity will be a barrier to industry expansion. Furthermore, the growing worry about cyber-attacks is projected to limit market growth. Nonetheless, increased technological progress and the availability of improved security solutions are projected to provide suppliers with profitable prospects over the projection period.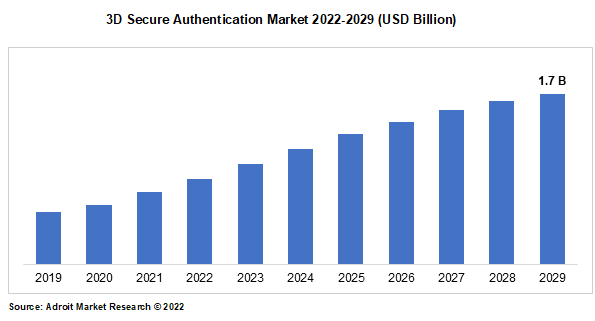 The key market players in the 3D Secure Authentication market includes Mastercard Incorporated, Fiserv Inc., Discover Financial Services, The American Express Company, Infineon Technologies AG, etc
Major Developments in the 3D Secure Authentication Market: A Snapshot
Entrust Corporation, a payments and security services provider, recently teamed with Netcetera to help financial firms prevent card-not-present transaction fraud.
3D Secure Authentication Market Scope
| | |
| --- | --- |
| Metrics | Details |
| Base Year | 2020 |
| Historic Data | 2018-2019 |
| Forecast Period | 2021-2028 |
| Study Period | 2018-2028 |
| Forecast Unit | Value (USD) |
| Revenue forecast in 2028 | USD 1.7 billion. |
| Growth Rate | CAGR of 13.1% during 2021-2028 |
| Segment Covered | Type, Application, Regions |
| Regions Covered | North America, Europe, Asia Pacific, South America, Middle East and South Africa |
| Key Players Profiled | Mastercard Incorporated, Fiserv Inc., Discover Financial Services, The American Express Company, Infineon Technologies AG & among others. |
Key Segments of the 3D Secure Authentication Market
Type Overview, 2022-2029 (USD Billion)
Solutions
Services
Others
Application Overview, 2022-2029 (USD Billion)
Banks
Financial Firms
Merchant Payments
Others
Regional Overview, 2022-2029 (USD Billion)
North America
Europe

UK
Germany
France
Rest of Europe

Asia Pacific

China
Japan
India
Rest of Asia Pacific

South America

Brazil
Mexico
Rest of South America

Middle East & Africa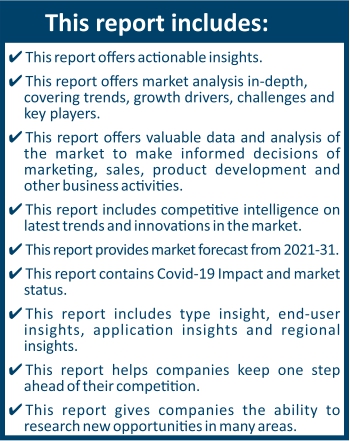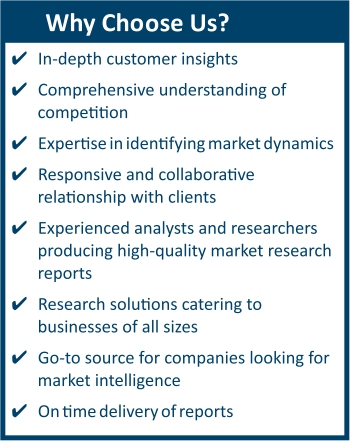 Frequently Asked Questions (FAQ) :
The market value of 3D secure authentication market in 2029 was USD 1.7 billion.
The 3D secure authentication market is growing at a CAGR of 13.1% over the forecast period.
The application of the 3D secure authentication market banks, financial firms, merchant payments and other.
North America dominated the market for 3D secure authentication market and accounted for the largest revenue share.
The top companies that hold the market share in 3D secure authentication market are Mastercard Incorporated, Fiserv Inc., Discover Financial Services, The American Express Company, Infineon Technologies AG & among others.