The global yoga clothing market is expected to be valued at US$ 47.9 billion by 2025 owing to increasing shift towards meditation, personal well-being and Yoga. The healthcare industry has largely fuelled the growing interest in yoga. Yoga has been increasingly used for both physical and mental disorders as a therapy. We gather from research and self-reports that any other wellness practice does not match the benefits that Yoga appears to bring. Choosing yoga clothing depends largely on the yoga type. Some forms of yoga are more vigorous and in some cotton fabric they require dresses to absorb sweat. In heated rooms, other forms of yoga are done, which requires less clothing. When choosing the right yoga clothing, all this boils down to comfort.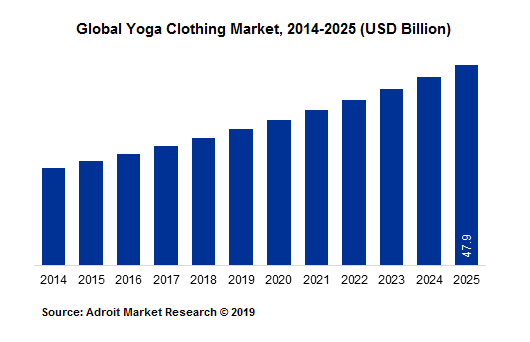 The size of the global market for Yoga Clothing is expected to reach 70291 by 2030, expanding at a compound annual growth rate (CAGR) of 7.8%.
Pants of yoga come in various styles. Some are pants that are cropped and some are capris. Typically, yoga pants are fitting in shape and help the instructor see alignments during class. If tighter pants are not comfortable, there are alternatives, such as wearing loose cotton pants that allow free movement and coolness. Usually yoga shirts are created for comfortable movement.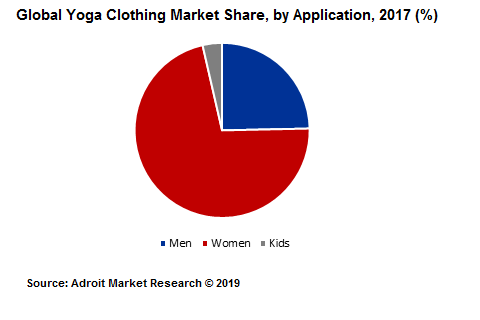 Based on products, applications and regions, the global yoga market is segmented. The market is divided into shorts of yoga, yoga pants, yoga unitard, yoga tops, yoga capris, and others based on products. The yoga pants dominated the market in 2017, generating USD 7.66 billion in revenue. With any form of exercise other than yoga, the yoga pants are gaining popularity. Yoga pants can be utilized for activities such as jogging, dancing, running, walking and even cycling. A person witnesses sheer comfort in yoga pants; no form of physical activity is hard to do wearing these. Based on application, women dominated the global yoga clothing market, accounting for almost 71.7 percent of total revenue in 2017. In 2017, this segment generated USD 15.2 billion and is expected to experience tremendous growth over the forecast period. This segment's dominance is due primarily to the sheer majority of women who practice yoga. This has resulted in product development around this demographic.
With the rapidly increasing population and rising urbanization, the demand for efficient yoga clothing is snowballing at a substantial rate. The major players in the market include Alo Yoga, Lululemon Athletica, Mika Yoga Wear, Onzie, ANJALI, Green Apple, Inner Waves Organics, Beyond Yoga, Easy Yoga, Bluefish Sport, ALALA, Fabletics, Outdoor Voices,Under Armor, Lily Lotus, Tory Sport, Prana, Soybu and Hatha Clothing among others.
Yoga Clothing Market Scope
| | |
| --- | --- |
| Metrics | Details |
| Base Year | 2022 |
| Historic Data | 2020-2021 |
| Forecast Period | 2022-2030 |
| Study Period | 2020-2030 |
| Forecast Unit | Value (USD) |
| Revenue forecast in 2030 | $ 70,291.0 million |
| Growth Rate | CAGR of 7.8 % during 2022-2030 |
| Segment Covered | product type, end user, and distribution channel, Region |
| Regions Covered | North America, Europe, Asia Pacific, South America, Middle East and Africa |
| Key Players Profiled | ADIDAS AG (ADIDAS), ASICS Corporation, AURORAE YOGA, LLC, HUGGER MUGGER, Lululemon athletica, MANDUKA, NIKE, INC., PRANA, PUMA SE, UNDER ARMOUR, INC. |
Key segments of the global yoga clothing market
Type Overview, 2015-2025 (USD Billion)
Yoga Shorts
Yoga Pants
Yoga Unitards
Yoga Tops
Yoga Capris
Others
Application Overview, 2015-2025 (USD Billion)
Regional Overview, 2015-2025 (USD Billion)
North America
Europe

UK
Russia
Spain
France
Germany
Rest of Europe

Asia Pacific

China
Japan
Southeast Asia
India
Korea
Rest of Asia Pacific

Latin America

Brazil
Mexico
Rest of Latin America

Middle East & Africa

South Africa
KSA
Turkey
Egypt
Rest of MEA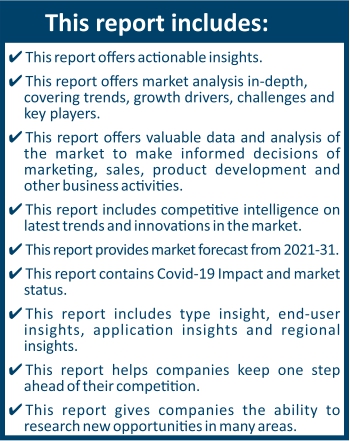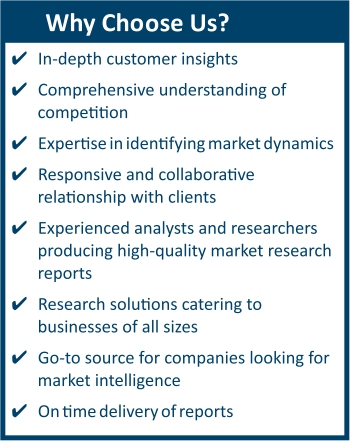 Frequently Asked Questions (FAQ) :
The market value of yoga clothing market in 2025 was USD 47.9 billion.
The top companies that hold the market share in yoga clothing market are Alo Yoga, Lululemon Athletica, Mika Yoga Wear, Onzie, ANJALI, Green Apple, Inner Waves Organics, Beyond Yoga, Easy Yoga, Bluefish Sport, ALALA, Fabletics, Outdoor Voices,Under Armor, Lily Lotus, Tory Sport, Prana, Soybu and Hatha Clothing & among others.
To get latest version of yoga clothing market report can be obtained on demand from the website.
Demand for comfortable, casual, sporting and athletic wear has increased from the last couple of years. Additions to this demand for fashionable exercise gear also increased during the forecast period to accelerate the overall yoga clothing market. The other factors that drive the yoga clothing market, such as growing adoption patterns, new colors, and basic yoga clothing design, created more adaptability and, in particular, increased wear in public environments. As many manufacturers of yoga pants and high-end fashion houses are more focused on investing in the modern sportswear market, the focus on clothing and technical fabrics that facilitate the overall wearing segment worldwide is expected to rise. All these factors give the yoga clothing industry a chance to hug over the period. Volatility in raw material prices is expected to decrease the global yoga clothing market growth.
Rising number of yoga practitioners in the U.S.
Over the past few years, yoga has grown massively in popularity, with passionate yogis spread all over the world. Yoga includes a number of physical, mental, and spiritual practices and disciplines originating in ancient India. Its initial development can be traced back to the fifth century BCE. By the late 19th century, yoga first gained prominence in the West. Then, by the 1980's, practice in Western societies became widely popular. Yoga can help you feel more relaxed, flexible, improved posture, breathed deeply and rid yourself of stress, according to US National Institutes of Health. A 2016 "Yoga in America" study says that approximately 37 million Americans now practice yoga and the relationship between yoga and a positive self-image is strong. Some 300 million yoga practitioners are present throughout the world. The business created through yoga activities has been directly affected. In 2016, a survey of 2,000 people in the population and 1,700 more yoga practitioners was conducted by the Yoga Alliance and Yoga Journal (conducted by Ipsos Public Affairs. According to this study, there was a US$ 16 billion in revenue from the yoga market and a total of US$ 80 billion in global revenues. Yoga has become a major company with over 6000 studios in the USA and the demand in yoga clothing has increased positively.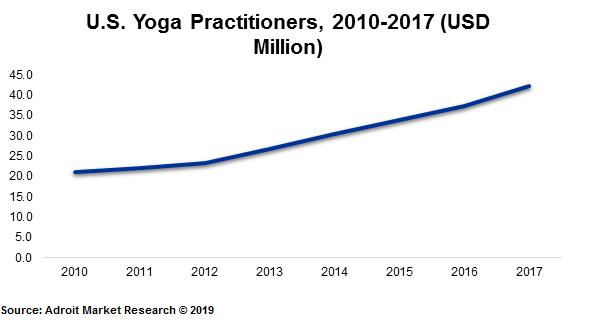 The yoga pants segment dominated the market in 2017 with a share of 36.1%. This dominance is majorly attributed to the increasing demand for yoga pants in casual clothing, sports clothing as well as athleisure clothing. Increasing number of yoga practitioners across the globe coupled with rising number of yoga training institutions are some major factors driving the growth of this segment. Yoga pants segment is anticipated to witness the fastest growth of 10.7% over the forecast period. Yoga capris accounted for the second largest share of 20.7% in 2017 owing to rising prominence of yoga capris among millennials and generation X people. Considering application, women are expected to dominate the yoga clothing market with a 71.7% share in 2017. Increasing fitness awareness coupled with easy access to professional yoga training are some key factors responsible for this dominance. Yoga clothing among women is expected to foresee the fastest growth of 10.5% over the forecast period.
Geographically, Asia-Pacific dominated the global yoga clothing market due to rising population as well as increased awareness among consumers. Millennials are expected to be a major factor driving the sales of yoga clothing in Asia-Pacific region. However, North America, accounting for the second largest share of 27.2% is expected to witness the fastest growth of 10.7% over the forecast period. This is due to increasing inclination of Americans towards following a healthy routine coupled with rising influence of Asian yoga culture in the region. During the forecast period, the US expects the highest market share in North America. A large number of yoga pants are produced in the U.S. and focus more on opening new stores across Mexico and Canada. It is estimated that Canada will grow at a CAGR higher than the US.