Global wood plastic composite market accounted for a market volume of 4 million tons and is further projected to grow at a CAGR of more than 9%. The rising demand from the building and construction applications is one of the important factors driving growth in the wood-plastic composites market. Based on that conventional wood is one of the most commonly used in this field, construction applications hold a big share of the wood plastic composites industry. These are also considered environmentally friendly as they are often manufactured of by-products from the recycled plastic and saw-mill products.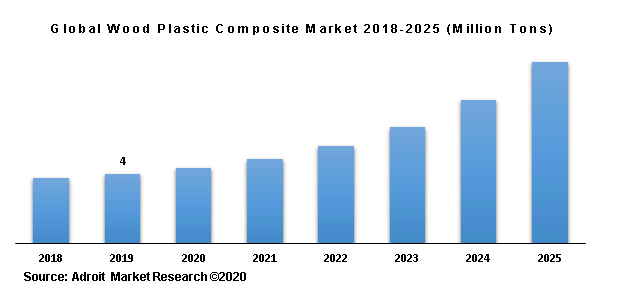 WPC can work in high temperature areas where it is not feasible to use ordinary timber materials. The production of such products facilitates the reuse of wood waste that is sent elsewhere in sites of waste. The application of this product avoids deforestation by serving as an ideal replacement for hard wood. Furthermore, no additives that can be hazardous or detrimental to the manufacturing process of wood plastic composites. These environmental concerns and rising awareness regarding them act as a primary factor which has been driving the growth of the market.
Key segments across Wood plastic composite market
Type Overview, 2018-2025, (USD Billion) (Million Tons)

Polyethylene
Polyvinylchloride
Polypropylene
Others

Applications Overview, 2018-2025, (USD Billion) (Million Tons)

Automotive
Building and Construction
Industrial and Consumer Goods
Others

Regional Overview, 2018-2025, (USD Billion) (Million Tons)

North America
Europe

Germany
UK
France
Rest of Europe

Asia Pacific

China
India
Japan
Rest of Asia-Pacific

Central & South America

Brazil
Argentina
Rest of Central & South America

Middle East & Africa

Saudi Arabia
Rest of Middle East & Africa
Reasons for the study
The purpose of the study is to give an exhaustive outlook of the global Wood plastic composite. Benchmark yourself against the rest of the market.
Be prepared for how glass industry investments and Wood plastic composite will be impacted by socio-political and economic factors over the next few years
Ensure you remain competitive as new innovations by existing key players boost the market.
What does the report include?
The study on the global Wood plastic composite includes qualitative factors such as drivers, restraints, and opportunities.
The study covers the competitive landscape of existing/prospective players in the industry and their strategic initiatives for the product development
The study covers a qualitative and quantitative analysis of the market segmented on the basis of Type and application. Moreover, the study provides similar information for the key geographies.
Actual market sizes and forecasts have been provided for all the above-mentioned segments.
Who should buy this report?
This study is suitable for industry participants and stakeholders in the global Wood plastic composite. The report will benefit:
Every stakeholder involved in manufacturing and distributing components or solutions.
Managers within financial institutions looking to publish recent and forecasted statistics pertaining to the global Wood plastic composite.
Government organizations, regulatory authorities, policymakers and financial organizations looking for investment trends in global Wood plastic composite.
Analysts, researchers, educators, strategy managers, and academic institutions looking for insights into the market to determine future strategies.
The most outstanding aspect is that this composite can be entirely produced using recycled materials. To top it off, used WPC can even be recycled to create brand new WPC, making WPC the ultimate recyclable commodity. WPC can be used as natural lumber for a number of building projects. Activities such as planing, drilling, and pilling can be easily done on WPC as easily as it could be with wood. In addition, when you are using a screw at the end of the boards, WPC is less likely to split or break, which may be a common issue in real wood. Timber Plastic Composites (WPC) blends polymer with timber fiber and creates a material with the inherent properties of wood and a range of other benefits.
Type Segment
In terms of type the global wood plastic composite market is categorized into Polyethylene, Polyvinylchloride, Polypropylene, Others. Polyethylene holds the major market revenue as well as volume share in the year 2019 and is projected to show similar trend over the forecast period. However, fluctuating raw material prices is the key factor hindering the growth of this market.
Application Segment
In terms of application, the global WPC market is segmented into Automotive, Building and Construction, Industrial and Consumer Goods, Others. Currently, building and construction holds the major market share across the global WPC market and is projected to show similar trend over the forecast period followed by automotive, industrial goods and others.
In terms of region the global Wood plastic composite market is segmented into North America, Europe, Asia Pacific, Central & South America, and Middle East and Africa. The most demand growth for the projected period is anticipated in North America regions because of increased disposable income (specifically in U.S.), which drives WPC market. Asia Pacific is another lucrative region owing to huge population and growing construction activities across India.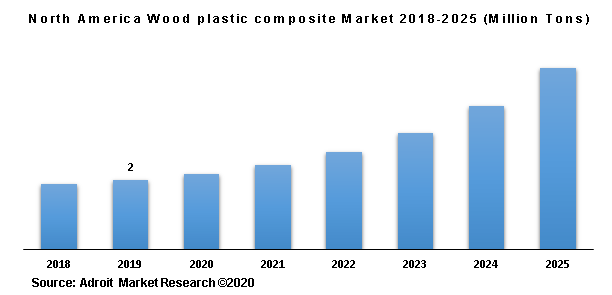 In recent years, this area has also experienced growth due to investment by MNCs and growing industries. Key players include Trex Company, Inc., Axion Structural Innovations LLC, Beologic N.V., Oldcastle Architectural Inc., CertainTeed Corporation, Fiberon, LLC, Fkur Kunststoff GmbH, Guangzhou Kindwood Co. Ltd., Jelu-Werk Josef Ehrler GmbH & Co. KG, Woodmass, PolyPlank AB, Renolit, TAMKO Building Products, Inc