The Global wireless IoT sensors Market is growing due to rising acceptance of connected devices and rising demand for electronic wearables.
At a compound annual growth rate of 23.5%, the size of the worldwide Wireless IoT Sensors market is projected to reach USD 15,998.2 million in 2027.
Covid-19 Impact & Market Status
Due to the significant increase in COVID-19 infected patients and the implementation of strict blockades around the world, several car manufacturing plants have been temporarily closed. Due to the delay in the supply chain due to the pandemic, automakers such as Maruti Suzuki and Toyota may stop production and prevent the adoption of wireless IoT sensor technology in automobiles. However, increased use of wearable devices such as smart bracelets and patches during a pandemic could help businesses regain momentum in the near future. These techniques are used to track, identify, and treat coronavirus-related symptoms and consequences. Due to the spread of the virus in different regions of the world, global sales of IoT sensors for big industrial and commercial sectors declined by 10-15% in 2020. A decrease in the number of new industrial projects, a temporary slowdown in production facilities, and decreased oil costs, to mention a few factors, have all had an influence on the IoT sensor business. Market expansion in key areas has also been hampered by short-term supply chain disruptions. COVID19 is having a significant impact on the global industrial sector due to the closure of many manufacturing facilities around the world. Demand for this market is expected to increase over the next few years as the industry continues to recover from the third quarter of 2021.
Gyroscope Sector to Remain Atop
Due to rising demand for equipment with sensors for diverse applications such as satellite navigation systems, the gyroscope sector is predicted to develop at the fastest CAGR over the forecasted period. In addition, the segment's growth is being fueled by the increasing usage of automation in homes and the car sector. The gyroscope tracks the twists, turns, and rolls of a moving object. Access to more precise and reliable orientation information has a wide range of practical applications, such as assisting a land-based robot in accounting for obstacles it encounters, and translating a person's significant movement into the digital world.
Wi-Fi to Emerge as the Most Lucrative Segment
Owing to the development of its family of standards, the Wi-Fi segment is the most profitable among the others due to the advantages of providing a very broad range of profiles. This implies it will be useful in a wide range of situations, either on its own or in conjunction with more specific protocols or cellular systems. Some IoT applications, such as automotive services or video-based apps like linked security cameras, will require the wireless broadband network's capacity, which will be developed to meet additional criteria such as low latency. Wi-Fi is in a unique position to handle both broadband and narrowband wireless IoT sensor technologies from a single platform that can operate at different power levels and signal ranges.
Industrial IoT Segment to Ensure Revenue Maximization
Industrial IoT, Consumer IoT, and Commercial IoT are all based on vertical. Because of the rising demand for carrying out complicated industrial processes and the increasing requirement to apply preventative maintenance techniques in industry, the Industrial category is likely to have the highest share in the wireless IoT Sensor Market. Also, because of the wide range of applications in the industrial sphere, such as real-time data, error prevention, improved safety, smart metering, and so on. Commencement of Industrial 4.0 help this segment to provide maximum revenue.
North America Dominated the Global Wireless IoT Sensor Market
North America accounts for the majority of the market share. Growing technological advancements in the area, as well as increased usage of wireless sensor nodes and networks across a variety of industrial, health-care, transportation, and automotive applications, are propelling the IoT Sensor Market forward. Promoting the development of smart city development to improve the standard of living, promote industry and city competitiveness, and meet energy and environment objectives Furthermore, throughout the predicted timeframe, the fast use of big data, IoT, and other sophisticated technologies to define the digital future would lend impetus to regional dynamics.
Technological advancements and the relevance of real-time computing applications are propelling the market forward. With the increase of Smart City projects, the progress of field devices, robots, and sensors, and the entrance of Industry 4.0, the market is predicted to have accelerated its growth.
By 2029, the global market for wireless IoT sensors is expected to grow to USD 74 billion with an annualized growth rate of 30% through the forecast span 2022-2029.
Wireless IoT sensor is wireless deployment IoT solutions. Wireless IoT sensor does not need extensive planning or time-consuming installations. Continuous monitoring also allows for preemptive action to be performed in the event that it is required. It can aid in better control of the home and city via mobile phones.
Wireless IoT sensor improves security and personal protection; it saves time and effort because IoT devices communicate with one another and give accurate results without human intervention; and it saves human effort because IoT devices connect and interact with one another and produce consistent results without human intervention. IoT apps can provide personal assistance by reminding you of your daily goals. These benefits have led to further adoption of wireless IoT sensor fostering remarkable progress of global wireless IoT sensor market.
Electric devices are directly connected to a controller computer, such as a mobile phone, and interact with it, resulting in efficient power utilization. As a consequence, no superfluous electricity equipment will be used. Even though we are far distant from our current location, information is freely available and updated regularly in real time. With battery improvements and self-powered or energy collecting possibilities, this sensor energy sourcing will increase.
Physical items (or groups of such things) with sensors, processing capabilities, software, and other technologies that link and share communication between devices as well as systems over the World wide web or other communications networks are referred to as wireless IoT sensors. Wireless IoT sensors have been criticized as a misnomer because devices just need to be linked to a network and individually addressable, not to the public internet. The Internet of Things (IoT) is a sort of wireless sensor platform that lets us to collect data about our environment over time with minimum manual effort. A wide range of characteristics, including air temperature and vibration, may be detected with wireless sensors.
Increasing demand for Industrial IoT (IIoT) integration in industries that require sensor-based measurement for observational and decision support is expected to propel the market forward throughout the forecast period. The worldwide wireless IoT sensors market is growing in response to rising consumer electronics demand and burgeoning need for smart devices. Smart gadgets make up a significant portion of consumer electronics. As a result, the expansion of the market is being fueled by a rise in overall consumer electronics purchases.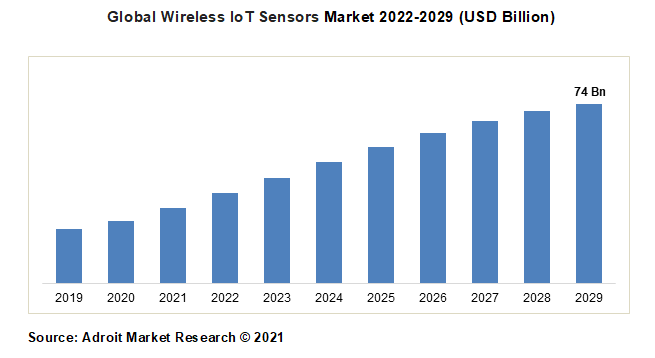 The key players in global wireless IoT sensor market are Broadcom, TDK, Honeywell International, Analog Devices, Fujitsu, Robert Bosch, Infineon Technologies, Sony, STMicroelectronics, Texas Instruments, TE Connectivity, NXP Semiconductors, Murata Manufacturing, and Smartthings among others.
Latest Innovations in the Global Wireless IoT Sensors Market: A Snapshot
Technology for the global Wireless IoT Sensors nodes has been developed by EM Microelectronic. A novel low-power, long-range, and ultra-compact communication technology has been created by EM Microelectronic. The EMWAN system created by EM Microelectronic and Asulab has a simultaneous capability to relay long-range data over Bluetooth Low Energy in order to address the difficulties of IoT networks deployment and eliminate specific gateway infrastructure to bridge sensor data to cloud platforms (BLE). Using the BLE feature, sensor data sent over long distances may be locally sent to a cloud or a smartphone. This is how end users can quickly and simply construct low-cost IoT sensor networks, opening the way for ubiquitous, environmentally friendly IoT sensor networks that will enhance the quality of life for millions of people across the world.
The new Powermat PMT 100 Wireless Power Technology, which is intended to satisfy the demands of tiny medical, lifestyle, and internet of things (IoT) devices, has been released, according to Powermat Technologies, the world leader and creator of innovative wireless power solutions. Powermat PMT 100 delivers greater overall performance and a seamless rechargeable user experience at a price range that supports scalability, from fitness apps and medical sensors to industrial sensors that boost operational efficiency. The PMT 100 receiver is made for Internet of Things (IoT) devices with a tiny form factor. It supports smart battery interfaces and battery charging features. The Powermat PMT 100 helps the design and development of smaller, more covert portable devices and lowers general wireless power implementation costs by up to 50% thanks to its lack of a receiver microcontroller and few peripheral components.
Wireless IoT Sensors Market Scope
| | |
| --- | --- |
| Metrics | Details |
| Base Year | 2020 |
| Historic Data | 2018-2019 |
| Forecast Period | 2021-2028 |
| Study Period | 2018-2028 |
| Forecast Unit | Value (USD) |
| Revenue forecast in 2028 | USD 74 billion |
| Growth Rate | CAGR of 30 % during 2021-2028 |
| Segment Covered | Type, Application, Vertical, Regions |
| Regions Covered | North America, Europe, Asia Pacific, Middle East and Africa, South America |
| Key Players Profiled | Broadcom, TDK, Honeywell International, Analog Devices, Fujitsu, Robert Bosch, Infineon Technologies, Sony, STMicroelectronics, Texas Instruments, TE Connectivity, NXP Semiconductors, Murata Manufacturing, and Smartthings among others. |
Key Segments of the Global Wireless IoT Sensors Market
Type Overview, 2022-2029 (USD Billion)
Magnetometer
Humidity Sensor
Temperature Sensor
Touch Sensor
Accelerometer
Gyroscope
Image Sensor
Inertial Sensor
Pressure Sensor
Flow Sensor
Others
Application Overview, 2022-2029 (USD Billion)
ZigBee
NFC
Z-Wave
Wi-Fi
Bluetooth
Others
Vertical Overview, 2022-2029 (USD Billion)
Commercial IoT
Industrial IoT
Consumer IoT
Regional Overview, 2022-2029 (USD Billion)
North America
Europe
Germany
France
UK
Rest of Europe
Asia Pacific
China
India
Japan
Rest of Asia Pacific
South America
Mexico
Brazil
Rest of South America
Middle East and South Africa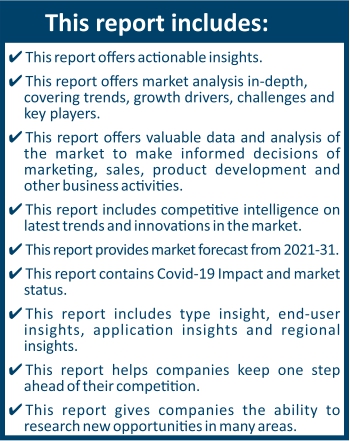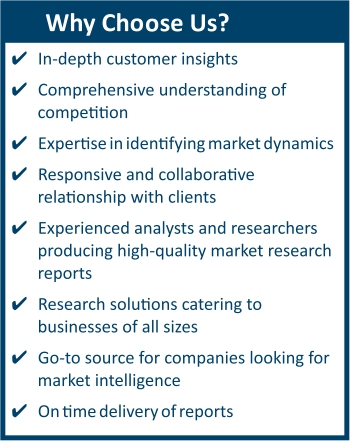 Frequently Asked Questions (FAQ) :
The market value of Wireless IoT Sensors market projected to reach USD 74 billion.
To get latest version of Wireless IoT Sensors market report can be obtained on demand from the website.
The top companies that hold the market share are Innophos, E.I. du Pont de Nemours & Co., Angel Yeast Royal DSM N.V., Kerry Group, Incorporated, and Cargill among others
The North America region has a comparatively higher market stake in the Wireless IoT Sensors market