Owing of its benefits in treating skin damage, white oil is projected to rise in popularity in ointment compositions.
The size of the global market for White Oil is expected to reach USD 3.8 billion by 2030, expanding at a compound annual growth rate (CAGR) of 4.8 %
COVID-19 pandemic's impact on the white oil market:
Following the COVID-19 epidemic, governments and health authorities throughout the globe looked for efficient ways to stop the new coronavirus from spreading indoors. With global vaccination campaigns underway and many institutions restarting operations, there has been a surge in demand for such solutions, particularly in confined locations like schools and workplaces. Several notable organizations have advocated for the use of fog generator technology for antiviral air treatment in particular indoor locations where maintaining social distance might be problematic. Because most fog generators run on mineral oil or white oil, product demand has increased throughout the epidemic. Furthermore, the increased importance of white oil in medicinal formulations has aided in the growth of the sector.
The personal care segment accounted for the highest share
Personal care applications dominated the market in terms of volume in 2022, accounting for 28.7% of the total. This is due to the extensive use of the substance in the manufacture of infant oils and hair and skin care products including serums, creams, and lotions, as well as cosmetics. Personal care product producers are focusing on new product releases to meet the rising demand.
White oil has the potential to build a barrier between the skin and the outside environment, assisting in the prevention of skin damage. It's also widely used in the development of anti-aging products, which are in great demand, particularly in East and North Asian nations.
The Asia Pacific region dominated the market
In 2022, Asia Pacific dominated the market, accounting for more than 51% of worldwide sales. The need for pharmaceutical and personal care items is to blame for this. Furthermore, adhesive consumption in the construction and automotive industries, as well as polymer demand from home product makers in the area, are expected to drive product demand. Furthermore, because to the availability of trained and low-cost labour, as well as the simplicity of laws, nations such as Japan, India, Thailand, South Korea, and Indonesia are fast becoming important centres for cosmetics producers. This is also assisting market expansion in APAC.
Due to the constantly developing home goods market in North America, the product has significant demand from polymers and adhesive applications. Polymer usage has grown as consumer spending on home items has increased in the United States and Canada. Furthermore, the region's heavy reliance on e-commerce for vital purchases has resulted in increased consumption of packaging items, which has resulted in greater consumption of adhesives, raising product demand. The European market is primarily driven by substantial consumer demand for personal care and cosmetics. Several cosmetics companies, including Gisou, Kerluxe, Loreal, Augustinus Bader, and Lumene, have their headquarters in Italy, France, and Spain.
Major pharmaceutical companies are constantly growing their production capacity for drugs, syrups, tablets, ointments, and other things, which is expected to boost industry share.
The need for gelatin capsules will also rise as the number of health concerns such as osteoarthritis, skin ageing, brittle and weak bones, and obesity rise. White oils are mineral oils that have been purified to be pure, stable, colourless, odourless, and non-toxic. These characteristics make the product ideal for usage in the chemical, cosmetics, and pharmaceutical sectors. It's a key ingredient in the cosmetics industry's formulae for petroleum jellies, topical skin care body lotions, moisturizing creams, hair care products, cosmetics, cold creams, and baby oils, to name a few. In 2022, the global white oil market was anticipated to be worth USD 1.3 billion, with a CAGR of 3.1 percent predicted from 2022 to 2029. Globally, rising demand from medicinal and cosmetics applications are expected to be a major driver of market expansion.
The personal care industry is diversified and developing at a steady pace, thanks in part to the significant concentration of cosmetic product makers in Asian nations such as China, Indonesia, India, Japan, and South Korea. The rising demand for personal care goods in these nations has aided cosmetic formulators in their efforts to innovate and produce new products. The lubricity, moisture barrier properties, and chemical inertness of white oil make it ideal for use in cosmetics and beauty products.
It is widely blended with coconut oil and other formulae to produce hair care products due to its compatibility with a wide spectrum of oils. Product demand is expected to benefit from increased demand for skin care and hair care goods. The substance is used in the pharmaceutical industry to make a variety of lotions, ointments, laxatives, and complexion creams, as well as a carrier for curative medicinal compositions.
The two commercially used production procedures are the two-stage hydrotreating method and the acid treatment process to Vacuum Gas Oil (VGO) method from a technological viewpoint. Both of these procedures result in thermally stable, pure base oil that is free of potentially harmful elements like sulphur, aromatics, and other contaminants. Leading industry players are focusing more on process innovation to reduce manufacturing costs and time in order to achieve a larger market share.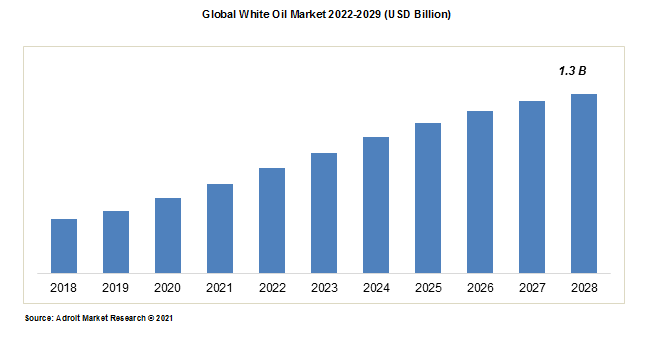 Key companies offered in the report are Total SA, Repsol SA, Honeywell, Inc., ExxonMobil Corp., Eni Energy, and Sonneborn, LLC.
Major developments in the White Oil market:
HollyFrontier Corporation said in January 2019 that its subsidiaries have completed the previously announced USD 655 million acquisitions of Sonneborn US Holdings Inc. and Sonneborn Coperatief UA (Sonneborn), which is expected to boost the company's market position in the worldwide white oil market.
White Oil Market Scope
| | |
| --- | --- |
| Metrics | Details |
| Base Year | 2020 |
| Historic Data | 2018-2019 |
| Forecast Period | 2021-2028 |
| Study Period | 2018-2028 |
| Forecast Unit | Value (USD) |
| Revenue forecast in 2028 | USD 1.3 billion |
| Growth Rate | CAGR of 3.1 % during 2021-2028 |
| Segment Covered | Application, Regions |
| Regions Covered | North America, Europe, Asia Pacific, Middle East and Africa, South America |
| Key Players Profiled | Total SA, Repsol SA, Honeywell, Inc., ExxonMobil Corp., Eni Energy, and Sonneborn, LLC. |
Key Segments of the Global White Oil Market
Application Overview, 2022-2029 (USD Billion)
Food
Pharmaceutical
Adhesive
Polymers
Agriculture
Personal Care
Textile
Others
Regional Overview, 2018-2028 (USD Billion)
North America
Europe
Germany
France
UK
Rest of Europe
Asia Pacific
China
India
Japan
Rest of Asia Pacific
South America
Mexico
Brazil
Rest of South America
Middle East and South Africa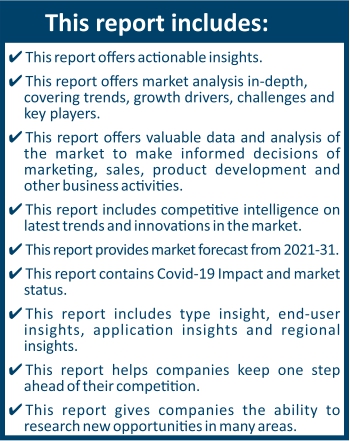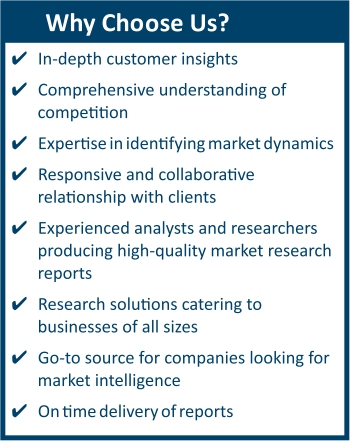 Frequently Asked Questions (FAQ) :
The market value of white oil market in 2029 was USD 1.3 billion.
The white oil market is growing at a CAGR of 3.1% over the forecast period.
The application of the white oil market Pharmaceutical, Food, Personal Care, Agriculture, Textile, Adhesive and Other.
Asia Pacific dominated the market for white oil market and accounted for the largest revenue share.
The top companies that hold the market share in white oil market are Total SA, Repsol SA, Honeywell, Inc., ExxonMobil Corp., Eni Energy, and Sonneborn, LLC.