The global white biotechnology enzymes market size was valued at USD 7,603.4 million in 2018 and is expected to grow at a CAGR of 6.9% from 2019 to 2025. Increasing consumption of household cleaners raising high hygiene concerns amongst the population is expected to drive the market for white biotechnology enzymes. Additionally, rising demand for clean energy is expected to propel the market growth. Depleting fossil fuels & stringent regulations on pollution are expected to boost the demand for clean energy.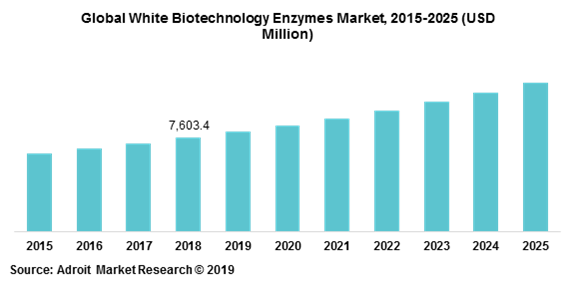 Biofuel constitutes as a cleaner form of energy. Biofuel production for transportation grew by 7% in 2018, and an anticipated to grow at a stable rate in the forecast period. Ethanol majorly constitutes as a type of biofuel, therefore, for minimizing the supply demand gap, ethanol manufacturers are possibly expected to increase their production capacities which in turn is expected to fuel the demand for white biotechnology enzymes in the future years. Additionally, strong governmental support pertaining to costs containment, and innovation is anticipated to increase with current capacities and meet the expected demand in the coming years.
Growing demand from food & beverage industry is also expected to drive the market for white biotechnology enzymes. Enzymes are used in the manufacturing of breads and brewing beers; the trend for consumption of these foods is continuously on a higher margin. Changing lifestyles that advocating for healthy diet may avoid the use of these bakery products, but their adoption is significanctly increasing in ASEAN countries, adopting western cuisine have increased production as well as consumption of bread products in the past few years. The enzyme named as Amylase is the most widely used in bakery industry so as to convert starch into oligosaccharides, dextrin and sugar maltose. protease is also used for gluten breakdown.
Key segments of the Global White Biotechnology Enzymes Market
Type Overview, 2015-2025 (USD Million)
• Carbohydrase
• Proteases
• Lipases
• Others
Enzymes by Industry Overview, 2015-2025 (USD Million)
• Carbohydrase by Industry
• Proteases by Industry
• Lipases by Industry
• Others by Industry
Industry Overview, 2015-2025 (USD Million)
• Industrial Enzymes
• Biofuel
• Cleaning products
• Food and beverages
• Animal feed
• Others
• Specialty Enzymes
• Research and biotechnology
• Diagnostics
• Others

Regional Overview, 2015-2025 (USD Million)
• North America
• U.S.
• Rest of North America
• Europe
• Germany
• U.K.
• France
• Rest of Europe
• Asia Pacific
• China
• Japan
• India
• Rest of Asia Pacific
• Rest of the World
Reasons for the study
• The purpose of the study is to give an exhaustive outlook of the global white biotechnology enzymes industry.
• We have been following the overall segmentation of white biotechnology enzymes market. Growing demand for clean energy is expected to drive the market growth.
• Rising healthcare & safety concerns which in turn leading to growing consumption of household cleaners is expected to fuel the growth for white biotechnology enzymes.
What does the report include?
The study on the global white biotechnology enzymes market includes qualitative factors such as drivers, restraints, and opportunities
The study covers qualitative and quantitative analysis of the market segmented on the basis of devices and region. Moreover, the study provides similar information for the key geographies.
Actual market sizes and forecasts have been provided for all the above-mentioned segments
The study includes the profiles of key players in the market with a significant global and/or regional presence
Additionally, the market has been evaluated using the value chain and Porter's Five Forces' analysis
Who should buy this report?
This study is suitable for industry participants and stakeholders in the enzymes/ chemicals Industry. The report will benefit:
Managers within financial institutions looking to publish recent and forecasted statistics pertaining to white biotechnology enzymes
Government organizations, regulatory authorities, policymakers and financial organizations looking for innovative solutions.
Executives of chemical companies that are engaged in the distribution and marketing
Analysts, researchers, educators, strategy managers, and academic institutions looking for insights into the market to determine future strategies
The global white biotechnology enzymes market has shown phenomenal growth in the recent years. These enzymes can mostly be utilized in the making of clean energy as rising stringent governmental regulations on emissions are expected to fuel the market growth in the upcoming years. Growing concerns over global climate change are fueling the demand for reduction of carbon footprint throughout the world. Additionally, rapid urbanization, growing middle class population and their increasing disposable income as well as mounting awareness among people about health & hygiene is propelling the growth of laundry detergents is expected to propel the demand for white biotechnology enzymes.
Moreover, rising health safety concerns are eventually leading to increase the demand for household cleaning chemicals, detergents & other derivatives, this is in turn expected to thrive the market demand for white biotechnology enzymes. Proteases, amylases, lipase, cellulases, mannanases, and pectinases are the most common enzymes used in production of cleaning agents.
The global white biotechnology enzymes market has been segmented based on enzyme type, by industry and region. Based on enzymes, the market has been classified into carbohydrase, protease, lipase & others. Lipases are used in bakery products, as flavoring agents, in dairy products, animal feed, meat and fish processing, etc. among others. Added vital use of lipases is as biocatalysts for producing pure enantiomers for the pharmaceutical industry. The use of these enzymes in biodiesel manufacturing is gaining popularity due to growing emphasis on clean energy and focus on replacing fossil fuels with renewable sources of automotive fuels
Additionally, the use of proteases in leather manufacturing and processing has been beneficial for manufacturers to improve the grain and texture of leather. Also, use of enzymes in leather production has also reduced pollution caused from these companies. Leather processing done by using protease enzymes are an effective alternative to conventional chemical based processes. This shift has resulted in emergence of environment friendly process and increased productivity by saving time and energy.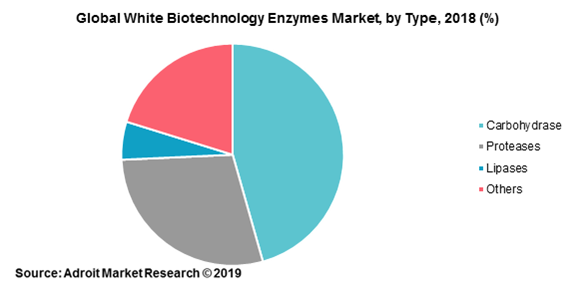 On the basis of region the market for white biotechnology enzymes has been segmented into in North America, Europe, Asia Pacific, and rest of the world. North America is expected to be the largest market due to the rising growth of industries such as biofuel, cleaning products, and food & beverages. Additionally, food and beverages sector in North America is thriving quickly owing to the high disposable income. Europe is expected to be the second largest market for white biotechnology enzymes, According to stats, there are 117 enzyme manufacturers worldwide, with 75 (64%) located in the European Union and 21 (18%) in the U.S. France, Spain and Germany have more than 10 companies. Moreover, cleaning products industry is on a high verge in Europe due to rising health concerns and hygiene awareness. Detergents are used adopted in Europe in miscellaneous applications such as, domestic industrial and institutional cleaning, dishwashing, and laundering. Asia-Pacific is expected to have a stable growth rate, stringent government regulations to reduce pollution are expected to drive the market for clean energy, which in turn will support the white biotechnology enzymes utilization in chemical industries. Additionally, the increased innovation and development of technologies in the food industry, thereby expected to drive the market demand in this region. In Rest of the world concerning to the Middle, East & Africa the use of enzymes are meant for improving cost efficiencies and productivity, alongside with increasing consumer interests in replacing petrochemical products with enzymes is anticipated to grow the demand for industrial enzymes in this region.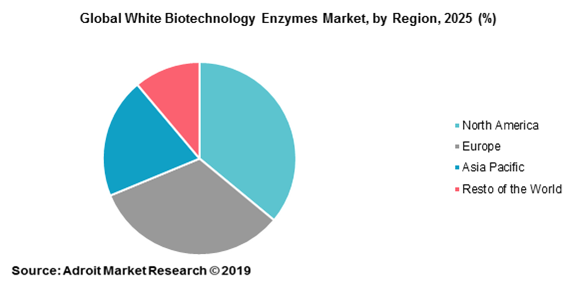 The manufacturers in the global white biotechnology enzymes market include presence of players catering to consumers locally as well as internationally. The list includes BASF SE, Novozyme A/S, DuPont de Nemours, Inc, Koninklijke DSM N.V, Advanced Enzyme Technologies Ltd, c-LEcta GmbH, Amano Enzyme Inc, Novus International, Inc, and Chr. Hansen Holding A/S among others have a wider presence within the global market.