The growing demand for nutritional supplements, as well as advancements in the pharmaceutical industry, are driving the Vitamin B6 market.
The global Vitamin B6 (Pyridoxine) market is anticipated to increase at a 4.3% CAGR to reach value USD 1.4 billion in 2027
COVID-19 Impact
The global market has been hindered by the pandemic, which has caused numerous challenges and affected the global supply chain but it was favorable for the pharmaceutical sales. There was a conscious lifestyle shift toward healthier living and a preference for adequate nutrition via vitamin and mineral supplements even before the pandemic. This pandemic has certainly ignited people's awareness about healthy lifestyles and good food habits. This awareness has made consumers adopt healthier ways of living and prioritize health. As a result, the vitamin B6 (Pyridoxine) industry expanded significantly.
The government imposed a lockdown to slow the spread of the virus. Consumers are concerned that the COVID-19 pandemic will have an adverse effect on their health and work. This has an impact on the vitamin B6 (Pyridoxine) market because many pharmaceutical companies have ceased production.
The Pharmaceutical Segment Likely to Remain
The pharmaceutical industry dominated the vitamin B6 (pyridoxine) market. Vitamin B6 supplements have been shown to be effective for the treatment of a biological form of anemia. It is also given to pregnant women to help with morning sickness. The various health benefits make Vitamin B6 highly potent.
North America will dominate the market for vitamin B6 (Pyridoxine)
Vitamin B supplements are becoming increasingly popular in the North American region as people become more aware of the benefits of vitamin B usage. Privileged consumers, a well-established market, and a growing population are expected to drive the vitamin B market. North America also consists of a leading market player which makes it favorable for the Vitamin B6 market.
Asia Pacific region is expected to witness steady growth in the Vitamin B6 market
The international vitamin B market is expected to grow substantially in the Asia Pacific. The expansion of the animal feed industry, as well as the growing usage of vitamin B in this industry, is anticipated to boost the market growth.
Furthermore, the growing number of people suffering from nutritional deficiency is supposed to propel the vitamin B market forward.
Rising health-benefit awareness, as well as an increase in the number of chronic diseases, are positively influencing the Vitamin B6 market.
Food industry is also a core end-user of vitamin B6. It is also added to other foods and is used as a nutritional supplement too. It is the general term for six vitamin B6-active compounds (vitamers). Substantial quantities of naturally found pyridoxine exist in glycosylated forms with reduced bioavailability in fruits and vegetables and grain products.
The WHO and FAO have adopted various strategies to boost health and immunity in consumers worldwide in order to improve health standards and prevent chronic diseases. Vitamin B6 demand has been driven by factors ranging from nutrient addition to nutrition knowledge and disease prevention. Food fortification is the procedure of adding vitamins and minerals to types of food during processing to boost their nutritional value and is widely practiced.
Severe diseases and disorders are on the rise globally, owing to an older population and unhealthy lifestyles. Vitamin B6 has long been recognized for its role in disease prevention. Results have proved that consuming Vitamin B6 helps in the prevention and treatment of many diseases such as cancers, heart attacks, and diabetes. Vitamin B6 is highly recommended for blood sugar management therefore, the high prevalence of lifestyle ailments is allowing market expansion.
Vitamin B6 is known to treat nerve and hereditary disorders and is widely used for its purpose. Leading lifestyles and better standards of living have advocated for a more healthy and nourishing way of life paving way for the demand for nutritional supplements.
Globally, favorable growth in the food and beverage, animal feed, and medicine and health industries are expected to generate market opportunity for pyridoxine hydrochloride (Vitamin B6) soon.
When the Covid 19 pandemic struck the world and a lockdown with restrictions was imposed, people began to stockpile essential vitamin supplements to boost their immunity. These provided favorable conditions for the Vitamin B6 market as it is used in addition to a multivitamin and is also available individually as a B complex. Due to its immunity-boosting properties, the demand exceeded the production. Therefore several countries put a stop to the export of Vitamin B6 and were dependent on domestic supply. This resulted in a shortage of vitamins affecting the supply chain.
However, strict regulations imposed on pyridoxine hydrochloride (Vitamin B6) by regulatory bodies in many countries make it difficult for manufacturers to sustain the quality of the product.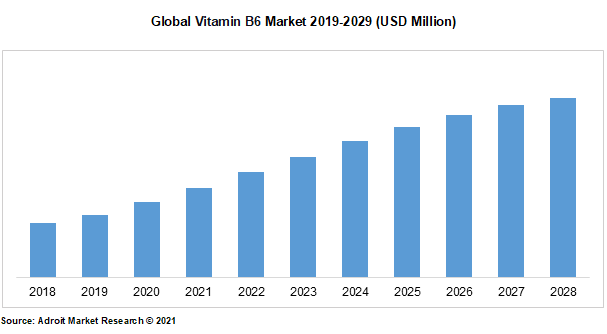 Recent Developments for the Vitamin B6 (Pyridoxine) Market:
Key players are promoting strategies to increase demand for Vitamin B6 by innovating and launching new products.
In April 2018, Duchesnay, a leading pharmaceutical company, launched a multi-layer extended-release tablet in the US market for pregnant women experiencing nausea and vomiting.
Teva released delayed-release doxylamine succinate and pyridoxine hydrochloride tablets in June 2019, which were beneficial for pregnant women experiencing morning sickness.
Vitamin B6 (Pyridoxine) Market Scope
| | |
| --- | --- |
| Metrics | Details |
| Base Year | 2020 |
| Historic Data | 2018-2019 |
| Forecast Period | 2021-2027 |
| Study Period | 2017-2027 |
| Forecast Unit | Value (USD) |
| Revenue forecast in 2027 | USD 1.4 billion |
| Growth Rate | CAGR of 4.3 % during 2021-2027 |
| Segment Covered | By Product Type, Based on applications, Regions |
| Regions Covered | North America, Europe, Asia Pacific, Middle East and Africa, South America |
| Key Players Profiled | Jiangxi Tianxin Pharmaceuticals Co. Ltd., Now Foods, BASF, Royal DSM, Shanghai Hegno Pharmaceutical Holding, Nanjing Pharmaceutical Factory Co. Ltd., Huazhong Pharmaceutical, Acebright Pharmaceuticals Group |
Key segments of the Vitamin B6 Market
Type Overview, 2022-2029 (USD Billion)
Tablets
Capsules
Gummies
Syrups
Powder
Others
Application Overview, 2022-2029 (USD Billion)
Anemia
Dermatitis
Fatigue
Insomnia
Muscle Cramps
Menopausal Depression
Premenstrual Syndrome
Morning Sickness
Others
End-Use Overview, 2022-2029 (USD Billion)
Pharmaceuticals
Food & Beverage
Cosmetics
Animal Feed
Regional Overview, 2022-2029 (USD Billion)
North America
Europe
Asia Pacific
The Middle East, and Africa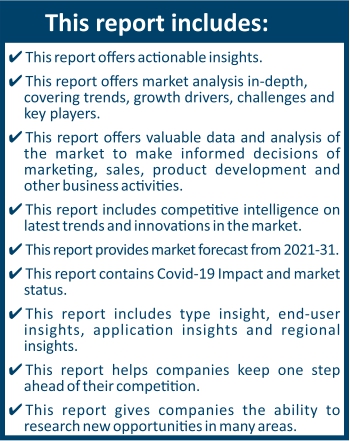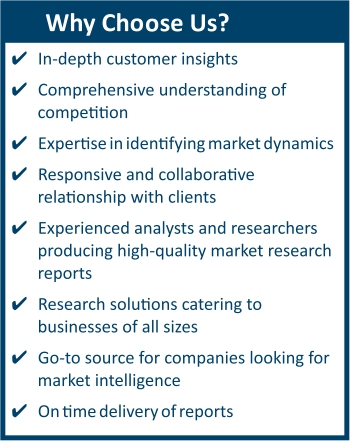 Frequently Asked Questions (FAQ) :
The application of the vitamin B6 (pyridoxine) market anaemia, dermatitis, fatigue, insomnia, muscle cramps, menopausal depression, premenstrual syndrome, morning sickness and other.
North America dominated the market for vitamin B6 (pyridoxine) market and accounted for the largest revenue share.
The top companies that hold the market share in vitamin B6 (pyridoxine) market are Tianxin Pharmaceutica, DSM, Hegno, Sentai, Guangji Pharmaceutical, Acebright Pharmaceuticals Group, BASF SE, Huazhong Pharmaceutical, HuiSheng Pharma, Nanjing Pharmaceutical & among others.
To get latest version of vitamin B6 (pyridoxine) market report can be obtained on demand from the website.
The base year for the report is 2021 in vitamin B6 (pyridoxine) market.