Vinpocetine is a synthetic medicine with qualities comparable to that of the Periwinkle plant's component. Vinpocetine is also regarded as a smart medicine or a cognitive enhancer since it aids cognitive functioning
Covid 19 Impact & Market Status
The pandemic can be attributed to severe disruptions in their corresponding manufacture and supply-chain activities as a result of numerous preventive lockdowns and other restrictions forced by governments worldwide. Likewise, the global market for Vinpocetine has been affected too. Additionally, user demand has declined as individuals are nowadays more focused on eliminating non-essential expenses from their financial plan since the economic state of most people has been severely impacted by the pandemic.
Over the estimation period, the above-mentioned factors are on the verge of weighing on the universal Vinpocetine Supplements Market's revenue path. The worldwide Vinpocetine Supplements Market is projected to revive as various government bodies begin to relax these imposed lockdowns.
Demographic Overview
Because consumers use Vinpocetine as a dietary supplement, such as an OCT medicine, North America controls a large portion of the worldwide Vinpocetine drug industry. Furthermore, the market has been strengthened by successful studies on various age groups for the treatment of various mental diseases, such as Alzheimer's disease. According to an Alzheimer's Association projection, more than 5.4 million individuals in the United States would be diagnosed with Alzheimer's disease by 2020, with the number of adults over 65 predicted to surpass 10 million (12.8 million). The rise in ischemic stroke incidents in Europe has enhanced the market for Vinpocetine. During the projected period, Europe is estimated to have the second-largest share of the worldwide Vinpocetine market. From 2021 to 2029, the market in the area is expected to grow at a considerable CAGR.
Market Value Sustained by User Disposition towards Staying 'Mentally Sharp'
The rise in awareness of mental health and healthy eating habits, there can be seen a rise in the demand of vinpocetine and other dietary food supplements too. The vinpocetine supplement is being sold in great numbers since it provides the users with benefits of a healthy and long life. The fact that the consumers are believing in supplements to fulfil their nutritional and health needs, is driving the overall vinpocetine market forward at a much faster pace.
Major Industry Players
Businesses in the Vinpocetine Supplements Market industry are now further involved with commencement techniques such as CSR initiatives, focused marketing and more in order to upsurge the worldwide prominence. A striking propensity that can be seen across the board is that these organisations are now making an effort to grip a certain business-related activity in a country with favourable law-making. Consequently, many enterprises are able to save expenditures while still engaging trade specialists and experts at every vital interval of their manoeuvres.
Authorities and establishments in evolving nations like Indonesia, Taiwan, China and India are launching policies to lure overseas investors and stakeholders to their industrial segments by reducing down trade taxes and duties to grow the employment rate.
The medicine aids in the improvement of cerebral blood circulation (by increasing glucose and oxygen availability) as well as other cerebral metabolic concerns.
It was in the late 1970s when vinpocetine was first synthesized from vincamine; Cavinton and Intelectol were the commercial names vinpocetine was sold under. Primarily, the drug was endorsed and retailed for use in the cerebral disorders.
The drug is synthetically derived of the vinca alkaloid vincamine, which may be found in the seeds of Voacanga africana or the leaves of Vinca minor, popularly known as periwinkles. Vinpocetine is clinically recommended in Europe for the treatment of cerebrovascular ailments namely stroke and dementia for over three decades. In recent years, consumer perceptions of cognitive health have shifted dramatically. With the growing market trends, market participants in the nutraceuticals business are watching much more than just their immediate competitors and product categories. The market for nutraceuticals that target brain health and cognition, in particular, has piqued the interest of a wide range of demographic groups. Growing demand for vinpocetine - a chemical isolated from the periwinkle plant - as a mental health supplement has resulted from an increased focus on mental health.
This drug is being put into use for averting and plummeting the chances of disability and sometimes passing away of an individual, from an ischemic stroke. When the blood clots restrict the blood flow to the brain cells and the neurons begin to die, a person might suffer from a sudden ischemic stroke. It is widely used post a stroke to continue the flow of the blood and avoid any blood clots and also revive the neurons by shielding them from the damaging effects of oxygen deprivation.
Vinpocetine is majorly effective in treating diseases like the Alzheimer's disease. Vinpocetine, if taken by mouth for a period of four months, helps in improving the thinking skills of individuals suffering with dementia; however, long-term aspect of the same is still unknown.
The universal vinpocetine market had a calculated value of USD 256.1 Million in 2022 and is expected to reach USD 538.78 Million by the year 2029 with a CAGR of 4.76%. In the US, growing brain-related problems and illnesses have been a major driver for the vinpocetine market and these problems are causing numerous cognitive diseases which is pushing the market even forward. The drug is also thought to cure and aid people suffering with motion sickness, seizure disorders, chronic fatigue syndrome and menopause. The drug's demand is also on the rise since it is used to aid and enhance the antimicrobial defences in the middle ear of humans. The inhibiting inflammation in the otitis media, the middle part of human ear, can be treated using the drug.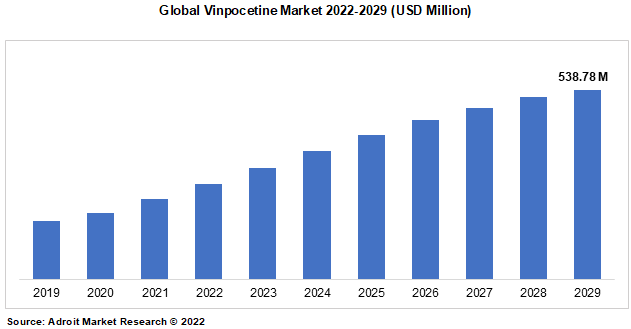 The market is currently being led by Northeast Pharma, Micro Labs, Gedeon Richter, Liaoning Zhiying, Haerbin Medisan, Runhong, Sun Pharma, ZhiTong, Wuhan Hualong Biopharmaceutical, and Welman. These major players of the market and industry have been successfully executing their carefully planned strategies and are vital for the growth of the entire market. These companies are investing chunks of money in the growing R&D to approve the usage of vinpocetine as a drug/ pharmaceutical and not just a supplement. The growth of these big manufacturers and distributors is being closely monitored by the upcoming companies, that is, the newcomers in the market.
Latest Innovation in the Vinpocetine Market: A Snapshot
A key driver of the market has been the rise in concerns linked to brain health that are creating cognitive illnesses among individuals. Vinpocetine medicine is sold as a dietary supplement in the United States, where it is also taken by persons suffering from menopause, chronic fatigue syndrome (CFS), and seizure disorders, as well as for the avoidance of motion sickness, which is driving rising demand for the drug.
Given that the same substance is sold as part of prescription pharmaceuticals in countries such as Germany, Russia, and China, regulatory adjustments and revaluation of Vinpocetine as dietary supplements by the FDA are likely to stymie the Vinpocetine drug industry in the United States.
Vinpocetine Market Scope
| | |
| --- | --- |
| Metrics | Details |
| Base Year | 2020 |
| Historic Data | 2018-2019 |
| Forecast Period | 2021-2028 |
| Study Period | 2018-2028 |
| Forecast Unit | Value (USD) |
| Revenue forecast in 2028 | USD 538.78 Million |
| Growth Rate | CAGR of 4.76% during 2021-2028 |
| Segment Covered | Type, Application, Regions |
| Regions Covered | North America, Europe, Asia Pacific, South America, Middle East and South Africa |
| Key Players Profiled | Northeast Pharma, Micro Labs, Gedeon Richter, Liaoning Zhiying, Haerbin Medisan, Runhong, Sun Pharma, ZhiTong, Wuhan Hualong Biopharmaceutical, and Welman |
Key Segments of the Vinpocetine Market
Type Overview, 2022-2029 (USD Million)
Application Overview, 2022-2029 (USD Million)
Store-Based
Specialty Stores
Pharmaceuticals
Regional Overview, 2022-2029 (USD Million)
North America
Europe
Germany
France
UK
Rest of Europe
Asia Pacific
China
India
Japan
Rest of Asia Pacific
Latin America
Mexico
Brazil
Rest of Latin America
Middle East and South Africa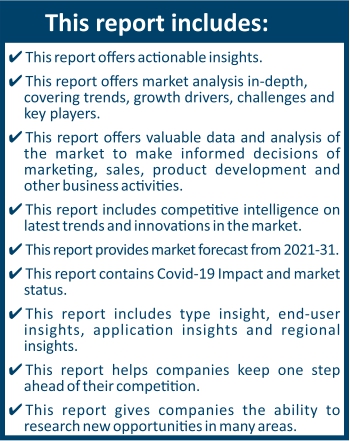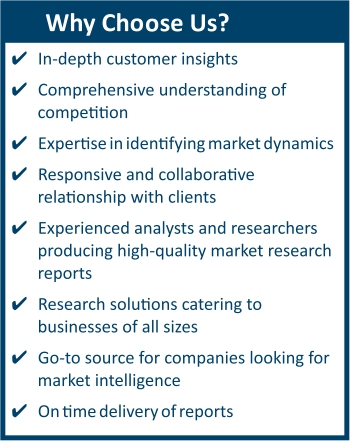 Frequently Asked Questions (FAQ) :
The market value of vinpocetine market in 2029 was USD 538.78 Million.
The vinpocetine market is growing at a CAGR of 4.76% over the forecast period.
The application of the vinpocetine market Store-based, Specialty Stores, and Pharmaceuticals and other.
The top companies that hold the market share in vinpocetine market are Northeast Pharma, Micro Labs, Gedeon Richter, Liaoning Zhiying, Haerbin Medisan, Runhong, Sun Pharma, ZhiTong, Wuhan Hualong Biopharmaceutical, and Welman & among others.
To get latest version of vinpocetine market report can be obtained on demand from the website.