The global market for the Vertical Axis Wind Turbine is anticipated to develop at a compound annual growth rate (CAGR) of 3.10% throughout the course of the forecast, to reach USD 16.96 Billion by 2030.
Increased research and development activities in this area are expected to drive up demand for vertical axis wind turbines throughout the world. The growing innovations and advances are expected to boost the market growth in the near future
A vertical axis wind turbine (VAWT) is a power-generating system in which the rotors rotate around a vertically oriented shaft and the blades are similarly vertically oriented. Its repair and maintenance work is simplified because the gearbox and generator are located at the bottom of the turbine.
It creates power by harnessing wind energy in the same way as horizontal axis wind turbines do. The fundamental advantage of VAWT is that the turbine does not have to face the wind in order to function, which is very beneficial in places where the wind direction fluctuates often.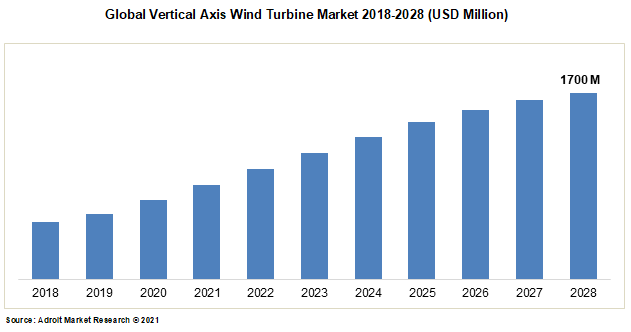 Decentralized applications and small pilot projects are predicted to account for a major portion of vertical axis wind turbine deployments over the projection period. The rapid expansion of these two sectors is likely to contribute considerably to the total market's growth in the coming years. Increased consumer knowledge of the benefits of vertical axis wind turbines is a crucial element driving global demand.
Furthermore, technological advancements and increased investment in this sector are likely to boost the global vertical axis wind turbine market ahead throughout the forecast period.
The growing need for environmentally acceptable renewable energy sources is a major driving factor in the growth of the vertical axis wind turbine market. Wind energy is utilized as an alternate source of power when grid electricity is unavailable, which stimulates the expansion of the VAWT industry.
Aside from that, an increase in research and development initiatives to improve it is another element driving demand for vertical axis wind turbines. Furthermore, there is an increased demand for VAWT due to lower installation costs as a result of technological advancements in this industry.
The global vertical axis wind turbine industry is very competitive and is anticipated to become even more so in the future years. However, the growing number of competitors is expected to boost overall market growth over the projection period. Bergey Wind Power Co., Shanghai Ghrepower Green Energy Co. Ltd., ZKEnergy Xzeres Wind Corp., Endurance Wind Power Inc., Technology Co., Ltd., Kingspan Group Plc., Aeolos Wind Energy, Northern Power Systems Inc., and Aerotecture International are some of the key competitors operating in the global VAWT market.
Vertical Axis Wind Turbine Market Scope
| | |
| --- | --- |
| Metrics | Details |
| Base Year | 2022 |
| Historic Data | 2020-2021 |
| Forecast Period | 2022-2030 |
| Study Period | 2020-2030 |
| Forecast Unit | Value (USD) |
| Revenue forecast in 2028 | USD 16.96 Billion |
| Growth Rate | CAGR of 3.10 % during 2022-2030 |
| Segment Covered | By Design, By End-Users, Regions |
| Regions Covered | North America, Europe, Asia Pacific, Middle East and Africa, South America |
| Key Players Profiled | Helix Wind, Bergey Windpower Co. Inc., Wind Harvest International, Eastern Wind Power, Inc., Astralux Ltd, ArborWind, Windspire Energy, Ropatec, Aeolos Wind Energy Ltd, Kliux Energies, Sea Twirl, and amongst others. T |
Key Segments of the Global Vertical Axis Wind Turbine Market
Product Type Overview, 2018-2028 (USD Million)
End-User Type Overview, 2018-2028 (USD Million)
Residential
Hybrid Systems
Fishery and Recreational Boats
Commercial and Industrial
Pumping
Pastures, Farms and Remote Villages
Desalination and Purification
Potable Systems for Leisure
Remote Monitoring
Research and Education
Regional Overview, 2018-2028 (USD Million)
North America
Europe
Germany
France
UK
Rest of Europe
Asia Pacific
China
India
Japan
Rest of Asia Pacific
South America
Mexico
Brazil
Rest of South America
The Middle East and South Africa
Segment Analysis
Darrieus Segment Type is Accounted for Highest Revenue during the Prediction Period
A Darrieus machine is a high-speed, low-torque device that generates alternating current (alternating current). Darrieus requires physical propulsion; hence, an external power source is required to start spinning due to the extremely low beginning torque. This machine is made up of two vertically aligned blades that rotate around a perpendicular shaft.
Residential Segment is Likely to Register Highest Revenue during the Forecast Period
Wind turbines rated from 5 to 15 kilowatts may produce large quantities of power for the residence. A turbine can be quite huge, or modest turbines with a diameter of one meter or less can suffice for residential usage.
North American Region to Hold the Highest Revenues during the Predicted Period
North America is likely to dominate the overall market during the projection period, owing to the region's robust growth of vertical axis wind turbines and technical breakthroughs. Furthermore, a large number of deployments and installations are expected to develop rapidly, greatly adding to the growth of the North American vertical axis wind turbine market.
However, with the termination of the production tax credit system in the United States, the investment picture is now unclear. This might have a negative impact on market growth in the next years. Nonetheless, the Asia Pacific and Europe are expected to follow North America and see significant development in the next years. The increased number of vertical axis wind turbine installations is the key element driving development in these locations throughout the predicted period.
Covid-19 Impact & Market Status
COVID-19 has the potential to impact the global economy in three ways: directly impacting production and demand, causing supply chain and market disruption, and having a financial impact on enterprises and financial markets.
Covid-19 outbreak has been affecting multiple businesses and industries leading to interrupted travel, lockdown, social distancing and the like. These have restricted normal functioning of the businesses and resulted in supply chain anomalies, lack of business co-ordination across vendors and the like.
Latest Innovations in the Global Vertical Axis Wind Turbine Market: a Snapshot
The National Research Council of Canada, which is parallel to Sandia Labs in Albuquerque, New Mexico, used his notion in software called the Double Multiple Stream-tube Model to anticipate power generation at various rotating speeds.
In October 2021, Japanese Start-up Company Challenergy creates wind turbines that can collect typhoon energy and operate under cyclonic circumstances, which generally shut down most wind farms, transforming them into a potential energy source.
Professor Iakovos Tzanakis of Oxford Brookes' School of Engineering, Computing, and Mathematics (ECM) led a research team that used more than 11,500 hours of computer simulation to demonstrate that wind farms can perform more efficiently by substituting compact VAWT propellers for traditional HAWT propellers.
This market research study was created by compiling data from primary and secondary sources. Secondary research was conducted using a variety of sources, including (but not limited to) SEC filings, company websites, technical journals, paid data sources, financial reports, and other industry publications. In addition, to acquire first-hand data, the research methodologies perform comprehensive primary research with important industry players. Industry specialists then examine and validate the data.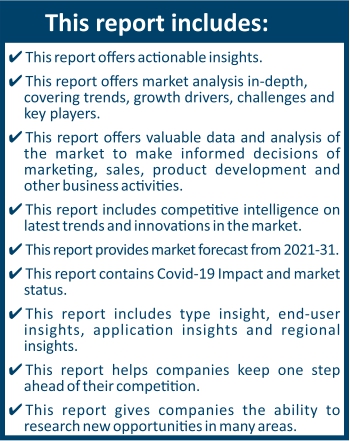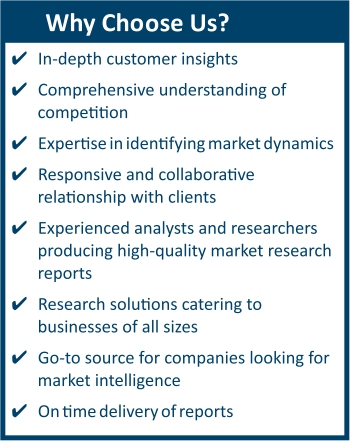 Frequently Asked Questions (FAQ) :
The vertical axis wind turbine market is growing at a CAGR of 45 % over the forecast period.
To get latest version of vertical axis wind turbine market report can be obtained on demand from the website.
The base year for the report is 2021 in vertical axis wind turbine market .