The global Vehicle Telematics market is projected to reach 441.5 bn 2030, growing at a CAGR of 21.3%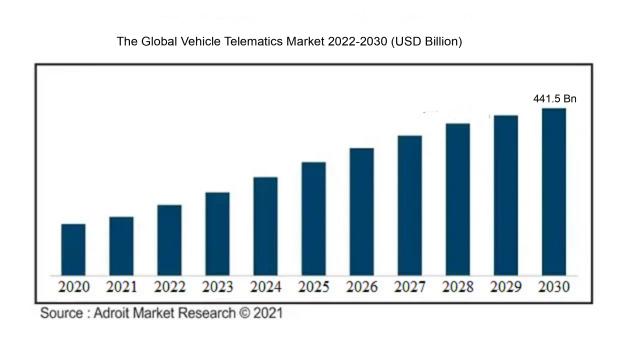 Rapid penetration of smart connectivity systems in passenger cars as well as commercial vehicles, continuous innovations in smartphone and vehicle connecting technology to improve drive quality, increase road safety, and monitor real-time positioning of vehicles to avoid congestions in case of any emergency situations is driving the growth of vehicle telematics. Owing to the above-mentioned factors global vehicle telematics market was valued at USD 41.66 billion in 2017 and is expected to grow at a rapid pace in the coming future.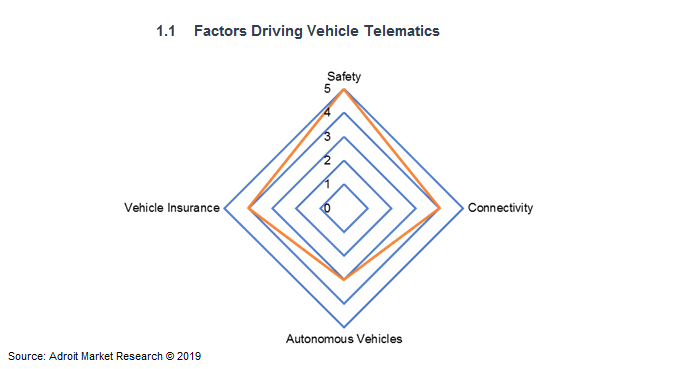 Technological advancements such as real-time engine diagnostics, GPS tracking, fatigue alert, and drive lane assist are changing the current driving experience and penetration of such features in mid-range vehicles is expected to boost the market for vehicle telematics. Furthermore, rising fuel prices coupled with the growing number of vehicles has resulted in frequent traffic congestions where telematics comes in the frame which provide alternate routes to prevent congestions thereby improving the fuel economy of the vehicle. These factors are expected to result in an increasing adoption rate of telematics in developed as well as developing nations. Automobile manufacturers are implementing smart driving systems to minimize human interaction with vehicles to reduce the number of accidents.
Governments across the world are coming up with regulations which require high usage of telematics in vehicles. For instance, the European Parliament adopted the legislation on E-Call and made it mandatory for all new models of cars to be equipped with E-Call technology from 31 March 2018 onward. This would help emergency service providers with the exact location of the vehicle in case of emergency and reduce their response time by about 50% to 60%.
Vehicle Telematics Market Scope
Metrics

Details

Base Year

2022

Historic Data

2020-2021

Forecast Period

2022-2030

Study Period

2020-2030

Forecast Unit

Value (USD)

Revenue forecast in 2030

US$ 441.5 billion

Growth Rate

CAGR of 21.3 % during 2020-2030

Segment Covered

By Product Type,

Bandwidth, Provider, Vehicle Type

, Regions

Regions Covered

North America, Europe, Asia Pacific, South America, Middle East and Africa

Key Players Profiled

cartrack,gmbh
Key Segments of the Global Vehicle Telematics Market
Type Overview (USD Billion)
Solutions

Fleet/Asset Management
Navigation & Location-Based Systems
Infotainment Systems
Insurance Telematics
Safety & Security
Remote Alarm & Incident Monitoring Solutions
V2x
Others

Services

Integration & Deployment
Consulting & Design
Maintenance & Training Service
Vehicle Type, (USD Billion)
Passenger Cars
Commercial Vehicles
Provider Overview, (USD Billion)
Bandwidth Overview, (USD Billion)
Regional Overview, (USD Billion)
North America
Europe

France
UK
Germany
Rest of Europe

Asia Pacific

India
Japan
China
South Korea
Rest of APAC

Central & South America

Brazil
Mexico
Rest of Latin America

Middle East and Africa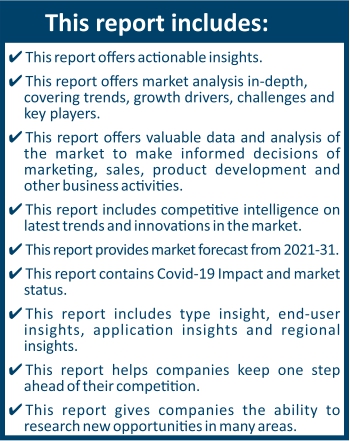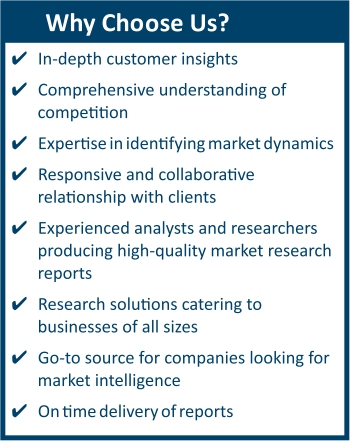 Frequently Asked Questions (FAQ) :
The vehicle telematics market size is expected to reach USD 231.63 billion by 2025.
North America dominated the market for vehicle telematics market and accounted for the largest revenue share.
The vehicle telematics market is Segmented on the Type, Vehicle Type, Product, Provider, Bandwidth and Geography.
To get latest version of vehicle telematics market report can be obtained on demand from the website.
The base year for the report is 2017 in vehicle telematics market.
Definition
Vehicle telematics is expected to play a very major role when we talk about the future of mobility. Vehicle telematics can be defined as the system which helps the vehicle communicate with its environment using embedded or tethered networks. It is a method of monitoring a vehicle using GPS and onboard diagnostics.
Market Analysis
The adoption of telematics in the automotive industry is expected to increase in coming years. This can be attributed to two major reasons, first is the increasing government's willingness to mandate specific telematics services, such as E-call capabilities, which is already happening in the European Union and Russia. Second is the increasing demand from consumers for greater connectivity and intelligence in their vehicles.
The urge to attain full autonomy along with developments happening in the field of vehicle connectivity to increase safety and security along with the convenience of vehicle owners is driving the vehicle telematics market. Amazon teamed up with two automotive giants, General Motors and Volvo to launch a new delivery model. Amazon will be delivering packages directly into the trunk of the car using embedded connected vehicle telematics technology such as Onstar for accessing the vehicle trunks. This way Amazon plans to give a never before delivery experience to its clients.
To sum up, vehicle telematics is expected to have a lot of impact on the automotive industry and human life in many different ways. With the help of telematics people will be able to monitor their car's health, call their neurons, have meetings in cars, and automotive companies are also planning to achieve autonomous vehicle technology with the help of telematics. Vehicle telematics can help achieve fuel savings and reduce emissions by tracking vehicle routes and optimizing vehicle and driver perfromace by tracking them.
Type Segment
The vehicle telematics market by type has been segmented into the type of telematics services and type of telematics solutions provided in the market. The telematics solutions dominated this segment as compared to telematics services. Telematics can be used to track vehicles, trailers, monitor driver behavior and record journeys. Which can be used further by fleet management companies to improve fleets efficiency and even the data generated can also be used by insurance companies to assess the driving behavior of the driver, determine the risk factor and adjust their premium accordingly. The solutions segment occupied about 79% of the market share in 2017 as compared to services segment which occupied only 21% of market share in 2017.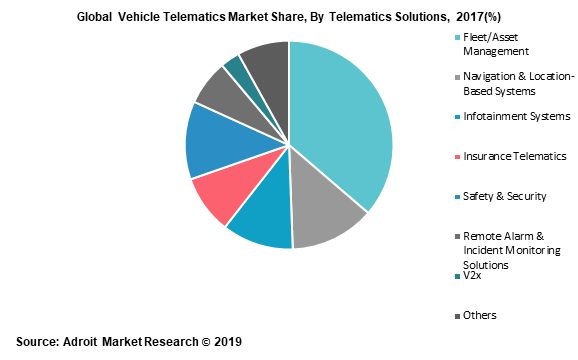 Product Segment
The vehicle telematics market by product has been segmented into telematics software and telematics hardware. In 2017 telematics hardware occupied about USD 34.66 billion of market value as compared to telematics software which contributed only about 16.8% of the entire market. With a growing need for improving connectivity and safety & security of vehicles. The amount of hardware and software going in vehicles is expected to increase tremendously in the coming years. The software segment is expected to grow at a faster CAGR as compared to the hardware segment in the product segment.
Bandwidth Segment
Different types of bandwidths considered in the report are 2G/2.5G, 3G, and 4G. With the advancements in automotive technology and telecom industry, the bandwidths have also elevated. In early 2014, 2G/2.5G bandwidth was most widely used in automotive applications, but slowly the shift towards 3G. Thereafter, further advancement and growing involvement of features requiring high connectivity increased the shift towards 4G bandwidth. In 2017 the 3G bandwidth covered about 52.7% of market share as it makes use of GPS, mobile television and video conferencing easier as compared to 2G. Due to lack of infrastructure availability and high cost, 4G technology has not been implemented to the extent of 3G technology in automotive devices. In 2017 4G bandwidth had a market share of 23.4% globally but it is expected to increase during the forecast period and gain a market share of 63.1% by 2025.
The global vehicle telematics market was dominated by North America and Europe in 2017. The market share occupied by North America and Europe in 2017 was 35.2% and 33.3% respectively. With increasing awareness about the benefits of implementing telematics in automobiles has led to an increase in offerings of telematics solutions and services in North America and Europe. Apart from increased road safety, improved driving behavior, and alignment of vehicle insurance premiums with vehicle driving behavior vehicle telematics also help governments, corporations, and individuals in achieving improved fuel efficiency, real-time vehicle tracking, vehicle maintenance alerts, and routing.
Growing commercial vehicle sales in the US is expected to boost the demand for vehicle telematics solutions as well. The growing fleet management market and growing competition among OEM's to launch a fully operational autonomous vehicle has led to increasing adoption of telematics in automobiles in the US and other developed nations such as UK, Spain, Germany, Canada, and China. In 2017 the market size of the US automobile telematics market was USD 12.03 billion.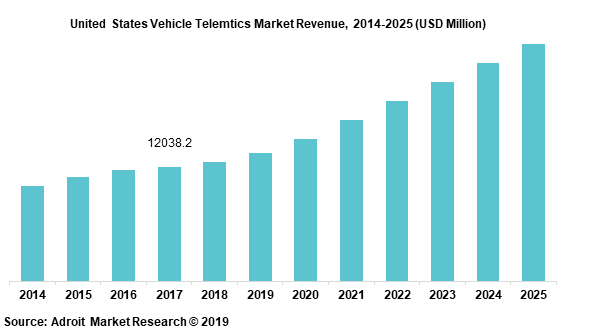 The telematics market in Europe is expected to grow rapidly after 2018, due to the new regulation mandating E-call in all the vehicles. A similar mandate has been followed in Russia hence the Russian market for telematics is also expected to increase post-2018. In 2017 the European vehicle telematics market was USD 13.86 billion. UK, Germany, and France are expected to lead the European Union in telematics adoption race.
Asia Pacific is expected to have the fastest growth rate growing at a CAGR of 26.3% for the telematics market with presence to emerging markets such as China, India, Japan, and other countries. China is projected to lead the Asian market for telematics followed by South Korea, and Japan respectively. Few of the famous telematics units in China according to Adroit Market Research analysis are Onstar of GM, SYNC of Ford and Honda Link of Honda. These are the dominating telematics products offered by OEM's in China.