The global vegan food market is being boosted by increased awareness about animal health and cruelty in the food business, which has resulted in a considerable movement toward plant-based food items and away from animal-based ones.
The global Vegan Dog Food market is anticipated to increase at a 12.5% CAGR to reach value USD 31.48 billion in 2029
The rising popularity of dog pet food, as well as the burgeoning trend of veganism, has led to an increase in demand for vegan cuisine. For instance, the increasing acceptance of this diet by famous celebrities has boosted market growth as more and more followers begin to follow suit.
Rising cannabis usage in pet food, rising demand for high-quality and organic ingredients, and skin difficulties are some of the significant reasons that would likely drive the vegan dog food market throughout the projected period. Rising pet food expenditure in emerging markets, on the other hand, as well as increased technological breakthroughs, would both contribute considerably to the growth of the vegan dog food market throughout the anticipated period.
Dog pet food is made from plant-based and natural components with no animal-derived raw materials, assuring no animal cruelty or exploitation of any kind. Factors such as rising vegan trends as well as the increasing range of pet owners drive the growth of the vegan dog food industry. However, vitamin shortage in vegan dog food is causing several pet owners to frown, thereby impacting the smooth growth curve significantly.
In the West, an increasing proportion of the population has ceased eating meat, adopting alternative foods such as vegan goods as a result. Furthermore, growing knowledge of the advantages of ingesting these goods has aided in the popularity of vegan cuisine, aiding market expansion.
Less availability of ingredients, as well as non-uniformity in international trade restrictions likely function as market limitations for the expansion of vegan dog food in the future. The availability of counterfeit items will be the most significant and immediate impediment to the market's growth.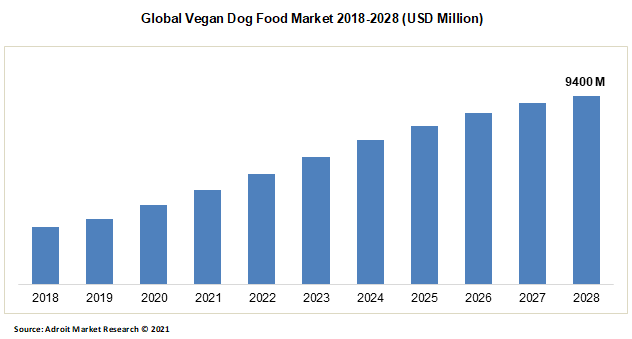 The prominent market players of the Vegan Dog Food industry are Antos B.V.; Bond Pet Foods, Inc.; Benevo; V-dog; Vegan4dogs; Soopa Pets; Wild Earth; Isoropimene Zootrofe Georgios Tsappis Ltd.; Yarrah; and Halo Pets. This research looks at the market revenue, business strategies, market shares, recent developments, and growth rates of important companies in the Vegan Dog Food industry. When validating these firms' player standing in the Vegan Dog Food market, recent events like regional expansions, research activities, new solution/product releases, acquisitions, and technical advancements are taken into account.
Vegan Dog Food Market Scope
| | |
| --- | --- |
| Metrics | Details |
| Base Year | 2021 |
| Historic Data | 2019-2020 |
| Forecast Period | 2022-2029 |
| Study Period | 2019-2029 |
| Forecast Unit | Value (USD) |
| Revenue forecast in 2029 | USD 31.48 billion |
| Growth Rate | CAGR of 12.5 % during 2021-2029 |
| Segment Covered | By Nature, Product, Sales Channel, Type, Regions |
| Regions Covered | North America, Europe, Asia Pacific, South America, Middle East and Africa |
| Key Players Profiled | Hill's Pet Nutrition, Inc (U.S.), The J.M. Smucker Company (U.S.), Schell & Kampeter, Inc. (U.S.), Heristo Aktiengesellschaft (Germany), Simmon Foods, Inc. (U.S.), Wellness Pet Company (U.S.), The Farmers Dog, Inc. (U.S.), JustFoodForDogs (U.S.), Ollie Pets Inc. (U.S.), Farmina Pet Foods (Netherlands), and NomNomNow, Inc. (U.S.) |
Key Segments of the Global Vegan Dog Food Market
Product Type Overview, 2018-2028 (USD Million)
• Kibble/Dry
• Coated
• Extruded
• Dehydrated Food
• Treats and Chews
• Baked
• Creams/Cream Snacks
• Crunchy Snacks
• Tablets
• Chew Sticks
• Biscuits
• Others
Age Group Overview, 2018-2028 (USD Million)
• Adults
• Senior
• Puppies
Distribution Channel Overview, 2018-2028 (USD Million)
• Drugstores
• Hypermarkets/Supermarkets
• Convenience Stores
• Store-based Retailing
• Mom and Pop Stores
• Pet Stores
• Discounters
• Online Retailers
• Independent Grocery Retailers
• Other Retail Formats
Packaging Type Overview, 2018-2028 (USD Million)
• Pouches
• Folding cartons
• Bags
• Can
• Bottles & jars
• Tubs & Cups
Regional Overview, 2018-2028 (USD Million)
North America
• U.S.
• Canada
Europe
• France
• UK
• Germany
• Rest of Europe
Asia Pacific
• China
• Japan
• India
• Rest of Asia Pacific
South America
• Brazil
• Mexico
• Rest of South America
The Middle East and Africa
Reasons for the study
• To know the market for current trends, drivers, and future industry plans.
• To comprehend distinct tactics created by significant firms operating on the global market.
What does the report include?
• This study provides an analytical representation of the global vegan dog food market size, as well as future forecasts to aid in the identification of potential investment possibilities.
• The extensive global vegan dog food market study tries to find profitable trends in order to get a competitive advantage.
• The report includes the leading manufacturers' global vegan dog food market shares as well as industry trends.
Who should buy this report?
• Executives in the global vegan dog food sector who want to learn more about the target market.
• Industry executives, analysts, government agencies, and researchers seek market data to aid in future operations planning.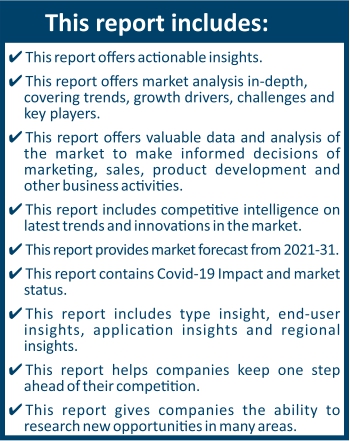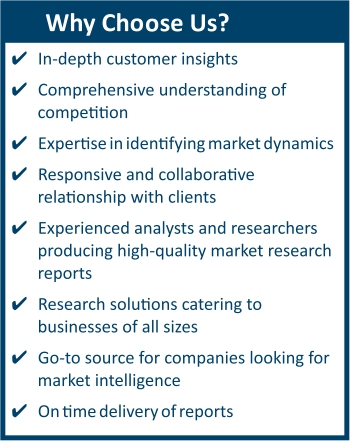 Frequently Asked Questions (FAQ) :
The market value of vegan dog food market in 2028 was USD 9400 million
The Global vegan dog food market is Segmented on the Product Type, Age Group, Distribution Channel, Packaging Type, Regions.
The vegan dog food market is growing at a CAGR of 8% over the forecast period
Vegan dog food does not include any animal flesh or animal-derived items. Some people may opt to feed vegan dog chow to their dog for health or moral reasons. It is critical to ensure that vegan dog food delivers a healthy, balanced diet ideal for dogs. Every dog owner wonders which dog food is best for his four-legged buddy. Human diet has a significant effect on dog feeding trends.
People are becoming more vegetarian, and as a result, they want to feed their dogs meat-free diets. It is currently estimated that over 6.5 million individuals in Germany alone follow a vegetarian diet — and the trend is growing. There are several reasons to follow a vegetarian diet, ranging from animal welfare to health concerns to environmental concerns.
Veganuary had 168,000 official participants, compared to only 3,300 in 2014, while Global Data reported a 600% growth in persons identifying as vegan in the US over the previous three years, indicating that veganism isn't simply a trend. Looking ahead, it appears that the trend is going beyond individuals who want to live a cleaner, healthier lifestyle to their pet friends' diets as well.
Product Type Segment
In 2020, the dry food segment was the market leader. Dry pet food helps to keep dogs' and cats' teeth clean by reducing plaque buildup. Dry food, unlike canned food, maybe kept without refrigeration because of its low moisture content.
Distribution Channel Segment
In 2021, the supermarkets and hypermarkets category lead the market. Supermarkets and hypermarkets are one of the most favored distribution channels for vegan pet meals due to features such as the availability of a large selection of goods from prominent brands under one roof, the ease of selecting products, and discounts and attractive deals.
North America and Europe are two of the industry's most important economies. The regional markets are being pushed by increased worries about animal cruelty in the food business, as well as the negative environmental implications of meat and dairy consumption. The expanding population of lactose-intolerant customers in North America and Europe is likely to help the industry even more, as these consumers seek alternatives to dairy products. With expanding awareness of animal rights, rising disposable incomes, and changing lifestyles, the Asia Pacific area is likely to give attractive development prospects to the industry's main players in the future years.