The global Vanadium Redox Batteries market size is expected to reach close to by 2029 with an annualized growth rate of 30.68% through the projected period.
The global vanadium redox batteries market was valued at USD 4,475.12 Billion in 2028 and is expected to grow at a CAGR of 59.7% over the forecast period. Vanadium flow batteries are nowadays being widely used for the large scale energy storage applications on account of its flexible design, long life cycle, high efficiency and better safety standards. These batteries offer a high cell voltage when compared with other redox flow systems. The ability of these batteries is to operate at even 0% charge, which makes it ideal and superior over lithium-ion and lead-acid batteries for energy storage applications in wind and solar power generation farms.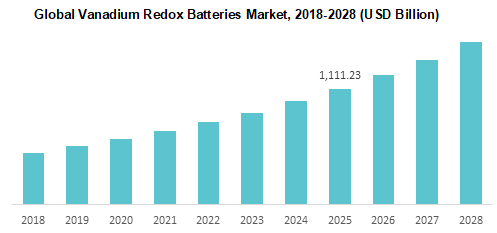 Vanadium based redox batteries do not deliver the same quality of power as a lithium-ion batteries but it is far superior in terms of life cycle, safety and reliability for large scale stationary applications. Industries around the world are utilizing and testing RFB's for the various pilot scale projects. The support from energy departments of various countries has also encouraged the investment in the development of the various integrated solutions namely energy storage batteries, so as to improve grid efficiency. Product development and innovation are the key strategies adopted by leading players, globally. For instance, Rongke Power in China has started the development of the world's largest chemical battery (VFRB) (200 MW / 800 MWh), whose main purpose is to provide power and enhance grid stability during peak hours and in cases of emergency. The support from energy departments of various countries has also encouraged the investment in the development of the various integrated solutions namely energy storage batteries, so as to improve grid efficiency.
The global Vanadium market is expected to develop USD 2.48 billion by 2029, at a compound annual increase in price (CAGR) of 5.80 % throughout the forecast period.
Accelerating growth of the renewable intermittent electricity supplies has crossed a cumulative installed capacity of 2180 GW across the globe, supplementing the need for energy storage installations and in turn boosting the vanadium redox flow battery market size. Demand for the flow batteries are poised to rise at a significant CAGR and is expected to surpass applications which require long-duration power stability. Subsequently, vanadium redox flow battery market share is bound to rise in the overall redox flow batteries market on account of its rising application scope such as in long-duration bulk energy storage technologies and maintaining grid stability from renewables.
Major current market players include Imergy Power Systems, Inc., Northern Graphite, UniEnergy Technologies, StorEn Technologies, Sumitomo Corp., Gildemeister AG, Prudent Energy. and Others
Vanadium Redox Batteries Market Scope
| | |
| --- | --- |
| Metrics | Details |
| Base Year | 2020 |
| Historic Data | 2018-2019 |
| Forecast Period | 2021-2028 |
| Study Period | 2018-2028 |
| Forecast Unit | Value (USD) |
| Revenue forecast in 2028 | USD 4,475.12 Million. |
| Growth Rate | CAGR of 59.7 % during 2021-2028 |
| Segment Covered | Type, Application, Regions |
| Regions Covered | North America, Europe, Asia Pacific, Rest of the World |
| Key Players Profiled | Imergy Power Systems, Inc., Northern Graphite, UniEnergy Technologies, StorEn Technologies, Sumitomo Corp., Gildemeister AG, Prudent Energy |
Segment Overview of Global Vanadium Redox Batteries Market
Type Overview, 2019-2028 (USD Million)
Carbon Paper Electrode
Graphite Felt Electrode
Application Overview, 2019-2028 (USD Million)
Large Scale Energy Storage
Uninterruptible Power Supply
Emergency Power Supply
Regional Overview, 2019-2028 (USD Million)
North America
Europe

Spain
UK
Italy
Netherlands
Germany
Denmark
Switzerland
Rest of Europe

Asia Pacific

China
South Korea
India
Oceania
Japan
Rest of Asia-Pacific

Rest of the World
Reasons for the study
The purpose of the study is to give an exhaustive outlook of the global vanadium redox batteries industry
The overall segmentation of vanadium redox batteries market, especially key segments are thoroughly studied.
Presence of major players and their wide product portfolio across developed countries is anticipated to further boost the growth of vanadium redox batteries market
What does the report include?
The study on the global vanadium redox batteries market includes analysis of qualitative market indicators such as drivers, restraints, challenges, and opportunities
Additionally, the market competition has been evaluated using the Porter's five forces analysis
The study covers qualitative and quantitative analysis of the market segmented on the basis of treatment type and country. Moreover, the study provides similar information for the key geographies.
Actual market sizes and forecasts have been provided for all the considered segments
The study includes the profiles of key players in the market with a significant global and/or regional presence
Who should buy this report?
The report on the global vanadium redox batteries market is suitable for all the players across the value chain including raw material suppliers, producer, distributors, suppliers, and retailers
Venture capitalists and investors looking for more information on the future outlook of the global vanadium redox batteries market
Consultants, analysts, researchers, and academicians looking for insights shaping the global vanadium redox batteries market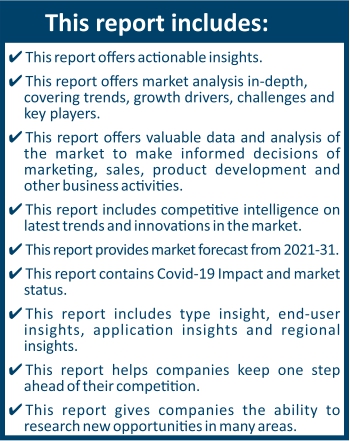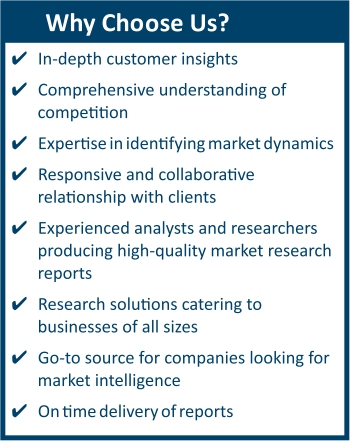 Frequently Asked Questions (FAQ) :
The market value of vanadium redox batteries market in 2028 was USD 4,475.12 Million.
The vanadium redox batteries market is growing at a CAGR of 59.7% over the forecast period.
The application of the vanadium redox batteries market Large Scale Energy Storage, Uninterruptible Power Supply, Emergency Power Supply and other.
Europe dominated the market for vanadium redox batteries market and accounted for the largest revenue share.
The top companies that hold the market share in vanadium redox batteries market are Imergy Power Systems, Inc., Northern Graphite, UniEnergy Technologies, StorEn Technologies, Sumitomo Corp., Gildemeister AG, Prudent Energy & among others.
The latest battery chemistry to gain traction has been none other than vanadium redox flow batteries. The long life span of a vanadium battery is a key attribute that has widened the opportunities for market growth. Constant developments in the global vanadium redox battery market and its related sectors have changed the current scenario of the flow batteries market at the global level. This is expected to continue in the future, in light of on-going research & innovation trends pertaining to the product design, alternative precursor sources, and emerging end-uses. Some of the key developments that are expected to be fruitful for the global vanadium redox flow battery market are as follows:
Production outlook of vanadium
Alternative precursor sourcing is expected to be a key opportunity and a supporting factor for the vanadium redox flow battery market growth in the future. Ore extraction and steel slag generation have been the main sources of producing vanadium. However, a supply constraint in providing vanadium via these sources has led to fluctuations in the raw material pricing over the recent years, due to tight regulations concerning mining, steel slags, and blast furnaces. Hence, vanadium production activities through alternative secondary sources have been on the rise.
China's upcoming VRFB Gigafactory and other projects
China is expected to account for the majority of the global vanadium redox flow battery market share, owing to its large scale under construction energy storage projects being constructed by Rongke Power and located in Dalian peninsula. This project is likely to be the largest VRFB system across the globe comprising a capacity of 200 MW / 800MWh. Operation of this battery system is worth USD 500 million and is expected to be effective by 2020.
Modification in product design
Research & development in improving the performance of vanadium redox flow batteries are considered to pace up their deployment in energy storage systems during the forecast period. Scientists from the Lomonosov Moscow State University (MSU), Moscow Institute of Physics and Technology (MIPT), and the Skolkovo Institute of Science and Technology (Skoltech) have developed a mathematical model describing the dynamic behavior of the VRFB battery. This new model was developed in order to detect and monitor any failures, thus, increase the preference of the battery for a wide number of applications and prevent performance degradation in long-term operations. The results of this mathematical model have been provided in the "Applied Energy" journal, 2018.
Penetration across all renewable energy sectors
VRFB energy storage systems have good compatibility with solar and wind which has led to their commercialization at a rapid pace in the last few years. Tidal energy is considered to be a new renewable energy generation sector that is expected to offer favorable growth prospects in the global VRFB market. In April 2018, RedT Energy, a UK-based energy firm was selected as an energy storage provider for the construction of a tidal energy project backed by the European Union. The company's "Vanadium Redox Flow Machine" storage technology will be employed to support on-site tidal energy generation.
Demand for mobile electricity storage systems:
The increasing requirement of mobile electricity storage systems is likely to create future avenues in the VRB marketplace. Some of such systems are yet to be commercialized, while the rest have been successfully operating in the recent past. For instance, VRBs have been used for on-site mobile storage applications as they do not self-discharge and are capable of storing energy for longer time durations.
Electrode material plays a key role in defining the performance of the flow battery cell. Graphite felt segment is poised to grow with a CAGR of 34% from 2021 to 2028. Currently, graphite felt is the most widely used electrodes owing to its better conductive nature, advantageous permeability, electrochemical stability, low cost, and a large surface area. However, the low electrochemical activity of the commercial graphite felt due to its poor kinetics such as low current densities has greatly limited its use in the vanadium redox flow battery. Subsequently, this has led to the development of graphite electrodes treatment methods such as electrochemical oxidation, thermal activation, nitrogen doping and use of carbon nanotubes as an alternative to graphite felt. This aims to enhance the wettability of the electrolyte or providing the active site for the easy electron transfer from the electrode in the vanadium redox flow battery.
Rising consumer preference for cost-effective vanadium batteries has led to the introduction of products made from carbon paper electrode. Players operating in the carbon paper electrode market are adopting strong promotional strategies so as to withstand their market position. For instance, Toray Industries in February 2017, planned to establish a large-scale facility for manufacturing carbon paper with an increased production capacity to cater to the growing future demand of the material. As the leading carbon fiber manufacturer, Toray has been continuously involved in the research and development and exploring the future possibilities of carbon fiber composite materials.
The rapid response time of the vanadium redox flow batteries has augmented its demand in the UPS (Uninterrupted Power Supply) applications. UPS is expected to rise with a revenue CAGR of 34.1% from 2021 to 2028. Further, UPS is deployed for standby power requirements for the residential as well as commercial applications, such as in hospitals, emergency lights, theatres, office buildings, and data centers as well as in military equipment. Critical loads are usually safeguarded by uninterruptible power supplies (UPS). Uninterruptible power systems operate on the battery technology which provides smooth power switch facility in an event of any power failure.
Energy storage systems have become a necessity nowadays owing to growing challenges and difficulties associated with emerging energy security, lowering greenhouse gas emissions, increasing supply and use of distributed/renewable energy in electric grids. Batteries are used in commercial, residential, and utility-scale end-uses. Additionally, energy storage batteries are used in electric vehicles, and electronics including smartphones, laptops, and handheld devices. The rising need for storage to reduce losses of energy is expected to augment the demand for vanadium redox batteries.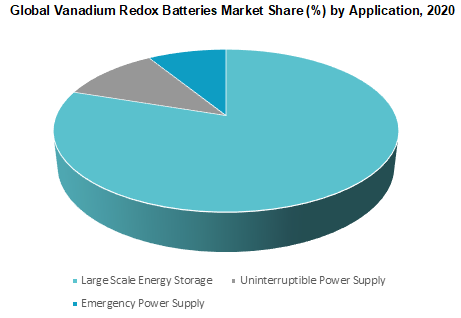 Europe vanadium redox flow batteries market is driven by the strong development of the electric vehicles and renewable power industries. Additionally, the presence of stringent regulations, as well as the sustainable development policies for greenhouse gas emissions, is estimated to favor the deployment of battery technologies in the region, over the years ahead.
According to the European Energy Research Alliance (EERA) and The European Association for Storage of Energy (EASE), cost-performance improvements in energy storage technology and the public policy commitment towards reducing carbon dioxide emissions are the key environmental factors that are expected to have a positive impact on energy storage technologies. Apart from this, various government subsidies and incentive schemes are projected to speed up the deployment of vanadium redox batteries, in several European economies.
For instance, in 2013, a market incentive programmed was launched in Europe which offered investment grant on the equipment purchased with low-interest loans. This scheme led to the installation of 30,000 PV battery system.
Product expansion and innovation development are the key strategies adopted by certain players to expand their market presence in the global vanadium redox battery market. For instance, in July 2014, Bosch installed one of Europe's biggest grid-scale Li-ion and VRFB systems to store excess wind energy in the small community of Braderup-Tinningstedt near Stuttgart. The rapid expansion of wind power in Germany has overburdened the existing grids. This ultimately leads to the removal of wind farms from the grid and thus, wind energy remains unutilized. This has encouraged Bosch to install and operate the new battery system which will integrate the wind energy to the power grid.
Presence of a large number of vanadium battery manufacturers providing sales and service especially in North America and Asia-Pacific are dominating the market throughout the forecast period. Key players present in the market are Ray Carbon Group, Toray Industries, Fuel Cell Earth, etc. These players have adopted a strong promotional strategy to maintain and cement their market position. For instance, in February 2017, Toray Industries planned to develop a large-scale manufacturing facility of carbon paper and expand the existing production capacity by five times to cater to the future increase in demand for the material.
Asia Pacific dominated the global vanadium redox battery market in 2020 and is expected to maintain its dominance throughout the forecast period. The region accounted for more than 35% of the overall global vanadium redox battery market. The region is a major market for remote microgrids, with projects varying greatly on a country-by-country basis. Key challenges faced by the Asia Pacific nations include low electrification, an underdeveloped and aging power grid infrastructure, and lack of capital to underwrite new technologies and advance power grid services. However, various islands surrounding the Asia Pacific region have limited or new electrical infrastructure, which opens up some of the most attractive near-term opportunities for energy storage. To capitalize on this opportunity, private players, as well as various governments, are planning to work together to overcome the high cost of deploying systems with the advancement of technical expertise.