With a projected valuation of US$ 46.2 billion in 2023, the global vanadium market is expected to grow at a compound annual growth rate (CAGR) of 8.5% to reach US$ 105.4 billion by the end of 2033.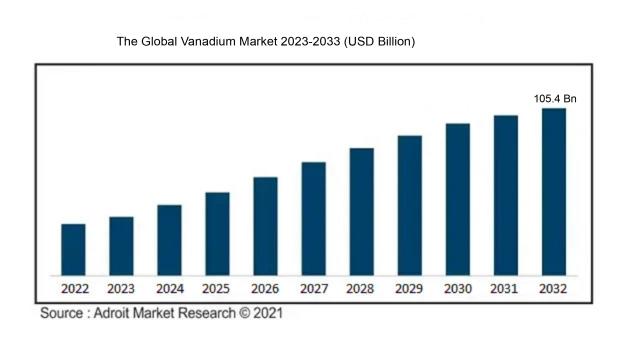 The global vanadium market size exceeded 87 kilo tons in 2017. The global vanadium consumption is mainly driven by increased steel production and consumption in BRIC nations. Strong developments and activities pertaining to the global vanadium resources and production have created a significant impact on global demand since 2014. This scenario is likely to continue over the next 11 years.
Vanadium is available in the form of salts, oxides and hydroxides, and alloys in the global market. Vanadium pentoxide (V2O5), ferrovanadium (FeV), and nitrides of vanadium are the prime forms or product grades commercially available across the globe. The global vanadium prices witnessed a massive increase in 2018. The overall vanadium market price increased by over 30% (ferrovanadium) and 70% (vanadium pentoxide), as a consequence of supply deficit or shortage of metal in 2018. This demand-supply scenario is expected to result in higher vanadium prices over the next couple of years.
Vanadium is obtained via various primary and secondary production sources as well as a co-product of steel slag. Mining and extraction of titaniferous magnetite, vanadinite, patronite, and carnotite ores are the key primary sources of vanadium. Vanadium also occurs in bauxite, phosphate rock, and siltstone. These primary mineral ores accounted for nearly 18% of the total vanadium supply in 2017. Generation of vanadium as a steel slag co-product has been dominating the global vanadium market among the rest of the production sources, since the past few years. The annual production of the metal via this source reached approximately 60 kilo tons (ktV) in 2017.
Secondary sources held not more than 10% of the global vanadium metal supply in 2017. Petroleum residues, utility ash, spent catalyst, and pig iron slag is the main secondary production sources of the vanadium metal. Metal scrap is considered to be an emerging secondary source in the future. Secondary vanadium production has been prominent in North America and Europe regions. For instance, in March 2018, MGX Minerals Inc. and Highbury Energy announced that they obtained vanadium concentrate (45% conc.) from petroleum coke ash, as a consequence of delayed coking operations at its mining and refining sites located in Canada.
Over 40% of the global vanadium market size is acquired by global players such as EVRAZ Group, Bushveld Minerals Limited, Pangang Group Vanadium Titanium & Resources Co., Ltd., Vanadium Corporation, Largo Resources, and Australian Vanadium Limited. Thus, a high degree of competition persists among vanadium players at the global level.
Vanadium Market Scope
| | |
| --- | --- |
| Metrics | Details |
| Base Year | 2022 |
| Historic Data | 2023-2024 |
| Forecast Period | 2022-2032 |
| Study Period | 2023-2033 |
| Forecast Unit | Value (USD) |
| Revenue forecast in 2033 | US$ 105.4 billion |
| Growth Rate | CAGR of 8.5 % during 2023-2033 |
| Segment Covered | By Grade Type, Production Process, Application, End User, Regions |
| Regions Covered | North America, Europe, Asia Pacific, South America, Middle East and Africa |
| Key Players Profiled | Australian Vanadium Limited (Australia), Bushveld Minerals (South Africa), EVRAZ (UK), Largo Inc (Canada), VanadiumCorp Resource Inc (Canada)., AMG (Netherland), China Ansteel Group Corporation Limited (China), Glencore (Switzerland), HBIS GROUP (China), Treibacher Industrie AG (Austria), Tremond Metals Corp (US)., Yilmaden (Turkey), JAYESH (India), Core Metals LLC (US), Gulf Chemical And Metallurgical Corporation (US), Williams (US), Continental Precious Min (Canada), Ferroglobe (UK), Essel Mining & Industries Limited (India) |
Key Segments of the Global Vanadium Market Report
Application Overview,(Tons) (USD Million)
Iron & steel
Chemical
Energy storage
Titanium alloys
Regional Overview, (Tons) (USD Million)
North America

U.S.
Rest of North America

Europe

Germany
Italy
Russia
Rest of Europe

Asia-Pacific

China
Japan
India
Rest of Asia Pacific

South America
Middle East & Africa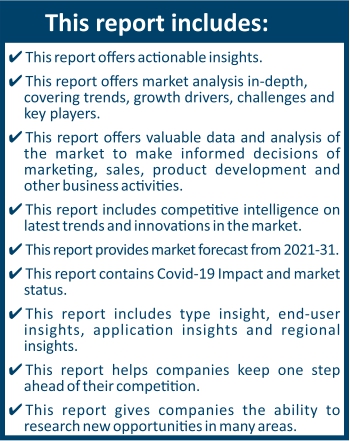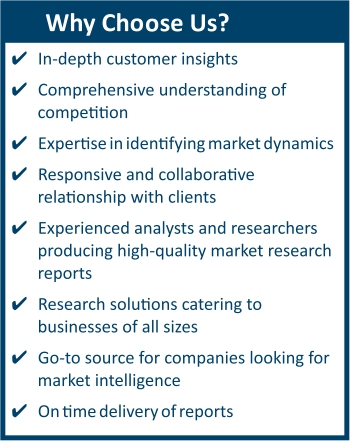 Frequently Asked Questions (FAQ) :
The application of the vanadium market Iron & Steel, Energy Storage, Chemical, And Titanium Alloys and other.
The top companies that hold the market share in vanadium market are Pangang Group Vanadium Titanium & Resources Co., Ltd., Beijing Jianlong Heavy Industry Group Co., Ltd, and HBIS Group, EVRAZ Group, Bushveld Minerals Limited, Australian Vanadium Limited, Vanadium Corporation, Glencore, Largo Resources, Atlantic Pty Ltd., Energy Fuels Inc & among others.
To get latest version of vanadium market report can be obtained on demand from the website.
Political, socio-economic, environmental, and technological factors have influenced the global vanadium industry over recent years. Variation in international trade, restructuring of mining and steel production policies, vanadium recovery from chemical processes, oil residues, and other secondary sources, geopolitical conflicts, and environmental sustainability are some of the important elements of the global vanadium industry development.
Vanadium metal is highly consumed in steel production followed by it's next important end-use including energy storage batteries and chemical catalyst among others. Key primary and secondary sources of vanadium include ferrovanadium, vanadium ores such as vanadinite, patronite, steel slag, ash residues, etc. However, over 85% of the vanadium metal is consumed in the processing of steel rebar and other alloys and chemical processing catalysts, narrowing down the supply for production of VRFBs for energy storage. This has resulted in a fluctuating price scenario over the past few years.
The import prices of ferrovanadium escalated in 2014 followed by a continuous dip by the end of 2017, impacted by the low steel production rates in Europe and China. A similar pricing trend was illustrated by vanadium oxides and hydroxides till 2016. Beyond 2016, V2O5 prices took a huge price leap, owing to new rebar standards implemented by China. This has led to tight raw material supply in the Chinese as well as the global market. Increasing demand for battery usage in renewable energy storage is expected to have a considerable impact on vanadium mining over the years ahead.
A price uplift is reflected beyond 2017, further tightening the supply-demand of vanadium precursors. Due to China's strict regulations and bans on vanadium slag in 2018, the product prices hiked by over 50%. This trend is expected to continue over the next couple of years and is considered to restrain the VRFB market growth by the end of 2025.
Redox flow batteries have provided a technological breakthrough in the global vanadium industry. The key attribute of this battery technology is the expandable storage capacity, due to the internal structure that stores the electrolyte separately from the electrodes.
Supportive political scenario is presently being reflected in China, as the country announced new energy storage policies in 2016 under the 13th Five-Year plan, in order to reform its power sector. Additionally, the country's National Energy Administration offered its support towards the battery storage segment, by approving the construction of a large scale electrochemical energy storage plant named, "Dalian Flow Battery Energy Storage Peak-Shifting Power Station National Demonstration Project". This project is expected to reach completion by 2020 and is considered to triple the country's grid-connected battery capacity. Through this project, the Chinese government aims to address various energy concerns that include renewable energy shortage, power back-up, and other services.
Alternative production resources are expected to be a key opportunity and a supporting factor for the vanadium market growth in the future. Ore extraction and steel slag generation have been the main sources of producing vanadium. However, a supply constraint in providing vanadium via these sources has led to fluctuations in the raw material pricing over the recent years, due to tight regulations concerning mining, steel slags, and blast furnaces. Hence, vanadium production activities through alternative secondary sources have been on the rise. Oil residues, fly ash, pig iron slag, and spent catalysts are some of the secondary sources that have accounted for over 10% of the vanadium production in 2017.
The global vanadium market outlook is likely to remain strong by the end of the forecast period, owing to the growing metal usage in steel processing and other niche end-uses including energy storage, chemicals, and titanium alloys. Iron & steel held the largest volume share of over 90% of the global vanadium market in 2017.
Vanadium is generated as a co-product of steel slag, which in turn is consumed in making steel and other ferrous alloys. This metal is utilized as an additive in the processing of carbon steel alloys, high strength low alloy (HSLA) steels, full alloys, etc. Ferrovanadium is utilized as a hardener for enhancing strength in tool steels, steel rebars, and other ferrous products. Furthermore, vanadium trioxide and vanadium metal are used in the production of specialty steel alloys that are required for manufacturing electronic components such as computer hard drives.
Vanadium forged steels are gaining importance in various end-user sectors such as automotive & transportation and power infrastructural components. This metal aids in minimizing the quenching operation issues that generally occur due to the low performance of medium strength carbon steels. Alloying these carbon steels with vanadium through the microalloy precipitation process imparts enhanced physical properties such as yield stress and high tensile strength to the steel components. This further helps in the alleviation of production costs, thus making vanadium a favorable alloying agent for manufacturing automotive components such as crankshafts, axles, gears, and spindles among others.
The iron and steel sector is expected to continue being the primary driving factor of the global vanadium market over the future. Furthermore, vanadium demand in the HSLA steel applications is expected to witness a higher market growth during the forecast period.
Chemical manufacturing followed by energy storage and titanium alloys are the next important application growth areas that are considered to drive the global vanadium demand during the forecast period. Vanadium pentoxide is primarily utilized as a catalyst in the manufacturing of a wide range of chemicals including sulfuric acid, pigments & dyes, vitamins, and synthetic rubber. Titanium alloys utilize vanadium for improving the strength and performance of jet engines and other aerospace components.
However, energy storage is anticipated to be the fastest growing application of the global vanadium industry during the forecast period. Vanadium has been gaining an immense prominence as a battery metal over the recent years. It is considered to provide a tough competition as a substitute to lithium, cobalt, and nickel among other battery metals, especially in grid storage applications. Hence, the future of vanadium is likely to be promising, with the steel industry considered to remain a backbone while energy storage is expected to be a lucrative market opportunity.
The global vanadium market demand is expected to be significant in Asia Pacific, Europe, and North America by 2025. On the contrary, South America and Middle East and Africa are likely to have emerging markets for vanadium industry growth. The rapid development of the renewables sector coupled with rising utilization of steel alloys in automotive and infrastructure development is considered to boost the global demand for vanadium during the forecast period.
Asia Pacific constituted the largest share of the global vanadium market demand in 2017. Majority of the vanadium was consumed by China among other countries in the region. The recent implementation of revised steel rebar regulations coupled with an increasing focus on large scale renewable energy storage projects led the country in capturing more than 40% of the global vanadium market demand in 2017.
In October 2018, the Chinese government announced new standards pertaining to the addition of higher vanadium contents in steel rebars. According to the country's Standardization Administration, this new rebar standard permits usage of 0.03% vanadium content in grade - III steels. It also mentioned that the metal content can be further increased for higher steel rebar grades.
Over recent years, vanadium redox flow batteries (VRFBs) have taken the Chinese energy storage sector by storm. Rongke Power's on-going construction of a mega VRFB energy storage project in the country's Dalian peninsula is expected to triple the domestic energy storage capacity required for power utility grids. This large scale project is expected to have a storage capacity of 200 MW / 800MWh, post completion in 2020. In addition to this, upcoming plans of commissioning and installations of several VRFB storage systems have risen in China over recent years. For instance, in 2018, VRB Energy, a key battery market player announced its future growth strategy of constructing a 100 MW / 500 MWh VRFB storage system in the Hubei province, China. These developments are expected to enable China in accounting for nearly half of the global vanadium consumption by 2025.
The vanadium market competition in China is considered to intensify, owing to the presence of well-established local players in the market. In addition to this, the country has also been focusing on enhancing its vanadium procurement or imports from Australia that has sufficient vanadium reserves. In mid-2018, Australian Vanadium Limited (AVL) signed a memorandum of understanding (MOU) with Win-Win Development Group, a China-based steel and alloy producer. This MOU focuses on investment in the former's Gabanintha vanadium exploration project, the supply of vanadium pentoxide to the latter's production facilities located in China, and overall product marketing collaboration in China. Hence, expansion of China's footprint on the entire vanadium market value chain is considered to be a key event in the foreseeable future, which is further expected to fixate Asia Pacific's position as a top vanadium market player.