The rapidly expanding semiconductor sector and the increasing usage of sophisticated displays create the need for vacuum-based production processes, which promotes demand for vacuum valves.
The global Vacuum Valve market is projected to reach US$ 12.98 billion by 2028, growing at a CAGR of 4.5 %
Covid-19 Impact & Market Status
Despite the worldwide COVID-19 epidemic, the market has grown significantly. Some of the long-term megatrends that drive this business have been accelerated by work-from-home rules and a boom in online purchasing as a result of pandemic-related limits. The demand was bolstered further by technical breakthroughs in logic and memory chips, which necessitated the development of new production platforms.
Isolation Valves Segment will Hold Majority of the Market in the Coming Future
Rising need for high-quality valves in the food and beverage, R&D, chemical, and analytical instrument manufacturing sectors to limit particle outgassing and generation is presently driving demand for isolation valves, and this trend is likely to continue over the projection period. Because isolation valves are utilized in applications such as freeze-drying and vacuum sterilization, the pharmaceutical sector is predicted to create growth prospects as a result of COVID-19's favorable influence on the industry.
The High Vacuum Pressure Range Segment is Predicted to Increase with the Highest Share
The vacuum valve market's high vacuum pressure range segment is likely to develop at the fastest CAGR in the predicted timeframe. High vacuum pressure range vacuum valves provide a low operating cost and a long maintenance cycle. High-vacuum valves are frequently employed in industries undergoing fast development, such as thin-film coatings, sub-fab systems, solar thin film deposition, display dry etching, and lightning thin film deposition.
The Semiconductor segment is Predicted to Increase at the Fastest CAGR in the Coming Future
Semiconductors are critical to technological breakthroughs in cellphones, computers, data centers, and medical equipment, which are essential components of many businesses. Semiconductor production is a system-critical business, and there is a growing demand for high-precision semiconductors. Vacuum fabrication technologies are used in the production of such semiconductors.
APAC Market is expected to be a High Growth Rate in the near Future
APAC is expected to have the greatest share of the global vacuum valve market in the coming future. In APAC, the vacuum valve market for the FPD (flat-panel display) and semiconductor production sectors is fast-growing, with a similar trend projected in the next years.
The market's expansion is primarily driven by rising demand for high-end semiconductors, the fabrication of which requires vacuum-based manufacturing procedures.
Vacuum valves are employed in various applications for a number of reasons including ventilation, conduction, isolation, and gas flow. One of the main factors driving the vacuum valves market is the rising manufacturing industry in emerging economies. The vacuum vales market is competitive, with some of the industry's most well-known firms present.
The semiconductor industry is one of the fastest emerging sectors in the globe. Semiconductors, which include transistors and memory chips, are critical components of both present and emerging technology. The Internet of Things (IoT), automotive electronics, wireless communications, artificial intelligence (AI), machine learning, cloud computing, data storage, and consumer electronics are just a few of the major factors fueling long-term demand for semiconductors.
The rising demand for consumer electronics like smartphones, TVs, tablets, and laptops, together with the adoption of AI and the construction of 5G cellular networks, will need the use of sophisticated semiconductor components and devices. As a result, methods in the semiconductor manufacturing sector must be updated to fulfill the demands for more memory output and better performance, resulting in high-quality IC chips.
Semiconductor chips need better vacuum purity and, as a result, must be fabricated under vacuum. The semiconductor industry's need for vacuum valves is primarily driven by the lowering of semiconductor node sizes in order to fit more processing power into a smaller space. As node sizes reduce and chip layouts evolve, the requirement for purer vacuums and the number of process steps performed under vacuum increases, resulting in a rise in demand for vacuum valves.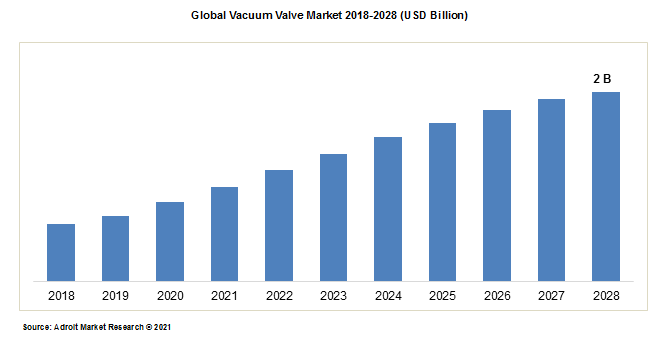 In line with this, this report provides a detailed analysis of several leading industrial vacuum valves market vendors, which include CKD, PISCO, KOGANEI, SMC, Convum, ORION, FUJIKIN, AYUMI, VENN, YOSHITAKE, TACO, and Prius. Furthermore, the industrial vacuum valves market research study includes information on upcoming trends, opportunities, scope, and threats that will affect market growth. This study is prepared to help firms capitalize and strategize on any forthcoming growth opportunities.
Latest Innovations in the Global Vacuum Valve Market: a Snapshot
In August 2021, Hide-a-Hose added a new mini-valve central vacuum wall inlet to its current Hide-a-Hose Central Vacuum System, which is designed for use in smaller applications and spaces such as the kitchen, bathroom, garage, or living room. According to the company, the mini-valve is 20% slighter and costs half as compared to the standard Hide-a-Hose valve.
In April 2021, IDEX Corporation announced the signing of a formal agreement to buy Airtech Group, Inc., US Valve Corporation, and affiliated enterprises from investment funds controlled by EagleTree Capital for $470 million in cash, subject to usual post-closing adjustments. Airtech manufacturers and designs offer a huge range of highly engineered pressure technology products, including regenerative blowers, vacuum pumps, and compressor systems.
In March 2021, Safety isolation valves, which are critical safety components for HyperloopTT systems, have been revealed by HyperloopTT (Hyperloop Transportation Technologies). The valves, which were fabricated to exact specifications by GNB KL Group in Elk Grove, California, will separate segments of the hyperloop system tubes, making system pressurization easier for emergencies or maintenance.
The market research analysis's purpose is to give dependable research on the worldwide Vacuum Valve market. The study decodes complicated data and illustrates the industry's present and historical state, as well as expected market trends and size. The research examines all aspects of the sector, including market leaders, investors, customers, and new entrants.
Vacuum Valve Market Scope
| | |
| --- | --- |
| Metrics | Details |
| Base Year | 2020 |
| Historic Data | 2018-2019 |
| Forecast Period | 2021-2028 |
| Study Period | 2018-2028 |
| Forecast Unit | Value (USD) |
| Revenue forecast in 2028 | US$ 12.98 billion |
| Growth Rate | CAGR of 4.5 % during 2021-2028 |
| Segment Covered | By Valve Type, By Pressure Range, By Industry, Regions |
| Regions Covered | North America, Europe, Asia Pacific, Middle East and Africa, South America |
| Key Players Profiled | Agilent, Emerson Electric Co., Flomatic Corporation, HHV Ltd., HVA LLC, Ideal Vacuum Products LLC, Kurt J. Lesker Company, MKS Instruments, Pfeiffer Vacuum GmbH, SMC Corporation |
Key Segments of the Global Vacuum Valve Market
Valve Type Overview, 2018-2028 (USD Billion)
Isolation Valves
Pressure Control Valves
Transfer Valves
Air Admittance Valves
Check Valves
Pressure Range Overview, 2018-2028 (USD Billion)
Low-to-Medium Vacuum (Less than 10-3 torr)
High Vacuum (Greater than 10-3–>10-8 torr
Very High Vacuum (Greater than 10-8 torr)
Industry Overview, 2018-2028 (USD Billion)
Analytical Instruments
Flat-panel Display Manufacturing
Semiconductor
Chemicals
Food & Beverages
Pharmaceuticals
Paper & Pulp
Thin-film Coating
Others
Regional Overview, 2018-2028 (USD Billion)
North America
Europe
Germany
France
UK
Rest of Europe
Asia Pacific
China
India
Japan
Rest of Asia Pacific
South America
Mexico
Brazil
Rest of South America
The Middle East and South Africa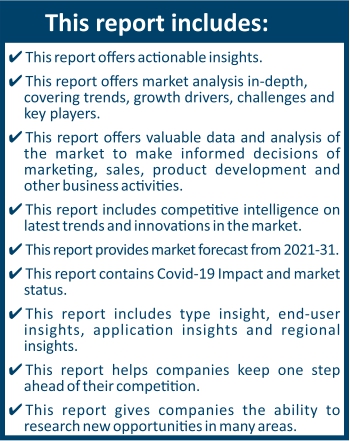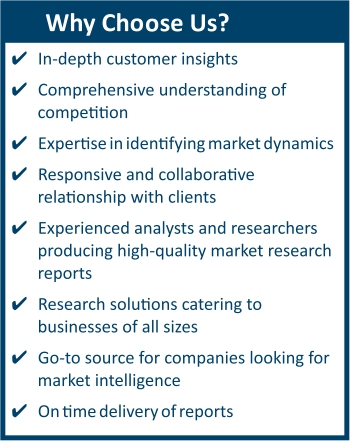 Frequently Asked Questions (FAQ) :
The vacuum valve market is studied from 2018 - 2028.
The vacuum valve market is growing at a CAGR of 9% over the next 7 years.
APAC region is growing at the highest CAGR over 2021- 2028.
CKD, PISCO, KOGANEI, SMC, Convum, ORION, FUJIKIN, AYUMI, VENN, YOSHITAKE, TACO, and Prius.