The V2X Network Market is expected to reach USD 15.3 Billion during the forecast period at a 45% CAGR.
The global V2X network market revenue is projected to grow at a sustainable rate reaching close to USD 14,205 million by 2028 and is expected to acquire a substantial CAGR of nearly 35% over the forecast years 2018 to 2028. The steady growth of the global V2X network market can be attributed to the rapid technological advancements in 5G integration and robust internet infrastructure which are supporting steady expansion.
However, the industry is severely challenged by the higher costs associated with implementation and installation coupled with the burgeoning security concerns surrounding data communication which are likely to thwart steady growth of the global V2X network market in the coming years.
Emerging developments in vehicle-to-everything environment triggered by the 3rd gen partnership project (3GPP) inclusive of architecture design and radio interfaces are likely to catapult fresh growth opportunities in the global V2X network market. Further, crucial advances in mobile edge computing and blockchain technology besides vehicle to everything communication matrix are poised to instil new avenues in the V2X network architecture.
V2X is an acronym often used to represent the vehicle-to-everything communication technology. It is a system that facilitates communication between different vehicles or road users and even infrastructure. V2X network slicing is a promising technology with potential to amplify next generation of connected devices capabilities by creating multiple logical networks on a mutually shared programmable physical infrastructure.
Primary advantages of implementing V2X network slicing technology includes better road safety, ability to achieve greater energy savings and enhanced efficiency in traffic management on the roads which contribute to the appeal of the advanced technology system. The automotive industry is at the forefront of technological breakthroughs constantly adopting high-end next-generation technologies not on in terms of automotive production but also in terms of infrastructure communication.
For instance, the advanced developments now allow cars to exchange information with digitals devices, traffic signals, and pedestrian's communication devices. The rapid pace of modernizing technologies is further encouraging automotive manufacturers to incorporate V2X network systems scaling up the safety associated utility, along with customer convenience.
Global V2X network market players are firmly placed alongside the newly emerged entrants coming into the market with the aim of disrupting conventional technologies applied in enhancing security and convenience across the automotive industry. The rapid surge in the number of young market players challenging the business presence of historic players and the constant evolution in technologies have resulted in market diversification.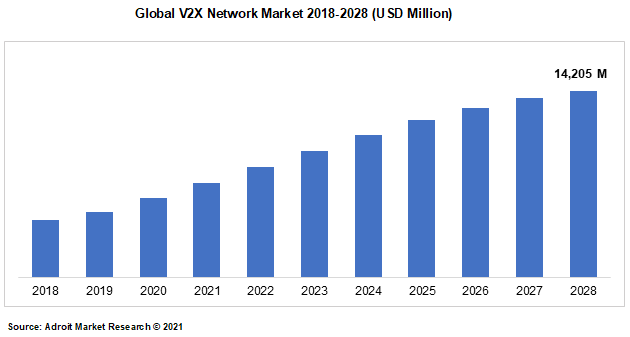 The major players of the global V2X network market are Robert Bosch, HARMAN International, Altran, Continental AG, Autotalks, Qualcomm Technologies, NXP Semiconductors, Infineon Technologies, Delphi Technologies, Google, IBM, Intel, AT&T and STMicroelectronics. The global V2X network market encompasses diverse placement of industry players with local establishment as well as industry participants of international significance. In addition, the recognised market players are scaling up strategic initiatives introducing highly modernized and advanced technologically systems with fully equipped capabilities in order to maintain the competitive stance in the global market.
V2x Network Market Scope
| | |
| --- | --- |
| Metrics | Details |
| Base Year | 2020 |
| Historic Data | 2018-2019 |
| Forecast Period | 2021-2028 |
| Study Period | 2018-2028 |
| Forecast Unit | Value (USD) |
| Revenue forecast in 2028 | USD 14,205 million |
| Growth Rate | CAGR of 35% during 2021-2028 |
| Segment Covered | Communication Type, Connectivity Type, Vehicle Type, Regions |
| Regions Covered | North America, Europe, Asia Pacific, Middle East and Africa, South America |
| Key Players Profiled | Robert Bosch, HARMAN International, Altran, Continental AG, Autotalks, Qualcomm Technologies, NXP Semiconductors, Infineon Technologies, Delphi Technologies, Google, IBM, Intel, AT&T and STMicroelectronics. |
Key segments of the Global V2X Network Market
Communication Type Overview, 2018-2028 (USD Million)
V2V (vehicle-to-vehicle)
V2P (vehicle-to-pedestrian)
V2N (vehicle-to-network)
V2I (vehicle-to-infrastructure)
V2H (vehicle-to-home)
V2G (vehicle-to-grid)
V2D (vehicle-to-device)
V2C (vehicle-to-cloud)
Connectivity Type Overview, 2018-2028 (USD Million)
Dedicated Short-range Communication (DSRC)
Cellular Connectivity (c-V2X)
Vehicle Type Overview, 2018-2028 (USD Million)
Passenger Vehicle
Commercial Vehicle
Regional Overview, 2018-2028 (USD Million)
North America
Europe
Germany
UK
France
Rest of Europe
Asia Pacific
India
China
Japan
Rest of Asia Pacific
South America
Brazil
Mexico
Rest of South America
Middle East & Africa
Reasons for the study
Primary objective of the study is to achieve high-end and well-documented research providing exhaustive view of the global V2X network market allowing highly competitive data analysis
Ensure competitive benchmarking with detailed market analysis and insights coupled with innovations by the key market players enhancing the market progress.
What does the report include?
The study on the global V2X network market covers a broad perspective analysis emphasizing primarily on the qualitative factors such as drivers, restrains, and opportunities
The study encompasses conclusive review of the competitive landscape enlisting the key market players both existing and prospective along with intrinsic evaluation of their strategic initiatives and technological advancements focused on product development
The study represents historical data coupled with analytical outcomes derived via qualitative and quantitative analysis of the market segments comprising of communication type, connectivity, vehicle type, and regional survey.
Accurate market estimations, actual market sizes, and volumes have been incorporated in each of the segment analysis.
Who should buy this report?
The report on the global V2X network report delivers an archive of data of actionable significance to all the market participants across the automotive and communication sector including vehicle manufacturers, software developers, V2X solution and platform providers and commerce companies.
Venture capitalist firms, business investors, and private and public organizations looking for accurate in-depth information of the future outlook of the global V2X network market
Analysts, consultants, software experts, programmers, and other institutions seeking insights shaping the global V2X network market.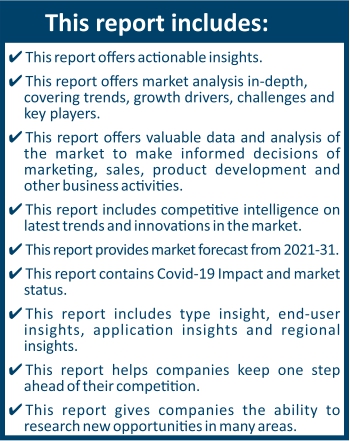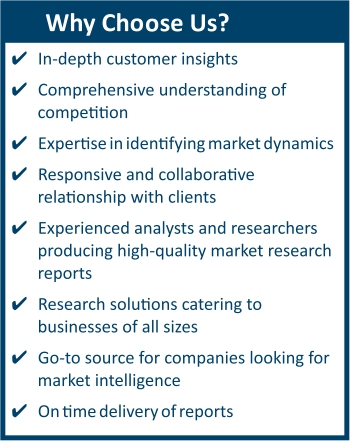 Frequently Asked Questions (FAQ) :
The v2x network market is growing at a CAGR of 35% over the forecast period.
The global v2x network market is Segmented on the Communication Type, Connectivity Type, Vehicle Type, Regions
The major contenders in the global market are Robert Bosch, HARMAN International, Altran, Continental AG, Autotalks, Qualcomm Technologies, NXP Semiconductors, Infineon Technologies, Delphi Technologies, Google, IBM, Intel, AT&T and STMicroelectronics.
Substantial rise in the adoption of connected cars is expected to contributed significantly to the growth of the global V2X network market. Connected vehicles are gaining popularity owing to the string of benefits it provides. For instance, V2X network slicing enables drivers, automotive dealers, and fleet operators in optimization of resources used, enhancing safety and automation of certain driver functions and ultimately generates valuable data such as information on vehicle performance or road conditions.
As a result, the demand for connected vehicles has spurred significantly and is expected to grow continually. In addition, rapid industrial as well as non-industrial developments leading to fast-paced urbanization and industrialization are also boosting the adoption of V2X network architecture. Emergence of economic status coupled with several macro-economic favourable factors including rising disposable income, rapid escalation in overall GDP, and higher employment rates have encouraged the development of modern projects such as smart cities and smart infrastructure facilities. As a part of the smart city development, development and deployment of V2X-based intelligent transport system has gained momentum in engaging and enhancing highly efficient traffic control. Therefore, advances in smart city infrastructure is expected to bode well with growth spurts in the global V2X network market.
Communication Type Segment
The V2V or vehicle-to-vehicle communication segment type is likely to garner the lion's share over the forecast period. V2V has gained importance due the advanced capabilities it offers to a vehicle such as forward collision warning (FCW), and features like lane changing warnings (LCW). Growing safety concerns associated with accidents and participation of governments to encourage development of advanced systems are expected to boost the growth of the V2V communication type segment during the forecast tenure.
Connectivity Type Segment
The c-V2X connectivity segment is estimated to register the fastest growth during the forecast years owing to the escalating advancements focused on 5G technology allowing efficient use of 5G-V2X which will ultimately help achieve robust cybersecurity coupled with efficient handling of the large volumes of information within a congested traffic environment. The costs associated with the hardware components are expected to further drive the growth of the cellular connectivity segment over the forecast years.
Vehicle Type Segment
Commercial vehicle and passenger cars are identified as the major segments as per vehicle type. Increasing involvement of pubic organizations and governments to enhance road safety thus preventing accidents and improve management of traffic congestion coupled with rapid adoption of V2X network slicing is expected to add to the growth of the commercial vehicle segment over the forecast period. The passenger cars segment is also estimated to witness a sustainable growth over the forecast with advancements in V2X-based ITS.
Europe is among the most predominant marketspaces displaying a strong and well-established V2X network market with a massive automotive sector. The region is estimated to gather the largest market size over the forecast years owing to the highly advanced infrastructure facility in the nation allowing easy deployment of V2X technologies.
In addition, the region houses some of the largest players such as Robert Bosch, and Delphi offering advanced services catering to the large-scale demand and rate of adoption of V2X equipped vehicles, altogether these factors are propelling the growth of the V2X network segment across Europe.
Moreover, top-class European automotive manufacturers like Ford, and BMW are collaborating with Qualcomm and other developers in order to exhibit the capabilities of c-V2X communications. North America, with advanced communications industry is expected to surge the developments in the V2X sector whereas Asia Pacific with growing automotive sector also proposes ideal opportunistic growth over the forecast period.