The global Unified Communications as a Service (UCaaS) market size is projected to reach USD 31 billion by 2025. The key factors contributing to the growth of the market comprise growing demand for UCaaS from both SMBs and large enterprises, as well as rising trends towards Bring Your Own Device (BYOD), and mobility. Additionally, advancements in technologies such as machine learning, artificial intelligence, and other evolving technologies, are anticipated to create lucrative prospects for the UCaaS industry.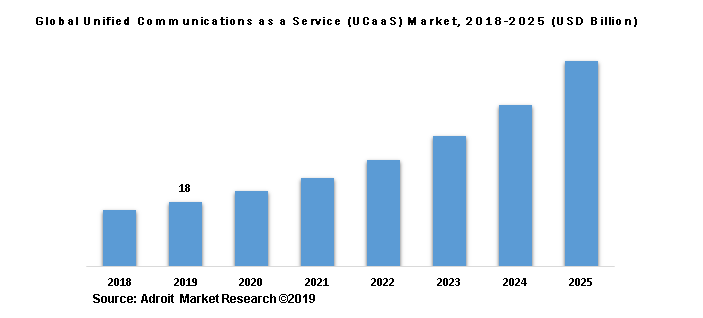 Cloud service popularity and adaptability in contemporary business enterprises are amongst a provoking innovation within the global IT industry. As per the CISCO global cloud traffic study, over 20 zettabytes of data is consumed through the cloud services globally each year. Thus, it can be stated that the forthcoming years shall lead to an upsurge in worldwide cloud traffic.
The Unified Communications as a Service market is expected to grow at a CAGR of 18% to reach US$ 385.21 billion in 2030.
As a substitute to the enterprise communication platform, unified communication as a service replaces additional liability that includes the deployment of the IT support team, on-premises software, as well as multiple pay-offs. For reliable communication up to the global businesses, UCaaS offers diverse features including Voice over Internet Protocols (VoIP), unified instant messaging, single user interface, updated software systems, flexible device connectivity, and cost-efficient operations.
Key Segments of the Unified Communications as a Service Market
By Product, 2022-2030 (USD Million)
• Hosted
• On-premise
By Solution, 2022-2030 (USD Million)
• Instant and Unified Messaging
• Audio and Video Conferencing
• IP Telephony
• Contact Centre
• Mobility
• Others
By Organization Size, 2022-2030 (USD Million)
• Small Molecules
• Large Molecules
By Organization Size, 2022-2030 (USD Million)
• Enterprises
• Education
• Government
• Healthcare
• Energy and Utilities
• IT and Telecom
• Retail
• BFSI
• Aerospace and Defence
• Others
Regional Overview, 2022-2030 (USD Million)
North America
• US
• Canada
Europe
• Germany
• France
• UK
• Rest of Europe
Asia Pacific
• China
• India
• Japan
• Rest of Asia Pacific
South America
• Mexico
• Brazil
• Rest of South America
Middle East and South Africa
Frequently Asked Questions (FAQ) :
The market value of unified communications as a service market in 2025 was USD 31 billion
The major contenders in the global unified communications as a service market RingCentral, 8x8, LogMeIn, Mitel, Cisco, Vonage, Fuze, Inc., Microsoft, Google, Verizon, BT, Orange S.A., DialPad, StarBlue, Windstream, Alcatel-Lucent Enterprise, and others.
north america dominated the market for unified communications as a service market and accounted for the largest revenue share
Investments in R&D in the UCaaS market and initiating dialogue with costumers would help service enablers in featuring UCaaS platforms and advancing unique features. Popular technologies that include artificial intelligence, machine learning, and voice assistance urge users to use their UCaaS platforms at their full potential to gain exponential growth prospects. However, presently, Artificial Intelligence(AI) lacks practical applications in enterprises, and there are little cases where businesses have made effective use of AI for functional efficiency and other combined activities. A such, the industry players are advancing communication prospects with virtual Reality (VR) to improve interactions and visibility amongst the users.
Component Segment
Based on the component segment, the market is bifurcated into unified messaging, telephony, collaboration platforms, and conferencing. In 2019, the telephony segment gathered the highest market revenue and it is anticipated to govern the UCaaS market throughout the forecast period. However, the collaborative platform segment is anticipated to grow at a substantial growth rate over the forecast period. The major share of telephony revenue is likely to come from the North American region, owing to the presence of tech companies is the highest within the region.
Industry Vertical Segment
Based on the end-user, the market is segmented into BFSI, telecom and IT, consumer goods and retail, healthcare, public sector & utilities, logistics & transportation, travel & hospitality, and others. The market for telecom and IT is anticipated to possess the largest market share in 2019 since the enterprises today are predominantly developing to match their user needs.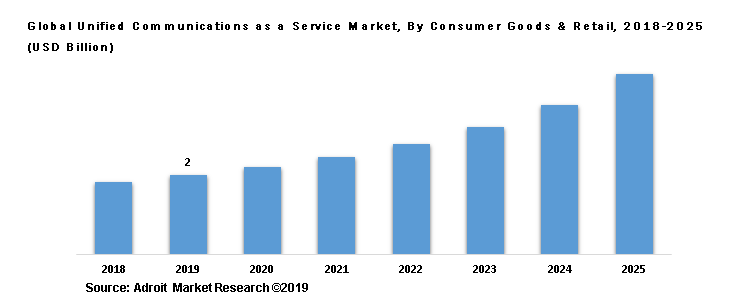 The global UCaaS market is a wide range to North America, Europe, APAC, South America, and the Middle East & Africa. North America is considered a mature market in the UCaaS platforms, owing to an outsized presence of an organization with the availability of technical expertise and advanced IT infrastructure. The US and Canada are the highest contributory countries to the expansion of the UCaaS market in North America.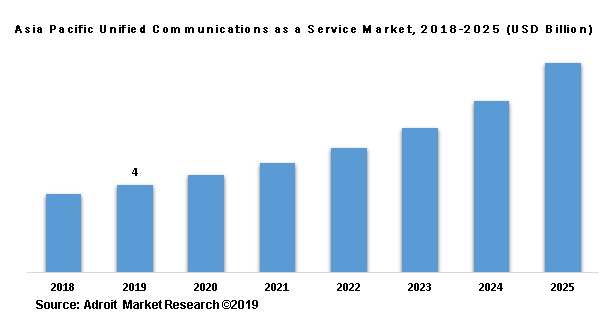 The major players of the global UCaaS market are RingCentral, 8x8, LogMeIn, Mitel, Cisco, Vonage, Fuze, Inc., Microsoft, Google, Verizon, BT, Orange S.A., DialPad, StarBlue, Windstream, Alcatel-Lucent Enterprise, and others. The UCaaS market is fragmented with the existence of well-known global and domestic players across the globe.