Travel insurance is a type of insurance that is purchased by travelers to protect themselves from certain financial risks and losses that can be encountered while traveling. Depending on the type of travel insurance obtained, benefits are offered which may cover damage to personal property, rented equipment, delays or loss of baggage, loss of travel documents or loss of cash, trip cancellation or interruption coverage, medical expense coverage, personal effects coverage, and accidental death or flight accident coverage. This way travelers can travel safe and secure.
The global UK Travel Insurance market worth 119.31 by 2030, growing at a CAGR of 26.1%
The UK travel insurance market was valued at USD 658.53 million in 2018. With increased mobility among individuals, travel has become an accepted part of business, academic and personal life in the modern world, exposing both individuals and businesses to new financial risk with each trip. There are several reasons for the rapid surge in the growth of the tourism industry. Advances in technology, increased disposable incomes, holiday entitlement, and the effect of media and easy availability of holiday packages are some major factors attributed to this growth. Mass tourism and package holidays have opened up markets to a huge number of people. Extreme and ecological tourism is also becoming popular, further swelling the global tourism industry. For the hospitality and travel sector, in particular, the increased popularity of social channels and the rise of the Internet has altered travel marketing. Transformed travel research and rise in social sharing are some other key aspects that depict the way media has transformed the overall tourism industry.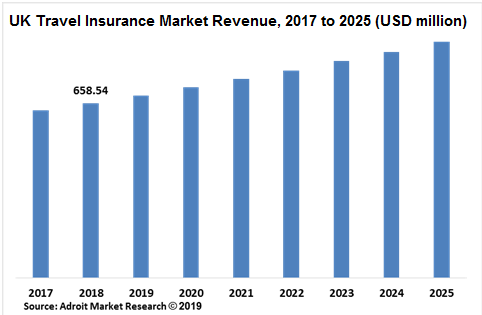 According to OECD, 79 percent of consumers intend to use digital channels for travel insurance interactions. But with 52.7% of consumers accessing the Internet via mobile phones, website usage is fading. However, travel insurance providers are offering websites which are more responsive along with the ability to purchase insurance using online payments. But technology doesn't stop at distribution; customer loyalty can also be fostered using apps and social media. E-claims trend is surging with the potential to curb fraud and escalate efficiency. Furthermore, a new influx of data collation has subsequently given rise to the concept of big data, where insurers are inspecting the possibility of being able to predict the possibility of claims, and adjust premiums based on detailed client analysis. Another digital trend taking place in the travel insurance industry is a comparison of websites which is wide-spreading the travel insurance industry.
UK Travel Insurance Market Scope
| | |
| --- | --- |
| Metrics | Details |
| Base Year | 2022 |
| Historic Data | 2020-2021 |
| Forecast Period | 2022-2030 |
| Study Period | 2020-2030 |
| Forecast Unit | Value (USD) |
| Revenue forecast in 2030 | $ 119.31 billion |
| Growth Rate | CAGR of 26.1 % during 2022-2030 |
| Segment Covered | Type, Distribution, and End-User., Regions |
| Regions Covered | North America, Europe, Asia Pacific, South America, Middle East and Africa |
| Key Players Profiled | Allianz, American International Group, Inc., AXA, ASSICURAZIONI GENERALI S.P.A., USI Insurance Services, LLC |
Key Segments of the UK Travel Insurance Market
Type Overview, 2015-2025 (USD Billion)
Medical Expenses
Trip Cancellation
Trip Delay
Property Damage
Type of Travel Overview, 2015-2025 (USD Billion)
Business Travel
Leisure Travel
Application Overview, 2015-2025 (USD Billion)
Domestics Travel
International Travel
Distribution Channel Overview, 2015-2025 (USD Billion)
Direct Sales
Indirect Sales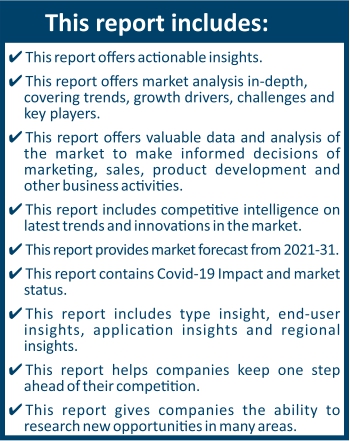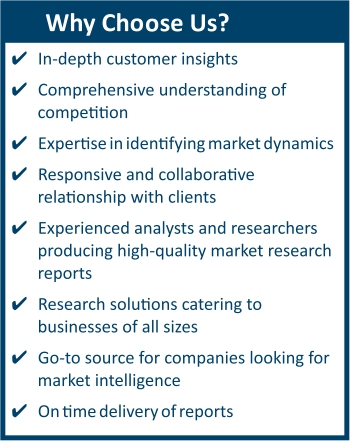 Frequently Asked Questions (FAQ) :
The market value of uk travel insurance market in 2025 was USD 890.64 million.
The application of the uk travel insurance market Mantle Domestics Travel and International Travel and other.
The top companies that hold the market share in uk travel insurance market are Allianz SE,KBC Group,Chubb Ltd., Prudential Financial, Inc., Munich Re (Group),China Pacific Life Insurance Co. Ltd., Travelex Insurance Services, Europ Assistance and Aviva PLC, Saga PLC & among others.
Data, parametric insurance, Blockchain, and end-user service platforms have become some of the keywords of the digital transformation of the travel insurance industry. In 2017, the AXA Fizzy service was introduced which is a Blockchain-based service that instantly and automatically reimburses the customer if flight postpone through a smart contract.
The customer logged to Fizzy for a particular flight and their flight and personal information is compiled in a smart contract in the Ethereum Blockchain. The smart contract coordinate the flight and in case it gets delayed by more than two hours, the travelers immediately and automatically receives reimbursement from AXA, without any hassle of having to file a claim. The company is still testing the concept in real market conditions. At present, only flights between Paris-Charles de Gaulle Airport and a few airports in the US are catered with less than 10,000 euros of premium in six months— a step forward in a very interesting direction.
Type Segment
On the basis of types, UK travel insurance covers categories like Medical Expenses, Trip Cancellation, Trip Delay and Property Damage. Medical expenses have dominated the market by occupying 42.0% market share in 2018. Medical expenses segment is likely to dominate the UK travel insurance as the global travelers are often exposed to foreign bacteria, unfamiliar foods and side effects of jet lag –all of these may lead to health concerns. Besides that, exploring unfamiliar territory may cause accidents resulting in injury without warning demands for travel insurance which recover health conditions.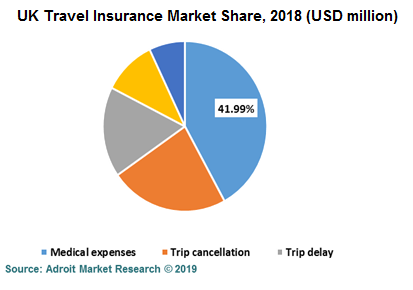 Type of Travelers Segment
On the basis of the type of travelers, the market is bifurcated into Business Travel and Leisure Travel. Traveling for leisure is gaining momentum in the UK owing to increasing disposable income, millennials showing interest to cover new places or exploring new culture and to break from stressful work life. Most of the leisure travels are planned during the holidays and during holidays travel insurance companies business reach to heights.
Distribution Channels Segment
Based on distribution channels, the market has two categories which include direct sales and indirect sales. UK travel insurance market is considered as 'either the most developed or one of the most developed markets in Europe'. Direct sales have dominated the market due to direct channels like the Internet. The Internet offers multiple websites to customers which help them compare prices and more benefits covered in a travel insurance policy. With the internet distribution holding a strong foothold in the distribution market, two businesses got established which is Money Supermarket and InsureandGo.
Application Segment
Furthermore, based on the applications of travel insurance, the market is segmented into domestic and international travel. International travel is likely to dominate the UK travel insurance market by occupying 79.72% of market share.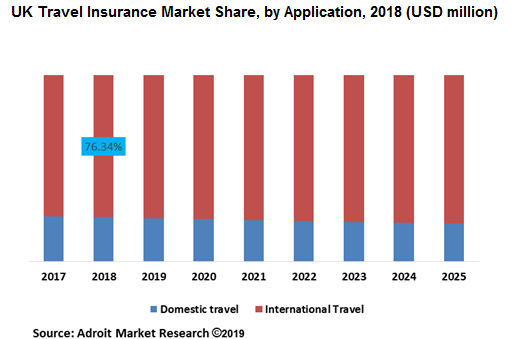 The major players of UK travel insurance include Allianz SE, KBC Group, Chubb Ltd., Prudential Financial, Inc., Munich Re (Group), China Pacific Life Insurance Co. Ltd., Travelex Insurance Services, Europ Assistance and Aviva PLC, Saga PLC. These leading players are part of mergers and acquisitions to remain on the competitive edge of the market. Likewise, UK-based insurer–airline affinity partnership involves a three-year contract between Ryanair and UK General, declared in 2011, whereby travel insurance is sold on a pan-European basis across 22 European Union (EU) countries. The signed contract allows Ryanair to sell travel insurance with help of its website booking process, call center and dedicated travel insurance website to passengers across the EU. UK General called the scheme, which was developed from each area of the company's business, 'complex and ground-breaking'.