The increasing incidence of mood and anxiety disorders is driving the Trazodone hydrochloride market. The exorbitant prices of established therapy for these illnesses provide further incentive to the global Trazodone hydrochloride market.
It's being expected that by 2027, the Trazodone hydrochloride market cap will hit USD 615 million at a CAGR growth of about 7.5%.
Covid-19 Impact & Market Status
Owing to COVID-19 epidemic, every sector in the globe have suffered. The pandemic has also had a substantial influence on the global trazodone hydrochloride market, since covid-19 has disrupted the global supply chain of agriculture and related businesses. Raw material procurement for production and distribution were hampered as a consequence of the disrupted supply line. This has a negative impact on farmer costs, spending, and risk, as the majority of the farmers rely on revenue from abroad regions like China and Europe. Demand is expected to climb as consumer tastes change away from the same.
Anti-depressant Segment To Propel The Market Growth
The anti-depressant segment industry is a major contributor of the Trazodone hydrochloride industry. The rising frequency of chronic disorders such as sadness and anxiety, along with an aging population, are predicted to drive growth in the healthcare sector. Trazodone hydrochloride is being used as an alternative to traditional medications by more healthcare professionals, which is driving segment expansion in global trazodone hydrochloride market.
Tablet Segment Demand Skyrocketed in 2021 Becoming the Major Revenue Gathering Segment
High-income nations have made significant investments in health systems, which has also grown continue providing universal access to high-quality treatment for all inhabitants. As a result, the consumption of prescription tablets, which are typically used to alleviate chronic conditions, has skyrocketed. As people become more aware of the benefits of living a healthy lifestyle, there is a greater demand for nutritional supplements and natural therapies, which increases the revenue potential for tablets in global Trazodone hydrochloride market.
North America To Be At The Top Of All Regions In The Trazodone Hydrochloride Market
North America is anticipated to be leading the global trazodone hydrochloride market owing to the fact that the people in the region are more exposed to the depression and anxiety. Also, the kind of food habits they have and the lifestyle they follow makes them even more prone to stress and this in turn causes depression. Therefore, trazodone hydrochloride, being an anti-depressant, is witnessing growing consumption. The marketplace in the sector is expected to expand even more. Consumption of trazodone hydrochloride is predicted to rise significantly throughout Asia Pacific. For example, a great majority of individuals in the nations like Japan are suffering from anxiety and hence, the market will be witnessing significant growth.
The global trazodone hydrochloride market has grown rapidly over the years owing to the development of better and more effective medications, as well as the emergence of alternative therapies.
The global trazodone hydrochloride market is expected to be of worth USD 682.5 million at a CAGR of 7.1% during 2022-2029.
Trazodone is an antidepressants medication used to treat depression in adults. It comes under the class of drugs called as serotonin reuptake inhibitors. It boosts the amount of serotonin in the brain as well as other regions of the body, which is responsible for emotions of well-being. It is a sedative-hypnotic medication also treats insomnia, psychological distress and other things depression related problems.
Trazodone hydrochloride is a commercialized pharmaceutical that belongs to the serotonin reuptake inhibitor family of drugs. It can be used to improve sleep or to reduce depressions, particularly in conditions that induce depression in the elderly.
It is used to treat pain, stress, or a mixture of the two. It may be effective if you are suffering concerns such as irritability, insomnia, or difficulty concentrating. Trazodone is available in pill, capsule, and liquid forms.
Global Trazodone hydrochloride industry is a cutthroat competitive marketplace, with major firms attempting to extend their client base and capitalize on the rising worldwide demand for antidepressants. The trazodone market may be divided into therapeutic and non-therapeutic applications. The trazodone hydrochloride market is divided into three segments - the utilization of trazodone to alleviate psychological distress, trazodone as an add-on to pharmaceuticals for patients who do not respond well to antidepressants, and trazodone as a stand-alone drug.
Trazodone hydrochloride is a prescribed medication that works by decreasing endorphins, dopamine, and monoamine levels in the brain, which causes the brain to react by reducing possibility of negative experiences and making more people more hopeful and enthusiastic, resulting in an overall sensation of well-being. Trazodone hydrochloride is a cationic antidepressant that is being used to treat mental illness and sleep problems. Marketing researchers and other scholars on the cutting edge of online marketing have already been discussing the significance of the same.
Trazodone hydrochloride is an antidepressant medication. While it might be beneficial, it can also cause sleeplessness, sleepiness, headaches, and uneasiness. It is also not suggested for anybody with a background of seizures since it might raise the risk of seizure and excess weight. It has the potential to produce sleepiness, sore throat, and nausea. It can also induce a rise in blood pressure and raise the chance of heart disease. Trazodone may also raise your chances of developing clinical depression and actions. This is limiting the sales of trazodone hampering the global Trazodone hydrochloride market.
The primary issue for the Trazodone hydrochloride industry is the massive price of developing new drugs. The process of producing a new drug is lengthy and costly, making it difficult for new treatments to come to the market. This is a significant impediment to the global Trazodone hydrochloride market.
The increased frequency of anxiety and depression in the general population is one of the key reasons fuelling the global Trazodone hydrochloride market. Rising consumer knowledge about the effectiveness of various medications used to treat distress is also predicted to boost market expansion over the forecast period. The country's growing senior population is also predicted to boost global trazodone hydrochloride market development.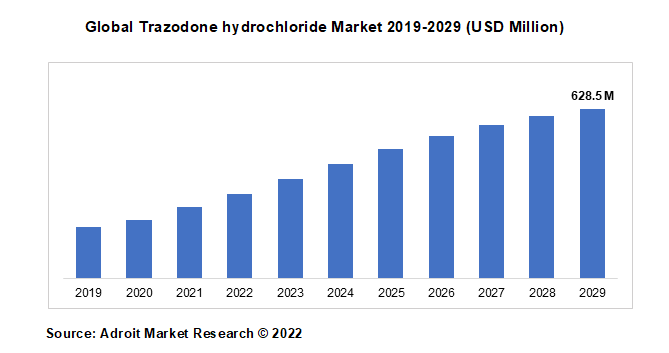 The key market players in the global trazodone hydrochloride market include The Piramal Group, Teva, Fermion, Angelini, and Mylan among others.
Trazodone hydrochloride Market Scope
| | |
| --- | --- |
| Metrics | Details |
| Base Year | 2020 |
| Historic Data | 2018-2019 |
| Forecast Period | 2021-2028 |
| Study Period | 2018-2028 |
| Forecast Unit | Value (USD) |
| Revenue forecast in 2028 | USD 682.5 million |
| Growth Rate | CAGR of 7.1 % during 2021-2028 |
| Segment Covered | Type, Application, Regions |
| Regions Covered | North America, Europe, Asia Pacific, Middle East and Africa, South America |
| Key Players Profiled | The Piramal Group, Teva, Fermion, Angelini, and Mylan among others. |
Key Segments of the Global Trazodone Hydrochloride Market
Type Overview, 2022-2029 (USD Million)
Application Overview, 2022-2029 (USD Million)
Anti-Depression
Anti-Nausea
Others
Regional Overview, 2019-2029 (USD Million)
North America
Europe
Germany
France
UK
Rest of Europe
Asia Pacific
China
India
Japan
Rest of Asia Pacific
South America
Mexico
Brazil
Rest of South America
Middle East and South Africa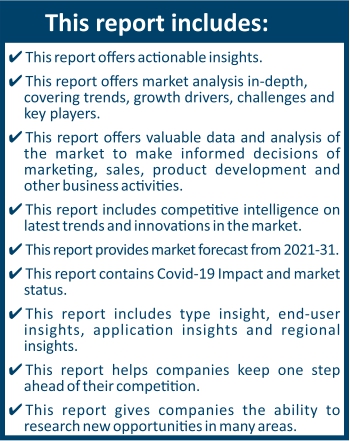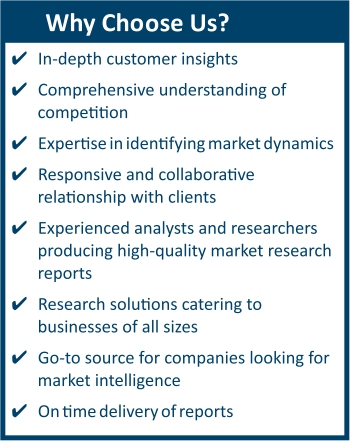 Frequently Asked Questions (FAQ) :
The market value of Trazodone hydrochloride market projected to reach USD 682.5 million.
The Trazodone hydrochloride market is growing at a CAGR of 7.1% over the forecast period.
The top companies that hold the market share are The Piramal Group, Teva, Fermion, Angelini, and Mylan among others