Over the previous ten years, the demand in the Global Travel Pillow Market has increased. The Global Travel Pillow Market fits into a large sector of the industry, opening up new prospects for expansion and improvement. The extraordinary demand for pillows in residential settings is driving industry expansion and growth.
Travel Pillow manufacturers are concentrating on creating aesthetically pleasing and comfy pillows that can meet the needs of every end user. Market merchants have a lucrative chance thanks to the popularity of little pillows that go well with sofas and other soft furnishings. Therefore, while designing pillows of various ranges, shapes, and sizes, these players could concentrate on invention, originality, and comfort.
The filling material gives a Travel Pillow specific characteristics and allows for usage in a variety of applications, including anti-wicking textiles, hypoallergenic materials, and memory foam technologies for shoulder, neck, and head support. Increased consumer awareness of cervical pillows, rising government initiatives, and an increase in the prevalence of diseases related to the spine and neck are some factors driving the growth of the Global Travel Pillow Market over the forecast period. Another factor is the rising number of sports injuries as a result of people's increased participation in sports.
The need for Smart Pillows is increasing as lifestyle problems including diabetes, heart disease, sleeping disorders, etc. become more prevalent.
These intelligent pillows come equipped with functions like snore control, sleep modes, form adjustment, and meditation instruction, among others. Both athletes and travelers can benefit from the cooling features of these smart pillows.
Throughout the projected period, Travel Pillow Makers will concentrate on these underserved areas by increasing their investment in R&D and enhancing the effectiveness of their products.
Less knowledge of the cervical and neck pain brought on by inexpensive pillows could have an effect on sales. It is projected that the availability of cheap, fake alternatives will restrain market expansion. Customers in the middle class and those with lower incomes cannot afford the extra price tag attached to the smart pillows. In addition, the maintenance costs for the products are more than for conventional pillows. These elements are expected to limit the pillow market's growth over the course of the forecast year.
Travel pillows are primarily utilized while traveling and aid in giving the passengers a soothing experience. To reduce energy use during the creation of pillows and to enhance their disposable character, manufacturers are increasingly focusing on creating pillows that include satiable natural substances. This opens up a lucrative market for environmentally friendly travel pillows.
Travel pillows are increasingly in demand as the need for comfortable and opulent mobility vehicles grows. Additionally, the ability to easily inflate or deflate the travel cushion, as well as its lightweight construction and portability, are some of the key features that draw customers to these items. Moreover, it is anticipated that rising global standards of living will support market expansion. Additionally, the overall travel pillow market is probably going to be supported by the government in its efforts to promote the manufacture of a variety of textile products.
Pillow uses go beyond just providing comfort and rest in homes and hotels. Pillows are becoming a crucial travel gear, helping to make trips more convenient and comfortable. Manufacturers have been able to delve into the minds of travelers of different ages and preferences as a result of the enormous demand for travel pillows. Consequently, the worldwide pillow market is generating new revenue from a variety of industries.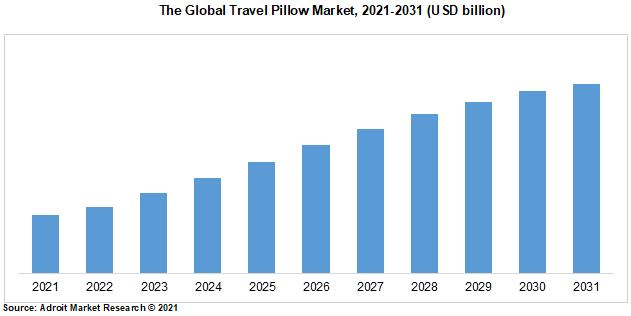 Sleepmax.in, US Jaclean Inc., Samsonite International SA, Tempur Sealey International Inc., SleepInnovations.com, Cabeau.com, Comfy Commuters, HiGear Design Inc., Xen Pillow Manufacturing Corporation, Cushions Xpress, Core Products International Inc., Lewis N. Clark, and others are the major players in the global travel pillow market.
Segment Analysis
Increase in the use of Foam Travel Pillows
As they are soft and mouldable, foam pillows are anticipated to hold the biggest market share. Additionally, businesses are putting more of an emphasis on using recycled cotton foam products because they are thought to be the most environmentally friendly materials for travel pillows.
More Customers in Brick-and-Mortar Stores
On the basis of the distribution channel, the market is split into online and offline parts. Due to the vast availability of several travel pillow items from various branded companies, the specialty of the offline store segment is predicted to dominate the market.
More Demand for Head Support Pillow
Because more people are using pillows to improve their body posture and balance when traveling, the head support pillow segment is anticipated to account for a sizable portion of the market. The broad availability of head pillow products in a variety of sizes and designs also contributes to the growth of the travel head pillow market.
A surge in European Regions
Due to increased expenditures in transportation infrastructure facilities in nations like Spain, Germany, France, and West Europe, which are projected to boost demand for travel pillows, the European area is anticipated to expand at a higher rate for the market.
Impact of COVID-19 and Market Status
The sleep sector plans to reach consumers throughout the world as the COVID-19 pandemic spreads and wreaks havoc on individual lives. Numerous papers have discussed the rise in sleep disorders and other sleep-related issues.
The Global Pillow Market is utilizing these unfilled niches by moving to online platforms and providing a range of services, including a free product trial period. Additionally, because of the features that are readily available, such as sleep tracking, which enables the user to sleep well during times of difficulty, sales of smart pillows through online platforms are increasing.
Latest Innovations and Developments in Global Travel Pillow Market: A Snapshot
• Leesa introduced a hybrid pillow with a down-sort quilted side and a cooler side to help with temperature regulation.
• Expedia acquired Pillow & ApartmentJet, which will enable the firm to expand its product offering across continents, unlock opportunities for urban development, and ensure that travelers can discover the ideal lodging.
Travel Pillow Market Scope
| | |
| --- | --- |
| Metrics | Details |
| Base Year | 2022 |
| Historic Data | 2021-2022 |
| Forecast Period | 2022-2031 |
| Study Period | 2021-2031 |
| Forecast Unit | Value (USD) |
| Revenue forecast in 2031 | USD NA |
| Growth Rate | CAGR of NA during 2021-2031 |
| Segment Covered | by Type, By Application, By End-Use, Regions |
| Regions Covered | North America, Europe, Asia Pacific, South America, Middle East and Africa |
| Key Players Profiled | Sleepmax.in, US Jaclean Inc., Samsonite International SA, Tempur Sealey International Inc., SleepInnovations.com, Cabeau.com, Comfy Commuters, HiGear Design Inc., Xen Pillow Manufacturing Corporation, Cushions Xpress, Core Products International Inc., Lewis N. Clark, and others |
Key Segments of the Global Travel Pillow Market
By Type Overview, 2021-2031 (USD Billion)
• Foam Travel Pillow,
• Memory Foam Travel Pillow,
• Latex Travel Pillow,
• Others,
By Application Overview, 2021-2031 (USD Billion)
• Multipurpose Travel Pillow,
• Head Support Pillow,
• Neck Support Pillow,
• Foot Support Pillow,
• Eye Mask Pillow,
• Pet Travel Pillow
• Other,
By End-Use Overview, 2021-2031 (USD Billion)
• Online
• Offline,
By Regional Overview, 2021-2031 (USD Billion)
North America
• U.S
• Canada
Europe
• Germany
• France
• UK
• Rest of Europe
Asia Pacific
• China
• India
• Japan
• Rest of Asia Pacific
South America
• Mexico
• Brazil
• Rest of South America
Middle East and Africa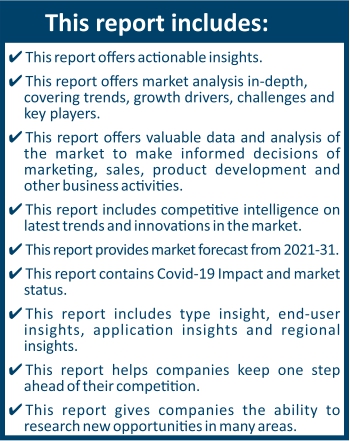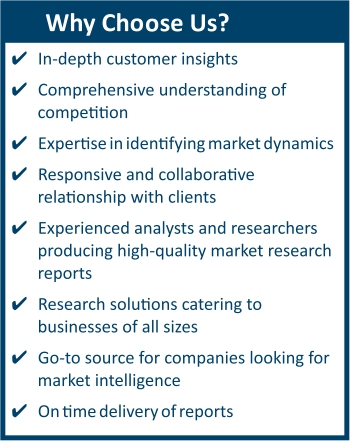 Frequently Asked Questions (FAQ) :
The global Travel Pillow market size is expected to reach NA in 2031.
The Travel Pillow market is estimated to grow at a CAGR of NA
Key companies covered in the Travel Pillow market are Sleepmax.in, US Jaclean Inc., Samsonite International SA, Tempur Sealey International Inc., SleepInnovations.com, Cabeau.com, Comfy Commuters, HiGear Design Inc., Xen Pillow Manufacturing Corporation, Cushions Xpress, Core Products International Inc., Lewis N. Clark, and others