The requirement for modern, intelligent transportation systems with effective traction and power systems is one of the main factors propelling growth in the tram pantograph market. Additionally, it is anticipated that government assistance in emerging nations' infrastructure upgrades will spur industry expansion. The market has expanded as a result of the rising popularity of cheap energy sources like solar and wind energy. The market is expanding due to pantograph-related technological developments that offer more efficiency and dependability.
The Pantograph Market for the Tram is crucial since the tram depends on it. The pantograph aids in the effective transfer of electricity from the overhead contact wire to the train's electric motor. Pantographs are also made to allow traction and guarantee dependable, highly effective operation. Because of the development of more effective and affordable transportation systems for urban areas, their demand is only expected to grow.
An overhead contact mechanism called a pantograph is used to deliver power from an overhead wire to a tram. It is made up of an armature, a brush holder, and carbon sliders, among other things. The pantograph makes it possible for the electrical motor that powers the train to receive power efficiently from the contact wire. Modern pantographs are made to provide traction and guarantee dependable, high-efficiency functioning. There are several different kinds of pantographs on the market, including metallic and pure carbon slider-type pantographs. Streetcars and minecarts are only a couple of the uses for these.
During the forecast period of 2021–2031, the global tram pantograph market is expected to grow at a CAGR of roughly 5.3%, from USD 6.2 billion in 2021 to USD 9.1 billion in 2031.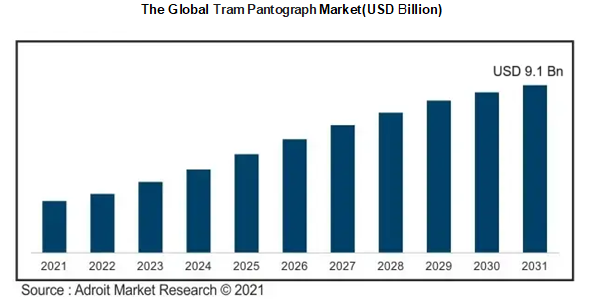 The global adoption of smart trams has been driven by the growing desire for smarter cities with better transportation infrastructure. Smart trams have effective pantographs that enable faster movement, lower overhead contact-wire expenses, easier maintenance, and reliable service.
The tram pantograph market's high cost is the main element holding it back. Advanced pantographs cost more since they have characteristics like faster speeds and greater dependability. For nations with limited resources, modernising their transportation infrastructure may be difficult. Additionally, tram pantographs are highly expensive to maintain, which hinders their adoption. Nevertheless, it is anticipated that in the upcoming years, pantograph costs would decrease due to ongoing investments in research and development activities.
Segment Analysis
The Pure Carbon Slider Type Pantograph emerged as the Most Lucrative Type
By 2031, it is anticipated that the pure carbon slider-type pantograph segment will command the biggest market share. The low weight, high strength, and long life of the metallic carbon slider-type pantograph are likely to lead to a significant increase in demand during the projection period. Its favorability is further increased by the fact that it is economical.
The Most Prominent Application is Streetcars Segment
Streetcars are anticipated to be the most prevalent application category during the projection period. Since they have diverse requirements for various types of networks on which they operate, streetcar applications which require more tram pantographs than any other application. As a result, it is anticipated that this application sector will continue to dominate over the forecast period.
The North American Region to render Ample Financing Opportunities
North America is anticipated to have a sizable market over the projected period due to significant investments in the region's public transportation infrastructure. A rise in the demand for low-emission automobiles as well as the existence of significant pantograph companies in the area is a further market-driving factor in this area.
COVID-19 Impact and Market Status
The global tram pantograph market has suffered because of the COVID-19 outbreak. There was a general reduction in public transportation services as a result of extended lockdowns and travel restrictions. As a result, there were fewer new projects and tram installations, which decreased the demand for tram pantographs. However, it is anticipated that the tram pantograph market would rebound in 2021 as a result of governments loosening regulations and rising demand for public transportation. Additionally, the pandemic and its widespread effects have increased investments in the construction of public transportation systems and infrastructure globally, which is encouraging news for the tram pantograph market.
ABB, Alstom, CRRC Corporation Limited, Bombardier Transportation, Faiveley Transport S.A., Efacec ACQ-Sistemas de Automacao SA, Mitsubishi Electric Corp., Hitachi, Siemens AG, and others are some of the major companies in the tram pantograph market. To maintain their place in the global market, these businesses are concentrating on new product introductions and business growth.
Recent Developments in the Tram Pantograph Market
• For high-power trams that can support up to 8 MW of power, ABB introduced its Onboard 800 pantograph in January 2018. Long distances and demanding tasks are catered for by the design of this pantograph.
• Next-generation pantographs for trams were introduced globally by Siemens Mobility in May 2018. Because of its enhanced contact stability and excellent power handling capacity, this pantograph will use less energy.
• The SMP 130 series of pantographs for high-speed trams and other light rail vehicles was introduced by Schunk in August 2018. This pantograph is aerodynamically designed to provide dependable power transfer in all weather.
• Faiveley Transport introduced the VARIOFLEX EZ pantograph in October 2018. With a weight reduction of up to 40%, it offers improved performance and dependability.
• A contract for the delivery of 46 Type A2 pantographs for the Shanghai Metro Line 13 project in China was signed by Bombardier Transportation and China Railway Corporation in November 2020.
• Maerklin created a new low-noise pantograph for trams in December 2020. This pantograph is made to be more energy-efficient and produce less noise pollution. Additionally, it offers an improved contact force that guarantees trustworthy electrical power transmission.
• Siemens Mobility introduced a brand-new style of tram pantograph in February 2021. This pantograph's design focuses on improving contact stability, reliability, and energy efficiency. Additionally, because it weighs less than conventional designs, installation is simpler.
• A new, lightweight, corrosion-resistant pantograph for trams was introduced by Pantograph GmbH in March 2021. The enhanced contact force of this pantograph improves its performance and lengthens its lifespan.
Tram Pantograph Market Scope
| | |
| --- | --- |
| Metrics | Details |
| Base Year | 2022 |
| Historic Data | 2021-2022 |
| Forecast Period | 2022-2031 |
| Study Period | 2021-2031 |
| Forecast Unit | Value (USD) |
| Revenue forecast in 2031 | USD 9.1 billion |
| Growth Rate | CAGR of 5.3% during 2021-2031 |
| Segment Covered | by Type, By Application, Regions |
| Regions Covered | North America, Europe, Asia Pacific, Middle East and Africa, South America |
| Key Players Profiled | ABB, Alstom, CRRC Corporation Limited, Bombardier Transportation, Faiveley Transport S.A., Efacec ACQ-Sistemas de Automacao SA, Mitsubishi Electric Corp., Hitachi, Siemens AG, and others |
Key Segments of the Tram Pantograph Market
Type Overview (USD Billion)
Pure Carbon Slider Type Pantograph

Metallic Carbon Slider Type Pantograph
Application Overview (USD Billion)
Regional Overview (USD Billion)
North America
Europe
Germany

France

UK

Rest of Europe
Asia Pacific
China

India

Japan

Rest of Asia Pacific
South America
Mexico

Brazil

Rest of South America
Middle East and South Africa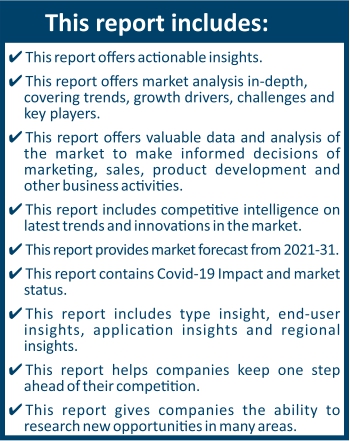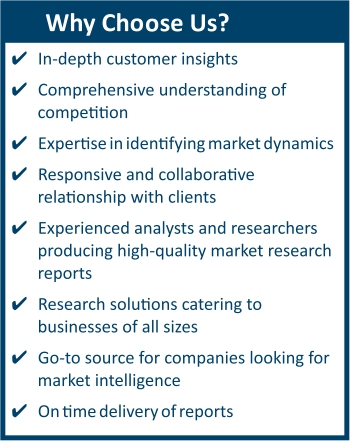 Frequently Asked Questions (FAQ) :
Tram Pantograph Market is projected to reach USD 9.1 billion by 2031, growing at a CAGR of 5.3%
The Tram Pantograph market is growing at a CAGR of 5.3% during the projection period
The key market players listed in the Tram Pantograph report are ABB, Alstom, CRRC Corporation Limited, Bombardier Transportation, Faiveley Transport S.A., Efacec ACQ-Sistemas de Automacao SA, Mitsubishi Electric Corp., Hitachi, Siemens AG, and others