The market for traction control systems is driven by many reasons, including expanding consumer awareness of vehicle safety features, rising demand for passenger cars and commercial vehicles, strict government rules surrounding vehicle safety, and technical improvements. Sales of passenger automobiles and big commercial vehicles have surged as a result of rising disposable income among citizens in industrialized nations. As a result, traction control systems (TCS) are increasingly in demand in these nations. Furthermore, there is a growing trend toward integrating advanced TCSs into vehicles as a result of the increased attention to vehicle safety across all international markets. The need for TCSs in the automobile industry is also rising as a result of technological advancements like automatic emergency braking systems (AEB), dynamic stability control (DSC), adaptive cruise control (ACC), and intelligent aided driving. These elements will likely cause the market for traction control systems to expand significantly over the course of the forecast timeline.
The market for traction control systems is necessary since it offers modern ways to guarantee vehicle security. Governments worldwide are putting more emphasis on vehicle safety measures due to the rising demand for passenger automobiles and commercial vehicles. The TCS reduces engine power and/or applies brake pressure to specific wheels as needed to help a vehicle maintain stability when turning or accelerating. This guarantees that cars remain stable under a variety of driving circumstances, improving passenger safety.
Vehicles with traction control systems (TCS) help to maintain traction between the tires and the road surface. To prevent the car from slipping, skidding, or spinning out of control, the system monitors wheel speed and applies the brakes or engine power as necessary. The majority of TCS systems are found in front-wheel drive and all-wheel drive automobiles. It is a crucial component of contemporary driving characteristics since it lowers the possibility of losing grip, especially when accelerating on slick roads. Also, it offers stability while cornering and boosts driver confidence when negotiating challenging curves. Additionally, TCS systems contribute to increased fuel efficiency by controlling acceleration levels for optimum performance.
The market for traction control systems is anticipated to increase from USD 7.06 billion in 2021 to USD 10.88 billion in 2031, at a CAGR of 6.72%. This market is expanding as a result of rising consumer demand for passenger automobiles and commercial vehicles, increased public awareness of vehicle safety features, and increasingly strict rules governing the driving experience.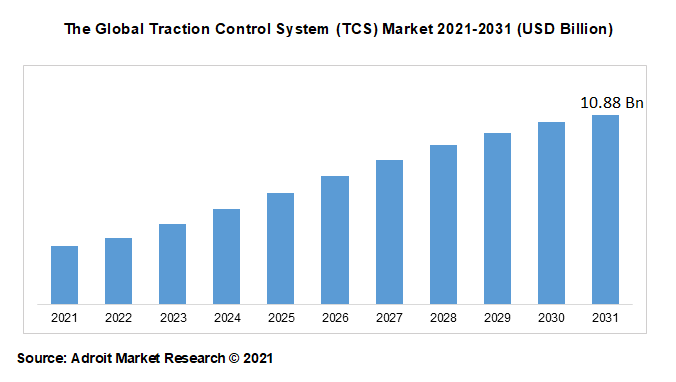 One of the main challenges restricting the market for traction control systems is the high cost of these systems. Potential purchasers in some areas cannot afford TCSs because their installation and maintenance costs are higher than those of other car safety components. The lack of knowledge about TCSs among vehicle owners and buyers in emerging nations is another factor that may limit this market's expansion. Aside from these, other factors driving the market expansion include strict government laws and norms, increased urbanization, an increase in the middle class, and a growing focus on vehicle safety.
COVID-19 Impact and Market Status
Both in terms of production and sales, the automotive industry has experienced a large reduction as a result of the COVID-19 epidemic. Fewer vehicles have been launched as a result of supply chain disruptions that have delayed production activity. This has resulted in a decline in vehicle sales across all segments, along with decreased consumer demand brought on by job instability and the economic slump. As a result, unfavorable effects are anticipated to negatively affect the market for traction control systems in 2020 and 2021. In the future, the need for TCSs is projected to rise once more as vehicle manufacturing picks back up and nations open their borders to international commerce. From 2022 forward, the growth of the TCS market is anticipated to pick up due to the introduction of new vehicles with advanced driver safety technologies like AEB systems, intelligent aided driving (IAD), DSCs, etc.
Segment Analysis
The Engine Torque Control Type emerged as the Most Booming Segment
The traction control system market is divided into two groups based on type: braking torque control as well as engine torque control. Because it can effectively transfer power from the wheels with less traction and prevent spin losses by restricting excess engine power, the engine torque control sector is predicted to lead the market over the forecast timeline.
The Most Prominent Application Segment is the Passenger Car
The traction control system market is divided into three segments based on application: passenger automobiles, light commercial vehicles, and heavy commercial vehicles. Due to the rising demand for passenger cars globally as well as the implementation of severe safety rules in the automotive sector, passenger cars are anticipated to account for a significant portion of this market. Additionally, there is a growing trend among OEMs to include sophisticated TCSs in passenger automobiles as a result of the increased awareness of vehicle safety. During the forecast period, this aspect is additionally anticipated to fuel market expansion.
The OEM-provided Service Segment is the most Booming One
The traction control system market is segmented into OEM-provided systems and aftermarket systems based on services. Due to its superior performance, greater safety features, and longer life duration as compared to aftermarket systems, the OEM-provided sector is anticipated to hold a significant portion of the market. Additionally, the demand for technologically superior TCSs from OEMs is rising globally as a result of technology developments like autonomous driving. Over the course of the projection period, this aspect is anticipated to fuel the segment's expansion.
The APAC Region to render Ample Financing Opportunities
A significant amount of demand for traction control systems is anticipated in Asia Pacific from nations like China and India due to their fast-growing automotive industries and rising per capita disposable income. Furthermore, the region's need for TCSs is being driven by strict government requirements about crashworthiness.
Denso (Japan), Bosch (Germany), Continental (Germany), Autoliv Inc. (Sweden), TRW Automotive (US), Hitachi Ltd. (Japan), Delphi Automotive LLP (UK), Robert Bosch GmbH (Germany), and ZF Friedrichshafen AG (Germany) are the leading market participants for traction control systems. Additionally, this study offers a thorough analysis of the industry, taking into account the value chain, competitive landscape, market dynamics, and new technology developments. The main tactics used by the top manufacturers are partnering, product launch, and participation. These tactics will enable them to strengthen their position and obtain a competitive edge in the global market for active suspension systems.
Recent Developments in the Traction Control System (TCS) Market
• Nissan Motor Co., Ltd., a significant Japanese automaker, will be using Autoliv Inc.'s electronic stability control (ESC) technology in its next-generation vehicles, the company stated in 2020. This advancement is anticipated to increase demand for traction control systems by bringing attention to the safety advantages these systems offer.
• The integrated-multichannel traction control system that Bosch Motorsport created in 2020 enables drivers to adjust their driving style in response to shifting track and weather conditions. With the help of this new technology, drivers should be able to increase their lap times without using more gasoline.
• The debut of Continental AG's latest generation of changeable handling traction control system was announced for 2021. The business asserts that this TCS has better performance and is appropriate for both 2-wheelers and 4-wheelers. Additionally, ZF Friedrichshafen AG unveiled its "Aktive Tractionshutz" product line, a new TCS product line that includes several elements like speed sensors, wheel slip management, and rear axle separation lock.
Traction Control System (TCS) Market Scope
| | |
| --- | --- |
| Metrics | Details |
| Base Year | 2021 |
| Historic Data | 2020- 2021 |
| Forecast Period | 2022-2031 |
| Study Period | 2021-2031 |
| Forecast Unit | Value (USD) |
| Revenue forecast in 2031 | USD 10.88 billion |
| Growth Rate | CAGR of 6.72 % during 2022-2031 |
| Segment Covered | by Type, By Application, by Service, Regions |
| Regions Covered | North America, Europe, Asia Pacific, Middle East and Africa, South America |
| Key Players Profiled | Denso (Japan), Bosch (Germany), Continental (Germany), Autoliv Inc. (Sweden), TRW Automotive (US), Hitachi Ltd. (Japan), Delphi Automotive LLP (UK), Robert Bosch GmbH (Germany), and ZF Friedrichshafen AG (Germany) |
Key Segments of the Global Traction Control System (TCS) Market
By Type Overview, 2021-2031 (USD Billion)
Braking Torque Control

Engine Torque Control
By Application Overview, 2021-2031 (USD Billion)
Passenger Cars

Light Commercial Vehicles

Heavy Commercial Vehicles
By Service Overview, 2021-2031 (USD Billion)
OEM-provided System

Aftermarket System-based
By Regional Overview, 2021-2031 (USD Billion)
North America
Europe
Germany

France

UK

Rest of Europe
Asia Pacific
China

India

Japan

Rest of Asia Pacific
South America
Mexico

Brazil

Rest of South America
Middle East and Africa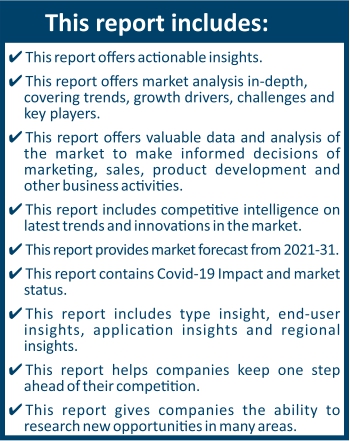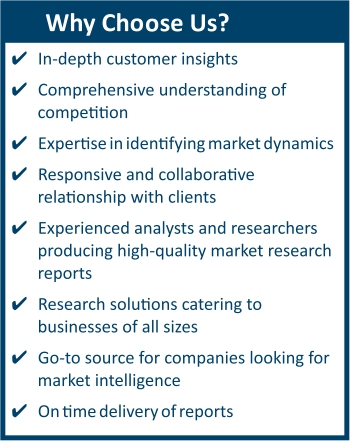 Frequently Asked Questions (FAQ) :
The global Traction Control System (TCS) market size is expected to reach in USD 10.88 billion
The Traction Control System (TCS) market is estimated to grow at a CAGR of 6.72 %
Key companies covered in the Traction Control System (TCS) market are Denso (Japan), Bosch (Germany), Continental (Germany), Autoliv Inc. (Sweden), TRW Automotive (US), Hitachi Ltd. (Japan), Delphi Automotive LLP (UK), Robert Bosch GmbH (Germany), and ZF Friedrichshafen AG (Germany)