The market for TOC analyzers is expanding primarily due to the increase in demand for highly pure water. A few of the main factors influencing this market are the increasing awareness of the importance of water quality and the strict rules governing wastewater treatment. Additionally, the market for TOC analyzers is anticipated to grow significantly due to the rising use of online TOC analyzers in numerous end-user industries, including pharmaceuticals and food & beverage.
Growing public and organizational awareness of the health risks associated with water contamination, strict government laws on water safety, and rising demand for clean drinking water are the main factors driving the market for TOC analyzers. Additionally, rising industrial waste effluent due to increased industrialization in developing nations has necessitated comprehensive monitoring of the TOC content in water. For the projection period of 2021–2031, this has generated sizable prospects for market expansion for TOC analyzer manufacturers.
Reduced analysis time, precise results, and cheap operational expenses are all benefits of using TOC analyzers. Because of this, they are very beneficial for a variety of applications, including the treatment of high-purity water, drinking water, source water, and industrial waste effluent, among others.
Additionally, it is anticipated that the availability of portable TOC analyzers will increase demand for them in both industrial and laboratory settings. During the projected period, expanding applications including water treatment and quality control are anticipated to have a substantial impact on the market for TOC analyzers. Benchtop and portable analyzers give users the ability to conduct tests on-site and are perfect for quick checks or screenings of water samples.
Also, online TOC analyzers make it possible to continuously monitor water quality, which eliminates the need for repeated testing.
The quantity of organic components, such as molecules containing carbon in water or other liquids, is counted and analyzed using TOC (Total Organic Carbon) analyzers. They are a component of equipment used to monitor the environment, including drinking water, industrial waste effluent, and high-purity water. This equipment helps to detect trends in environmental health. Water and wastewater quality is determined, purified, or controlled using TOC analyzers.
The market for TOC analyzers is anticipated to increase by 7.0% CAGR from 2021 to 2031, from USD 1.06 billion to USD 1.82 billion.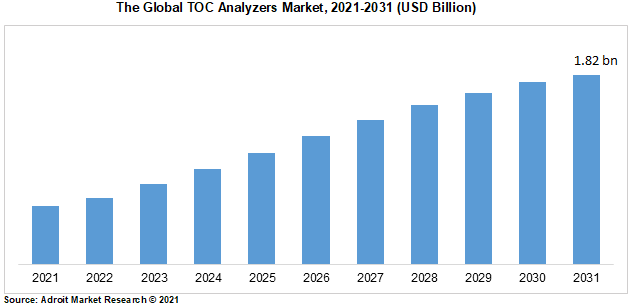 One of the main reasons hindering the growth of the global TOC analyzers market is the high price of modern online TOC analyzers. Other significant challenges impeding the market's growth include the availability of counterfeit goods and a lack of technology literacy. However, it is anticipated that rising government and private sector expenditures in wastewater treatment projects would open up lucrative business prospects for industry participants.
Shimadzu Corporation (Japan), Metrohm AG (Switzerland), GE Analytical Instruments (U.S.), HACH LANGE GmbH (Germany), Thermo Fisher Scientific Inc. (U.S.), Xylem, Inc. (U.S.), KENELEC Scientific Limited (U.K.), Analytical Technology, Inc. (U.S.), YSI Life Sciences (U.S.), and others are the major companies to keep ahead of the competition in the market, these businesses consistently concentrate on product innovations.
Segment Analysis
The Benchtop Type to Emerge as the Most Lucrative Segment
Benchtop, portable, and online TOC analyzers are the different market categories based on type. Due to its low cost and convenient portability, the benchtop analyzer segment commands a sizeable portion of the global market. The ease with which portable TOC analyzers may be carried around for spot testing and quick screening makes them convenient for users. Due to the benefits of continuous monitoring and real-time data logging, online TOC analyzers are anticipated to develop quickly in the market.
The Most Popular Application Segment is Water for Injection
High-purity water, drinking or source water, water for injection, and industrial waste effluent are the market segments according to application. Due to its significance in the pharmaceutical industries, where it is employed directly throughout manufacturing processes, water for injection accounts for a sizeable portion of the global market. During the projection period of 2021–2031, the industrial waste effluent segment is anticipated to have rapid expansion.
The Asia Pacific (APAC) region to render Adequate Financing Avenues
The Asia Pacific area is predicted to have the quickest rate of growth in the market for TOC analyzers because of the region's rapid industrialization, rising urban population, and strict water safety laws. Due to the presence of well-established water treatment facilities and strict water safety standards, the North American region dominates the worldwide TOC analyzers market. During the forecast period, 2021–2031, the TOC analyzers market in the European area is anticipated to rise moderately.
COVID-19 Impact and Market Status
The Covid-19 epidemic, which started in 2020, has had a tremendous influence on the TOC analyzers market. Due to the initial interruption in the supply chain, logistics, and production caused by the different lockdowns imposed around the world. The market is anticipated to rebound in 2021, however, as several nations have begun to loosen their lockdown restrictions and reopen their economies. The market for TOC analyzers has been expanding steadily over the last few years as a result of increased demand for water quality control and monitoring and strict environmental requirements in many different industries. The need for TOC analyzers is anticipated to increase for the foreseeable future due to a number of other variables, including the rising demand for high-purity water, monitoring industrial waste effluent, and wastewater treatment.
Latest Innovations in the Global TOC Analyzers Market: A Snapshot
• Shimadzu Corporation, a top producer of total organic carbon (TOC) analyzers, purchased the assets of Analytical Instruments, Inc. in July 2020. Shimadzu will be able to provide a wider range of solutions for measuring organic compounds in water and industrial wastewater applications as a result of this purchase, which will expand its TOC portfolio.
• GE Analytical Instruments introduced the TOC-4200 Total Organic Carbon analyzer in January 2019. With less maintenance needed and quicker analysis times, this innovative tool enables customers to evaluate TOC levels in water and wastewater samples fast.

TOC Analysers Market Scope
| | |
| --- | --- |
| Metrics | Details |
| Base Year | 2022 |
| Historic Data | 2021-2022 |
| Forecast Period | 2022-2031 |
| Study Period | 2021-2031 |
| Forecast Unit | Value (USD) |
| Revenue forecast in 2031 | USD 1.82 billion |
| Growth Rate | CAGR of 7.0 % during 2021-2031 |
| Segment Covered | by Type, By Application, Regions |
| Regions Covered | North America, Europe, Asia Pacific, South America, Middle East and Africa |
| Key Players Profiled | Shimadzu Corporation (Japan), Metrohm AG (Switzerland), GE Analytical Instruments (U.S.), HACH LANGE GmbH (Germany), Thermo Fisher Scientific Inc. (U.S.), Xylem, Inc. (U.S.), KENELEC Scientific Limited (U.K.), Analytical Technology, Inc. (U.S.), YSI Life Sciences (U.S.), |
Key Segments of the Global TOC Analysers Market
By Type Overview, 2021-2031 (USD Billion)
• Benchtop,
• Portable,
• Online
By Application Overview, 2021-2031 (USD Billion)
• High Purity Water,
• Water for Injection,
• Drinking or Source Water,
• Industrial Waste Effluent,
• Other
By Regional Overview, 2021-2031 (USD Billion)
North America
• U.S
• Canada
Europe
• Germany
• France
• UK
• Rest of Europe
Asia Pacific
• China
• India
• Japan
• Rest of Asia Pacific
South America
• Mexico
• Brazil
• Rest of South America
Middle East and Africa
Frequently Asked Questions (FAQ) :
TOC Analyzers Market is projected to reach USD 1.82 billion by 2031, growing at a CAGR of 7%
The TOC Analyzers market is growing at a CAGR of 7% during the projection period
The key market players listed in the TOC Analyzers report are Shimadzu Corporation (Japan), Metrohm AG (Switzerland), GE Analytical Instruments (U.S.), HACH LANGE GmbH (Germany), Thermo Fisher Scientific Inc. (U.S.), Xylem, Inc. (U.S.), KENELEC Scientific Limited (U.K.), Analytical Technology, Inc. (U.S.), YSI Life Sciences (U.S.), and others