Thymoquinone is in high demand due to rising need for medicinal medications that can fight cancer, arthritis, and coronary heart disease.
The global Thymoquinone market is anticipated to increase at a 2.7% CAGR to reach value US$ 28880 million in 2028
Covid-19 Impact & Market Status
Covid19 has influenced market dynamics, competition, and the global supply chain. Revenues declined in 2020 and may gradually increase again after 2021. Companies that optimize their businesses and strategies maintain and defeat competition.
The report looks at how air dryers are being introduced in existing emerging markets. It provides a thorough analysis of the global thymoquinone market and its sub-segments, and in insights into the industry's structure. The factors that are driving or restraining the global thymoquinone market are included in the report. It utilises the forecast year from 2022 and 2029 to determine the magnitude of the global thymoquinone market, with 2021 as that of the base year. The global thymoquinone market is broken down into major regions and nations.
98-99% Purity Thymoquinone Holds The Global Thymoquinone Market Growth
Specifically, greater than or equal to 98% purity is the most used thymoquinone as per the market uses, since thymoquinone is present in small quantities in natural form hence greater than or equal to 98% purity is required the most and it is mostly utilised in pharmaceutical industry to cure diseases. The compound of thymoquinone contains anti cancer active ingredients and researchers are also utilising the compound for their research and development In chemical industry more pure form of thymoquinone is required since it is used mostly as a oxidizing agent, an adjuvant & anti inflammatory agent.
Pharmaceutical Gains The Highest Revenue In The Global Thymoquinone Market.
Thymoquinone is predicted to rise at a rapid rate throughout the forecast period, owing to increased demand from a variety of applications such as medication production, cosmetic formulations including such face creams, lotions, facial washes, shower gels, functional foods, and so on. The simplicity of formulation and miscibility of thymoquinone in various substances can be ascribed to its high consumption rate in a number of applications.
North America Followed By APAC Region Are Dominating The Thymoquinone Market Growth.
Because of the pharmaceutical industry's substantial R&D, North America is likely to have the greatest market. Furthermore, large-scale production of Monarda fistulosa for the extraction of essential oil containing thymoquinone would have a good influence on the market. The simple accessibility of the raw resources nigella sativa is expected to provide Asia Pacific a large share. The expanding elderly population and pharmaceutical R&D are expected to drive significant growth in Europe. By the conclusion of the projected period, Latin America and the Middle East and Africa are predicted to have slowed growth.
The APAC region thymoquinone market is predicted to grow at a CAGR of around 7.5 percent throughout the forecast period, owing to increased thymoquinone cultivation, which provides a steady supply of raw materials for thymoquinone manufacture in the area. Growing consumption of functional ingredients foods fortified with natural ingredients, such as curries, soups, sauces, and bread items, is predicted to increase consumption for thymoquinone in the region throughout the evaluation period.
Increased research and development in anti-carcinogenic drugs and chemicals is predicted to boost market growth. Thymoquinone is also a superoxide absorber, which helps to keep antioxidant enzymes active.
The global thymoquinone market is anticipated to register USD 30 million by 2029, with a CAGR of 8% from 2022 to 2029.
Thymoquinone is a phytochemical found in Nigella sativa (black cumin) and Monarda fistulosa, among other plants. Thymoquinone-containing essential oil is steam distilled from either the plant Monarda fistulosa, which is grown in the United States. When tested on animal cells, the compound has anti-inflammatory and anti-oxidant characteristics. It's also being researched in models of heart disease, diabetes, cancer, and neurodegenerative illnesses, among others. It's been labelled a pan-assay interference molecule since it binds to all proteins without discrimination.
Thymoquinone also contains unsaturated fats, which aid in the immune system's improvement. Furthermore, the component contains several minerals and supplements, including as phosphorous, copper, calcium, and zinc, which aid and support a variety of physiological processes, hence increasing global demand. However, the presence of melanthin in the product may be detrimental. When applied directly to the skin, personal care products might induce hypersensitivity in certain people, limiting the global thymoquinone market's growth.
Thymoquinone may operate as an absorber of reactive oxygen species and superoxide radicals, but also maintaining the activity of anti-oxidant enzymes including catalase, glutathione peroxidase, and glutathione-S-transferase. Currently, the product is not ready for industrial manufacturing. Analytical grade thymoquinone, which would be employed in academic research, is the most widely circulating product on the market.
It has anti-oxidant and anti-inflammatory properties in a variety of illness types, including encephalomyelitis, diabetes, asthma, and carcinogenesis.
The remarkable features of Thymoquinone, such as its high content of calcium, zinc, vitamin B, copper, phosphorous, and folate, are intended to make it a perfect choice for daily dietary supplementation, fuelling demand for black seed oil. Blood pressure, cholesterol, Diabetes, Alzheimer's disease, heart difficulties, obesity, and other chronic illnesses and lifestyle disorders are becoming more common and are likely to shift consumer attention to organic solutions for treating these disorders, boosting market growth during the forecast period.
Cosmetic thymoquinone is indeed the best quality and purest type of thymoquinone available. Cosmetics and skincare goods include it. The thymoquinone is a pale yellow liquid extracted from the seeds. Antioxidant properties, vitamin E, and unsaturated fats are abundant. It's also non-sensitizing and non-irritating. Dermatology, haircare, and professional nail products all include thymoquinone. Lip balms and moisturisers also include it.
With the increased demand for thymoquinone on the market, it is critical for vendors to produce high-quality thymoquinone. As a result, they've embraced cutting-edge thymoquinone extraction technology. To get top-notch thymoquinone, technologically sophisticated extraction devices for thymoquinone have also been launched. In addition, companies have gained imaginative cold-press extraction procedures and advancements in order to get high-quality thymoquinone.
Regular interaction of thymoquinone with human skin through topical application has been shown to cause undesirable consequences such as skin reactions, dermatitis, and hypotension in a small number of people, potentially lowering customer approval of the product. Furthermore, the inclusion of melanthin, which is hazardous if taken in high amounts, is expected to limit product consumption during the anticipated timeframe. Lack of consumer understanding of the product's health advantages is also hampering the thymoquinone growth especially in under-developed and developing countries.
Furthermore, consumer knowledge of the negative consequences of taking chemical-laden medicine formulations is projected to increase need for herbal products for treating health problems, which should improve thymoquinone market demand. Furthermore, as the global population adopts healthier eating habits, organic dietary supplements are projected to become more popular, boosting market statistics upward throughout the forecast period.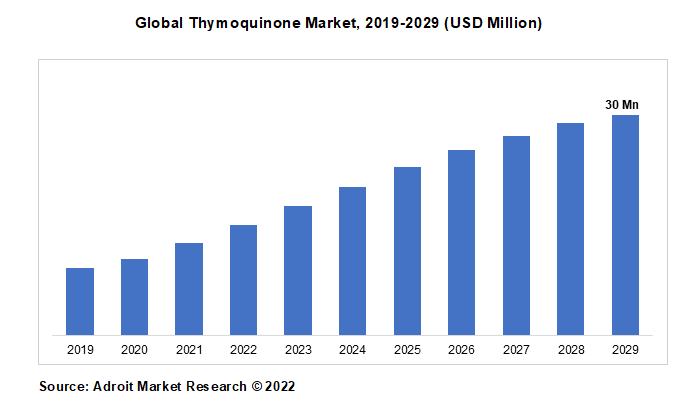 The key players operating in the global thymoquinone market are Ark Pharm, LKT Laboratories, Toronto Research Chemicals, Sigma-Aldrich, Guangzhou Howei Chemical, Nanjing Zelang, Clearsynth, Sarchem Labs, Cayman, and TCI and among others.
Many smaller enterprises in the sector may lack the financial resources required to spend extensively in R&D on their own. They're making up for it by purchasing and merging with other successful firms in the field. They expand their whole resource pool, particularly in terms of financial and human capital. These businesses now have the resources, expertise, and research to do the extensive research and development that will be required.
Latest Innovation in the Global Thymoquinone Market: A snapshot
LGC recently purchased Toronto Research Chemicals, a manufacturer of synthetic organic biochemicals with a wide range of customers in the pharmaceutical and chemical industries.
Thymoquinone Market Scope
| | |
| --- | --- |
| Metrics | Details |
| Base Year | 2020 |
| Historic Data | 2018-2019 |
| Forecast Period | 2021-2028 |
| Study Period | 2018-2028 |
| Forecast Unit | Value (USD) |
| Revenue forecast in 2028 | USD 30 million |
| Growth Rate | CAGR of 8 % during 2021-2028 |
| Segment Covered | Purity, Application, Regions |
| Regions Covered | North America, Europe, Asia Pacific, Middle East and Africa, South America |
| Key Players Profiled | Ark Pharm, LKT Laboratories, Toronto Research Chemicals, Sigma-Aldrich, Guangzhou Howei Chemical, Nanjing Zelang, Clearsynth, Sarchem Labs, Cayman, and TCI and among others. |
Key Segments of the Global Thymoquinone Market
Purity Overview, 2019-2029 (USD Million )
Application, 2019-2029 (USD Million )
Pharmaceutical
Chemical
Others
Regional Overview, 2019-2029 (USD Million )
North America
Europe
Germany
France
UK
Rest of Europe
Asia Pacific
China
India
Japan
Rest of Asia Pacific
South America
Mexico
Brazil
Rest of South America
Middle East and South Africa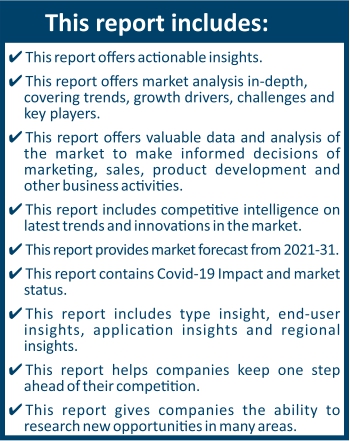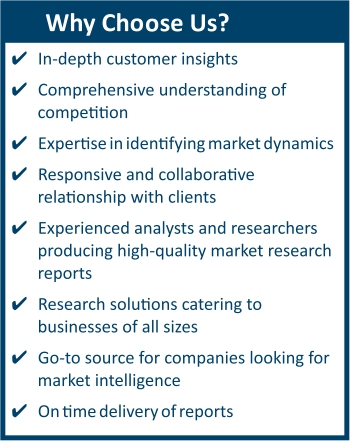 Frequently Asked Questions (FAQ) :
The market value of thymoquinone market in 2029 was USD 30 million.
The thymoquinone market is growing at a CAGR of 8% over the forecast period.
North America dominated the market for thymoquinone market and accounted for the largest revenue share.
The top companies that hold the market share in thymoquinone market are Ark Pharm, LKT Laboratories, Toronto Research Chemicals, Sigma-Aldrich, Guangzhou Howei Chemical, Nanjing Zelang, Clearsynth, Sarchem Labs, Cayman, TCI & among others.
To get latest version of thymoquinone market report can be obtained on demand from the website.