The Global market for Tennis (Apparel and Footwear) and Golf (Apparel and Footwear) is expected to rise as a result of an increase in sports activities in educational facilities and encouragement to play Tennis and Golf due to their health benefits. Additionally, it is anticipated that improvements to institutional infrastructure will spur market expansion.
The Global Market for Tennis (Apparel and Footwear) and Golf (Apparel and Footwear) is benefiting from an increase in promotional efforts and tournament sponsorships. On their social media profiles, athletes are supporting brands, which is helping to increase sales of such brands.
The leading companies in the Global Tennis (apparel and footwear) and Golf (apparel and footwear) markets are always introducing new and creative Tennis and Golf apparel with fresh designs, brilliant colors, and style to offer a variety of options and strengthen their product portfolio. As a result, people have been motivated to spend money on these products, supporting the growth of revenue. Consequently, these variables aid in the market's expansion in terms of value share.
Tennis and Golf players can move more freely on the court by wearing attire such as skirts, shorts, helmets, jackets, and tracks. Long flannel pants for men have given way to shorts, while long skirts for women have been replaced by short skirts in this market. The greatest Tennis and Golf players are having an impact on Tennis Fashion, which is significantly changing the vogue for clothing.
The design, comfort, and innovation that manufacturers in the Global Tennis (Apparel and Footwear) and Golf (Apparel and Footwear) Market are putting more emphasis on are offering lucrative prospects for the companies to introduce appealing and stylish sportswear. To remain competitive and set themselves apart from other market competitors, they are concentrating on important marketing methods such as kit sponsorships, endorsements, etc. During the projected years, all of these factors are expected to boost the market for sports apparel by 209 BPS.
Sports Apparel that can be worn for a variety of events and is multipurpose is becoming more and more in demand. The major participants in the market are utilizing the fads by launching cutting-edge, creative items that increase the profitability of the sports apparel industry's makers.
Additionally, there is a huge need for stylish color combinations in a variety of sports. Due to consumers' dumping of white and black, the demand for pastel-colored yoga gear has also spread into the athletic wear sector.
To encourage customers to participate in sports and fitness activities, the major companies in the Tennis and Golf apparel markets are heavily investing in advertising and celebrity brand endorsements. Additionally, the association of athletes with high-end goods influences buyers to purchase activewear.
A market-restraining issue is the creation of counterfeit goods and the fluctuating cost of raw materials required to make Tennis and Golf gear. In nations like China and India, counterfeiting is extremely prevalent. Additionally, the high initial expenses and investments in the market for sports gear may serve as a market-restraining effect.
The Global Market for Golf and Tennis apparel and footwear was valued at $834.1 million in 2021 and is anticipated to grow to $1,554.3 million by 2031, representing a 6.0% CAGR over that period.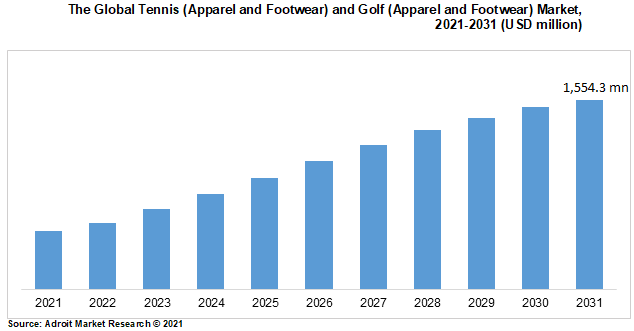 The major companies in the market concentrate on cutting-edge tactics to beat rivalry and keep as well as increase their share globally. Adidas AG, Puma Inc., Antigua Groups, Inc., Callaway Apparel, Linksoul, Nike, Inc., Ping TaylorMade Golf Company Inc., William Murray Golf, and Under Armor Inc., among others, are some of the key companies in the Global Tennis (apparel and footwear) and Golf (apparel and footwear) Markets.
Segment Analysis
Tennis Footwear is in More Demand
The same material used in comfortable shoes may be found in Tennis shoes. That covers a variety of materials, as well as rubber soles. Tennis shoes strive to offer better movement support and shock absorption, which is their fundamental distinction. Low heel drop and more midsole cushioning help them achieve this. Although there are other factors that can affect the price as well, the actual materials utilized may have an impact.
Tennis to roar the Sports Market
A lifetime sport, Tennis. Play is shared by young people, parents, grandparents, and great-grandparents. It's a worldwide sport. Every country in the globe now participates in Tennis, making it one of the most popular sports. Additionally, it is among the most lucrative. Tennis players of all shapes and sizes can be successful. A social sport is Tennis. Playing for your school, joining league teams, or participating in tournaments can help you make new acquaintances. Anywhere in the world, you can relocate, and you can easily make friends to play with once you do. Tennis is a fantastic sport for families.
Men to Wear More Tennis Shoes
One of the most adaptable and comfy shoe options for men is a pair of Tennis shoes. They look wonderful on everyone and complement a variety of outfits, in addition to looking great on their own. This is the definitive guide to donning men's Tennis shoes, whether you're going to the basketball court or meeting friends at the cafe.
The Market Will be Led by North America
North America dominates the international markets for Golf and Tennis apparel and footwear. The region's consumers are paying more for Golf and Tennis, particularly in the US, which has increased demand for Golf and Tennis apparel and footwear. The Global Tennis (apparel and footwear) and Golf (apparel and footwear) Markets' growth will be hampered in 2020 because of the
COVID-19 pandemic.
The COVID-19 pandemic forced the cancellation or postponement of numerous Golf and Tennis tournaments. Additionally, the outbreak forced the closure of sports facilities, national sporting events, specialized shops, and other businesses, which hindered the Global sale of Golf and Tennis apparel and footwear. Tennis and Golf apparel and footwear demand were affected as a result of increased involvement in these sports. As a result, the market's expansion has been constrained by the aforementioned factors.
Latest Innovations and Developments in Global Tennis (Apparel and Footwear) and Golf (Apparel and Footwear) Market: A Snapshot
• In 2021, Eastbay and Champs Sports introduced Eastbay Performance, a new clothing line that features compression items for training such as tanks and tights, tops, shorts, tees, jackets, etc., as well as hoodies and fleece pants for everyday wear.
• In 2020, Kappa and Hyosung worked together to introduce their new K-Spirit e-sports gear line at TGA or Tencent Global E-Sports Arena.
Tennis Market Scope
| | |
| --- | --- |
| Metrics | Details |
| Base Year | 2022 |
| Historic Data | 2021-2022 |
| Forecast Period | 2022-2031 |
| Study Period | 2021-2031 |
| Forecast Unit | Value (USD) |
| Revenue forecast in 2031 | $1,554.3 million |
| Growth Rate | CAGR of 6.0% during 2021-2031 |
| Segment Covered | by Type, By Application, By End-Use, Regions |
| Regions Covered | North America, Europe, Asia Pacific, South America, Middle East and Africa |
| Key Players Profiled | Adidas AG, Puma Inc., Antigua Groups, Inc., Callaway Apparel, Linksoul, Nike, Inc., Ping TaylorMade Golf Company Inc., William Murray Golf, and Under Armor Inc., among others |
Key Segments of the Global Tennis (Apparel and Footwear) and Golf (Apparel and Footwear) Market
By Type Overview, 2021-2031 (USD Billion)
• Tennis Apparel,
• Tennis Footwear,
• Golf Apparel,
• Golf Footwear,
By Application Overview, 2021-2031 (USD Billion)
• Tennis,
• Golf,
By End-Use Overview, 2021-2031 (USD Billion)
• Kids,
• Women
• Men,
By Regional Overview, 2021-2031 (USD Billion)
North America
• U.S
• Canada
Europe
• Germany
• France
• UK
• Rest of Europe
Asia Pacific
• China
• India
• Japan
• Rest of Asia Pacific
South America
• Mexico
• Brazil
• Rest of South America
Middle East and Africa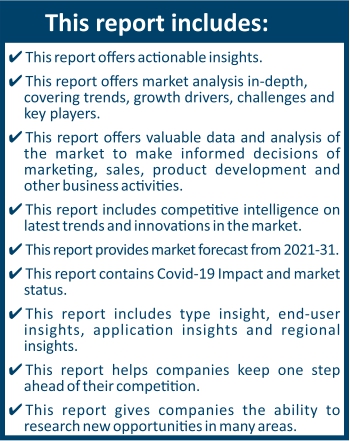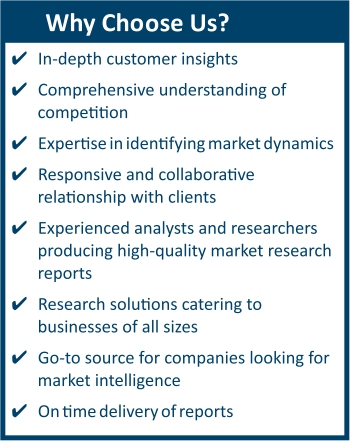 Frequently Asked Questions (FAQ) :
Tennis (Apparel and Footwear) and Golf (Apparel and Footwear) Market is projected to reach $1,554.3 million by 2031, growing at a CAGR of 6.0%
The Tennis (Apparel and Footwear) and Golf (Apparel and Footwear) market is growing at a CAGR of 6.0 % during the projection period
Key companies covered in the Tennis (Apparel and Footwear) and Golf (Apparel and Footwear) market are Adidas AG, Puma Inc., Antigua Groups, Inc., Callaway Apparel, Linksoul, Nike, Inc., Ping TaylorMade Golf Company Inc., William Murray Golf, and Under Armor Inc., among others