there are several benefit of Temporary Tattoo Market such as Cost Effective, Convenience, Variety, Fun the need of the Temporary Tattoo Market is increasing day by day due to the increasing trend of body art and the need for temporary options. Temporary tattoos are convenient and affordable, making them appealing to a wide range of people. They can be used for fashion statements, special occasions (like sporting events or music festivals), or just as a fun way to express yourself without any major commitment. This market is also becoming increasingly popular among millennials and Gen Z, who are more likely to experiment with their unique style and take advantage of short-term trends.
various advantages of Temporary Tattoo Market are much more affordable than permanent tattoos, as they can be easily and quickly removed with rubbing alcohol or over-the-counter products. This makes them ideal for those who want to experiment with
different styles without worrying about the cost of a permanent tattoo. There are many different types of temporary tattoos available on the market today, including glitter, airbrush, decal and stick-on varieties. With this broad range of options, customers can choose something that matches their personal style and expresses their individual identity. Unlike permanent tattoos, temporary tattoos can be removed quickly and easily with just a few steps. This is a major advantage for those who want to try out a new style or design without committing long term to it. Temporary tattoos are generally made from non-toxic materials that have lower risks of infection or irritation than traditional inks used in permanent tattoos. They're also easier to clean and care for than permanent tattoos; simply wipe away any debris after application or removal.
the global Temporary Tattoo Market was valued at $2.00 billion in 2019 and is expected to reach $3.20 billion by 2027, growing at a compound annual growth rate (CAGR) of 5.7% during the forecast period 2020-2027.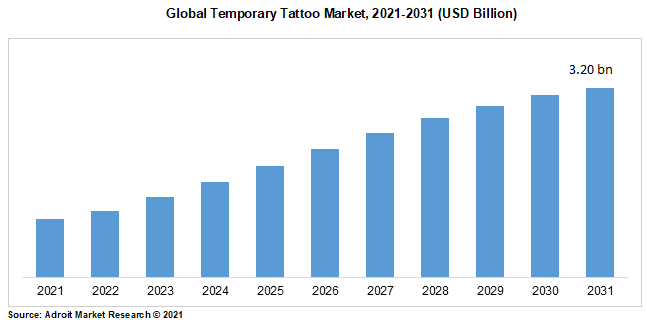 additionally , the market is projected to witness moderate growth during the forecast period. The major factors that are driving the growth of this market are increasing demand for temporary tattoos for various occasions, growing popularity of body art, and rising acceptance among consumers. Moreover, a large number of players have entered this market to increase their customer base and offer innovative products.
the Temporary Tattoo Market refers to the industry of creating and producing temporary tattoos, which are applied with a wet cloth or some other damp material and last between one and five days. They can be in the form of a sticker, drawing, or even airbrushed design. Temporary tattoos have become popular among children and adults alike for their ease of use, affordability, and ability to add a fun touch to any outfit.
there are several factor driving the Temporary Tattoo Market have become increasingly popular in recent years due to their ability to express individual personality and style without the permanence of a real tattoo. This has resulted in a wide range of designs, colors and styles available, making it easier for consumers to find a design that suits them. Temporary tattoos are much more affordable than traditional tattoos since they do not involve any permanent ink or needles. They are also safer as there is no risk of infection or scarring associated with using them. This makes them attractive to those who may be hesitant about getting a real tattoo but still want to have some fun with body art. Temporary tattoos are very versatile and can be removed at any time if desired. This makes them ideal for people who like to switch up their look from time to time without having to commit to something permanently.
Additionally, many temporary tattoos come in pre-designed patterns or can easily be customized online for a truly unique look. Temporary tattoos are quick and easy to apply and remove which make them convenient for anyone looking for a quick way to change up their look without the hassle of having a real tattoo the restrain and challenges faced by Temporary Tattoo Market are mainly purchased by young people, women and children; this limits their potential customer base. As a result, it can be difficult to increase market share and expand the customer base. The temporary tattoo market is becoming increasingly saturated with competitors, making it difficult for companies to differentiate from other brands and stand out from the crowd. Temporary tattoos require specialized equipment, raw materials and chemicals for production, all of which can be expensive to obtain and use. This makes them more costly than permanent tattoos and can be a barrier to entry for some companies wanting to enter the market. Temporary tattoos have a short shelf life due to their perishable nature; they must be used as soon as possible after opening or risk becoming unusable quickly. This reduces the amount of time during which customers may purchase them and limits the potential sales volume of each item sold.
Several Key players/ Manufactures/ Vendors of the market are profiled in the Report some of them are Tattyoo, Tattoome, Tattly, Temporary Tattoos, Skin Motion, Flash Tattoos, Konsait, Fashion Angels Enterprises, TatJacket LLC., Inkbox on the basis of type the Temporary Tattoo Market is segmented into Decal, Airbrush, Henna. among this segment Decal is the highest segment as it is used by a large number of people to express their fashion sense. decal tattoos are made up of 3 layer materials and they last longer than any other types of temporary tattoo. airbrush tattoos are also used by customers but this type of tattoo requires a skilled artist while henna tattoos requires natural henna paste that is prepared using herbs and flowers.
on the basis of application Temporary Tattoo Market is segmented into Children, Adult. among this segment children segment is expected to account for a significant share in the market. In recent years, temporary tattoos have been gaining immense popularity amongst children and teenagers due to the availability of various attractive designs. These tattoos are available in various shapes, sizes, and colors which add to their attractiveness. Moreover, these tattoos last for a few days, which makes them more appealing to parents as they can be easily removed without leaving any scar or mark on the body. Moreover, temporary tattoos are also being used by adults as fashion accessories in parties and other events.
on the basis of region analysis the Temporary Tattoo Market . among this region
North America region has the largest market share followed by Europe. North America is expected to remain the dominant region over the forecast period. This can be attributed to increasing consumer spending on body art and rising awareness about temporary tattoos among millennials in this region. Asia Pacific is anticipated to witness the highest CAGR during the forecast period owing to rising influence of western culture, increasing disposable income and growing demand for customized temporary tattoos in developing nations. Further, key players are also focusing on expanding their presence in countries such as India and China, which is fueling the market growth in this region.
COVID-19 Impact and Market Status of the Temporary Tattoo Market
The outbreak of COVID-19 has led to a decrease in the demand for temporary tattoos, as people are avoiding public places and events where these are typically sold. The market is expected to recover in 2021 as the pandemic subsides and people return to normal activities. The temporary tattoo market was valued at $633 million in 2019 and is expected to grow at a CAGR of 5.5% from 2020 to 2027. The decal segment accounted for the largest share of the market in 2019, followed by airbrush and henna tattoos. Children are the largest target audience for temporary tattoos, due to their lower threshold for pain and their willingness to experiment with body art. However, adult applications are growing in popularity, particularly among millennials and Gen Z consumers who are looking for unique ways to express themselves.The global temporary tattoo market is currently being impacted by the outbreak of COVID-19. The virus has led to a decrease in demand as people avoid public places and events where these products are typically sold. The market is expected to recover in 2021 as the pandemic subsides and people return to normal activities.
Recent Development in the Temporary Tattoo Market 2019 to 2022
• in 2019, Temporary Tattoo Market development has focused on the introduction of novel product designs, increased customization options, and improved safety features.
• In 2020, the temporary tattoo market is expected to witness the emergence of "smart" temporary tattoos that can be used to monitor vital signs such as heart rate and temperature. Additionally, 3-D printing technology is being used to create detailed and intricate designs that are difficult to create with traditional methods.
• In 2021, targeted marketing campaigns will become more common as companies try to reach specific target customers with tailored campaigns. This year also sees a continued emphasis on safety as companies strive for higher standards in production processes.
• By 2022, wearable temporary tattoos are set to become mainstream due to the development of flexible material technology and biometric sensors. These tattoos will allow users to track their health and fitness information from their skin in real time, revolutionizing the way people stay informed about their bodies. Additionally, artificial intelligence (AI) powered personalization tools are expected to be adopted by companies as they seek to develop more personalized products for customers who have unique tastes and preferences.
Temporary Tattoo Market Scope
| | |
| --- | --- |
| Metrics | Details |
| Base Year | 2022 |
| Historic Data | 2021-2022 |
| Forecast Period | 2022-2031 |
| Study Period | 2021-2031 |
| Forecast Unit | Value (USD) |
| Revenue forecast in 2031 | USD 3.20 billion |
| Growth Rate | CAGR of 5.7% during 2021-2031 |
| Segment Covered | by Type, By End User, By Application , Regions |
| Regions Covered | North America, Europe, Asia Pacific, South America, Middle East and Africa |
| Key Players Profiled | Tattyoo, Tattoome, Tattly, Temporary Tattoos, Skin Motion, Flash Tattoos, Konsait, Fashion Angels Enterprises, TatJacket LLC., |
Key Segment of Temporary Tattoo Market
By Type Overview 2021-2031, (USD Billion)
• Decal
• Airbrush
• Heena
By Application Overview 2021-2031, (USD Billion)
• Children's
• Adults
By Region Overview 2021-2031, (USD Billion)
North America
• USA
• Canada
Asia Pacific
• China
• India
• Japan
• Rest of Asia Pacific
South America
• Mexico
• Brazil
• Rest of North America
Europe
• Germany
• France
• UK
• Rest of Europe
Middle East and Africa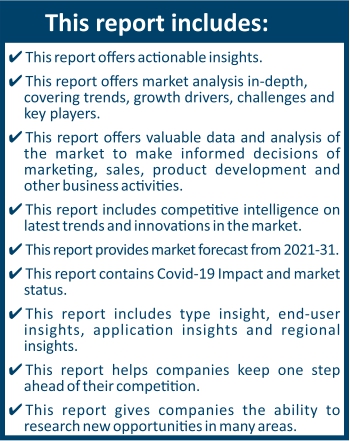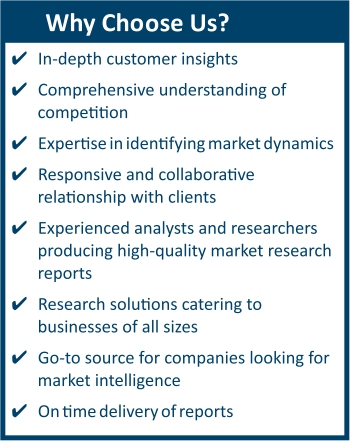 Frequently Asked Questions (FAQ) :
The global Temporary Tattoo market size is expected to reach Usd 3.20 billion in 2027.