The main forces behind the industry's growth have been an ageing population and an increase in the demand for top-notch dental treatment. People have begun to demand early detection and affordable treatment options in recent years. One of the main drivers of the market growth is the rising use of the internet and cell phones in dentistry applications.
Covid-19 Impact & Market Status
Business practices are being modified to line up with current business dynamics and to address all of the challenges that have arisen as a result of the ongoing Covid-19 pandemic and its associated implications. Market players in the global Teledentistry Market market are assertively trying to find new possibilities to emerge from the pandemic-induced growth downturn and reverse financial vulnerabilities. The COVID-19 pandemic's numerous difficulties have given the dental industry and oral healthcare industries a chance to forge new paths in dentistry. The value-based care movement has gained traction in the oral healthcare sector, and there has been a shift toward communication systems being included in dental applications. The US teledentistry market has been greatly improved by government backing and private-public sector investment.
Software and services to Emerge as the Most Lucrative Segment
The market segment with the biggest component share in 2019 was software and services. These programmes can speed up communication by linking cutting-edge wireless technologies to traditional equipment. Teledentistry software enables users to carry out duties required for the collection and organisation of patient health data.
The cloud-based segment to Remain Atop
Based on the method of delivery, the teledentistry market is segmented into on-premise and cloud-based segments. The cloud-based category is likely to experience quicker CAGR growth during the forecast period. Scalability, accessibility, and cost-effectiveness are just a few advantages of cloud-based teledentistry solutions. These factors are likely to fuel this segment's expansion throughout the course of the estimated timeframe.
The patient segment held a Major Market Share
Over the projected period, it is expected that the patient segment would expand at the fastest rate. The main services help patients take care of themselves and provide for others. Patient education, self-management, coordinated care, diagnosis, and treatment are all made easier by teledentistry. It also aids in booking appointments, sending out reminders, and following up. These factors should support the patient segment's growth for the duration of the forecasted decade.
North America Region to Render Sufficent Investment Avenues
Due to the rising incidence of dental issues and the ageing population, North America is anticipated to dominate the worldwide teledentistry market. Due to changing lifestyles, the rising need for preserving oral health, and increased use of smartphones and software applications in developing regions, Asia-Pacific is anticipated to have considerable expansion in the worldwide teledentistry market during the course of the projected period. The demand for teledentistry in the region is projected to rise further as a result of the growing populations in nations like China and India.
The primary drivers anticipated to propel industry expansion during the anticipated period are the growing senior population and their increasing acceptance of teledentistry solutions due to their convenience and cost-effectiveness. The expansion of the worldwide teledentistry market is significantly influenced by the expansion of healthcare access. Government funding, expanding dental and oral care, and advancing technology are all major drivers of industry expansion.
The practice of giving dental care through telecommunications technology is known as teledentistry. For diagnostic and treatment planning, patient education, and consultation with other dental healthcare experts, this style of delivery makes use of videoconferencing, email, and other types of telecommunication. Additionally, teledentistry can be used to offer dental care to patients in isolated or underserved locations.
The main reasons propelling the growth of the teledentistry market are the rising prevalence of dental issues and the rising awareness of oral hygiene. Furthermore, it is estimated that the market would expand over the course of the forecasted period due to the expanding need for remote patient monitoring, the need for reasonably priced dental treatment, and the advancement of telecommunication technologies.
The Teledentistry Market provides services such as patient education, consultation with other oral health care experts, diagnostic and treatment planning, and patient education. Email, videoconferencing, and other forms of communication are used to deliver these services. The market also provides software and hardware solutions that permit the delivery of these services.
In 2019, the market for teledentistry was estimated to be worth US$ 667.13 million; by 2029, it is expected to reach US$ 2,700.50 million.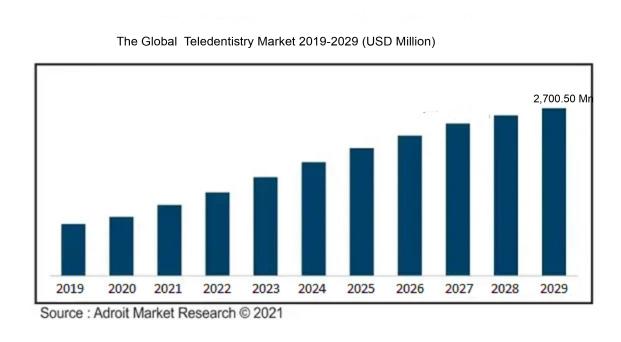 The bulk of significant businesses in the healthcare sector is focusing on the digital dental sector. As a result, the sector has recently experienced considerable growth. A competitive area for market players is the introduction of new platforms that are anticipated to address several concerns with virtual dentistry appointments.
Lack of knowledge about this mode of delivery among patients and dentists is the main issue facing market participants in teledentistry. Additionally, regulatory restrictions and problems with reimbursement are limiting market expansion. Data security and privacy issues related to patient information are also impeding industry expansion. However, it is anticipated that in the upcoming years, new opportunities for market participants will arise as a result of government measures to encourage teledentistry and the expanding use of this form of delivery in industrialised nations.
To maintain a competitive edge in the market, major firms are investing in a wide range of strategic activities, including software releases, mergers, collaborations, and acquisitions. For instance, Dentulu, Inc. announced its collaboration with Independa, a health hub that offers simple video chat solutions, in January 2022. This was started to improve LG television-based teledentistry services for patient convenience. The market's top players are also working together to expand their array of teledentistry solutions. For instance, Koninklijke Philips N.V. and Toothpick, a top provider of dental e-health solutions, worked together to introduce a professional teledentistry solution in May 2020. Through this partnership, Philips' Sonicare teledentistry system will be complemented by Toothpick.
Latest Innovations in the Global Teledentistry Market Market: a Snapshot
June 2019 saw the launch of teledentistry for oral consultations by e-DENTECH. This tactic has aided in the expansion of the business, which has led to several modifications in the market.
May 2020: Philips and Toothpick joined together to introduce a teledentistry platform for professionals that allows for patient connection to support in-office treatments. Thus, in the upcoming years, the teledentistry market is anticipated to see expansion due to the launch of comparable novel platforms by industry competitors.
In August 2020, Futuredontics, the organisation behind 1-800-DENTIST, teamed up with Interactive to offer teledentistry to those in need of rapid after-hours dental care.
For instance, DialCare's new teledentistry programme, which offers licenced US dentists access to phone or video consultations around the clock, was introduced in December 2020.
The TelScope Oral Telehealth System was used by Holland Healthcare and TeleDentists in October 2020. Together, these businesses can take high-quality pictures of the inside of the mouth and send them right away to a dentist.
Teledentistry Market Scope
| | |
| --- | --- |
| Metrics | Details |
| Base Year | 2022 |
| Historic Data | 2019-2020 |
| Forecast Period | 2022-2029 |
| Study Period | 2019-2029 |
| Forecast Unit | Value (USD) |
| Revenue forecast in 2029 | USD 2,700.50 million |
| Segment Covered | Component, Delivery Mode, End User, Regions |
| Regions Covered | North America, Europe, Asia Pacific, Middle East and Africa, South America |
| Key Players Profiled | Koninklijke Philips N.V. and Toothpick & among others. |
Key Segments of the Global Teledentistry Market Market
Component Overview (USD Billion)
Hardware
Software & Services
Delivery Mode Overview (USD Billion)
End User Overview (USD Billion)
Patients
Payers
Providers
Others
Regional Overview (USD Billion)
North America
Europe
Germany
France
UK
Rest of Europe
Asia Pacific
China
India
Japan
Rest of Asia Pacific
South America
Mexico
Brazil
Rest of South America
Middle East and South Africa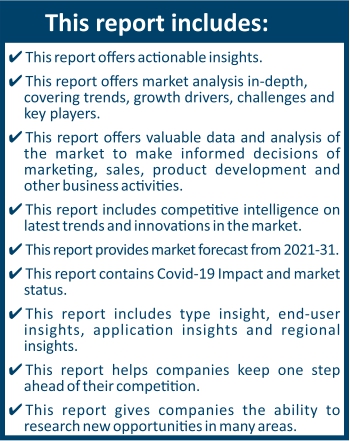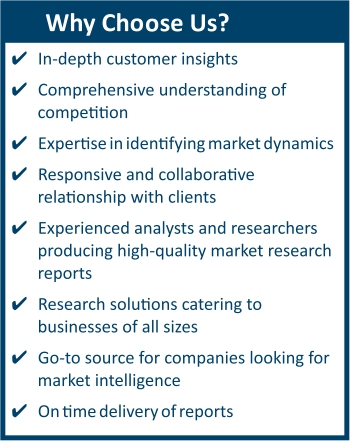 Frequently Asked Questions (FAQ) :
The market value of Teledentistry market in 2029 was USD 2,700.50 million.
North America dominated the market for Teledentistry market and accounted for the largest revenue share.
The top companies that hold the market share in Teledentistry market are Koninklijke Philips N.V. and Toothpick & among others.