A technical textile is a non-aesthetic textile product, where the primary criteria is its functionality. The disparity between conventional textile products and modern textile products is immense. Throughout growing manufacture of fabrics, the skilled textiles industry has increased considerably.
The global Technical Textile market worth US$ 350.6 Bn by 2031, growing at a CAGR of 6.2%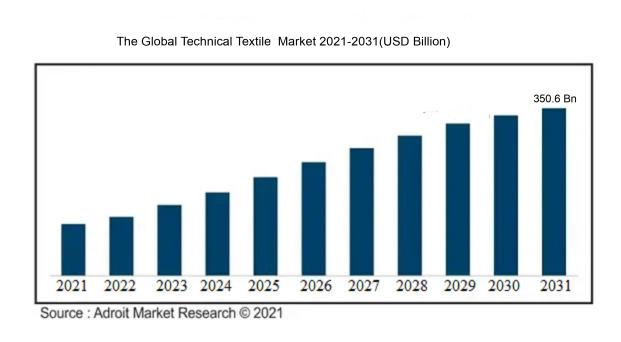 A professional textile is mainly made from synthetic fibres and is typically a nonwoven material. Woven fabrics for particular applications requiring specific and challenging properties. The market study has been defined through various market segments and region. Based on these segments the market has been further bifurcated in respective sub-segments and countries. In addition, the market driving factors, restraints, and opportunities will further explain the overall scenario of the global trends and market opportunities
Technical Textile Market Scope
| | |
| --- | --- |
| Metrics | Details |
| Base Year | 2022 |
| Historic Data | 2021-2022 |
| Forecast Period | 2022-2031 |
| Study Period | 2021-2031 |
| Forecast Unit | Value (USD) |
| Revenue forecast in 2031 | US$ 350.6 Bn |
| Growth Rate | CAGR of 6.2 % during 2021-2031 |
| Segment Covered | Technology, End-use, Regions |
| Regions Covered | North America, Europe, Asia Pacific, South America, Middle East and Africa |
| Key Players Profiled | Asahi Kasei, Kimberly Clarke, Berry Global Group, DuPont, Mitsui Chemicals, Freudenberg & Co., Low & Bonar , Huntsman (US), Toyobo Co, Milliken & Company, SRF Limited, Koninklijke Ten Cate, and International Textile Group |
Key Segment Of The Technical Textile Market
Technology (USD Billion)
• Thermoforming
• Three Dimensional Weaving
• Three Dimensional Knitting
• Nanotechnology
• Heat-set Synthetics
• Finishing Treatments (such as Water-resistant Coatings & Holographic Laminates)
• Hand-made Elements (such as Stitch or Applique)
• Others
End-use, (USD Billion)
• Mobiltech
• Indutech
• Sportech
• Buildtech
• Hometech
• Clothtech
• Meditech
• Agrotech
• Protech
• Packtech
• Others (Oekotech and Geotech)
Regional Overview, (USD Billion)
North America
• US
• Canada
Europe
• Germany
• France
• UK
• Rest of Europe
Asia Pacific
• China
• India
• Japan
• Rest of Asia Pacific
South America
• Mexico
• Brazil
• Rest of South America
Middle East and South Africa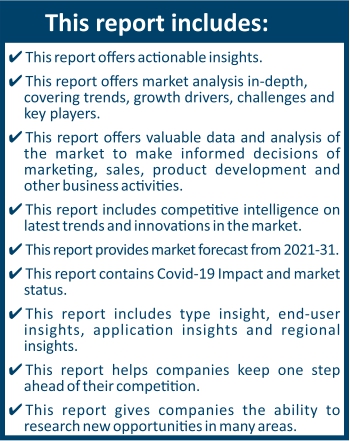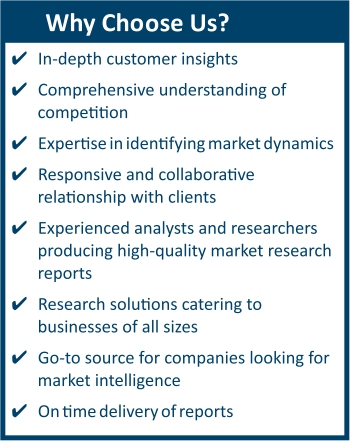 Frequently Asked Questions (FAQ) :
The market value of technical textile market in 2025 was USD 200 billion.
Asia Pacific dominated the market for technical textile market and accounted for the largest revenue share.
The top companies that hold the market share in technical textile market are API Heat Transfer, Brask, Inc., Danfoss A/S, Güntner GmbH & Co. KG, Kelvion Holding GmbH, Koch Industries, Inc., Lytron Inc., Thermofin, and Xylem Inc. & among others.
The technical textile Market is Segmented on the basis of Process Overview, Material, End-User And Geography.
To get latest version of technical textile market report can be obtained on demand from the website.
Growing infrastructure is the key driver for the growth of the technical textile over the coming years. The world's population will rise by nearly 2 billion by 2040. Which is an increase of nearly 25%. The urban population will continue growing by 46 per cent in rural and urban migration, resulting in a massive demand for funding for infrastructure. Foreseeing that global investment in infrastructure will have to hit $94 trillion by 2040 to keep pace with the dramatic economic and demographic changes worldwide. In addition to these global numbers, nation and sector stories represent the real challenge in identifying and funding solutions for development to improve the lives of people. The role of infrastructure in enhancing economic growth and community welfare are increasingly focussed in many countries. The investment gaps identified can be solved effectively through the right leadership, finance and knowledge.
End-User Segment
The trend is need of high performance and high tech fabrics which are not just designed to look fancy but also display added value in terms of functionality. Owing to which various consumers are ready to pay high prices for the technical textile leading to increased prices across some regions. Technical textile used in the creation of building is called BuildTech. Textiles has been a part of building material since long however, development of synthetic polymer revolutionized the use of technical textile in the building sector. Buildtech products should be resilient, durable, UV resistant, sturdy, wind and weather resistant, and light weight. For instance, the textile material to be used in the building should have a weight of about 0.33 times of the weight of the brick, concrete or steel.
Nylon, glass reinforced fibres, and polyester is the most commonly used technical textile material in the construction of building. The only restrain consumers face while opting for a specific material is price and quality. For instance, Polyester is cheaper than nylon but at the same time nylon possess excellent properties in comparison with polyester.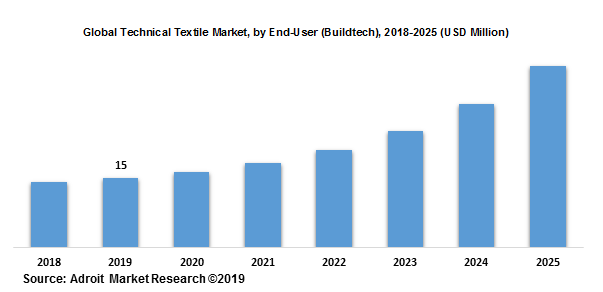 Material Segment
In terms of material, the global technical textile market is segmented into natural, synthetic polymer, mineral, metal, regenerated, and others. Natural material comprise of animal, vegetable, and mineral fibres. Animal fibre are generally silk and wool. Vegetable are generally comprise of seed, bast, leaf, and fruit. Mineral comprise of asbestos and silicate. Another category is manmade fibre which includes regenerated fibre, synthetic polymer, and refractory fibres. Regenerated fibre are generated from the naturally sourced fibre however, the characteristic is altered by adding polymers. Synthetic polymer comprises of spandex, nylon, PCV, PVA, etc. Refractory fibres include ceramic, glass, carbon, metal, etc.
The global technical textile market is divided into 5 key regions such as North America, Europe, Asia Pacific, Central & South America, and Middle East & Africa. Technological advancement is taking place across the globe, influencing the global demand for product with high functionality and superior quality. This is where the technical textile comes in the picture. Their unique quality, easy handling, and less maintenance cost is uplifting its demand worldwide. Asia Pacific is key region as of now however, India particularly is projected to witness tremendous growth over the forecast period.
What is driving the technical textile market across the regions?
Increased domestic consumption and improved institutional requirements

Promising prospects for exports

Change of industry and regulations

Global supply chain and multi-country trade alliance reorientation

Increased income and living standards as well as medical technological developments

Health and ecological consciousness

Higher health care expenditure than ever before.

Increased production of vehicles

Sport and recreational products expenses seeing an increase and new areas of application are opening up.

Substitution of traditional construction materials with the new material.