The global technical ceramics market accounted for a market revenue of USD 149 billion in the year 2019 and is projected to grow at a CAGR of more than 6% over the forecast period. Demand will be driven by the development of new applications for advanced ceramics as well as increasing adoption in already established ceramic applications due to superior material and performance properties. Such trends are the most marked in transport, medical, and machinery markets, with over-average growth. In the large electrical and electronic product industries, growth will be accelerated, while development remains modest and faster increases for advanced ceramics are reduced in general.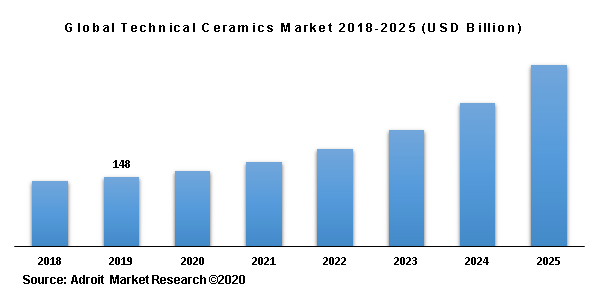 New technologies would drive the above-average growth in bio ceramics. Over the expected years, new developments in bio ceramics would help push the medical devices industry at a dual-digit annual rate as quickly as possible on any single market. Shifting the choice of doctors to ceramics would also fuel increased competition in current orthopaedic applications, as alternative products are in favour.
Key segments across Technical ceramics market
Type Overview, 2018-2025, (USD Billion)
Applications Overview, 2018-2025, (USD Billion)

Automotive
Defense and Aerospace
Energy and Power
Medical
Defense and Aerospace
Other

Regional Overview, 2018-2025, (USD Billion)

North America
Europe

Germany
UK
France
Rest of Europe

Asia Pacific

China
India
Japan
Rest of Asia-Pacific

Central & South America

Brazil
Argentina
Rest of Central & South America

Middle East & Africa

Saudi Arabia
Rest of Middle East & Africa
Reasons for the study
The purpose of the study is to give an exhaustive outlook of the global Technical ceramics. Benchmark yourself against the rest of the market.
Be prepared for how glass industry investments and Technical ceramics will be impacted by socio-political and economic factors over the next few years
Ensure you remain competitive as new innovations by existing key players boost the market.
What does the report include?
The study on the global Technical ceramics includes qualitative factors such as drivers, restraints, and opportunities.
The study covers the competitive landscape of existing/prospective players in the industry and their strategic initiatives for the product development
The study covers a qualitative and quantitative analysis of the market segmented on the basis of Type and application. Moreover, the study provides similar information for the key geographies.
Actual market sizes and forecasts have been provided for all the above-mentioned segments.
Who should buy this report?
This study is suitable for industry participants and stakeholders in the global Technical ceramics. The report will benefit:
Every stakeholder involved in manufacturing and distributing components or solutions.
Managers within financial institutions looking to publish recent and forecasted statistics pertaining to the global Technical ceramics.
Government organizations, regulatory authorities, policymakers and financial organizations looking for T&D investment trends in global Technical ceramics.
Analysts, researchers, educators, strategy managers, and academic institutions looking for insights into the market to determine future

strategies.
Thanks to their superior functional features, modern ceramics will replace conventional materials extremely over the next eight years. In contrast with other products like aluminum and steel, these materials often have improved resistance to corrosion, and thus they are commonly used in the health and automotive industry. In the Asia Pacific emerging economies, the growth of the automotive and medical industries is expected to raise demand for goods over the next eight years. In the last decade, specifically the ceramic tiles industry has evolved into a more organized market with new users emerging in various industries.
Type Segment
On the basis of oxide and non-oxide. Oxide segment is projected to account for a major market revenue share over the foreseeable future. Various types promoting the growth of oxide segment include Alumina, titanate, and Zirconate. Titanates are well known for their high quality production of the materials, including titanium potassium and titanium sodium. Non-oxide ceramics are theoretically the most rapidly growing category because they are increasingly adopted in various end use industry sectors automotive and semiconductor.
Application Segment
On the Applications, the market is bifurcated into Automotive, Defense and Aerospace, Energy and Power, Medical, Defense and Aerospace, Other. Particular filters will be the key driver of demand on the transport markets as heavy goods truck production is increased. Catalyst supports and engine components will also contribute to a strong performance for advanced ceramics in this market. Advances in many markets may also be mutually beneficial. For example, jet turbines of the next generation have applications for new ceramic composite components that are machined to high tolerances.
In terms of region the global Technical ceramics market is segmented into North America, Europe, Asia Pacific, Central & South America, and Middle East and Africa. The most demand growth for the projected period is anticipated in Asia-Pacific regions because of increased disposable income (specifically in China & India), which drives automotive sales and semiconductor industry.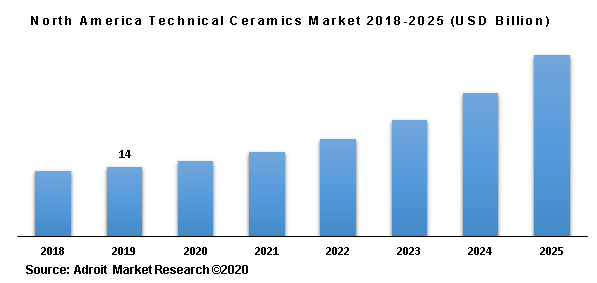 In recent years, this area has also experienced growth due to investment by MNCs and growing industries. Asian-pacific regions are followed by the Middle East & African countries because of upcoming projects. Key players include 3M, Bakony Ipari Kermia Kft., CeramTec GmbH,CoorsTek Inc., Dyson Technical Ceramics, Kyocera Corporation, Mantec Technical Ceramics Ltd, Morgan Advanced Materials, Saint-Gobain, Rauschert GmbH