Increased expenditure on home remodeling projects or renovations, as well as improvements in the hotel and foodservice industries to give better customer service and eating experiences, are driving the global tabletop kitchen goods market.
Covid-19 Impact & Market Status
COVID-19, which spreads in numerous places throughout the world, has wreaked havoc on people's lives and the community as a whole. It started off as a human health issue but has now evolved into a huge threat to global trade, economy, and finance. Because of the continued lockdown in major global countries, the COVID-19 outbreak has put a halt to the production of various tabletop kitchen items. People's views on wellbeing and the kitchen environment have shifted as a result of the COVID-19 epidemic. As a result of employees WFH (Work from Home), home projects have increased across the globe. Large metropolitan cities will have a 2% rise in remodeling gains in 2020, according to Harvard University's JCHS (Joint Center for Housing Studies).
The global Tabletop Kitchen Products market is expected to develop USD 59.81 billion by 2030, at a compound annual increase in price (CAGR) of 4.1% throughout the forecast period.
The Dinnerware Segment is accounted for the Maximum Revenue in the Predicted Period.
With a revenue scale of over 30% in the previous years, the dinnerware type segment is likely to hold the largest market share in the forecast era. People increased interest in home cooking and social meals, as well as demand for casual tableware, particularly among the younger generation, are credited with the segment's rise. Modern customers demand more sophisticated dining practices that provide visitors with an opulent experience. Furthermore, the growing emphasis on food style and presentation is driving dinnerware sales.
The Commercial Segment is likely to Rise with the Greatest Revenue in the Estimated Timeframe.
With a sales share of over 64% in 2020, the commercial segment led the market. This is due to an increase in the number of hotels and restaurants, as well as progress in the hospitality business, which aims to provide clients with a high-quality experience. The rapid pace of life in metro and cosmopolitan cities, rising demand for drive-through meals, and millennials' growing preference for QSRs (Quick Service Restaurants) are all contributing to the commercial segment's rise. The travel and tourism industry's rapid expansion also contributes to the segment's growth. In recent times the demand for high-end, premium cookware and dinnerware products has been rising, owing to customer preferences for luxury staying at hotels and resorts. The development is significantly helping the growth acceleration for the global tabletop kitchen products market.
The Europe region is likely to Rise with the Greatest Revenue in the Estimated Timeframe.
Europe is expected yo defend its lead in terms of revenue generation in the forecast period. Product sales are being fueled by the early adoption of modern tabletop cooking equipment in households and the foodservice industry across the area. Consumers' strong desire for grab-and-go choices for snacks and breakfast meals is also driving market expansion. Over the next several years, rising disposable income continued residential sector expansion, and an increase in the number of home renovation and remodeling projects are likely to drive considerable product demand. The market for high-end tabletop kitchen goods is increasing across the Asia Pacific, particularly in developing nations like China and India. Furthermore, the area market is being propelled forward by an ever-increasing number of hotel chains, bars, pubs, and other dining establishments.
Separate bar countertops are expected to have a favorable influence on the drinkware industry in both residential and commercial settings.
The process of arranging serving ware is said to enhance the entire eating experience. Customers are looking for services or items ranging from microwaves and tea/coffee makers to serving ware that will allow them to customize their meals during social events in residential properties or in the food service business. Buffet and self-service concepts in the culinary sector are also expected to promote the target market's growth.
In the future years, the global market for tabletop kitchen items is expected to grow at a faster rate. The global market's steady expansion may be ascribed to rising domestic demand for serving ware and several key advances in the food and hospitality sector aimed at improving consumer and eating experiences. A buffet system may be considered the best alternative for serving at events such as weddings, business meetings, or other social gatherings when a big number of visitors must be fed. The adoption of various serving utensils is envisaged in such a circumstance, and this will most likely have a beneficial influence on the industry. An increasing desire for everyday serving ware for domestic use, as well as improving living standards is driving product demand in both the commercial and residential sectors. Furthermore, the growing popularity of eating out has increased public understanding of various cooking equipment and techniques, leading to the adoption of a wide range of tabletop kitchen items.
Architects and building contractors are also engaging with product makers. The rising popularity of the cook-at-home trend as well as the self-service and buffet system is some factors boosting the market growth. Some of the trends driving the home market include adaptable components for small areas, vivid palettes, and appliances that suit consumers' immediate needs. More than ever, tabletop kitchen goods made of sustainable materials that are devoid of polymers, coatings, glues, and dyes are in demand. With increased knowledge, consumers are seeking sustainable items that are not harmful to the environment and can be recycled in addition to aesthetic appeal. For example, Our Place, a Los Angeles-based firm, makes tabletop kitchen equipment that is PTFE and Teflon-free and ethically created using responsible ingredients.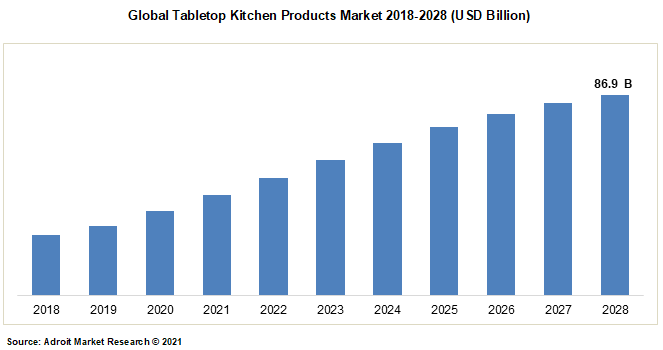 The global Tabletop Kitchen Products market is fragmented with a number of key companies contending for market domination. Despite the fact that the majority of firms on the market are digitally sophisticated, they nevertheless want assistance in order to improve their offers and expand their operations. As a result, mergers and acquisitions are likely to attract a big number of healthcare providers and hospitals from throughout the world. Haier, Arc International, Zalto, The Vollrath Company, The Oneida Group, Koninklijke Philips N.V, Hendi, Samsung, MatferBourgeat International, and BSH Hausgeräte GmbH are some of the current industry participants.
Latest Innovations in the Global Tabletop Kitchen Products Market: a Snapshot
In December 2021, the popular Canadian housewares brand 'Linen Chest' has opened a new store in Mississauga's Square One.
The purpose of this global market research study is to give an in-depth analysis of the global Tabletop Kitchen Products market. Throughout the forecasted time period, the research examines the market's growth potential, demography, and capacity. During the evaluation phase, this component aids in assessing market size and projecting market growth.
Tabletop Kitchen Products Market Scope
| | |
| --- | --- |
| Metrics | Details |
| Base Year | 2022 |
| Historic Data | 2020-2021 |
| Forecast Period | 2022-2030 |
| Study Period | 2020-2030 |
| Forecast Unit | Value (USD) |
| Revenue forecast in 2030 | USD 59.81 billion |
| Growth Rate | CAGR of 4.1 % during 2022-2030 |
| Segment Covered | Product, By Application, Region. |
| Regions Covered | North America, Europe, Asia Pacific, South America, Middle East and Africa |
| Key Players Profiled | Arc International, The Oneida Group, Samsung Electronics Co. Ltd., Haier Group Corporation, Robert Bosch GmbH, Villeroy & Boch AG, Lenox Corporation, Koninklijke Philips N.V. |
Key Segments of the Global Tabletop Kitchen Products Market
Genre Overview, 2018-2028 (USD Billion)
Dinnerware
Whitegoods
Flatware
Buffet Products
Drinkware
Others
Application Overview, 2018-2028 (USD Billion)
Regional Overview, 2018-2028 (USD Billion)
North America
Europe
Germany
France
UK
Rest of Europe
Asia Pacific
China
India
Japan
Rest of Asia Pacific
South America
Mexico
Brazil
Rest of South America
The Middle East and South Africa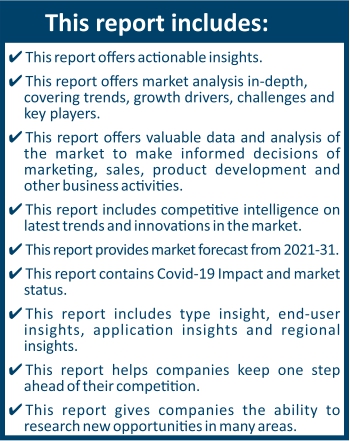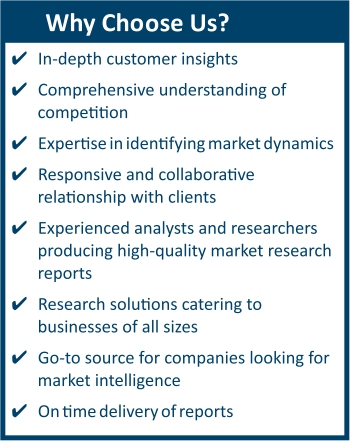 Frequently Asked Questions (FAQ) :
The Tabletop Kitchen Products market is expected to grow at a compound annual growth rate of 7.5% from 2021 to 2028 to reach USD 86.9 Billion by 2028.
The Dinnerware Segment is accounted for the Maximum Revenue share during forecast.
Haier, Arc International, Zalto, The Vollrath Company, The Oneida Group, Koninklijke Philips N.V, Hendi, Samsung, MatferBourgeat International
Increased spending on home improvement projects or home remodeling and advancement in the hospitality and food service industries to offer better customer service and dining experience are also boosting the product demand.