Super abrasives are grinding, dressing, and polishing tools which are manufactured using CBN (Cubic Boron Nitride) or diamond as the abrasive. Super abrasives are used to machine a wide-ranging spectrum of ferrous and non-ferrous materials. CBN or diamond abrasive can be held in numerous bond constituents such as metal, electroplated, vitrified, and resinoid. These tools have a wide range of applications in various industries such as aerospace, medical, automotive, oil and gas, electronics, and others.
The size of the global market for super abrasives is expected to reach $14.45 Billion by 2030, expanding at a compound annual growth rate (CAGR) of 6.78%.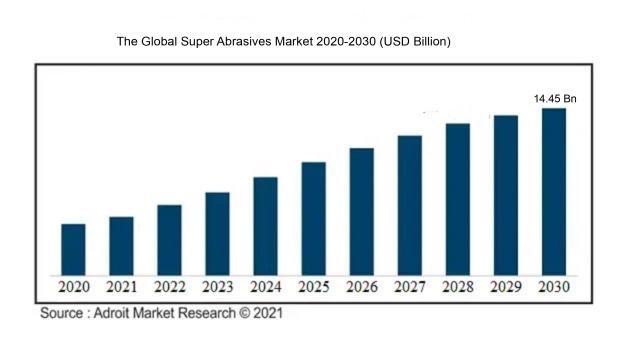 Super abrasives are majorly used in the electrical and electronics industry, owing to the ability of these tools to process different types of ceramics, semiconductor materials, copper and copper alloys, carbide alloys, resin, aluminium, rubber, and others. With the rise in demand for electrical equipment all over the world, the market super abrasives Super abrasives is expected to grow over the forecast period. Super abrasives are also used to manufacture printed circuit boards (PCBs). Printed Circuit Board (PCB) is one of the most important component for several electronic devices such as computers, desktops, home theatre systems, and various other devices. Super abrasives offer consistent and even diamond distribution, slicing performance, uniform wire diameter, uniform diamond counts, and no diamond clustering, in the electronics industry, which is expected to drive the market over the forecast period.
Growing construction activities in the developing regions is expected to drive the super abrasives market
Developing countries such as India has become an emerging centre for construction activities. It is also a major hub for manufacturers of various electronics, precision metal components, automotive parts, and several others components owing to the presence of cheap labor, growing foreign direct investments, and relaxed government policies. Due to the various emerging campaigns such as "Make in India" and Pradhan Mantri Awas Yojana (PMAY), which ensures housing for all by the modi government, there is a rise in the construction activities and manufacturing industries all over the country. India is one of the promising and lucrative market for several consumer electronics and automobile industries, and the rise in the standard of living of general public is anticipated to drive the growth of these sectors in the coming years. With the growing demand for automobiles and electronics, the super abrasives market is expected to experience a significant growth over the forecast period.
Super abrasives are widely used for automotive applications as they offer various properties such as extraordinary hardness, longevity, unparalleled performance, and high-quality surface finish especially on hard materials. Furthermore, they also offer reduced machine downtime and longer product life owing to which the super abrasive market is expected to witness a high growth in the automotive industry in the coming few years.
Increasing use of super abrasive in turbine blades and aircrafts is expected to drive the market growth
With the growing advancement and development in the aerospace industry, there are implementation of various regulations. Super abrasives are widely used to produce high-precision goods for the top aircraft engines, and turbojets for stationary turbines and aircrafts. Major aircraft manufacturers use plated CBN grinding technology for manufacturing land-based turbine engine components and aircraft engine components. Super abrasives are also used for high-precision electroplating of turbine blades and other engine components, which improve engine performance. The growing trend in the turbine technology to develop more efficient, economic, and eco-friendly engines is expected to boost the super abrasives market.
Due to the high cost of super abrasives grinding wheels as compared to conventional abrasives, the market can experience a setback in the initial years. But the growing demand for better quality and high performance grinding wheels is expected to eventually drive the market during the forecast period. Furthermore, latest technologies such as vitrified CBN super abrasives (cubic boron nitride) is meeting the stringent grinding needs of the aerospace industry. The new technology is capable of keeping the tight tolerances while removing more material and grinding cooler with less wheel abrasion as compared to old technologies. The new CBN super abrasives are hard just like diamonds and are thermally stable. This hardness makes vitrified CBN grinding wheels capable for grinding ferrous alloys and other materials used in the aerospace industry, which is expected to drive the market over the forecast period.
Asia-Pacific is expected to witness a significant boost in the super abrasives market followed by Europe
Asia-Pacific and European regions are expected to be the key driving regions for the consumption of super abrasives during the forecast period. The growth in the Asia-Pacific region is mainly driven by the rise in the sales of consumer electronics such as laptops, tablets, smart phones, portable electronics devices, and many others.
The electronics industry in Japan is the third largest electronics industry globally and is a home to major electronics manufacturers such as Hitachi, Fujitsu, Panasonic, Sony, Toshiba, Sharp, NEC, Renesas, and, others. Additionally, it is also the fourth largest semiconductor manufacturing equipment export market and is a key contributor in the WTO ITA (World Trade Organization Information Technology Agreement), owing to which most of the semiconductor manufacturing equipment and semiconductors coming in the country are duty-free.
The Japanese consumers demand quality, customer service, packaging, and good design owing to which the electronics industry is using advanced technologies and tools such as super abrasives for wafer manufacturing, disc texturing, and polishing, in order to offer its consumers the best quality products. The growing use of super abrasives in the electronics sector is expected to boost the market over the forecast period.
Key Market Players
• Asahi Diamond Industrial Co. Ltd.
• Saint-Gobain Abrasives Inc.
• 3M
• Noritake Co. Limited
• Protech Diamond Tools Inc.
• Radiac Abrasives, Inc.
• American Superabrasives Corp.
• Action Superabrasive
• Eagle Superabrasives
• Carborundum Universal Ltd.
• Others
super abrasives market Scope
| | |
| --- | --- |
| Metrics | Details |
| Base Year | 2022 |
| Historic Data | 2020-2021 |
| Forecast Period | 2022-2030 |
| Study Period | 2020-2030 |
| Forecast Unit | Value (USD) |
| Revenue forecast in 2030 | $ 14.45 Billion |
| Growth Rate | CAGR of 6.78% during 2020-2030 |
| Segment Covered | Product Type, Application, Regions |
| Regions Covered | By Solution, Deployment, Application, End User, Regions |
| Key Players Profiled | Saint Gobain (France), 3M (U.S.), Carborundum Universal Limited (France), Noritake (Japan), Meister Abrasives (U.S.), KREBA & RIEDEL (Germany), Tyrolit Schleifmittelwerke Swarovski K.G. (Austria), TOYODA VAN MOPPES LTD. (Tokyo), SUPER ABRASIVES (India), Zhengzhou Hongtuo Super Abrasive Products Co., Ltd (China), VSM Abrasives Corporation (Germany) |
Key Segment Of The super abrasives market
Product Type (USD Billion)
• Vitrified Diamond
• Vitrified Cbn
• Resin Bond Diamond
• Resin Bond Cbn
• Metal/ Hybrid Bond Cbn
By Application, (USD Billion)
• Cutting Tools
• Tool Industry
• Machinery
• Electronics/ Smartphones
Regional Overview, (USD Billion)
North America
• US
• Canada
Europe
• Germany
• France
• UK
• Rest of Europe
Asia Pacific
• China
• India
• Japan
• Rest of Asia Pacific
South America
• Mexico
• Brazil
• Rest of South America
Middle East and South Africa
Frequently Asked Questions (FAQ) :
Asia-Pacific dominated the market for super abrasives market and accounted for the largest revenue share.
The major contenders in the global market are Hitachi, Fujitsu, Panasonic, Sony, Toshiba, Sharp, NEC, Renesas, and, others
The base year for the report is 2018 in super abrasives market.