The market for structural glass curtain walls is expected to develop as a result of rising consumer demand for insulation and energy efficiency, government-mandated building energy code standards, and a growing focus on environmentally friendly building practices.
The market is also being driven by increased urbanisation and shifting consumer tastes for aesthetically pleasing structures. Over the forecast period, the market expansion is also anticipated to be aided by the development of sophisticated systems and increased investments in cutting-edge technology. Due to the rising number of online retail stores that require structural glass curtain walls, the expansion of the e-commerce industry has also boosted the market demand.
The market for structural glass curtain walls is crucial to many various sectors, including construction and architecture. The use of structural glass curtain walls has many advantages for building occupants, including letting more natural light into interior spaces, enhancing the outer appearance of the structure, boosting energy efficiency due to higher insulation, and improving soundproofing. Additionally, these technologies are frequently employed in contemporary structures to promote an air of openness and transparency without compromising safety or privacy. As a result, it is anticipated that during the future years, the use of structural glass curtain walls will rise in both commercial and residential structures.
A non-load-bearing wall that is supported by the building's structure is a structural glass curtain wall. Glass and aluminium frames are often used to construct these walls. They are utilised to enclose a space while allowing for the entry of natural light. Either stick-built or unitized curtain walls are options. The construction site is where unitized fabric walls are erected once they are made at a factory and brought there. Curtain walls made of sticks are put together on location. They also offer weather protection, thermal insulation, and noise insulation.
By 2021, the market for structural glass curtain walls is projected to be worth USD 72.21 billion, and by 2031, it is projected to be worth USD 131.64 billion, representing an amazing CAGR of 6.2% over the forecast period.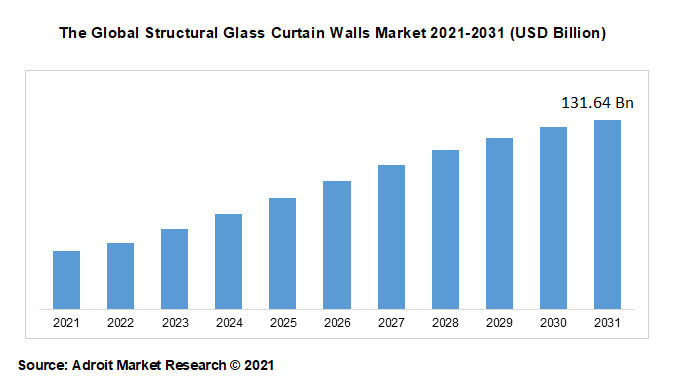 In terms of energy efficiency, low maintenance costs, and aesthetics, structural glass curtain walls offer a wide range of benefits. They are also renowned for their durability, strength, and capacity to insulate against heat and prevent noise from the outside.
There are a number of problems that are limiting the market for structural glass curtain walls. One of the main problems limiting market growth is the hefty initial investment. The lack of knowledge about the product and its advantages is yet another important element that is impeding the market's expansion. In addition, there are few experienced workers available to instal these systems and strict government restrictions governing building activities. The market expansion for structural glass curtain walls is also constrained by the rising cost of raw materials and the absence of standards. The manufacturers' increased emphasis on technical innovation and cutting-edge product designs, though, is anticipated to fuel market expansion in the ensuing years.
AGC Inc., Guardian Industries Corp., Oldcastle BuildingEnvelope, Pilkington Group Limited, Saint Gobain S.A., and Schüco International KG are some of the major companies active in the global structural glass curtain wall market. Trulite Glass & Aluminum Solutions, Viracon Inc., YKK AP America Inc., and others are other participants. Additionally, these businesses are developing and spending money on R&D to create a product that is affordable and suitable for a variety of applications.
Segment Analysis
The Unitised Type Segment emerged as the Most Lucrative Type
The market is divided into stick-constructed and unitized structural glass curtain wall systems based on type segmentation. Due to its simple installation procedures and suitability for usage in large-scale projects like stadiums and airports, unitized type systems are predicted to dominate the market. Unitized systems also have low maintenance and repair costs and are cost-effective.
The Most Prominent Application is the Commercial buildings Segment
Commercial buildings, public buildings, and residential buildings are further subdivided under the application section. Due to its extensive use in corporate offices and other commercial projects, the commercial building category is predicted to hold the greatest market share among these. The rising popularity of single-story buildings is another aspect that is anticipated to support the expansion of this market.
The North American Region to render Ample Financing Opportunities
The market is divided into three regions based on geographic scope: North America (the US and Canada), Europe (the UK, Germany, France, Italy, and the Rest of Europe), and Asia Pacific (China Japan South Korea India & Rest of Asia Pacific). Due to significant investments in rehabilitation and new building in nations like the US and Canada, North America is anticipated to be the area with the biggest market share. Additionally, the presence of prominent players in this region has a big impact on its development.
COVID-19 Impact and Market Status
The market for structural glass curtain walls has been significantly impacted by the COVID-19 pandemic epidemic. Due to the lockdown implemented by various governments throughout the world to stop the virus's transmission, the industry is anticipated to contract in 2020. The industry is anticipated to rebound in 2021 as construction activity picks back up. The pandemic is anticipated to have the greatest impact on the commercial and public building segments. As individuals strive for safe havens during these uncertain times, the residential building segment is anticipated to perform well. The pandemic is anticipated to have the greatest impact on the North American and European markets, followed by Asia Pacific and South America. Due to the low number of cases in this region, the Middle East and Africa are anticipated to do better than other regions.
Recent Developments in the Structural Glass Curtain Walls Market
• A low profile, thermally fractured aluminium curtain wall system with a face width of under 3-3/4in will be introduced by YKK AP in January 2020. (95mm). High-rise structures, airports, museums, and office buildings are just a few of the commercial and residential applications where it performs better than the competition. Large glass expanses can be used in the design to produce a spectacular facade.
• The ARC400 Glass Curtain Walls System by Arcadia Incorporate will be released in April 2020. It has a novel hybrid design that combines structural silicone glazing (SSG) technology with the conventional stick system. This innovative technology shortens installation time while enabling architects to add more elaborate details and complex shapes. Superior thermal performance and energy efficiency are also features.
• Guardian Glass will introduce its new line of structural glazing curtain wall systems, dubbed GPX-Max, in June 2020. These systems have greater strength and flexibility than conventional ones. In order to give the greatest durability and support for large-scale projects, the design combines the strength of steel framing with the lightweight characteristics of aluminium. For enhanced aesthetic appeal, the system can also be customised with a variety of finishes like paint or anodized coatings.
Structural Glass Curtain Walls Market Scope
| | |
| --- | --- |
| Metrics | Details |
| Base Year | 2022 |
| Historic Data | 2020-2021 |
| Forecast Period | 2022-2030 |
| Study Period | 2020-2030 |
| Forecast Unit | Value (USD) |
| Revenue forecast in 2030 | USD 131.64 billion |
| Growth Rate | CAGR of 6.2 % during 2021-2030 |
| Segment Covered | Type, Application, Regions |
| Regions Covered | North America, Europe, Asia Pacific, South America, Middle East and Africa |
| Key Players Profiled | AGC Inc., Guardian Industries Corp., Oldcastle BuildingEnvelope, Pilkington Group Limited, Saint Gobain S.A., and Schüco International KG |
Key Segments of the Structural Glass Curtain Walls Market
Type Overview, 2021-2031 (USD Billion)
• Unitised Type
• Stick Built Type
Application Overview, 2021-2031 (USD Billion)
• Commercial Building
• Public Building
• Residential Building
Regional Overview, 2021-2031 (USD Billion)
North America
• U.S
• Canada
Europe
• Germany
• France
• UK
• Rest of Europe
Asia Pacific
• China
• India
• Japan
• Rest of Asia Pacific
South America
• Mexico
• Brazil
• Rest of South America
• Middle East and South Africa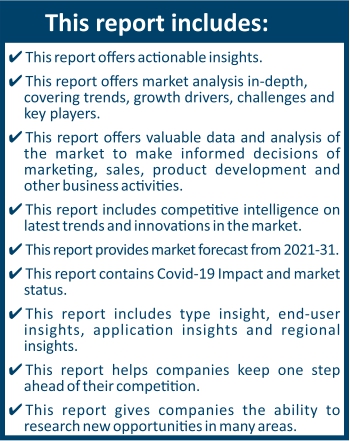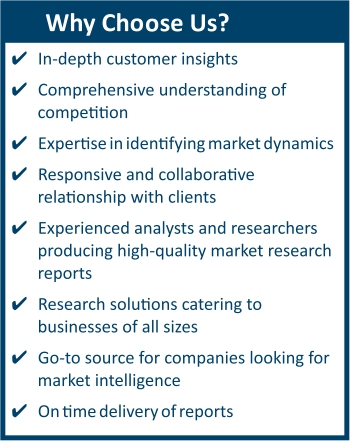 Frequently Asked Questions (FAQ) :
The global Structural Glass Curtain Walls market size is expected to reach USD 131.64 billion in 2031.