The global stevia market demand was 3.2 kilo tons in 2017. Changes in consumer lifestyles, higher preference for zero-calorie beverages, increasing demand for natural sugar alternatives and the rising number of innovative product launches are some of the factors boosting the global stevia market growth. Furthermore, increasing awareness of the health benefits of low-calorie consumable products has also aggravated the stevia market growth.
Stevia is a natural sweetener and a sugar substitute that has witnessed tremendous demand in recent years and has become more acclaimed by the media and health professionals around the world. It is extracted from the leaves of the stevia rebaudiana plant, originating in the Paraguay region. It has traditionally been grown in Kenya, Paraguay, China, and the United States, but growing demand has stimulated plant growth in other countries such as Brazil, Vietnam, India, Colombia, and Argentina. It is a robust and sustainable crop suitable for small, independent farming communities because it requires little agricultural land and can be harvested several times a year. Since stevia-derived sweeteners are typically 200-300 times sweeter than sugar, the amount of crop (and therefore land, water, and energy) required is much smaller than sugar cane or beet and plays an important role in biodiversity.
At a compound annual growth rate of 7.2%, the size of the worldwide Stevia market is projected to reach USD 708.1 Million in 2032.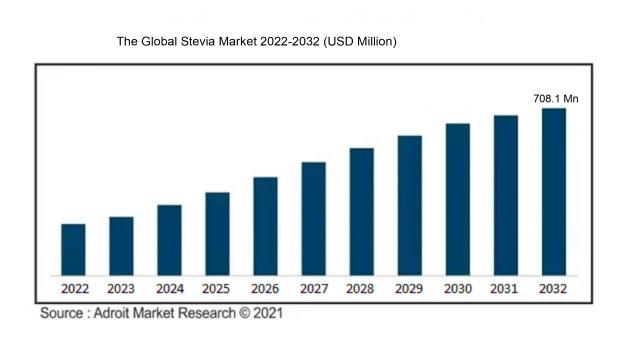 Rapid product launches, increasing product promotion, and brand awareness are some of the latest stevia market trends that are expected to offer huge growth opportunities for market growth. For instance, in December 2018, PureCircle announced the launch of a line of stevia-derived proteins, soluble fibers, and antioxidants in 2019. Tate & Lyle PLC, a leading global provider of food and beverage ingredients and solutions, introduced two new non-calorie sweeteners from stevia leaves, OPTIMIZER Stevia 4.10 and INTESSE ® Stevia 2.0. Producers have more tools to deliver cost-effective sugar and calorie reductions throughout their product range, meeting the growing consumer demand for high degustation, plant-based products that support weight management. R&D initiatives for new stevia variants, emerging stevia applications for zero-calorie products and improving the flavor of products are likely to help the global stevia market growth in the future.
Food application held a valuation of USD 140.2 million in 2017 and is projected to witness rapid growth in the future. Stevia is used in a variety of food products such as desserts, confectionery, baked foods, jellies, and snack foods, as it can be easily incorporated and imparts sweetness to the product. In recent years, there has been an increasing tendency to focus on naturally derived sweeteners and food additives because consumers are increasingly aware of the negative effects of artificial additives on human health. The other important factors that are essential to enhance the product appeal include proper shape, shelf-stability, color, taste, flavor, consistency, and volume. Stevia blends help to give the food product these properties without affecting its quality and attractiveness to consumers.
Increasing demand from the food industry and consumers to reduce sugar levels in packaged food and beverage products have propelled the global stevia market demand. In combination with an increase in food labeling legislation and sugar taxes, the demand for sugar substitutes is witnessing increased demand. Leading manufacturers of food ingredients offer a wide range of stevia blends for these requirements. Dairy food, cereal bars, breakfast cereals, pastries, and sweet bakery products are considered to have a significant potential for sweeteners based on stevia. This is chiefly because these are sectors in which food manufacturers have been actively seeking to reduce sugar content. In recent years, stevia-sweetened products have emerged in sectors such as yogurt and ice cream.
Asia Pacific accounted for 35.1% of the global stevia market share, in terms of revenue, in 2017 and is projected to grow at a CAGR exceeding 6.5% during the forecast year. Booming food and beverage industry in the region is a favorable factor for the stevia market growth. Increasing investments by leading companies are also anticipated to surge product demand over the forecast period. Since there is a high demand for low-calorie food alternatives, stevia has attracted the attention of fitness lovers in the region. Increasing demand for innovative, healthier products and sugar alternatives, together with increasing government support, drives stevia growth in emerging Asia Pacific markets. Urbanization and the changes in dietary styles also impact the market for stevia-based products in the Asia Pacific region.
The global stevia market analysis covers the players having a global presence. Companies including Evolva Holding S.A., Cargill Inc., Stevia Corporation, PureCircle, Ingredion Incorporated, The Coca-Cola Company, Pepsico Inc., GLG Life Tech Corp, Tate & Lyle Plc, and Stevia First Corporation among others have a broader presence within the global stevia market.
Stevia Market Scope
| | |
| --- | --- |
| Metrics | Details |
| Base Year | 2022 |
| Historic Data | 2022-2023 |
| Forecast Period | 2022-2032 |
| Study Period | 2022-2032 |
| Forecast Unit | Value (USD) |
| Revenue forecast in 2032 | USD 708.1 Million |
| Growth Rate | CAGR of 7.2% during 2022-2032 |
| Segment Covered | by Nature, Type, Application, Regions |
| Regions Covered | North America, Europe, Asia Pacific, South America, Middle East and Africa |
| Key Players Profiled | Cargill Incorporated, Ingredion Incorporated, PureCircle Ltd., Koninklijke DSM NV, Tate and Lyle Plc., Sunwin Stevia International, Inc., GLG Life Tech Corp, Evolva Holding SA and others. |
Key segments of the global stevia market
Application Overview
Beverage
Food
Pharmaceutical
Tabletop sweeteners
Others
Regional Overview
North America
Europe
Asia Pacific

Japan
China
South Korea
Rest of APAC

Latin America

Brazil
Rest of Latin America

Middle East and Africa
Key Players analysed in the report include
Evolva Holding S.A.
Stevia Corporation
Cargill Inc.
Ingredion Incorporated
PureCircle
Others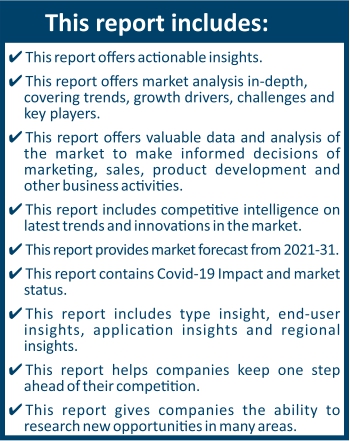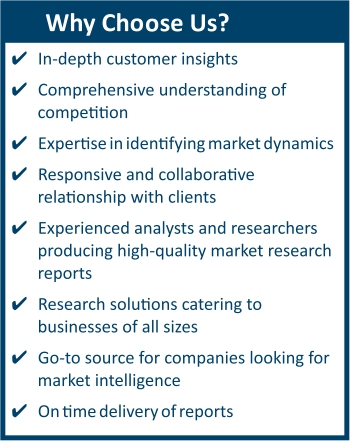 Frequently Asked Questions (FAQ) :
The market value of stevia market in 2025 was USD 844.2 million.
The application of the stevia market Beverage, Food, Pharmaceutical, Tabletop Sweeteners and other.
The top companies that hold the market share in stevia market are Evolva Holding S.A., Cargill Inc., Stevia Corporation, PureCircle, Ingredion Incorporated, The Coca-Cola Company, Pepsico Inc., GLG Life Tech Corp, Tate & Lyle Plc & among others.