In the pharmaceutical and biotechnology industries, rising R&D activities are driving demand for various sterilising techniques. Packing equipment and pharmaceutical manufacturing must be sterilised in order to eradicate all microbiological life and avoid contamination. In the pharmaceutical sector, steam sterilization is by far the best and most often utilised type of sterilization.
The global Sterilization Indicators market size is expected to reach close to USD 1.5 billion by 2029 with an annualized growth rate of 9% through the projected period.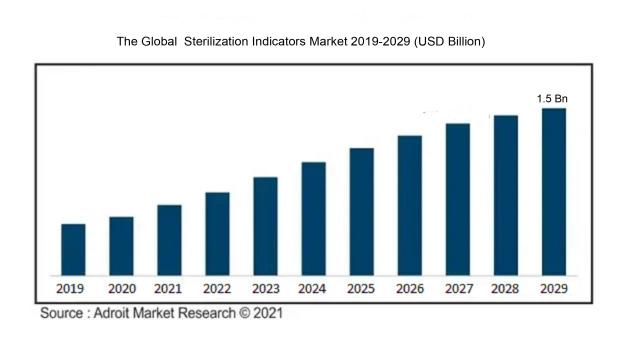 Covid 19 Impact & Market Status
The medical equipment and healthcare sectors have been negatively impacted by the new coronavirus epidemic and associated lockdown measures. Among the pandemic's many effects, the global supply of medical equipment has become a serious concern. Such issues might have hampered the sterility indicators industry's evolution in recent months. Despite these COVID-19-related challenges, fears about a rise in hospital-acquired diseases during the pandemic may help the sector recover in the short term. This increase in HAIs is mostly due to an increase in the number of patients who require prolonged catheter and ventilator use, which may prompt the use of chemical and biological sterility markers.
Demographic Overview
There are four geographic divisions for the sterilization monitoring market: North America, Europe, Asia-Pacific, and Rest of the World. The sterilization monitoring market is anticipated to be dominated by North America in 2021, followed by the Asia-Pacific and Europe. Companies that develop and offer sterilization monitoring systems frequently locate in emerging nations like India and China. Major drivers driving the expansion of this market in China and India include rising rates of hospital-acquired infections, an increase in the number of surgical operations, hospitals, and medical tourism in the area, as well as expansion in the pharmaceutical and medical device sectors. The frequency of VRE (vancomycin-resistant enterococcus), which produces a potentially fatal HAI, is five times higher in Indian ICUs than in the rest of the globe. Furthermore, the Indian pharmaceutical business has increased by a factor of ten in the last two decades. According to research conducted by the Department of Pharmaceuticals, PwC, and McKinsey, the Indian pharmaceutical business accounts for around 2.4 percent of world pharmaceutical value and 10% of global pharmaceutical volume.
Rising Burden of Chronic Diseases
The rising prevalence of chronic illnesses and the introduction of surgery as a viable therapy for type 2 diabetes are two major factors expected to boost market growth between 2022 and 2028. More than 32.6 million Americans have type 2 diabetes, which might increase market growth because surgical tools are best sterilised by steam, according to the American Society for Metabolic and Bariatric Surgery. Furthermore, the focus on increasing medication manufacturing in emerging nations will increase the demand for sterilization in the pharmaceutical business, which will fuel overall industry growth in the next years. However, among other problems, the possible damage to microsurgical equipment caused by frequent steam cleaning may limit the market prospects for some.
The prevalence of hospital-acquired infections is on the rise, as are the number of surgical procedures performed, the prevalence of chronic diseases among the ageing population, technological developments in sterilization monitoring products, and a greater emphasis on food sterilization.
From 2022 to 2029, the market for sterility indicators is predicted to grow at a steady rate. This is due to a growing understanding of the efficacy of chemical markers for sterilization in the dentistry sector in order to maintain high infection control standards. Similarly, the steam sterilization technique' capacity to eradicate pathogens such as bacteria, fungus, and viruses from medical devices while ensuring their non-toxicity will fuel industry demand in the future years. Sterilization indicators are instruments that help with load monitoring, regular monitoring, and steam sterilization method certification. This instrument can assess whether the circumstances in steam autoclaves are sufficient to achieve a particular level of microbial inactivation. It is a critical technique for examining sterilization quality and limiting microbiological development in pharmaceutical preparations and medical equipment.
Increasing rates of hospital-acquired infections, an increase in surgical procedures along with an ageing population and an increase in chronic disease incidence, technological advances in sterilization monitoring products, and a growing emphasis on food sterilization are some of the factors driving the market. However, barriers to expansion include a lack of understanding about sterilization monitoring and a scarcity of competent specialists.
The top players in the sterility indicators market are Mesa Laboratories, Getinge AB, Cantel Medical (Steris), MATACHANA GROUP, Cardinal Health, 3M, and Andersen Products. These businesses are using a range of strategies, including corporate expansions, mergers, new product releases, and acquisitions, to strengthen their position in the global market.
Latest Innovation in the Sterilization Indicators Market: A Snapshot
Due to fierce competition from local manufacturers, most corporations focus on continual product development and selling products at reasonable rates, especially in emerging nations. For instance, in November 2017, Mesa Labs bought BAG Health's hygiene division, which contains biological, chemical, and cleaning indicators. This action is expected to offer the organisation a competitive advantage.
Sterilization Indicators Market Scope
| | |
| --- | --- |
| Metrics | Details |
| Base Year | 2022 |
| Historic Data | 2019-2020 |
| Forecast Period | 2022-2029 |
| Study Period | 2019-2029 |
| Forecast Unit | Value (USD) |
| Revenue forecast in 2029 | USD 1.5 billion |
| Growth Rate | CAGR of 9 % during 2019-2029 |
| Segment Covered | By Type, Biological, By Technique, By End-use, Regions |
| Regions Covered | North America, Europe, Asia Pacific, South America, Middle East and Africa |
| Key Players Profiled | Mesa Laboratories, 3M, Getinge Group, Matachana Group, PMS, gke-GmbH, STERIS plc, Propper Manufacturing Co., Inc., Liofilchem S.r.l., and others. |
Key Segments of the Global Sterilization Indicators Market
Type Overview (USD Billion)
Technique Overview, (USD Billion)
Filtration
Radiation
Heat
Low Temperature
Liquid
Regional Overview, (USD Billion)
North America
Europe
Germany
France
UK
Rest of Europe
Asia Pacific
China
India
Japan
Rest of Asia Pacific
Latin America
Mexico
Brazil
Rest of Latin America
Middle East and South Africa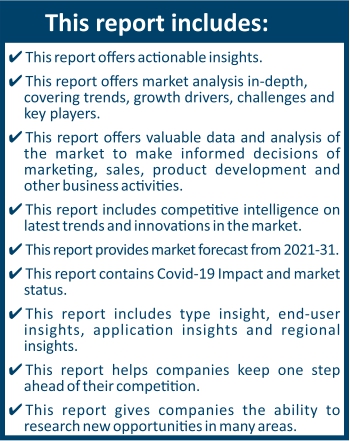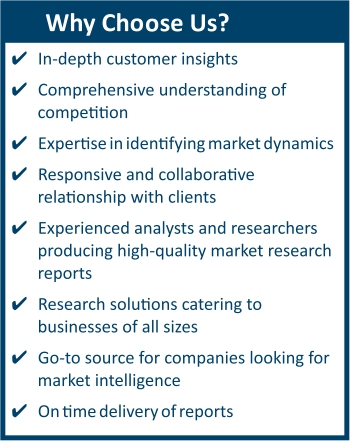 Frequently Asked Questions (FAQ) :
The market value of sterilization indicators market in USD 1.5 billion by 2029.
The sterilization indicators market is growing at a CAGR of 9% over the forecast period.
The top companies that hold the market share in sterilization indicators market are Mesa Laboratories, 3M, Getinge Group, Matachana Group, PMS, gke-GmbH, STERIS plc, Propper Manufacturing Co., Inc., Liofilchem S.r.l., and others.
To get latest version of sterilization indicators market report can be obtained on demand from the website.
The base year for the report is 2022 in sterilization indicators market.