The global stearic acid market was valued at >USD 4.0 billion in 2019 and is expected to grow more than CAGR 5.0% over the forecast period. Rising adoption in cosmetics & personal care products such as soaps, shaving creams, shampoos, creams, and lotions is expected to increase market concentration over the coming years. Stearic acid is a strong waxy, saturated fatty acid deriving from animal fat and vegetable oils. The palm kernel and the coconut oil have the highest product extraction potential. The manufacturing cycle involves the hydrogenation at elevated temperature and pressure of vegetable oils or animal fat treatment with water.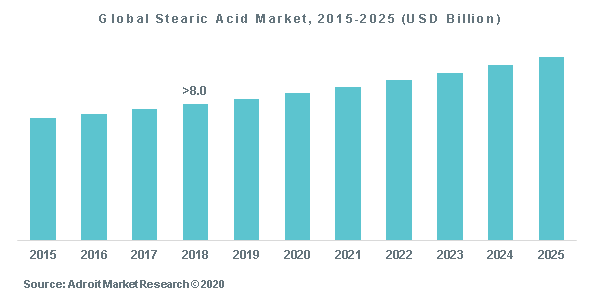 In cosmetic and detergent applications, strong cleaning and surfactant properties that promote the removal of oil and dirt in the skin are projected to fuel demand for stearic acid. In the coming years, strong demand for personal care and soaps and detergents as a surfactant is expected to promote product penetration in those segments. Increasing scope of application in many niche segments including the manufacture of candles, metal processing, and dietary supplements is also expected to fuel growth in the industry over the forecast period. Growing demand for sustainable and biodegradable products is expected to remain a key driving force in the stearic acid industry, due to rising dependence on petrochemical. The global chemical industry has been concerned by volatile prices of petrochemical related products due to supply-demand imbalances, which has prompted the move towards bio-based chemicals.
Key segments of the global stearic acid market
Application Overview, 2015-2025 (Kilo Tons) (USD Million)
Soaps & detergents
Intermediates
Personal Care
Rubber Processing
Textile
Lubricants
Others
Regional Overview, 2015-2025 (Kilo Tons) (USD Million)
North America
Europe

Germany
UK
France
Rest of Europe

Asia Pacific

China
Japan
India
Rest of Asia Pacific

Central & South America

Brazil
Rest of Central & South America

Middle East & Africa

GCC
Rest of Middle East & Africa
Reasons for the study
Rising personal care and cosmetics industry worldwide
Increasing consumer spending and geographically varying buying behavior of personal care and other consumer goods
Industry developments in emerging countries
What does the report include?
The study on the global stearic acid market includes analysis of qualitative market indicators such as drivers, restraints, challenges and opportunities
Additionally, the market competition has been evaluated using the Porter's five forces analysis
The study covers qualitative and quantitative analysis of the market segmented on the basis of application. Moreover, the study provides similar information for the key geographies.
Actual market sizes and forecasts have been provided for all the considered segments
The study includes the profiles of key players in the market with a significant global and/or regional presence
Who should buy this report?
The report on the global stearic acid market is suitable for all the players across the value chain including raw material suppliers, stearic acid manufacturers, distributors, suppliers and retailers
Venture capitalists and investors looking for more information on the future outlook of the global stearic acid market
Consultants, analysts, researchers, and academicians looking for insights shaping the global stearic acid market
The global stearic acid market is competitive as large number of well-established petrochemical manufacturers are operating in this industry. Some prominent manufacturers are The Chemical Company, VVF LLC, Cayman Chemical, U.S. Chemicals LLC, Deeno Group, Parchem, Pacific Oleochemicals, Kao Chemicals, Emery Oleochemicals, BASF, and AkzoNobel. Leading players operating in this industry are adopting merger & acquisition, research & development, new product development, and facility expansion strategies to strengthen their geographical reach and increase customer base. For instance, in sept 2017, the Malaysian state of Sabah is expected to start its first oleochemical plant to process industrial palm oil in to soap noodles and stearic acid. Increasing oleochemicals production expansion followed by rising stearic acid demand for personal care products, rubber processing, lubricants, textile, and soap & detergents is expected to prompt new manufacturers to enter in to the industry to cater untapped market in developing economies.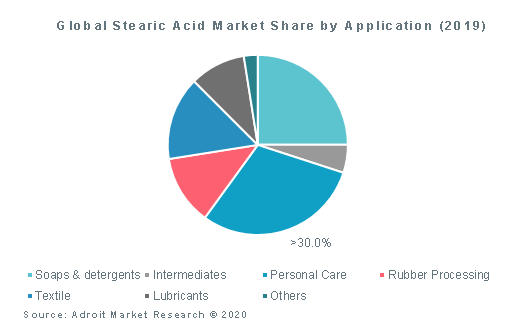 By application, the stearic acid market size segmented as soaps & detergents, intermediates, personal care, rubber processing, textile, lubricants, and others. In 2018, soaps and detergents were the largest application group, accounting for more than 25.0% of overall demand. In the coming years the segment is expected to experience rapid growth. Body lotions are made in stearic acid, along with edible margarine, which is expected to fuel the growth of the global stearic acid industry.
PVC softening is applied to chemical salts such as lead, zinc, calcium, and cadmium. Also, they are used as release agents in the manufacture of automotive tires. Increasing spectrum of use as an additive in negative plates and the manufacture of lead acid batteries is also expected in the near future to generate demand. This can also be used as a hardening agent in dietary supplements and in the manufacture of candy which is meant to have a positive effect on the development of the industry.
Stearic acid serves as a lubricant in applications for injection molding, thereby creating substantial demand in the industrial field. Niche uses include the manufacturing of lamps, coatings, alcohol plasticizers, cleaners and paints. Because of the rising product reach in emerging economies such as India, China and Japan, personal care is expected to be the fastest growing application category.
The Asia Pacific was the largest regional market in 2018, representing more than 40.0% of overall demand. Because of rapid industrialization, the region is projected to see the fastest growth. Increasing demand for cosmetics & personal care, textile manufacturing, lubricants, and tire production is expected to increase stearic acid market concentration in India, China, Japan, South Korea, Southeast Asia, and Australia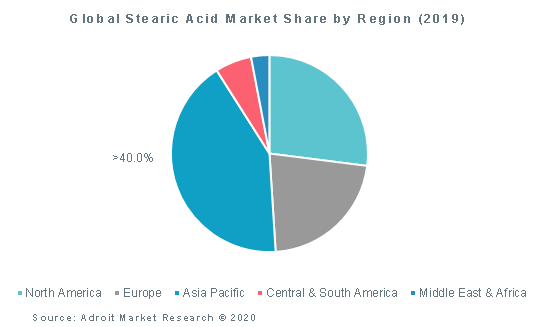 The Asia Pacific is expected to be one of the promising regional markets due to increasing demand in emerging countries such as China and India for personal care items due to increased disposable income and changing lifestyles. Increasing the manufacturing of oleochemicals in Southeast Asia is expected to have a positive effect on demand growth in the near future due to the growing availability of vegetable oils.
It is expected that mature regional markets such as North America and Europe will produce substantial revenue due to increasing demand in countries such as the US and Germany respectively. The Middle East and Africa are expected to experience high demand as plasticizers and lubricants due to the growing population and expanding the scope of application. Recovery in the construction industry and increasing the beauty and cosmetics industry in Brazil and Argentina is expected to open new opportunities for stearic acid manufacturers in Central & South America over the coming years. Additionally, the region is a hub for the automotive industry, which in turn will further add market growth.