Individuals are becoming more interested in shooting sports as a result of the numerous benefitsthey provide, such as improved disciplinary practices, attention, and sharpening of the vision
The global Sports Rifle market is expected to develop USD 3.96 billion by 2030, at a compound annual increase in price (CAGR) of 7.9% throughout the forecast period.
Covid-19 Impact & Market Status
The COVID-19 outbreak interrupted the sporting calendar and impacted some of 2020's most important events, which harmed the market for sports rifle firearms on a big scale. Furthermore, the restriction of international borders has made it difficult for hunters from all over the world to access their favourite hunting sites. The Tokyo Olympics and Paralympics, the World Cup in rifle, and the Junior World Championship for rifle were among the major international athletic events that were postponed or delayed owing to the outbreak in the early stages of covid-19. As the number of cases of COVID-19 decreased in the middle of 2021, some postponed sports contests and events were held while adhering to COVID-19 regulations.
The new coronavirus's spread has had an impact on many different aspects of the global economy. The government has taken a variety of measures to mitigate the impact of the epidemic on this market. As a result, increased business is projected. We are hopeful that the market will soon develop as predicted. COVID-19 has three primary effects on the global economy: decreased output and demand, supply chain and market disruption, and negative financial impact on enterprises and financial markets.
Recreational Shooting Is Expected To Drive The Sport Rifles Market Growth
According to a sports rifle market study, the recreational shooting category was worth USD 2.4 billion in 2022 and is predicted to grow to USD 1.4 billion by 2029, with a CAGR of 10.6 percent. Recreational shooting refers to activities that are done for leisure rather than for a living. It is said to be less physically and psychologically taxing. Recreational shooting has grown in popularity in the worldwide sports rifle industry as a result of advantages such as enhanced metal health, enjoyment, physical fitness, social interaction, and others.
Gear, firing distances, targets, time limits, and levels of endurance required may all be used to define rifle shooting sports. Individual and team competition are common in shooting sports, and team success is typically judged by summing the scores of each team member. Rifle s hooting sports are normally done in either approved permanent firing ranges or makeshift shooting grounds in the region away from accordance with the statutory to the noise and high (and frequently fatal) friction coefficient of the bullets.
Gun Stores Contribute To The Highest Market Share In Sports Rifle Market.
The distribution channels can be divided into gun stores, sporting goods store, online stores & others. Consumers opt to buy the rifles mostly from the gun stores for the additional benefits and services that the stores offer, also the convenience is provided to the consumers since it is noticed that most of the gun stores are located near the area of practice range, where people go frequently for either practicing rifle shooting for recreational purposes or competitive shooting, the gun stores provide assistance with their new rifle and also provide personal assistance for gun servicing and cleaning. The gun stores also keep the customer up to date with the latest innovative sports rilfes that have come into the market. Additionally some stores have even started subscription services and created a cult of their own the renowed stores even conduct competitions which helps them to capture new customers for their business.
Because of advantages such as privacy, convenience, and savings, the online segment has grown in popularity. Well-known online sports gun vendors include CDNN Sports, AIM Surlus, Brownells, Rainier Arms, RifleGear, and others. The rise of the e-commerce industry has aided the development of the rifle sporting gun market by enabling merchants to sell direct to consumer. According to the United Nations Conference on Trade and Development, E-commerce sales in the United States, Japan, and China were the top 3 countries for online sales in sports rifle shooting market.
APAC Region Is Dominating The Sports Rifle Market Growth.
Due to rising participation in Asian sports games and a variety of other athletic activities, the Asia-Pacific region accounts for a significant portion of the rifle sports gun market. Several nations in Asia-Pacific were active in target shooting or other shooting activities, as well as self-defense training. People's growing interest in target shooting prompted the formation of the Philippine Practical Shooters Association (PPSA), and the sports rifle gun market has seen a major increase. Nonetheless, the market is growing as a result of the Japanese people's interest in target shooting, which encourages them to engage in Olympic activities, resulting in an increase in the purchase of sports guns, which in turn propels the expansion of the sports gun industry. However, in India, the country's "Khelo India" campaign, which seeks to create a sporting culture in the country's people, has raised demand for a variety of sporting equipment, boosting the sports rifle gun industry.
This is due to an increase in the number of people participating in shooting sports, as well as the growing popularity of Olympic and Commonwealth games. Because of rising government efforts and programmes, developing markets like as China, India, and the others are currently gaining momentum in the global goods market. Several sports-related programs have been launched by the Indian government, including the Khelo India Scheme, the Fit India Movement, the National Sports Development Fund, the Sports Talent Search Portal, and others. Increased sports budgets are aiding the market's expansion.
The market is predicted to rise as more school and college children & students participate in nationwide shooting sports.
The global sports rifle market is expected to develop at a 9.7% CAGR to USD 2.7 billion between 2022 and 2029.
Target shooting, benchrest shooting, popinjay shooting, Target shooting, trap shooting, metallic silhouette shooting, cowboy mounted shooting, and other shooting sports employ sports guns. They're long-barreled shoulder guns with rifled bores. They're usually rather lengthy and require two hands to grip. Four-position small-bore target shooting, exhibition rifle shooting, seating rest shooting, large power rifle (aka From across Course), biathlon (a mixture of shooting and cross-country ice skating), full-bore aim shooting (shooting variations are between 300 and 1200 metres), site target (quite prevalent in the UK), and many other shooting games use this type of gun.
Rifle, pistol, and shotgun are the three types of firearms used in Olympic shooting. Athletes shot at fixed targets at indoor shooting ranges in rifle and pistol competitions. Shotgun, on the other hand, is a sport where shooters must aim at targets thrown into the air.
The rifle is single-loaded and has a calibre of 5.6 millimetres (a rifle barrel's internal diameter), which is used in all events. Shooters use special jackets or coats to aid them in their performance by providing steadiness. The – anti slippery surface of these unique jackets ensures a superior grip, particularly for rifle enthusiasts. The added padding in these jackets helps shooters enhance their accuracy by reducing the impacts of rebound. The elbow padding offers a solid platform, which is important for rifle shooters in the posture.
Athletes aim at a goal with 10 concentric rings at a given distance in rifle shooting. 50 meter Rifle 3 Positions and 10m Air Rifle are the two subcategories of the competition in the olympics.
Athletes shot at the mark from three distinct positions — kneeling, prone, and standing — in the 50 meter rifle. Within a two-hour and 45-minute time limit, each competitor fires 40 bullets in each of the three positions listed.
The Olympic and Common wealth Games have grown in popularity, resulting in an increase in the number of sporting activities involving shooters. This growth in the amount of sports activities at such a worldwide event is likely to help the sports gun establish a solid customer base. Differently abled persons are becoming more involved in Para Olympic Games, which is driving up need for sports guns. The increase in the number of people watching the Paralympics, particularly the shooting sports, has resulted in greater income production in the market place.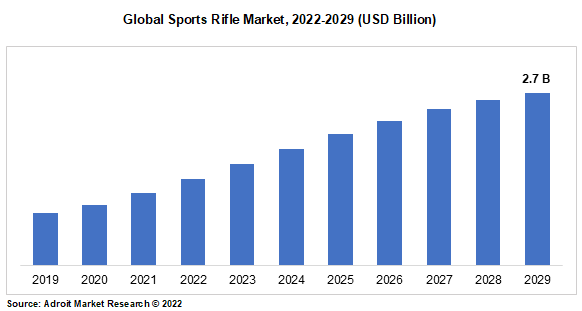 Key players such as American Outdoor Brands Corporation, Beretta Holding S.A., Colt's Manufacturing Company, LLC, Olympic Arms Inc., Browning Arms Company, Crosman Corporation, Howa Machinery, Ltd., German Sport Guns GmbH, J.G. Anschütz GmbH & Co.KG, and Sturm, Ruger & Company, Inc., Beretta Holding and others. These companies' main growth strategies include expansion, new product development, and cooperation in order to improve their product range and geographical presence to address the rising demand for sports rifle market from emerging nations.
Latest Innovation in the Global Sports Rifle Market: A snapshot
Beretta Holding has agreed to buy 100% of premium company Holland & Holland Ltd., which produces the best handcrafted rifles and shotguns in the world, in 2021. This arrangement was signed by the corporation in order to extend their business with this luxury brand throughout the world.
In 2020, Sturm, Ruger & Company Inc. purchased Marlin Assets. As a consequence of Remington Outdoor Company Inc.'s bankruptcy, the United States Bankruptcy Court for the Northern District of Alabama approved this arrangement to purchase these assets on September 30, 2020. It was believed that the purchase price would be roughly USD 28.3 million.
Sports Rifle Market Scope
| | |
| --- | --- |
| Metrics | Details |
| Base Year | 2020 |
| Historic Data | 2018-2019 |
| Forecast Period | 2021-2028 |
| Study Period | 2018-2028 |
| Forecast Unit | Value (USD) |
| Revenue forecast in 2028 | USD 2.7 billion. |
| Growth Rate | CAGR of 9.7% during 2021-2028 |
| Segment Covered | Application, Distribution Overview, Regions |
| Regions Covered | North America, Europe, Asia Pacific, South America, Middle East and South Africa |
| Key Players Profiled | American Outdoor Brands Corporation, Beretta Holding S.A., Colt's Manufacturing Company, LLC, Olympic Arms Inc., Browning Arms Company, Crosman Corporation, Howa Machinery, Ltd., German Sport Guns GmbH, J.G. Anschütz GmbH & Co.KG & among others. |
Key Segments of the Global Sports Rifile Market
Application Overview, 2022-2029 (USD Billion)
Competitive Shooting
Recreational Sports
Distribution Overview, 2022-2029 (USD Billion)
Gun Stores
Sporting Goods Stores
Online
Others
Regional Overview, 2022-2029 (USD Billion)
North America
Europe
Germany
France
UK
Rest of Europe
Asia Pacific
China
India
Japan
Rest of Asia Pacific
South America
Mexico
Brazil
Rest of South America
Middle East and South Africa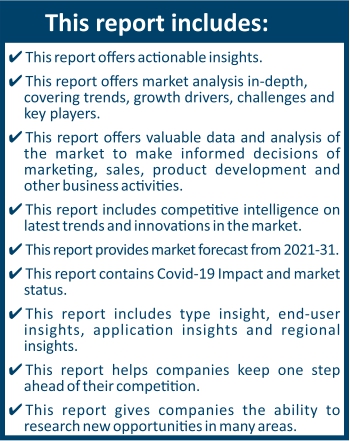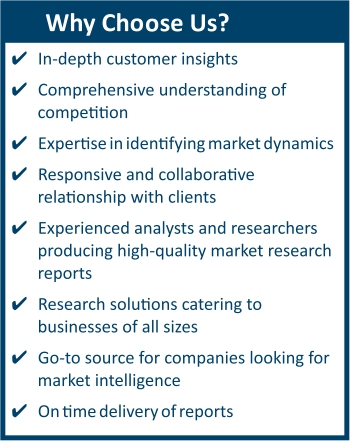 Frequently Asked Questions (FAQ) :
The market value of sports rifle market in 2029 was USD 2.7 billion.
The sports rifle market is growing at a CAGR of 9.7% over the forecast period.
The application of the sports rifle market Competitive Shooting and Recreational Sports and other.
Asia-Pacific dominated the market for sports rifle market and accounted for the largest revenue share.
The top companies that hold the market share in sports rifle market are American Outdoor Brands Corporation, Beretta Holding S.A., Colt's Manufacturing Company, LLC, Olympic Arms Inc., Browning Arms Company, Crosman Corporation, Howa Machinery, Ltd., German Sport Guns GmbH, J.G. Anschütz GmbH & Co.KG & among others.