The market for spherical alumina powder is primarily driven by this material's exceptional qualities, including excellent thermal conductivity, a low coefficient of thermal expansion, great corrosion resistance, and outstanding electrical insulation. It also finds use in a variety of industries, such as aerospace and defence, semiconductors and electronics, and cars. Developing countries like China and India are expected to have increased demand for spherical alumina powder, which would also boost the market. The industry is also predicted to profit from advancements in production techniques and higher investments by significant players.
For many industrial applications, spherical alumina powder is crucial. This powder is used for abrasive, refractory, and grinding materials. Additionally, it can be used to make coatings and fillers. This powder's spherical shape, which offers a uniform dispersion and lowers the amount of material that needs to be processed, makes it perfect for these procedures. In turn, this lowers production costs and boosts the effectiveness. This powder is perfect for use in high-temperature activities because it has great chemical resistance and heat conductivity.
Spherical alumina powder is made up of alumina particles that have undergone physical and chemical processes to make them spherical. It is a white, odourless, finely divided powder. It has a variety of uses because of its unique properties, which include high-temperature conductivity, temperature resistance, and durability against corrosion and friction. Additionally, spherical alumina powder is utilised in ceramics as well as paints, sealants, and other coatings as a filler or extender.
By the end of 2031, it is predicted that the global market for spherical alumina powder would have grown from USD 4.90 billion in 2021 to USD 17.45 billion at a CAGR of 10.9%.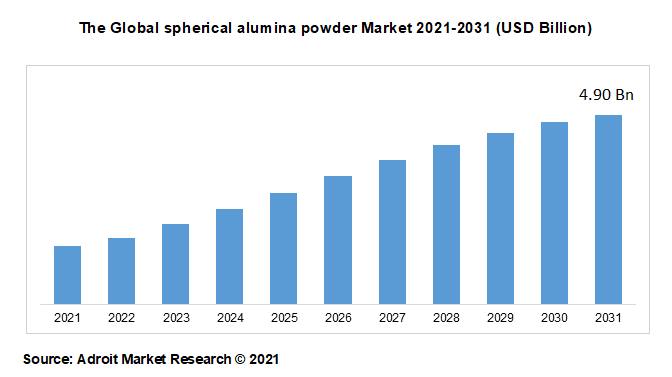 The alumina-based spherical powder is created by spray drying and sifting to obtain uniformly sized and shaped particles. It is used in many different sectors for applications such as thermal interface materials, high thermal conductivity polymers, Al-based CCL, alumina ceramic substrate surface cleaning, and others. The growing demand for spherical alumina powder from its end-use sectors, including automotive, aerospace & defence, electronics & electricals, medical devices & healthcare products, and many more, is the key factor driving the market. Additionally, due to its high thermal conductivity and lightweight qualities, low-cost spherical alumina powder is being used more and more in thermal interface materials, which is anticipated to fuel the market's expansion throughout the forecast period. Additionally, during the anticipated time frame, technological developments and expanding research activities are also predicted to propel market growth.
Several issues have limited the demand for spherical alumina powder. First off, a significant barrier to the market's expansion is the high cost of manufacturing. Second, another factor impeding market expansion is the strict environmental rules governing the usage of alumina powder. Last but not least, the market expansion is being constrained by the health risks connected to exposure to alumina powder. Meanwhile, the market expansion is projected to be fueled by the rising demand for alumina powder from a variety of sectors, including the construction, electronics, and automotive industries.
Showa Denko K.K., Sumitomo Chemical Co., Ltd., Almatis B.V., JGC Holdings Corporation, Tosoh Corporation, 3M Company, H.C. Starck GmbH & Co. KG, Saint-Gobain Ceramic Materials, Superior Graphite Company, and others are some of the major companies active in the global spherical alumina powder market. Numerous small and local businesses are also providing specialised application products for a variety of end consumers.
Segment Analysis
The 1-30 μm Segment emerged as the Most Lucrative Type
The market for spherical alumina powder is segmented into sizes 1 to 30 μm, 30 to 80 μm, 80 to 100 μm, and Others. Due to its high demand from sectors like ceramics, aerospace, automotive, electrical & electronics, and others, the 1-30 m segment among these held the greatest share of the market. Additionally, it serves as a filler material in refractory applications.
The Most Prominent Application is the Thermal Interface Materials Segment
The Thermal Interface Materials, Thermally Conductive Plastics, Al Base CCL, Alumina Ceramic Substrate Surface Spraying, and Other categories make up the Spherical Alumina Powder Market. Due to its outstanding thermal conductivity and dielectric qualities, which make it the perfect choice for cooling applications, the Thermal Interface Materials sector is predicted to dominate the market.
The Automotive Sector to emerge as the Most Promising End-user
The Spherical Alumina Powder Market is segmented into Automotive, Aerospace & Defense, Electrical & Electronics, Industrial Manufacturing, and Others based on End-User Industry. Among these, the automotive end-user sector is anticipated to account for a sizable portion of the global spherical alumina powder market during the period of forecasting, owing to the rising demand for lighter, more energy-efficient, and more performance-enhancing automobiles.
The Asia Pacific Region to render Ample Financing Opportunities
North America, Europe, Asia Pacific, Latin America, the Middle East, and Africa make up the majority of the spherical alumina powder market. The market for spherical alumina powder is expected to grow at a faster rate throughout the estimated time frame in the Asia Pacific region, which is also expected to occupy a sizeable proportion of the market. This can be attributable to the high demand for diverse industrial applications from nations like China, India, and Japan as well as the growing use of automotive components.
COVID-19 Impact and Market Status
The COVID-19 pandemic epidemic has had a huge effect on the world economy, affecting most industries in some form. The pandemic has had a substantial impact on all markets, including the one for spherical alumina powder, which has seen a significant decline in demand. The manufacturing of thermal interface materials (TIMs), which are utilised in a range of electronic devices including computers and cellphones, is one of the principal uses for spherical alumina powder. The demand for TIMs and other electronic components has decreased as more people choose to work from home and use these devices for fun rather than for business. The market for spherical alumina powder has been impacted, and prices have decreased as a result. As the world economy starts to stabilise in 2021, the market is anticipated to make some progress toward recovery, but it will be some time before demand reaches pre-pandemic levels.
Recent Developments in the Spherical Alumina Powder Market
Honeywell announced the introduction of a new line of spherical alumina powder in March 2022. The new line, which is available in three diameters with a range of 0 to 22 microns, is intended for use in advanced ceramics, refractories, and other industrial applications. Great surface area, minimal abrasive content, and high purity characterise the product.
Under the brand name "Ultralite," Kymera International announced the introduction of a new range of spherical alumina powder in February 2021. The aerospace and automotive industries, as well as other specialised uses like surface coating and grinding wheels, are the main target markets for this new product range. High strength and toughness, better thermal shock resistance, improved wear resistance, and minimal porosity is just a few of the exceptional performance qualities that the business says Ultralite delivers.
Spherical Alumina Powder Market Scope
| | |
| --- | --- |
| Metrics | Details |
| Base Year | 2022 |
| Historic Data | 2020-2021 |
| Forecast Period | 2022-2030 |
| Study Period | 2020-2030 |
| Forecast Unit | Value (USD) |
| Revenue forecast in 2030 | USD 17.45 billion |
| Growth Rate | CAGR of 10.9 % during 2021-2030 |
| Segment Covered | Type, Application, Regions |
| Regions Covered | North America, Europe, Asia Pacific, South America, Middle East and Africa |
| Key Players Profiled | Showa Denko K.K., Sumitomo Chemical Co., Ltd., Almatis B.V., JGC Holdings Corporation, Tosoh Corporation, 3M Company, H.C. Starck GmbH & Co. KG, Saint-Gobain Ceramic Materials, Superior Graphite Company, and others |
Key Segments of the Spherical Alumina Powder Market
Type Overview, 2021-2031 (USD Billion)
• 1-30 μm
• 30-80 μm
• 80-100 μm
• Others
Application Overview, 2021-2031 (USD Billion)
• Thermal Interface Materials,
• Thermally Conductive Plastics
• Al Base CCL
• Alumina Ceramic Substrate Surface Spraying
• Others
Regional Overview, 2021-2031 (USD Billion)
North America
• U.S
• Canada
Europe
• Germany
• France
• UK
• Rest of Europe
Asia Pacific
• China
• India
• Japan
• Rest of Asia Pacific
South America
• Mexico
• Brazil
• Rest of South America
• Middle East and South Africa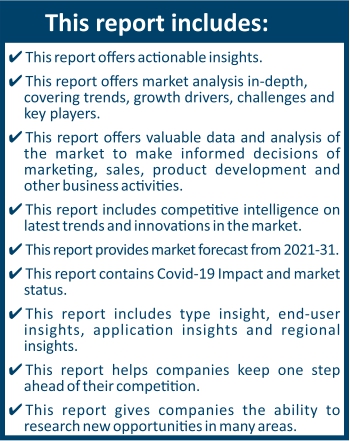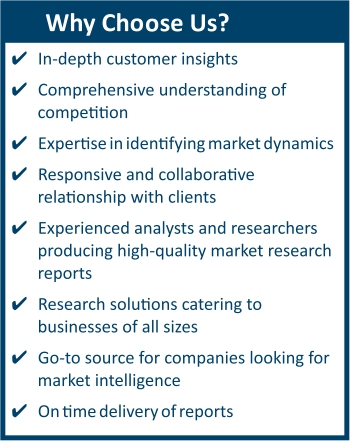 Frequently Asked Questions (FAQ) :
Spherical Alumina Powder Market is projected to reach USD 17.45 billion by 2031, growing at a CAGR of 10.9%