Owing to the advantages of specialty surfactants are molecules that reduce the surface tension of water, making the molecules slipperier and therefore less likely to cling together and more likely to interact with oil and grease. They're found in a wide range of cleaning products. After exhalation, a force called surface tension causes the tissues surrounding the air sacs (alveoli) of the lungs to stick together and the alveoli to collapse
The Specialty Surfactants Market is expected to reach US$ 18.46 Billion during the forecast period at a 4.5% CAGR.
Covid-19 Impact & Market Status
Surfactants are a pioneer in the fight against the COVID19 virus, promoting hygiene in both residential and institutional environments and continuing to do so as long as hygiene issues persist. The COVID19 pandemic had a number of impacts on the market in 2020, with household laundry detergents, dishwashing liquids, cleaning supplies and even personal care products such as hand soaps performing well in 2020. Nationwide blockades, telecommuting, office and public building closures, and restaurant and hospitality sector closures all had a major impact on industrial and facility cleaning. However, when the economy improves and the hospitality and tourism industries expand more slowly, these industries are likely to rebound significantly and increase at above-average rates.
Anionic Surfactants to Emerge as the Most Lucrative Segment
Anionic surfactants, cationic surfactants, non-ionic surfactants, and amphoteric surfactants make up the worldwide specialized surfactants market. The most profitable are anionic surfactants, which belong to the family of surface-active chemicals in which the surfactant macromolecule's head stays negatively charged. It is able to bind to contaminants and fragments dispersed in the liquid as a result of this. Anionic surfactants account for over half of the entire surfactant market share. The need for anionic surfactants is predicted to rise as environmental restrictions become more important. Anionic surfactants are commonly employed in pesticide formulations, as well as in industrial and domestic cleaning. The most prevalent anionic surfactant is biodegradable linear alkyl benzene sulfonates (LAS), which may be found in wastewater and river water.
Household cleaning detergents to Witness Fastest Growth
In the application sector, household cleaning detergents have the largest market share. Laundry detergents, dishwasher detergents, prespotters, carpet cleaners, and fabric softeners are all part of the domestic detergent industry. Surface-active ingredients are used in dishwashing detergents to help remove dirt by wetting surfaces. The market for household cleaning detergent is expected to develop dramatically over the forecast period, owing to the rapid growth of demand for specialty surfactants in numerous applications. This will provide chances for innovation in application-specific products.
Asian Pacific to Render Ample Investment Avenues
Due to the steady expansion of the personal care business, Asia-Pacific accounted for the greatest market share in 2017. The region's rising population, particularly in China and India, is likely to stimulate demand for specialty surfactants. People between the ages of 20 and 30 are the primary consumers of cosmetics and personal care goods. In addition, India is one of the world's major soap makers. The country's average per capita usage of toilet/bathing soap is roughly 800 grams. Around 65 percent of India's population lives in rural regions, and as disposable incomes rise and rural marketplaces expand, customers are gravitating toward higher-end items. This transition is projected to fuel the country's surfactant industry. As a consequence of these factors, the surfactant market in the area is expected to grow gradually throughout the projected period.
Special surfactants are hydrophilic and hydrophobic organic compounds that dissolve oil molecules in water. Surfactants are substances that lower the surface tension between two liquids or a liquid and a solid. Surfactants are amphipathic organic compounds that have both hydrophilic (water-soluble) and hydrophobic (water-insoluble) components. Without surfactants, soaps would not mix with water and would simply roll off the surface, making cleaning considerably more difficult. Surfactants may also be found in lubricants such as shaving cream, where they help razors remove stubble faster while minimizing irritation.
In 2029, the global market for specialty surfactants was estimated to be worth USD 36.1 billion. The surfactants sector is predicted to grow rapidly due to reasons such as low cost, easy availability of surfactants, and a wide range of uses. The extensive use of surfactants in household detergents is also predicted to assist the surfactants market's expansion throughout the forecast period. However, raw material price volatility and environmental concerns about surfactants are constraining industry expansion.
Over the projected period, the market is likely to rise due to rising demand for renewable items that are both safe to use and less damaging to the environment. Increased focus on Research & development activities to generate value-added differentiated goods is expected to boost the company's market share.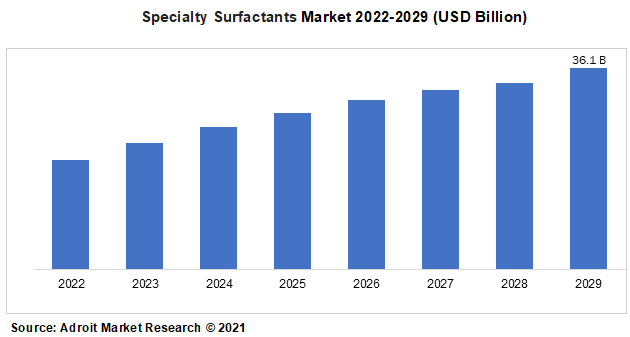 The key market players in this segment are Procter & Gamble, Pilot Chemical Corp., Stepan Company, Akzo Nobel N.V., Arkema, Ashland, Innospec, Libra Speciality Chemicals Limited, BASF SE, Clariant, DowDuPont, Evonik Industries AG, Huntsman International LLC., These are the global market layers in the specialty surfactants market.
Latest Innovations in the Specialty Surfactants Market
Nonionic surfactants are nonionic surfactants that have no electrical charge and come in a range of chemical kinds. Emulsification, solubilization, wetting, dispersion, detergency, foaming, and deforming are just a few of the areas where they come in handy.
Betaines are amphoteric surfactants that are widely used in cosmetics. They function as foaming agents and foam stabilizers, as well as rheology modifiers and irritation reducers for anionic surfactants in cosmetic compositions. They are great components for many sorts of cosmetics, notably personal care products, because they are made from high-quality natural raw materials. One of the novel approaches of creating ecological amphoteric surfactants from the betaine group is to include not only natural fatty amines of plant origin, but also monochloroacetic acid created from natural acetic acid released during plant fermentation in their composition.
Specialty Surfactants Market Scope
| | |
| --- | --- |
| Metrics | Details |
| Base Year | 2020 |
| Historic Data | 2018-2019 |
| Forecast Period | 2021-2028 |
| Study Period | 2018-2028 |
| Forecast Unit | Value (USD) |
| Revenue forecast in 2028 | USD 36.1 billion |
| Segment Covered | By Type, By Application, Regions |
| Regions Covered | North America, Europe, Asia Pacific, South America, Middle East and South Africa |
| Key Players Profiled | PProcter & Gamble, Pilot Chemical Corp., Stepan Company, Akzo Nobel N.V., Arkema, Ashland, Innospec, Libra Speciality Chemicals Limited, BASF SE, Clariant, DowDuPont, Evonik Industries AG, Huntsman International LLC & among others. |
Key Segments of the Specialty Surfactants Market
By Types Overview, 2022-2029 (USD Billion)
Anionic surfactant
Nonionic surfactant
Amphoteric surfactant
Cationic surfactant
By Application Overview, 2022-2029 (USD Billion)
Industry and Institutional Cleaning
Household Cleaning Detergent
Food Processing
Personal Care
Lubricants and Fuel Additives
Agricultural Chemicals
Oilfield Chemicals
Textile Processing
Others
By Region Overview, 2022-2029 (USD Billion)
North America
Europe

UK
Germany
France
Rest of Europe

Asia-Pacific

China
Japan
India
Rest of Asia-Pacific

South America
Mexico
Brazil
Rest of South America
Middle East and South Africa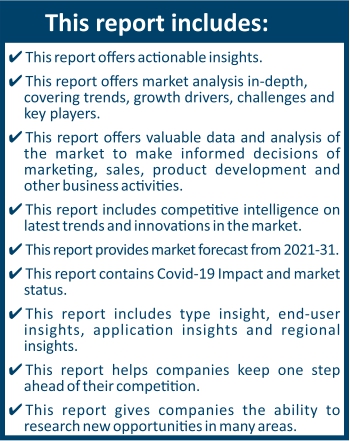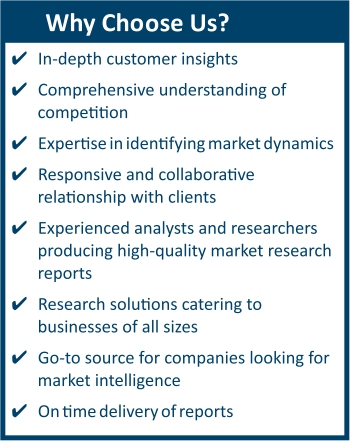 Frequently Asked Questions (FAQ) :
The global specialty surfactants market size is expected to reach USD 36.1 billion by 2029.
The application of the specialty surfactants market Industry and Institutional Cleaning, Household Soap and Detergent, Food Processing, Personal Care, Lubricants and Fuel Additives, Agricultural Chemicals, Oilfield Chemicals, Textile Processing and other.
Asia Pacific dominated the market for specialty surfactants market and accounted for the largest revenue share.
The top companies that hold the market share in specialty surfactants market are PProcter & Gamble, Pilot Chemical Corp., Stepan Company, Akzo Nobel N.V., Arkema, Ashland, Innospec, Libra Speciality Chemicals Limited, BASF SE, Clariant, DowDuPont, Evonik Industries AG, Huntsman International LLC & among others.
To get latest version of specialty surfactants market report can be obtained on demand from the website.