The Global Specialty Glass Market is witnessing the steady growth and is set to grow with a CAGR of 2.8% during the forecast period, 2021-2032. This can be attributed to the comprehensive understanding and information that our industry experts have about the market dynamics.
The drivers of the Specialty Glass Market
The drivers of the Specialty Glass Market are following
Increasing demand for packaging food and beverage products, which are highly sensitive to external factors. The growing demand for UV-resistant specialty glass in the optical and ophthalmic industries is also driving the growth of the market. Specialty glass is used in electrical applications due to its high resistance to heat, electricity and corrosion. The increasing construction activities are expected to increase the demand for specialty glass from the construction industry over the next few years. The increase in research and development activities by manufacturers to develop novel products has contributed to the increasing adoption of specialty glass products in a wide range of industries. There has been an increase in customers' preference for eco-friendly and biodegradable packaging options, resulting in increased use of specialty glass in packaging applications. Recently, there has been an increase in demand for specialty glass with improved usability such as scratch resistance, UV resistance, etc.
Advantages of the Specialty Glass Market
The advantages of the Specialty Glass market are its high quality and durability of the product and also Ability to produce customized products along with its varied applications in different industries.
Market Value and CAGR of Specialty Glass Market
The specialty glass market for was estimated to be worth USD 3.1 billion in 2018, and it is anticipated to grow at a CAGR of 4.26 percent over the following five years to reach USD 4091.62 million by 2028.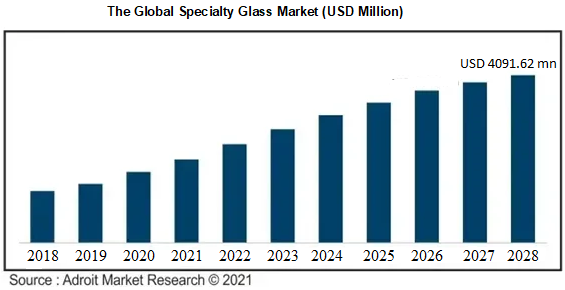 Specialty glass provides superior properties such as high durability, heat resistance, weight reduction, and security. It is used in applications like aircrafts windshields and building facades, wherein it can help reduce fuel consumption by 10%.
The restraining factors of Specialty Glass Market are following
High costs associated with raw materials and production processes are expected to restrict market growth over the review period. Fluctuations in global prices of raw materials such as soda ash have adversely affected production processes thereby affecting profitability margins of manufacturers
Key players in the Specialty Glass Market
Some of the key players in the Specialty Glass Market are Saint Goblin (France), Schott AG (Germany), Corning Inc. (US), and Asahi Glass Co., Ltd. (Japan). Corning Incorporated, Saint-Gobain Research India Pvt Ltd, Nippon Sheet Glass Co., Ltd, JSC Retropack Holding AG, Kavalier glass a.m., Hoya Corporation, SCHOTT North America Inc., among other
The global specialty glass market has many participants and is highly competitive. Some of the key players in the market include Corning Incorporated (US), Schott AG (Germany), Saint Goblin SA (France), Asahi Glass Co., Ltd. (Japan), Piramal Glassed Ltd. (India).
Segment Analysis by type, application, end user and Region in Specialty Glass Market
The product type segment includes borosilicate glass, quartz glass, alumina silicate & Others glass. Borosilicate glass accounts for the largest market share in 2018 due to its widespread usage in medical equipment and tools manufacturing industries such as test tubes and blood tubing. On the other hand, quartz-based glasses have the second highest share due to their low thermal expansion properties that make them more resistant to heat and stress than other types of glasses. Aluminon silicates are forecasted to grow at a higher rate during the forecast period due to their high heat resistance properties allowing them to withstand strong vibrations and shock waves
By Application, the most demanded product is UV Glass, the UV Glass can be used in CD and DVD applications, cosmetics packaging and others. One of the major applications of Specialty glass is in Electronics industry for smartphone, tablets, laptops and other electronics devices. The Specialty glass also finds its use in automotive industry as safety glass for side windows, rear windscreen and sunroofs.
By End users, the most revenue will be generated from semiconductor industry followed by automotive and electronics. The fastest growth is expected from solar energy applications.
By geography, Asia Pacific is assumed to dominate the Specialty Glass market and is expected to grow at a CAGR of 7.2% during forecast period. This is attributed to increasing demand for solar power in this region. North America stands second followed by Europe in terms of revenue generation in this market due the high demand for specialty glass from semi-conductor and electronic industries.
Competitive Analysis:
Global Specialty Glass Market is highly fragmented, and the major players have used various strategies such as new product launches, expansions, agreements, joint ventures, partnerships, acquisitions & other to increase their footprints in this market. The report includes market shares of specialty glass market for global, Europe, North America, Asia Pacific and South America.
Impact of Covid-19 on Specialty Glass Market
The Covid-19 pandemic has had a significant impact on the specialty glass market.
The outbreak of Covid-19 has led to a decline in demand for specialty glass products from various end-use industries such as solar energy, construction, automotive, and electronics. The lockdown measures imposed by governments across the globe to contain the spread of the virus have further hampered the demand for specialty glass products. However, the growing demand for pharmaceutical packaging and medical equipment is expected to cushion the impact of Covid-19 on the specialty glass market.
The specialty glass market is segmented by type into Glass Ceramics, Borosilicate Glass, Soda Lime Glass, Lead Glass, Low Expansion Glass, High Alumina Glass, and Others. The Borosilicate Glass segment is expected to be the fastest-growing type during the forecast period owing to its superior properties such as high chemical resistance and low thermal expansion.
Key developments in the Specialty Glass Market
In January, 2019, NSG Group launched a new service for the production of extra-low iron (ELI) glass. In May, 2018, Corning Incorporated introduced Vibrant Gorilla Glass which is suitable for large format displays including tablets, notebooks and all in one computer. The company believes that it can become the preferred material for this market. In November 2017, SCHOTT AG introduced SCHOTT AS87E and SCHOTT AS87F glasses that have a high thermal shock resistance compared to other existing materials and are mainly used in technical applications such as solar thermal power plants.
Specialty Glass Market Scope
| | |
| --- | --- |
| Metrics | Details |
| Base Year | 2021 |
| Historic Data | 2021-2022 |
| Forecast Period | 2021-2028 |
| Study Period | 2018-2028 |
| Forecast Unit | Value (USD) |
| Revenue forecast in 2028 | USD 4091.62 Million |
| Growth Rate | CAGR of 4.26 % during 2018-2018 |
| Segment Covered | Type, Application, Regions |
| Regions Covered | North America, Europe, Asia Pacific, South America, Middle East and Africa |
| Key Players Profiled | Saint Goblin (France), Schott AG (Germany), Corning Inc. (US), and Asahi Glass Co., Ltd. (Japan). Corning Incorporated, Saint-Gobain Research India Pvt Ltd, Nippon Sheet Glass Co., Ltd, JSC Retropack Holding AG, Kavalier glass a.m., Hoya Corporation, SCHOTT North America Inc., among other |
Key Segments of the Specialty Glass Market
Type Overview, (USD Million)
• Glass Ceramics
• Borosilicate Glass
Application Overview, (USD Million)
• Solar Energy Tubes
• Laboratory Apparatus
• Heat Glassware
• Chemical Tubes
• Pharmaceutical Packaging
• Electronic and Electrical
• Others
Regional Overview, (USD Million)
North America
• U.S
• Canada
Europe
• Germany
• France
• UK
• Rest of Europe
Asia Pacific
• China
• India
• Japan
• Rest of Asia Pacific
South America
• Mexico
• Brazil
• Rest of South America
• Middle East and South Africa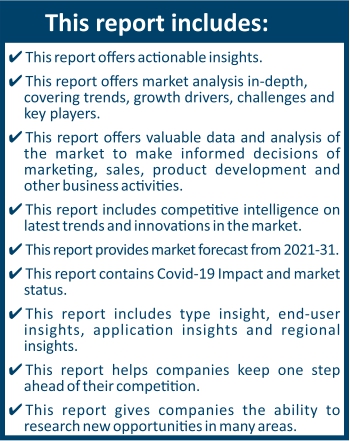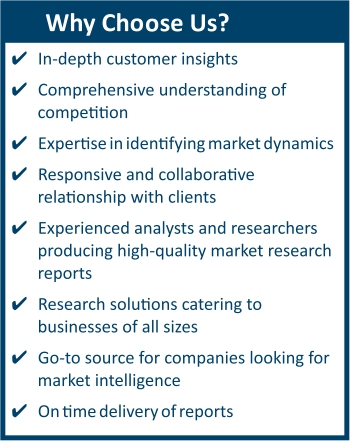 Frequently Asked Questions (FAQ) :
Specialty Glass Market is projected to reach USD 23,619 Million by 2032, growing at a CAGR of 8.8