Global spandex fiber accounted for a market revenue of nearly USD 4 billion in the year in the year 2019 and is projected to cross 6 billion by the end of 2025, growing at a CAGR of more than 7%. However, the demand growth during the forecast period will likely be hindered by factors such as increased threats of substitutes and relatively slower economic growth in some regions in the world coupled with volatile prices. In addition, the growth of Spandex Fiber's penetration in many industries would provide industry players with important opportunities across the value chain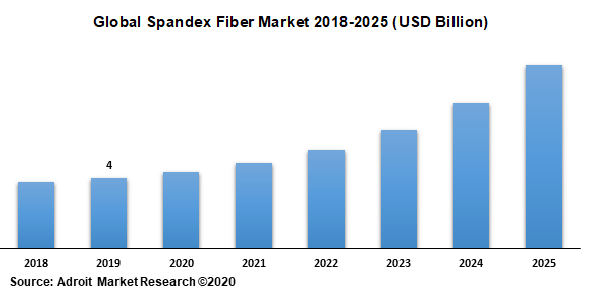 Significant investments in research & development activities is expected to provide novel opportunities for the market to grow in the near future. This report emphasizes on the varied production methods such as wet and dry spinning and other methods such as reaction spinning and melt extrusion for manufacturing of spandex fiber that are commercially available in the market. It also analyses current market dynamics in the different areas of spandex fiber and outlines potential growth prospects by analysing government regulations and policies that can further increase customer adoption in that area.
Key segments across Spandex Fiber market
Type Overview, 2018-2025, (USD Billion)

Wet Spinning
Dry Spinning

Applications Overview, 2018-2025, (USD Billion)
Regional Overview, 2018-2025, (USD Billion)

North America
Europe

Germany
UK
France
Rest of Europe

Asia Pacific

China
India
Japan
Rest of Asia-Pacific

Central & South America

Brazil
Argentina
Rest of Central & South America

Middle East & Africa

Saudi Arabia
Rest of Middle East & Africa
Reasons for the study
The purpose of the study is to give an exhaustive outlook of the global Spandex Fiber. Benchmark yourself against the rest of the market.
Be prepared for how glass industry investments and Spandex Fiber will be impacted by socio-political and economic factors over the next few years
Ensure you remain competitive as new innovations by existing key players boost the market.
What does the report include?
The study on the global Spandex Fiber includes qualitative factors such as drivers, restraints, and opportunities.
The study covers the competitive landscape of existing/prospective players in the industry and their strategic initiatives for the product development
The study covers a qualitative and quantitative analysis of the market segmented on the basis of Type and application. Moreover, the study provides similar information for the key geographies.
Actual market sizes and forecasts have been provided for all the above-mentioned segments.
Who should buy this report?
This study is suitable for industry participants and stakeholders in the global Spandex Fiber. The report will benefit:
Every stakeholder involved in manufacturing and distributing components or solutions.
Managers within financial institutions looking to publish recent and forecasted statistics pertaining to the global Spandex Fiber.
Government organizations, regulatory authorities, policymakers and financial organizations looking for investment trends in global Spandex Fiber.
Analysts, researchers, educators, strategy managers, and academic institutions looking for insights into the market to determine future strategies.
The textile industry annually produces about 53 million tons of fibre. More than 70% of it is delivered to sites or incinerations and less than 1 % is reused to produce new clothing. This is based on the conviction that, while conserving capital, we will contribute to a more sustainable clothing industry. A variety of factors influence Spandex's market. The steadily increasing population and the rise in available revenues especially in developing regions are expected to drive growth of the global spandex market over the forecasting period, as well as rising preferences for and following adoption in these area of Spandex based stretch clothing.
In terms of type, the global spandex fiber is segmented into solution dry spinning and solution wet spinning. More than 90 per cent of worldwide spandex fibers is produced using the dry spinning solution. The initial step is to produce the prepolymer. In addition, the prepolymer interacts with the same amount of diamine. The, the spinning solution is then injected into a cylindrical spinning cell and transformed into fibre.
Application Segment
In terms of application the spandex fiber market is segmented into textile and healthcare. Textile accounts for a majority of the market share owing to its application across belts, gloves, socks, tights, swimwear, jersey and shorts, exercise apparel, leotards, triathlon suits, wetsuits, zentai suits, leggings, shorts, skinny jeans, ski pants, yoga pants, compression garments, and shape garments, etc.
In terms of region the global Spandex Fiber market is segmented into North America, Europe, Asia Pacific, Central & South America, and Middle East and Africa. The most demand growth for the projected period is anticipated in Asia-Pacific regions because of increased disposable income (specifically in China & India), which drives Healthcare sales and textile as well.
In recent years, this area has also experienced growth due to investment by MNCs and growing industries. Asian-pacific regions are followed by the Middle East & African countries because of upcoming projects. Key players include 3M, Bakony Ipari Kermia Kft., CeramTec GmbH,CoorsTek Inc., Dyson Spandex Fiber, Kyocera Corporation, Mantec Spandex Fiber Ltd, Morgan Advanced Processs, Saint-Gobain, Rauschert GmbH