The increased emphasis on enhancing building infrastructure to provide a calm and comfortable atmosphere in public spaces has resulted in an increase in the deployment of sound barriers across roads, building sites, rail stations, and other locations. This is driving the global sound absorbing material market.
The global Sound Absorbing Material market is anticipated to increase at a 3.6% CAGR to reach value USD 8850.81 million in 2028
Covid-19 Impact & Market Status
The economic growth has suffered at the hands of the COVID-19 outbreak. As a result of the fast conditions that followed the COVID-19 epidemic, many government bodies and private-sector firms are functioning at reduced capacity or have halted operations entirely. Automobile production has ended due to the closure of various governmental and private-sector firms. The car industry was also affected by a lack of raw resources and a manpower deficit. As a result, the market for sound-absorbing materials has suffered. However, the vehicle sector is likely to grow as demand for EVs rises. This will increase the need for sound-absorbing materials anticipated to be a growth opportunity to the global sound absorbing material market.
The Building and Construction Industry Segment Is Expected To Boost To Brand Extension
The building and construction industry is predicted to have the largest penetration of sound absorbing materials, and this dominance is expected to remain throughout the projection period. The sector's strong demand is owing to the vast quantity of stuff required to soundproof a structure. Building and construction have been severely impacted by the current economic slump in the United States and Europe and have yet to fully recover. The sluggish rate of new structure construction, particularly in developed nations, is likely to pose a barrier to sector growth throughout the projection period.
Europe To Be At The Top Of All Regions In The Sound Absorbing Material Market
Europe holds the maximum share in the sound absorbing material market. Rising regional awareness of green building, IoT, and smart infrastructure is likely to boost product demand. Increasing awareness among government officials and the construction sector will bode well for brand awareness in the region. Environmental restrictions in European nations requiring the use of acoustic insulation materials in educational facilities will drive the sound absorbing industry forward.
The Asia Pacific sound absorption material market will develop at the highest rate, with a high CAGR. Rising disposable income, widespread product consumption in the structural applications, commercial, and automotive segments, and increasing government expenditures in various residential and manufacturing fire and sound absorbing projects in the region are major elements driving industry growth. The region's sound absorption material market would expand due to the rapid increase in infrastructure operations and the increasing noise pollution in various metropolitan areas.
The increasing need of reducing unwanted noise like echoes, high pitched laughing, and other disturbing noise is improving the reliance on sound absorbing material thus fostering remarkable progress of global sound absorbing market.
Owing to benefits such as Improved Acoustic Quality, Improved Safety, Improved Productivity, healthy environment, and reduced stress, the sound absorbing material is experiencing rapid adoption driving the global sound absorbing material market.
The Global Sound Absorbing Material market is expected to be of worth USD 176.2 million by 2029 at a CAGR of 2.4% through 2022-2029.
Furthermore increased demand for sound absorbing material from the wellness centres, gymnasiums, commercial sound attenuation and shipyard segments point to prospective development for the global sound absorbing material market.
Rising consumer awareness of noise pollution, along with significant expansion in the building industry in emerging nations such as South Korea, will drive the sound absorbent material market dynamics. Stringent government laws aimed at limiting the negative impacts of excessive noise levels, along with improving living standards, will drive up demand for dampening materials in residential and commercial structures across the world.
A sound absorbing substance is a material that decreases the quantity of sound that enters from one direction and is bounced back in the other direction. It is frequently used to lower the noise made by a machine such as an automobile or aircraft. It attempts to develop a more comfortable indoor atmosphere. High-density polyester, soundproof tiling, and acoustic paints are materials used in this application.
Sound absorption, as contrasted to reflection of energies, is the act by which the absorbing medium absorbs the energy when sound waves collide. In this process, a majority of the consumed energy is converted into heat, with the remainder being conveyed via the absorbing organism.
The sound absorbing material (SAM) is a biological or man-made material that is being used to soak sound like rendering a noise more challenging to hear. SAM is used in a range of applications, including noise reduction in both residential and public places, acoustic insulation, and noise cancellation.
There are two types of sound absorption materials, reflective sound absorbing materials and absorptive sound absorbing materials. Reflective sound absorbing materials reflect sounds back whereas absorptive sound absorbing materials absorb and restrict noise from penetrating others. Sound-absorbing materials are used to reduce the pressure created by industrial operations. Foams and crystal wools are materials that absorb sound and attenuate reflections to manage airborne sound. Permeability, and flow resistance, compressibility should all be present in the absorbing materials.
Rock wool is a popular sound absorption material because it provides thermal and acoustic cushioning, is fire resistant, and is simple to install. The entire rise has been attributed to increased consumption for this product in emerging economies due to its low cost. Product demand is projected to be triggered by rising transport industry demand.
Noise control and segregation regulations play a significant role in the industry's growth. The Environmental Protection Agency has developed guidelines to reduce sound generation in vehicles and also acoustic isolation in residential settings. The majority of EU nations additionally limit atmospheric, and appliances sound levels. Regulations are also in place to provide sound isolation from outside sources.
As previously said, greater awareness of noise pollution, vibrations, and roughness levels in vehicles has resulted in a need for ultimate refinements level of an automobile, which is an essential element affecting automotive customers' decisions. As a result, producers must demonstrate their supremacy by working on NVH issues. At a certain price point, customers prefer a vehicle with lower NVH levels, even if other variables including fuel economy, security, brand recognition, and after-sales services are sacrificed, because NVH levels are closely associated to vehicle safety. As a consequence, manufacturers have made significant efforts to create and sell vehicles with low levels of NVH. This trend is likely to enhance growth of the automotive NVH control materials, and also sound-absorbing materials.
One such technology is active noise reduction, which allows automobile makers to achieve greater noise control without utilizing additional NVH materials in vehicles. The audio system of the car is used to suppress low-frequency undesirable noise by releasing vibrations with the same amplitude but rather a reversed phase to the original track. However, the advancement of such technologies in the next years may replace NVH control materials, lowering their requirement. This may hamper the global sound absorbing material market.
Furthermore, consumer desire for lower noises, tremor, and roughness levels, as well as intense rivalry among automobile manufacturers for the incorporation of sound-absorbing equipment, will drive global sound absorbing material market growth.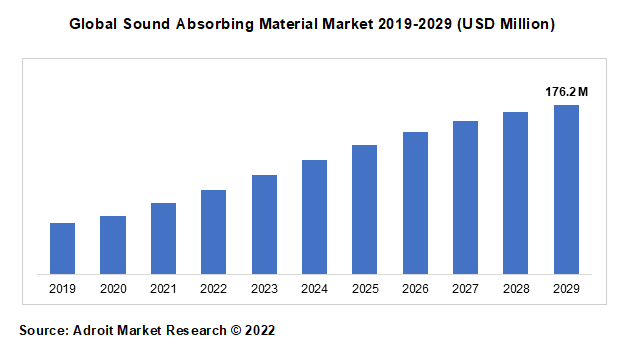 The key market players in the global sound absorbing material market includes Nichias Corporation, Acoustic Insulation Manufacturing Limited, Llyod Insulations, Autoneum, DuPont, and Stevens Insulation LLC among others. Major manufacturers are spending extensively in R&D to provide novel solutions, which would further result in reduced noise pollution and an eco-friendly atmosphere.
Major Developments in The Global Sound Absorbing Material Market: A snapshot
Autoneum recently introduced a new material dubbed Hybrid-Acoustics. This is substantially lighter than standard insulators, and it is also flameproof. It is utilized in powertrain-mounted insulator for powertrains that produce loud sounds.
Sound Absorbing Material Market Scope
| | |
| --- | --- |
| Metrics | Details |
| Base Year | 2020 |
| Historic Data | 2018-2019 |
| Forecast Period | 2021-2028 |
| Study Period | 2018-2028 |
| Forecast Unit | Value (USD) |
| Revenue forecast in 2028 | USD 176.2 million |
| Growth Rate | CAGR of 2.4 % during 2021-2028 |
| Segment Covered | Type, Application, Regions |
| Regions Covered | North America, Europe, Asia Pacific, Middle East and Africa, South America |
| Key Players Profiled | Sumitomo Chemical, Sigma Aldrich, Showa Denko K.K., SEKAB, Naran Lala, Lonza Group, Laxmi Organic Industries, KH Neochem, Jubilant Life Sciences, Eastman Chemical, China National Petroleum, Celanese, and Ashok Alco - chem among others. |
Key Segments of the Global Sound Absorbing Material Market
Type Overview, 2022-2029 (USD Million)
Application Overview, 2022-2029 (USD Million)
Construction
Industrial
Commercial
Transportation
Others
Regional Overview, 2019-2029 (USD Million)
North America
Europe
Germany
France
UK
Rest of Europe
Asia Pacific
China
India
Japan
Rest of Asia Pacific
South America
Mexico
Brazil
Rest of South America
Middle East and South Africa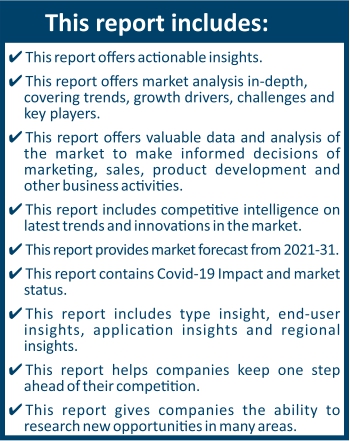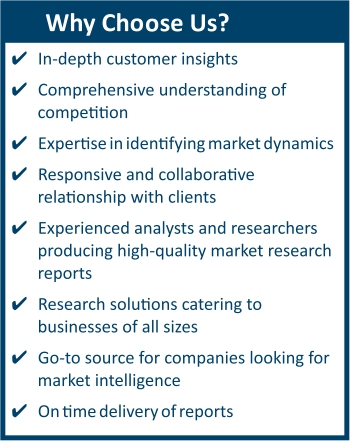 Frequently Asked Questions (FAQ) :
The market value of Sound Absorbing Material market projected to reach USD 176.2 million.
The Sound Absorbing Material market is growing at a CAGR of 2.4% over the forecast period.
The top companies that hold the market share are Nichias Corporation, Acoustic Insulation Manufacturing Limited, Llyod Insulations, Autoneum, DuPont, and Stevens Insulation LLC among others