SSL (Solar street lights) are commonly utilized for outdoor street lighting since solar energy is their primary source of electricity. These lighting medium functions independently of typical energy sources, obviating the need for a single power infrastructure to supply all power requirements.
It's being expected that by 2030, the Solar Street Lighting market cap will hit $3972 Million at a CAGR growth of about 14.12%.
COVID-19 Impact
The outbreak of COVID19 stagnated the world and disrupted businesses around the world. Solar energy has grown significantly over the last two decades. However, the crisis caused by COVID19 has greatly disrupted these dynamics. Governments will play an important role in addressing these challenges and pacing solar energy adoption soon. The pandemic-affected entire solar industry and its uncertain future are of concern to many companies. China is also the largest market for solar power and slowing economic growth in the country is impacting renewable energy generation and investment worldwide. For India, the outbreak of COVID 19 occurred when the implementation of the country's solar project peaked in the final accounting quarter. The country has an ambitious goal of achieving the 100 GW solar energy target by 2022. As of January 2020, India has about 35 GW of solar energy projects in place. Stand-alone photovoltaic street lighting systems have PV (photovoltaic) panels for charging batteries. Therefore, this crisis is delaying the production of PV modules and affecting the power generation of solar cells. In addition, the United States relies primarily on solar power from China. The outbreak of COVID 19 that began in China has led to a shortage of solar power in the United States.
The Fastest-Growing Structure Segment is the Standalone Solar Street Light System.
The stand-alone category based on structural type is predicted to grow at the quickest rate in the solar street light market in 2021, and this trend is expected to continue throughout the forecast period. In addition, self-sufficient solar street lights are not connected to the power grid of the power source. These systems include batteries used to store the energy of the sun. In terms of price, standalone solar streetlights are more cost effective than standalone types.
Solar Panel is Largest Share in the Component Category
The component-based solar panel category is expected to lead the solar street light market in 2021 and maintain the highest market share during the forecast period. This is due to the fact that solar panels are the most essential component of solar lighting systems, are relatively expensive in comparison to other components, and create the biggest profit margins on the market. Solar panels supply power during the day to charge the battery. This will turn on the lamp connected to the solar panel when there is little or no light.
Asia-Pacific – the Fastest Regional Market due to Development of Smart Cities
The continuing urbanization of emerging nations, which has resulted in a dramatic increase in energy demand, is another important driver of industry in the area. This expansion is attributed to the existence of numerous large companies in APAC nations, such as Jinhua SunMaster Solar Lighting Co. Ltd. and Samsung Electronics Co. Ltd., as well as Urja Global Ltd.'s participation in strategic development initiatives to obtain a substantial market position.
Self-contained solar-powered street light systems include rechargeable lead storage batteries for storage batteries, PV (photomotive power) modules for charging batteries, light sources (compact fluorescent lamps (CFLs) and light emitting diodes (LEDs), suitable Operate electronic device stamps and safely charge and discharge batteries and mechanical hardware to connect these subsystems.
The main advantage of these lighting systems is that they are available with either automatic twilight operation or preset timers. The tubular battery that comes with the solar street lighting system is known for its very low maintenance and long life. Taking these benefits into account, the global solar street light market is projected to reach $ 15.54 billion with a CAGR of 17.24% by the end of 2029. Strict regulatory reforms for sustainable infrastructure development, coupled with global efforts to mitigate climate change, will support the growth of the solar street light market.
Increasing private and public funding through various programs, investments, and long-term legislative programs proposed to electrify off-the-grid areas will drive industry growth. In addition, increasing awareness of renewable energy assets with active regulatory obligations to reduce carbon emissions will have a positive impact on the business environment.
The growing potential of solar technology, coupled with the growing demand for clean energy sources, will drive the growth of the industry. Increased investment in traditional power upgrades and rapid technological advances in product efficiency, flexibility, and operation will drive product demand. In addition, continuous innovation, lower battery costs, and advances in product design have significantly reduced the price of remote lighting components, making them a necessary replacement for homes and communities.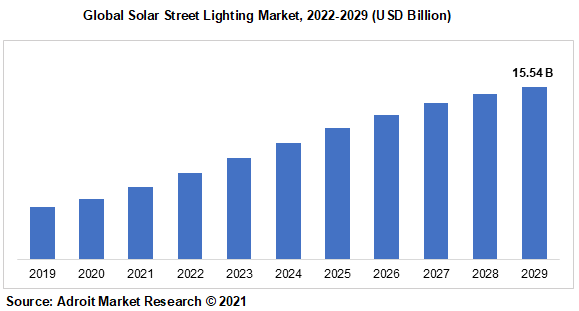 The key industry players include Omega Solar, Bridgelux, inc., Philips Lighting Holding B.V, Dragons Breath Solar, Solektra International, SOKOYO Solar Group, Sunna Design, Very Sol Gmbh, Urja Global Ltd, and solar streetlights.
Recent Innovations in the Global Solar Street Lighting Market:
Fonroche Éclairage, a part of the Fonroche business specializing in street lighting and renewable energy generation, was chosen in November 2019 to supply and install solar street lamps in numerous Benin communities. This deal is worth $24.2 million dollars.
Solar Street Lighting Market Scope
| | |
| --- | --- |
| Metrics | Details |
| Base Year | 2020 |
| Historic Data | 2018-2019 |
| Forecast Period | 2021-2028 |
| Study Period | 2018-2028 |
| Forecast Unit | Value (USD) |
| Revenue forecast in 2028 | $ 15.54 billion |
| Growth Rate | CAGR of 17.24% during 2021-2028 |
| Segment Covered | Type, Luminaries Type, Application, Regions |
| Regions Covered | North America, Europe, MEA, APAC, Latin America |
| Key Players Profiled | The top companies that hold the market share in solar street lighting market are Omega Solar, Bridgelux, inc., Philips Lighting Holding B.V, Dragons Breath Solar, Solektra International, SOKOYO Solar Group, Sunna Design. |
Key Segments of Solar Street Lighting
Type Overview, 2022-2029 (USD Billion)
Standalone
Grid-connected
Luminaries Type Overview, 2022-2029 (USD Billion)
Application Overview, 2022-2029 (USD Billion)
Residential
Commercial
Industrial
Regional Overview, 2022-2029 (USD Billion)
North America
Europe
Germany
France
UK
Rest of Europe
Asia Pacific
China
India
Japan
Rest of Asia Pacific
South America
Mexico
Brazil
Rest of South America
Middle East and South Africa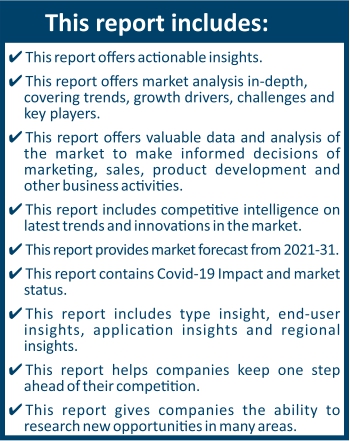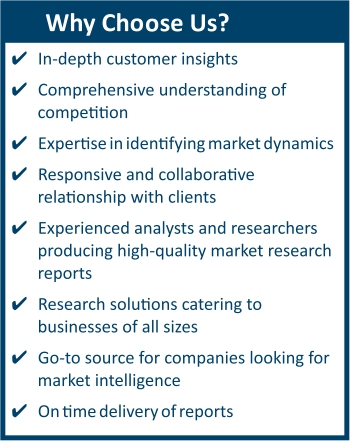 Frequently Asked Questions (FAQ) :
The market value of solar street lighting market in 2029 was $ 15.54 billion.
The solar street lighting market is growing at a CAGR of 17.24% over the forecast period.
Asia-Pacific dominated the market for solar street lighting market and accounted for the largest revenue share.
The top companies that hold the market share in solar street lighting market are Omega Solar, Bridgelux, inc., Philips Lighting Holding B.V, Dragons Breath Solar, Solektra International, SOKOYO Solar Group, Sunna Design.
The base year for the report is 2021 in solar street lighting market.