Solar panel recycling refers to the practise of reusing or recycling solar panel trash following the end-of-life cycle of solar panels and early damage to them. In the market analysis, three types of solar panel recycling techniques were investigated: thermal, mechanical, and laser. Solar panel trash comprises heavy and hazardous metals or compounds such as lead, cadmium, plastics, glass, and others that are damaging to the environment and human health. As a result, instead of disposing of solar panels in landfills, it is critical to recycle them.
Covid-19 Impact,
Lockdowns established in response to the COVID-19 epidemic led in a temporary prohibition on import and export, as well as manufacturing and processing operations in a variety of industries, reducing demand for solar panels from residential, commercial, and industrial users. As a result, market growth will slow in the second, third, and fourth quarters of 2020. The solar panel recycling industry, on the other hand, is predicted to revive by the second quarter of 2021, since COVID-19 immunisation has begun in many nations throughout the world, which is likely to strengthen the global economy.
The global Solar Panel Recycling market is expected to develop $718.8 Million by 2028, at a compound annual increase in price (CAGR) of 32% throughout the forecast period.
Based on Process,
The mechanical process accounted for more than 59 percent of revenue in 2019 and is expected to rise at a high rate from 2020 to 2027. The laser process segment, on the other hand, is expected to grow at the quickest rate, both in terms of revenue and volume, throughout the projected period. The thermal method has a restricted acceptance scope, but due to a drop in silicon concentration in solar panels, it is expected to achieve broader adoption throughout the predicted time.
Based on Product,
In 2019, the monocrystalline solar panel recycling product type accounted for the highest revenue share of more than 50%. Despite their high cost, monocrystalline panels are widely utilised due to their excellent heat tolerance, extended shelf life, and high efficiency. These panels are made entirely of crystalline silicon.
Thin film solar panels are expected to be the fastest-growing product sector throughout the forecast period because to their active performance and cheap cost. Extensive research and development has resulted in the creation of lightweight, low-cost thin film solar modules with qualities like as flexibility and temperature tolerance. Because of their low cost, these items are suitable for mass production.
Based on Shelf Life,
In 2019, the early loss category accounted for more than USD 102.3 million. Various government norms and regulations to encourage solar panel recycling and renewable energy projects to maintain ecological balance are projected to drive market expansion during the forecast period. Major industry players are constantly striving for technological breakthroughs in order to improve service quality and efficiency.
The fundamental reason contributing to the segment's increased market share is the depreciation or early weathering of solar panels owing to maintenance concerns, a lack of product standardisation, and poor weather conditions. The normal loss category is expected to grow significantly in volume during the next several years. Because solar panels have a usual shelf life of around 30 years, they will require to be condensed inactive owing to issues related to maintenance.
Based on Region,
In 2019, Europe had the highest revenue share. It is expected to rise at a high rate from 2020 to 2027, since the area has the most installed bases of solar farms, resulting in a large number of end-of-life solar panels in the future years. The existence of a high number of end-of-life solar panels is expected to increase solar panel trash. As a result, the need for solar panel recycling is expected to grow in the future years.
Due to technology improvements and stringent government requirements for waste management, the market in Germany is expected to approach USD 70.0 million by 2027. Over the next seven years, the increased usage of solar panels for power generation as an alternative to other non-eco-friendly sources is expected to drive product demand.
From 2020 to 2027, Asia Pacific is expected to be the fastest-growing regional market. In the APAC regional market, China and Japan are the key income sources. Due to increased expenditures in recycling technology research and development, China now has the highest number of patent filings in solar panel recycling.
The increasing movement of the energy industry from conventional to renewable sources is driving the growth of the worldwide solar panel recycling market. Furthermore, an increase in awareness about the environmental damage caused by solar panel waste is expected to drive the market throughout the time period under consideration. However, a lack of solar panel recycling infrastructure throughout the world, as well as lax rules on solar panel recycling, are the major factors impeding market growth during the forecast period. On the contrary, government measures to reduce carbon footprints and increased investment in renewable energy infrastructure are expected to give attractive growth prospects for leading companies to retain their market position in the future years.
driven by growing demand for renewable energy and favourable environmental norms. Continuous technological improvement with cost efficiency would encourage the use of solar panels, which will improve the market outlook. Furthermore, rising customer knowledge of the benefits of renewable energy sources, as well as provincial government subsidies, would help to balance the market picture. The environmental degradation, along with the global energy problem caused by traditional energy sources such as nuclear energy and fossil fuels, is predicted to stimulate demand for renewable sources of energy over the projection period.
The move toward renewable energy resources, which have the least impact on the environment, is expected to boost market growth. Furthermore, falling solar panel prices are predicted to boost the number of solar photovoltaic module installations, consequently promoting market development. The market in the United States is expected to increase significantly over the forecast period as a result of considerable R&D and a rising number of photovoltaic module installations. The trash created at the end of the life cycle of solar modules is recyclable in order to utilise the elements such as glass and silicon. Solar panels are in high demand since they are both environmentally beneficial and cost-effective.
The COVID-19 outbreak in China has stopped demand for power generation, delaying the expansion of the country's solar panel recycling sector. Furthermore, the country is seeing an increase in low-capacity additions as industrial and construction output slows. As a result, several market participants are increasingly contemplating alternate sourcing in order to remain competitive.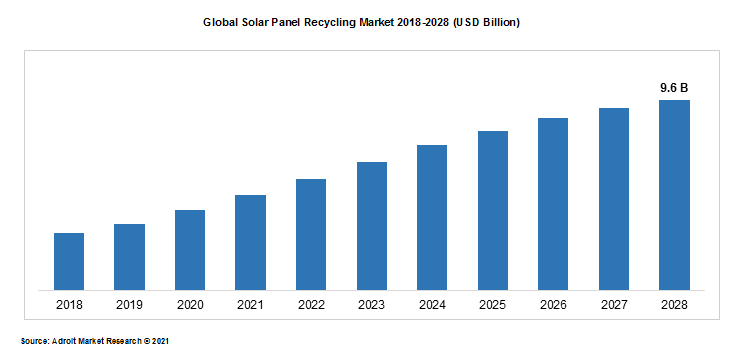 The service providers place an emphasis on technological improvements and creativity in solar panel recycling techniques. Such innovations, together with reasonable price, are projected to help grow market share in the future years. Many businesses are investing in R&D to improve their market position. For example, in 2018, First Solar began to provide a recycling solution for solar modules and power farms that maximises total financial returns and return on capital. First Solar Inc., Echo Environmental, LLC, SILCONTEL LTD, Canadian Solar, Silrec Corporation., SunPower Corporation, Reiling GmbH & Co. KG, Trina Solar, Aurubis, Envaris, SiC Processing GmbH, Yingli Energy Co. Ltd., and Hanwha Group are some of the prominent players in the solar panel recycling market.
Solar Panel Recycling Market Scope
| | |
| --- | --- |
| Metrics | Details |
| Base Year | 2020 |
| Historic Data | 2018-2019 |
| Forecast Period | 2021-2028 |
| Study Period | 2018-2028 |
| Forecast Unit | Value (USD) |
| Revenue forecast in 2028 | $718.8 Million |
| Growth Rate | CAGR of 32 % during 2021-2028 |
| Segment Covered | By Type, By Process, Regions |
| Regions Covered | North America, Europe, Asia Pacific, Middle East and Africa, South America |
| Key Players Profiled | Yingli Energy Co, Silcontel, Reclaim PV Recycling, Zorlu Holding, First Solar, Canadian Solar Inc, Rinovasol Group, Reiling GmbH & Co, ECS Refining LLC |
Key Segments of the Global Solar Panel Recycling Market
By Process:
By Product:
Monocrystalline
Thin Film
By Shelf Life:
Regional Overview, 2018-2028 (USD Billion)
North America
Europe
Germany
France
UK
Rest of Europe
Asia Pacific
China
India
Japan
Rest of Asia Pacific
South America
Mexico
Brazil
Rest of South America
Middle East and South Africa
Frequently Asked Questions (FAQ) :
The solar panel recycling market is growing at a CAGR of 12.8% over the forecast period.
Europe dominated the market for solar panel recycling market and accounted for the largest revenue share.
The top companies that hold the market share in solar panel recycling market are First Solar Inc., Echo Environmental, LLC, SILCONTEL LTD, Canadian Solar, Silrec Corporation., SunPower Corporation, Reiling GmbH & Co. KG, Trina Solar, Aurubis, Envaris, SiC Processing GmbH, Yingli Energy Co. Ltd.
To get latest version of solar panel recycling market report can be obtained on demand from the website.