The demand for the management sector is largely being driven by the quick increase in organisational sales and marketing's digitization and the expanding adoption of cloud solutions. The availability of social media management solutions by leading cloud firms, improved market focus, and competitive intelligence on a worldwide scale are all contributing to the industry's rapid expansion. In addition, over the course of the forecast period, the management industry is anticipated to experience significant growth opportunities due to the massive amounts of data generated through these platforms by important businesses in order to gain real-time insights and drive corporate results in terms of ROI.
COVID-19 Impact and Current Market Status
The industry for social media management has seen a significant expansion due to the increase in COVID-19 cases. The vast amounts of data created by social media platforms, the rising popularity of cloud computing, and the widespread use of social media management tools by small and medium-sized businesses all present enormous prospects for companies who provide these services. However, the lack of universal standards, regulatory and compliance restrictions, and the complexity of the management workflow and rules prevent the market from growing. The lack of standardised controls for social media management systems and the absence of a single solution to handle the growing unstructured data concerns could stifle the market's expansion.
Social Media Management Segment Analysis – By Application Type
It is projected that the sales and marketing management segment would hold the biggest market share. It entails a variety of actions that marketers and sales representatives must take in order to interact with the target audience on a number of different media management platforms. Growing the use of social media management in sales & marketing may greatly enhance marketing campaigns, sales, and offer profitable chances to increase the base of the target audience, which function as a major driving force to raise the segment growth for Sales & marketing management.
Additionally, the majority of solution providers have been expanding their offerings of various media platforms for sales & marketing management, which enables end-users to increase sales and ultimately build a large customer base. For instance, Casino finalised the acquisition of TrendKite in January 2019 for USD 225 million as part of its new plan to diversify and grow the software automation market in order to improve social media management efforts.
Contrarily, the competitive intelligence segment is anticipated to develop at the highest rate in the social media management market and is therefore projected to experience significant growth over the coming years. Several intrinsic evaluations based on pricing, attention metrics, service, perception, and reach are included in competitive intelligence. Additionally, it confirms that companies can analyses market trends and quickly adjust to them.
A number of industries have frequently started analyzing data to outdo competitors in the marketplace. For instance, based on competitive data often gathered through social media replies, Xiaomi seized the lead in selling its new product introduction, Redmi Note 10 JE, over its rival Apple in August 2021. Therefore, the industry verticals' initiative to obtain a competitive edge in their own industries would be a major contributor in fueling market expansion globally.
Social Media Management Segment Analysis - By Verticle Type
Due to the extensive integration of social media management into banking procedures as a result of the proliferation of digital transformation strategies to increase the customer base and boost sales, the BFSI segment is predicted to experience significant revenue growth in the global market by 2020. Industry is also becoming very popular in banking because it offers financial organisations a lot of chances. To benefit from this transformation, such as improving client relationships, brand purpose, community growth, and lowering costs and effort requirements, these institutions must support it. As a result, it is anticipated that these benefits would increase significantly in profit, which will speed up the segment's growth.
On the other hand, during the forecast period, the travel & hospitality segment is anticipated to grow at the quickest rate in the global market. By offsetting the costs of marketing and sales, it is utilised to raise the value of services provided in the hospitality industry. This is expected to lead to an increase in demand for the travel and hospitality market, and it considerably fueled the fast-growing segment's expansion over the study period.
Social Media Management Market Segment Analysis - By Geography
Geographically, North America is expected to dominate the global market in 2020 and account for the greatest revenue share as a result of the region's early adoption of cutting-edge technological solutions and the population's growing use of various social media platforms. A number of businesses, like Amazon, IBM, and Oracle, have also been using social media management analytics to get new insights and a better understanding of consumer behaviour that informs their business and strategic decision-making process, which also takes the region's growth into account.
Furthermore, nations like the United States and Canada are predicted to experience a rapid spread of cutting-edge technologies, like data analytics, along with an increase in the number of product launches and partnership agreements that will broaden the application and usage of such solutions in order to manage better sales & marketing throughout these nations. The Pew Research Center estimates that in 2005, social media adoption in the United States was only 5%. The percentage rose to 50% of all Americans by 2011, and it could reach 72% by 2021. Therefore, it is anticipated that the high adoption of social media management by the populace in the important nations of the particular region will support the region's progress.
In addition, the industry in the Asia Pacific region is anticipated to grow rapidly in 2020. Due to the region's widespread adoption of digital solutions in the sales and competitive intelligence market, as well as the increased use of sophisticated online media strategies as a result of the region's rapid smartphone adoption, the demand for social media management is anticipated to increase over the course of the forecast period. For instance, South Korea reported having the greatest percentage of active users—89.3%—in the Asia Pacific area as of January 2021. Indonesia accounts for 61.8% of social media penetration, closely followed by Malaysia, with an approximate 86% penetration rate..
In 2019, the market for social media management was estimated at USD 118.06 billion, and it is anticipated to expand at a CAGR of 22.7% over the next five years.
One of the key drivers of the global adoption of social media management is anticipated to be the rapid spread of social media management. Worldwide leaders are using social media management tools to better understand their target audiences, which will eventually help the global industry. Furthermore, these management systems are now more productive because to the development of IoT technology.
The leading developers of these programmes are simultaneously utilising enticing strategies and plans to draw customers. In addition to this, the industry is also expected to benefit from a growing emphasis on efficient marketing and competitive intelligence methods as well as a rising need for social media management to enhance the customer experience.
The enhanced capability of digital media management solutions to let firms easily contact their target audience and involve them successfully is another factor driving the global sector. In addition, among a select few important nations, the United States, the United Kingdom, France, India, China, South Korea, and Brazil are where the trend of digitalized sales & marketing has been accelerating at a never-before-seen rate.
Profit margins are still being impacted by global competition, therefore businesses are always searching for technical solutions to increase productivity, save costs, and keep a competitive edge. Companies must combine customer data with business, competitive, and demographic information to uncover the nuances necessary to surpass their rivals. Businesses are attempting to concentrate on studying sales data and various market data to pinpoint any gaps.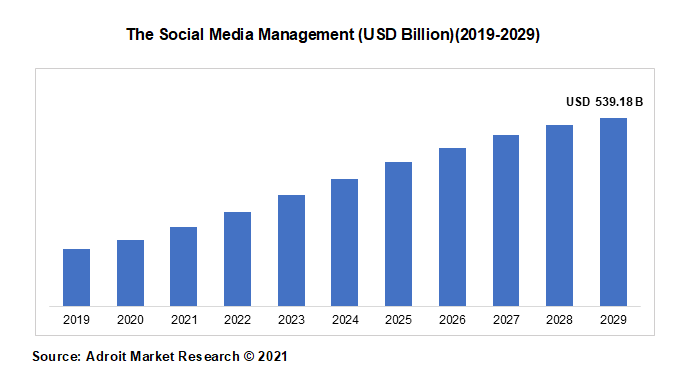 The market is extremely competitive, with several market participants serving various industry sectors. A major barrier to entry for aspiring players is the existence of established players. However, it is anticipated that the market's growing development of Social media management would present growth prospects for new players. Adobe, Agorapulse, Brandwatch, Buffer, Clarabridge, Digimind, Eclincher, Falcon.io, Google, Hootsuite, HubSpot, IBM, Khoros, Mavsocial, Meltwater, NetBase, Oracle Corporation, Salesforce, Sendible, Socialbakers, Sprinklr, Sprout Social, Synthesio, Talkwalker, and Zoho are some of the major players in the market.
Recent Developments of Social Media Management Market
Hootsuite and Adobe Experience Platform unveiled their plan to integrate social data with omni-channel Campaigns in March 2019. Insights from social action will be transmitted to Adobe's Real-Time Customer Profile through this combination, enabling Adobe clients to communicate omni-channel for promotional activities that are anticipated to inform their clients' online behaviour.
Insights uses Sprinklr's AI capabilities, known as Sprinklr Intuition AI, in May 2019 to automatically categorise customer reviews throughout online life, audit locations (including Amazon, Walmart, and Best Buy), and owned information. For instance, surveys, focus groups, and emails asking for comments on a product's appearance, packaging, functionality, or characteristics

Social Media Management Market Scope
| | |
| --- | --- |
| Metrics | Details |
| Base Year | 2020 |
| Historic Data | 2018-2019 |
| Forecast Period | 2021-2028 |
| Study Period | 2018-2028 |
| Forecast Unit | Value (USD) |
| Revenue forecast in 2028 | US$ 63,747.4 million |
| Growth Rate | CAGR of 24.3 % during 2021-2028 |
| Segment Covered | by Deployment Mode, By Application, Regions |
| Regions Covered | North America, Europe, Asia Pacific, Middle East and Africa, South America |
| Key Players Profiled | Adobe, IBM Corporation, Google LLC, Oracle Corporation, Salesforce.com, inc., HubSpot, Inc., Zoho Corporation Pvt. Ltd., Meltwater, Brandwatch, Sprout Social, In |
Key segments of the global Social Media Management market
by Deployment Mode Overview, 2019-2028 (USD Million)
• on-premise
• cloud-based
by Application Overview, 2019-2028 (USD Million)
• ales and marketing management
• customer experience management
• competitive intelligence
• risk management and fraud detection
Regional Overview, 2019-2028 (USD Million)
• North America
o U.S.
o Canada
o Mexico
• Europe
o UK
o Italy
o France
o Germany
o Russia
o Rest of Europe
• Asia-Pacific
o China
o Japan
o Korea
o India
o Southeast Asia
o Rest of Asia-Pacific
• Middle East & Africa
o Saudi Arabia
o UAE
o Egypt
o Nigeria
o South Africa
o Rest of Middle East & Africa
• Central & South America
o Brazil
o Argentina
o Colombia
o Rest of South America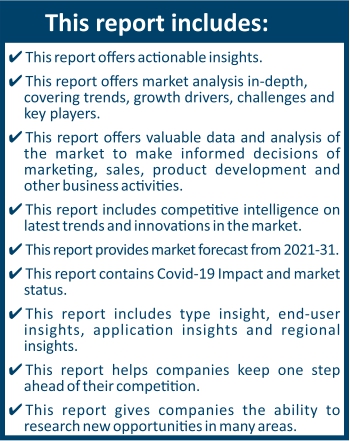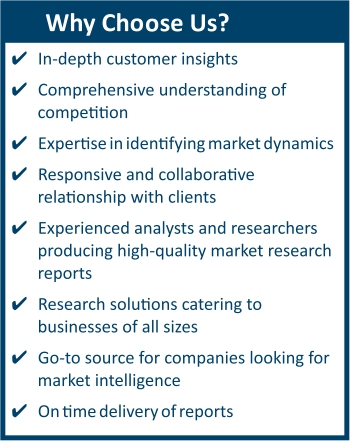 Frequently Asked Questions (FAQ) :
The market value of social media management market in 2029 was USD 118.06 billion.
The social media management market is growing at a CAGR of 22.7% over the forecast period.
The top companies that hold the market share in social media management market are Adobe, Agorapulse, Brandwatch, Buffer, Clarabridge, Digimind, Eclincher, Falcon.io, Google, Hootsuite, HubSpot, IBM, Khoros, Mavsocial, Meltwater, NetBase, Oracle Corporation, Salesforce, Sendible, Socialbakers, Sprinklr, Sprout Social & among others.