Body washes and shower gels provide a practical alternative for post-workout showers and individuals utilizing the same storms, increasing their market demand. Such products' superior moisturizing and hydrating qualities over conventional bar soaps have fuelled the industry. Additionally, the low surfactant levels in body washes and shower gels have made them the favored option for babies and kids, giving the market a boost. Players are eager to use biotechnology knowledge to create high-performance bath and shop items, drawing in customers. Additionally, products built on micro-biome technology are in high demand because of their shown benefits for healthy, vibrant skin. So, during the projection period, the development of biotechnology is likely to help the Global Soap, Handwash and Shower Gel Market.
Market size is projected to increase as a result of rising product usage in commercial settings like the hospitality industry, which includes resorts and various lodging facilities. furthermore. Body cleaning products are crucial for the hygiene maintenance of elderly patients or those who are immobile due to their vulnerability and susceptibility to infections. Further predicted to support market expansion is an increase in the use of bed wash products for these persons.
Many bath and shower products contain harmful ingredients like formaldehyde or 1-4 dioxane, which can have negative effects on the skin by causing rashes or allergic responses. It is projected that this will impede the market's progress. Moreover, the high price of some goods, such as body washes and bath additives are probably going to prevent them from being widely adopted in less developed areas.
The market is growing as a result of body washes and shower gels being sold in more shops and shopping malls. Additionally, a sizable population pool worldwide is adopting shower gels at a rising rate due to their convenience compared to conventional bar soaps. Because traditional soaps include sodium hydroxide, which dries out the skin, more people are turning to body washes and shower gels.
A growth in shower gel sales on e-commerce platforms is driving the industry. Due to their low surfactant content, body washes and shower gels are quite popular with babies and children, which is another factor driving the market.
Additionally, increased disposable income and rising living standards are influencing consumers to purchase costlier, aesthetically beautiful bath and shower products with novel ingredients and scents. The market for body wash and shower gel products has also been encouraged by the regular introduction of improved products like seed oil or shower gels with added vitamins.
Shower gel and body wash are pH-balanced liquid soaps used to clean the body. Water and detergent are combined with additional scents and moisturizing chemicals to create the goods. Body washes and shower gels come in a variety of compositions for men, women, kids, and even infants. Although body wash and shower gel are very similar and have the same function, their textures differ. Shower gels have a gel-like consistency, whereas body washes have a thin consistency. Body washes are also more moisturizing and hydrating than shower gels.
The Global Market of Soap, Handwash, and Shower Gel products was valued at USD 31,184.0 Million in 2021, and it is anticipated to grow to USD 42,993.9 Million by 2031, at a CAGR of 4.2%.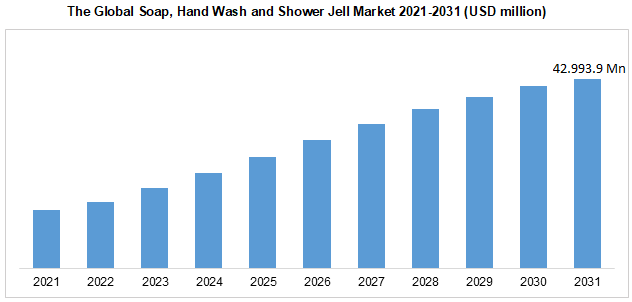 Procter & Gamble, Unilever, Johnson & Johnson, Shiseido Co., Ltd., and L'Oréal S.A. are a few notable market participants. Based on their income, research and development (R&D) activities, regional presence, and supply chain management system, these firms are regarded as important producers of body wash and shower gel products. To improve their market position, these businesses are implementing crucial measures like mergers, acquisitions, and global growth.
Segment Analysis
Soaps Hold the Major Share Due to the Widespread Availability
When used properly, soap can function as a component of a larger safety net than just a personal shield. Their reduced price compared to other sorts is the primary motivating element for the soap category. It is a favored option in many poor countries because of the affordability of these products. Due to the simplicity and growing popularity of body wash and shower gel over traditional soap bars in terms of storage and usage, the market for these products is predicted to grow significantly over the next few years.
A High Surge in Medical use
After the COVID-19 pandemic spike, the usage of soap, handwashing, and shower gel has become more prevalent in the medical industry. People are utilizing it more frequently as advised by government standards since they are increasingly concerned with their personal hygiene and health. Even medical experts occasionally utilize it to avoid coming into contact with microorganisms.
The Women's Segment Holds the Major Share
The women's market category formerly had a sizable portion of the market and is anticipated to expand quickly over the course of the projection period. Body washes and shower gels sold toward women have essentially identical components as those marketed toward men. Glycerine and other hydrating chemicals help the skin retain more moisture, and oils and products derived from petroleum also aid in this process. Women spend more money than men do on everyday personal care products because they are more concerned with their appearance.
Asia Pacific Will Dominate the Market.
Asia Pacific is predicted to rule the global market throughout the forecast period. This preponderance is related to growing hygiene awareness and a warmer climate. The rising young population in the area contributes to the increase in demand. The age group is typically more inclined to novelty items like scented bath products and additives, including shower gels.
Additionally, it is projected that the demand for bath and shower products in the area would increase due to the growing trend toward herbal products made with ingredients like turmeric oil, aloe vera, and extracts of traditional medicinal plants.
Impact of COVID-19 and Market Status
The COVID-19 crisis has overstated the significance of using soap to wash hands to stop the spread of the virus. Liquid hand soap and hand sanitizer had a perceived greater COVID-19 prevention effect than bar soap. Our chances of contracting the coronavirus are lower when we wash our hands with soap and water. The significance of excellent personal cleanliness has been one of the COVID-19 themes from health experts that have been most consistent. As a result, the only option to protect ourselves from viral contact is to regularly wash our hands, which has led to the expansion of the global
Latest innovations and developments in Global Soap, Handwash, and Shower Gel Market: A Snapshot
• The L'Occitane group introduced the Verbena product line, which includes shower gel, body gel, body scrub, and body foam items.
• Billie Inc., a women's body care company, will be acquired by Procter & Gamble Co. as a part of its strategy to expand its line of female cosmetic products.
Soap, Hand Wash and Shower Jell Market Scope
| | |
| --- | --- |
| Metrics | Details |
| Base Year | 2021 |
| Historic Data | 2020- 2021 |
| Forecast Period | 2022-2031 |
| Study Period | 2021 – 2031 |
| Forecast Unit | Value (USD) |
| Revenue forecast in 2031 | USD 42,993.9 Million |
| Growth Rate | CAGR of 4.2 % during 2021-2031 |
| Segment Covered | Type, Application, by End-Use, Regions |
| Regions Covered | North America, Europe, Asia Pacific, Middle East and Africa, South America |
| Key Players Profiled | Procter & Gamble, Unilever, Johnson & Johnson, Shiseido Co., Ltd., and L'Oréal S.A. |
Key Segments of the Soap, Handwash and Shower Gel Market
By Type Overview, 2021-2031 (USD Billion)
By Application Overview, 2021-2031 (USD Billion)
Medical Use

Daily Use

Others
By Regional Overview, 2021-2031 (USD Billion)
North America
Europe
Germany

France

UK

Rest of Europe
Asia Pacific
China

India

Japan

Rest of Asia Pacific
South America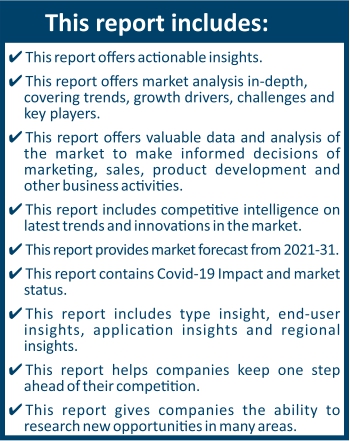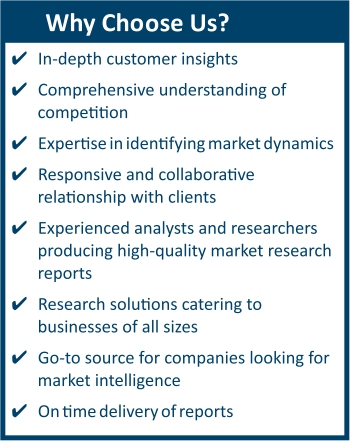 Frequently Asked Questions (FAQ) :
Soap, Hand Wash and Shower Jell Market is projected to reach USD 42,993.9 Million by 2031, growing at a CAGR of 4.2