Report Description:
The ultimate luxury to most of us is having an assistant who listens you, anticipates what you need and takes action when required. That's all a Smart Voice Assistant do with smartness.
Your Basic guide to Smart Voice Assistant
Voice assistant is defined as digital assistant that uses speech synthesis, natural language processing (NLP) and most importantly voice recognition to offer a service through a particular application. When these voice assistants are smart they are called smart voice assistants or smart speakers and these are favorite adds when individuals build up their connected home.
The value of the Smart Voice Assistant: Google And Amazon Leading The Race market is projected to grow to $30.74 Billion with an estimated CAGR of 31.2% by 2030.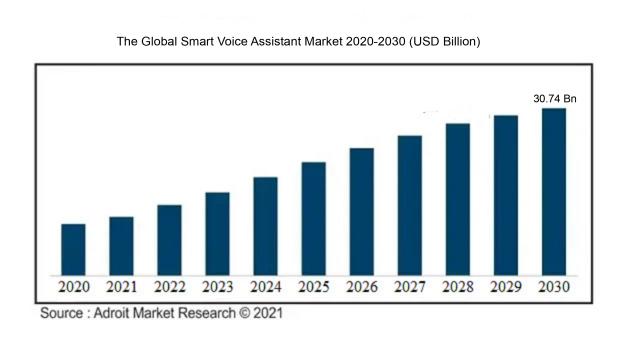 The last product that is Smart voice assistants or smart speakers have emerged from two distinct places and for the sake of good order they've largely converged. The concept of a voice-controlled speaker was introduced with Alexa on the Amazon Echo and since then added to third-party speakers and Amazon Fire TV devices. Initially, everyone was looking up it as way to play streaming music since it started with a speaker. As Amazon opened up Alexa to third parties, subsequently smart home providers ventured and now successfully let you do things like control your thermostat and lights by voice.
Trends, Benefits and Challenges of Smart Voice Assistant
If you are looking for an upgrade version of your old smart speaker, some of these fits best. Firstly, the third-generation Amazon Echo Dot which has improved on sound quality and general design. On second position comes Apple HomePod encompasses high-quality superb sound, smart hone control, spatial awareness and Siri artificial intelligence. Then, Google Home has an attractive design, removable color bases and is a multi-room audio speaker.
Smart speakers are connected with Wi-Fi which assists you from playing music on smartphone or cloud to responding to your commands in like manner your smartphone do. These little helpers will help you in busy mornings while you are taking a shower, they will turn on your coffee maker, read a book while you are enjoying a cup of tea and look up the weather before leaving to the office. These smart speakers are available in all shapes, sizes and price tags.
To be clear, voice assistants are very useful and their application will continue to expand and become integrated into an increasing number of domains in our daily lives, but not in the omnipresent way that an AI assistant implies.
It is a proven fact that voice assistants are of high significance and their application will continue to expand and become integrated into higher number of domains of our routine. However, it is relatively a narrow field which implies that abundant voice samples are required to create a model that can detect, comprehend and transcribe voice commands during varied circumstances with different accents.
The most challenging part of smart voice assistants is natural language processing as it's also a narrow field. No matter how many capabilities and functions are complemented to an AI assistant, innovation need to deal with the n number of tasks that a human brain can come up with. Hence, voice assistants suffer from the confined limits of deep learning algorithms which manifest they work in boundaries of distinct domains that they've been trained for. When encountered with unfamiliar situation of not knowing a command, they'll either start acting in erratic ways or fail.
Smart Voice Assistant Scope
| | |
| --- | --- |
| Metrics | Details |
| Base Year | 2022 |
| Historic Data | 2020-2021 |
| Forecast Period | 2022-2030 |
| Study Period | 2020-2030 |
| Forecast Unit | Value (USD) |
| Revenue forecast in 2030 | $ 30.74 Billion |
| Growth Rate | CAGR of 31.2 % during 2020-2030 |
| Segment Covered | by Technology, Application, End User, Hardware Product, Region. |
| Regions Covered | North America, Europe, Asia Pacific, South America, Middle East and Africa |
| Key Players Profiled | Customer Inc.; Amazon.com, Inc.; Apple Inc.; Baidu, Inc.; Clara Labs; CSS Corp.; Creative Virtual; CodeBaby Corporation; eGain Corporation; Google Inc.; IBM Corporation; Kognito; Microsoft Corporation; MedRespond; Next IT Corp.; Nuance Communications, Inc.; Oracle Corporation; True Image Interactive, Inc.; Verint; Welltok, Inc. |
Frequently Asked Questions (FAQ) :
To get latest version of smart voice assistant market report can be obtained on demand from the website.
Which is base year calculated in the smart voice assistant market report?
Analyst Commentary:
Studies on human interaction with technology shows that unique consumer for world of virtual digital assistants will attain a value of more than 1.8 billion by the end of 2021 which was 390 million in 2015. Smart home devices are getting higher momentum in US as the country alone have 39 million users of the device. Whereas China accounts 52% of global smart speaker growth for voice search devices. In that Alibaba maintained half of the share of Chinese market by shipping 3 Million Tmall Genie speakers. The sale of smart voice assistant has took remarkable growth, Google has sold 5.4 Million Google Home models and Amazon has sold 4.1 Million Echo devices so far in 2018. The major driving factor of this growth is rising awareness about these devices with proper advertising and marketing and growing push for digital economy. Towards the end of 2018, it was foretell that voice tech pilot will be the foremost innovation in the realm of Smart Voice Assistant.
Realizing the momentum with which this technology is influencing the markets, the key players and the consumers recently, Google enhanced its AI-powered Google assistant's understanding of the English language with an accuracy rate of more than 90 percent and a word error rate of less than 5 percent. Considerable efforts are made to expand the spectrum of Smart Voice Assistant with incorporation of healthcare in it. Recently, Nuance and Meditech declared that they are merging to combine electronic health records and voice tech. Notably, both the companies will integrate Dragon's Medical Virtuaal Assistant with Meditech's Expanse EHR which allows clinical to perform administrative and clinical tasks with voice activation. This resolve physicians issues like high time consumption to wade through their EHRs to fulfill reimbursement and regulatory requirements resulting in lesser time spend on each patient. Another interesting factor that can influence the voice based shopping market is the functioning of Google's search engine results pages. The first organic search result on Google's search engine results page gets more than 30% clicks. In voice search the scope is smaller thus making it extremely important for the market players to make the best use voice technology for shopping purposes.
The market for Smart voice assistant is segmented based regional analysis into North America, Europe, Asia Pacific, South America and Middle East and Africa. North America contributes the highest among these segments, followed by Europe and Asia Pacific. More than 60% of smart speaker owners make a purchase every once in a while. Other market segment to focus on is the type of products being bought via voice based shopping. The most dominating category of products consumers prefer to buy is consumer packaged goods. Sale of consumer packaged products was seen growing by few percent through voice based shopping compared on online shopping on the same platforms in 2018. CPG products were also bought more often through voice assistants and devices. In CPG products, surprisingly, the categories dominating the market last year were pet food followed by laundry and baking & cooking.