Smart agriculture is one of the most effective ways to enhance productivity and compete with our country's growing population. By reforming or reorienting agricultural systems, Smart Agriculture helps to boost crop yield. Aids in the reduction of hazardous greenhouse gas emissions Increases agricultural production and helps to increase income and employment by incorporating more farmers in the agricultural system. Increased operational flexibility is one of the benefits of using the IoT in agriculture. Farmers can quickly adapt to severe changes in humidity, air quality, weather, or field crop and soil conditions, thanks to real-time monitoring and management systems.
The global Smart Agriculture market size is expected to reach close to US$ 43.37 billion by 2029 with an annualized growth rate of 10.2% through the projected period.
Covid-19 Impact & Market Status
Because to the expansion of COVID-19, the smart agricultural industry is expected to fall in 2020. The epidemic has had a serious impact on supply chains, as some of the major players in smart agriculture are located in China and the United States, and these countries were most affected by the pandemic in the first half of 2020. On the back of new orders and contracts, the smart agricultural sector began to gain traction in the second half of 2020. The market is expected to recover in 2021 due to growing demand for equipment and automation products in a variety of applications such as precision agriculture, precision livestock, precision aquaculture, precision forestry, smart greenhouses and horticulture. Agriculture in most countries is entirely dependent on migrant workers due to strict blockades and social distances. Workers are moved to their place. Therefore, many farmers apply intelligent agricultural techniques such as precision agriculture to monitor crop activity. Therefore, the importance of smart agricultural technology has skyrocketed, driving market growth. Therefore, the need for automation and the introduction of advanced techniques in the agricultural sector are expected to drive the growth of the smart agricultural market.
Precision farming to Emerge as the Most Lucrative Segment
One of the primary reasons driving the growth of the smart agriculture market is the expanding worldwide need for food and the increased focus on enhancing profit and productivity by applying innovative farming practices. By farming type, precision farming has the highest proportion of the smart agriculture market. The growing emphasis on agriculture efficiency and production can be attributable to this significant proportion. Precision farming equipment have the ability to transform agriculture for the better, making conventional agricultural production more effective and consistent. With the use of IoT in agriculture, precision farming is gaining popularity among farmers for increasing farm production and crop output. Furthermore, prominent market players are forming strategic alliances to provide the finest sort of smart agricultural system and services to attract clients.
Medium Size to Ensure Revenue Maximization
Because there are so many farms across the world, the use of technology is growing at the fastest rate among medium-sized farms. Improving return on investment (ROI), the versatility of software and hardware equipment integration, and significant labor cost savings through the use of automated tools are all factors in adopting technology in medium and large farms.
Software to Remain Atop
The software sector has the greatest market share in the global smart agriculture industry in terms of offerings. Technological novelties are a significant growth enabler for the market. Smart agricultural gadgets use cloud-based and web-based software. This programmer assists farmers and livestock with data collection, tracking, and monitoring.
North America Region to Render Ample Investment Avenues
Agriculture-dependent places across developed economies such as North America, along with high-tech intervention in agricultural practices are fostering rapid growth in the global smart agriculture market in North America, The expansion of the smart agriculture market in the North American region may be attributed to the increasing efforts by the government and attractive policies for the progress of the agriculture sector. Furthermore, to support the expansion of the smart agricultural industry, the government of this region is providing subsidies and tax incentives. All of these aspects are boosting the North American smart agriculture industry to new s.
Smart agriculture reduces the effects of hazardous gases, eliminates deforestation, and absorbs carbon dioxide from the environment. It also helps to increase the income and employment rate by 60% for people who live in rural regions and are fully reliant on agriculture for their survival. Sensors deployed in the fields can provide precise information on the presence of acidity and a quick rise in soil temperature. Farmers can also receive remote access to weather patterns and climate projections by using sensors. Farmers may also use sensors to check their equipment, crops, fertilizers, and other items.
Smart agriculture is dependent on advanced technological prowess comprising Big Data, IoT, and cloud mobility which enables automation and data management. As the world's population grows, so does the need for food, and food producers are looking for ways to improve their efficiency while simultaneously decreasing the environmental effect of their fast expanding farming operations. Farmers may attain these aims with the help of smart agricultural technology.
Some of the primary drivers driving market expansion include rising global food demand, rising livestock health needs, and increased government backing for sophisticated agricultural practices. Crop monitoring systems powered by AI provide predictive analysis, allowing farmers to make data-driven decisions. Smart drones are also being utilized to spray fields more effectively and quickly. 5G's ubiquitous coverage would allow farmers in even the most distant locations to access and employ smart technologies.
From USD 25.54 billion in 2029, the smart agriculture industry is predicted to increase. Organic farming, which includes greenhouse and vertical farming, has seen a boost in output because to the adoption of advanced technology. Furthermore, using IoT and AI in greenhouses reduces the need for regular crop monitoring and offers farmers with cost-effective and optimum solutions with minimum manual involvement, boosting the smart agricultural industry.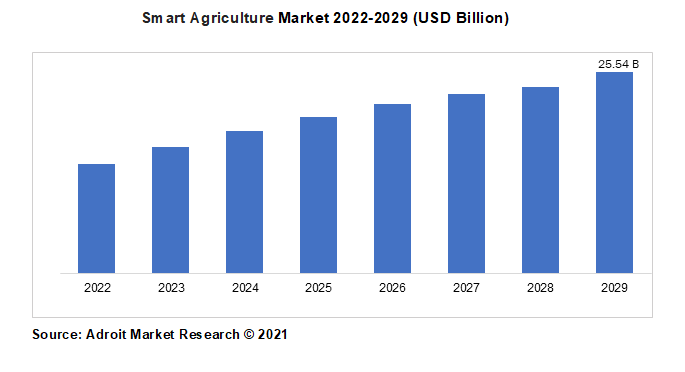 Latest Innovations in Smart Agriculture Market
Lack of labor is a major challenge in farming which limits optimum production and quality. To overcome such challenges, the emergence of agricultural robots is a breakthrough in the smart agriculture space. Tedious and repetitive tasks such as picking, harvesting, sowing, and spraying among others are diligently performed by such agricultural robots. Farming tools that are GPS-built are autonomous features to improve harvesting and other agricultural activities. Autosteer technology is now available on tractors to improve field navigation. In addition, robots are used in automated livestock management systems. Automatic scales, incubators, milking machines, feeders and many other items fall into this category. It also prevents human error and provides convenience through automation.
Smart Agriculture Market Scope
| | |
| --- | --- |
| Metrics | Details |
| Base Year | 2022 |
| Historic Data | 2020-2021 |
| Forecast Period | 2022-2030 |
| Study Period | 2020-2030 |
| Forecast Unit | Value (USD) |
| Revenue forecast in 2030 | US$ 43.37 billion |
| Growth Rate | CAGR of 10.2 % during 2022-2030 |
| Segment Covered | By Agriculture Type, By Offering, Regions |
| Regions Covered | North America, Europe, Asia Pacific, South America, Middle East and Africa |
| Key Players Profiled | G Leader Technology, AGCO Corporation, AgJunction Inc., Autonomous Solutions Inc., Deers& Company, DroneDeploy, Farmers Edge Inc., GEA Group Aktiengesellschaft, The Climate Corporation, DeLaval Inc. |
Key Segments of the Smart Agriculture Market
By Type Overview, 2022-2029 (USD Billion)
Precision Aquaculture
Livestock Monitoring
Precision Forestry
Precision Farming
Smart Greenhouse
Others
By Farm Size Overview, 2022-2029 (USD Billion)
By Offering Overview, 2022-2029 (USD Billion)
Software
Hardware
Services
By Region Overview, 2022-2029 (USD Billion)
North America
Europe

UK
Germany
France
Rest of Europe

Asia-Pacific

China
Japan
India
Rest of Asia-Pacific

South America
Mexico
Brazil
Rest of South America
Middle East and South Africa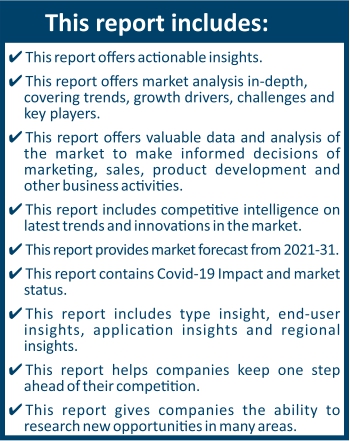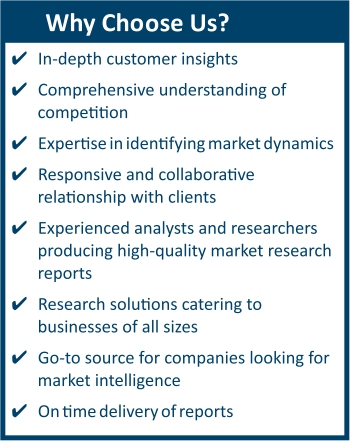 Frequently Asked Questions (FAQ) :
The market value of smart agriculture market in 2029 was USD 25.45 billion.
The smart agriculture market is growing at a CAGR of 7.3% over the forecast period.
The type of the smart agriculture market precision aquaculture, livestock monitoring, precision forestry, precision farming, smart greenhouse and other.
North America dominated the market for smart agriculture market and accounted for the largest revenue share.
The top companies that hold the market share in smart agriculture market are DEERE & COMPANY, Raven Industries, Inc., AgJunction, AGCO, Topcon Positioning Systems, Inc., DeLaval, AgEagle Aerial Systems, Inc., Trimble Inc., Afimilk & among others.