Over the past few years, in numerous commercial and defense uses, small drones have gradually been embraced. In order to improve performance and streamline their activities, the usage rates of small drones have risen dramatically and a vast number of organizations have incorporated aerial data into their workflows. Small drones have the potential to collect data and can thereby change company processes. In addition, it also provides unprecedented data perspectives and provides return on investment for both large and small- to medium-sized enterprises.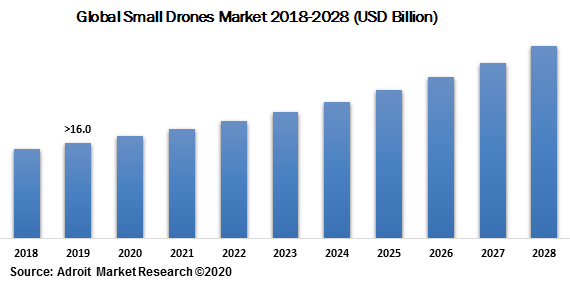 The global small drones market revenue was valued at >USD 16.0 Billion in 2019. Procurement of small drones by defense forces of various nations has increased over the past few years and the trend is expected to continue over the forecast period. Additionally, technological enhancement small drones by manufacturers operating in this industry are further expected to increase its market reach in coming years. New product development by commercial small drones manufacturers to attract millennial population is expected to drive the market.
Key Segments of the Global Small Drones Market
Type Overview, 2018-2028 (USD Billion)
Fixed Wing
Rotary Wing
Hybrid
Application Overview, 2018-2028 (USD Billion)
Military
Civil & Commercial
Homeland Security
Consumer
Power Source Overview, 2018-2028 (USD Billion)
Lithium-ion
Solar Cell
Fuel Cell
Hybrid Cell
Regional Overview, 2018-2028 (USD Billion)
North America
Europe
UK
Germany
France
Rest of Europe
Asia Pacific
China
Japan
India
Rest of Asia-Pacific
Middle East and Africa
UAE
South Africa
Rest of Middle East and Africa
South America
Brazil
Rest of South America
Reasons for the study
The purpose of the study is to give an exhaustive outlook of the global small drones market. Benchmark yourself against the rest of the market.
Ensure you remain competitive as innovations by existing key players to boost the market.
What does the report include?
The study on the global small drones market includes qualitative factors such as drivers, restraints, and opportunities
The study covers the competitive landscape of existing/prospective players in the small drones industry and their strategic initiatives for the product development
The study covers a qualitative and quantitative analysis of the market segmented based on type, power source, and application. Moreover, the study provides similar information for the key geographies.
Actual market sizes and forecasts have been provided for all the above-mentioned segments.
Who should buy this report?
This study is suitable for industry participants and stakeholders in the global small drones market. The report will benefit: Every stakeholder involved in the small drones market.
Managers within the small drones industry looking to publish recent and forecasted statistics about the global small drones market.
Government organizations, regulatory authorities, policymakers, and organizations looking for investments in trends of global small drones market.
Analysts, researchers, educators, strategy managers, and academic institutions looking for insights into the market to determine future strategies.
Small drones have played a critical role in both the industrial and military industries over the last few years. The demand for more classified surveillance by law enforcement agencies and military forces around the world and the reduced size of drones in the commercial sector is currently gaining interest by drone manufactures in small drones. The demand for small drones is largely motivated by factors such as the rising need for improved security, the most innovative technology for payloads. Small drone markets are motivated by the need from law enforcement authorities and security forces for increased monitoring to sustain law and order in a region and to track the battle region or border area with optimum precision. The miniature drones are fitted with the most sophisticated technology for payloads that improve the precision of data recording. The growing demand for innovative technical miniature drones is fueling the industry to expand in the future
Type Segment
The global small drones market by type is segmented into hybrid wing, rotary wing, and fixed wing. Increasing defense spending by government and private companies followed by increasing demand for defense surveillance is expected to increase rotary wing type small drones market concentration over the forecast period. Apart from defense application, rotary wing type small drones are increasingly used in firefighting, disaster management, law enforcement, wildlife survey, and photography applications.
Application Segment
In terms of the application, the market is segmented into consumer, commercial, civil, military, and homeland security. The military applications of small drones include battle damage management, and intelligence, surveillance & reconnaissance. Civil & commercial applications include precision agriculture, remote sensing, inspection & monitoring, photography & film production, surveying & mapping, product delivery, wildlife research & preservation, scientific research, and media. Homeland security applications include border management, traffic monitoring, firefighting & disaster management, search & rescue, police operations & investigations, and maritime security.
Power Source Segment
In terms of the power source, the market is segmented into lithium-ion, solar cell, fuel cell, and hybrid cell. Easy availability of raw materials followed by increasing penetration of lithium-ion batteries is expected to increase its penetration in small drones in coming years.
In 2019, North America dominated the global small drones market. Presence of well-established drones manufacturers coupled with increasing research & development spending in military and defense is expected to drive the market. Moreover, increasing millennial spending on small drones in U.S. and Canada for commercial applications will further add market growth. Rising maritime surveillance activities in borders will also expected to increase demand for small drones in North America over the coming years.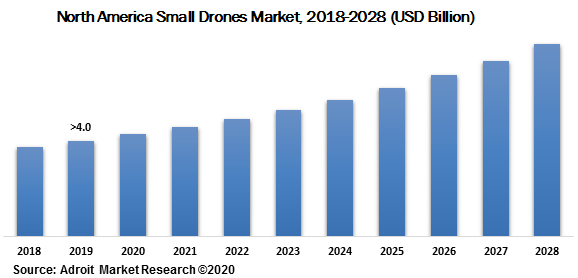 The global small drones industry has large number of well-established manufacturers and small & medium scale manufactures. Key companies operating in this industry are Northrop Grumman, Elbit Systems, Israel Aerospace Industries, Aerovironment, Lockheed Martin, Boeing, Aeronautics, Thales, DJI, Parrot, 3D Robotics, Textron, Raytheon, Turkish Aerospace Industries, Saab, and Microdrones. Manufacturers operating in this industry are adopting merger & acquisition, new product development, technological advancement, research & development, and facility expansion in order to form strategies to increase their customer base.